In writing this Dyson DC59 review, I've been compensated in the form of a Best Buy Gift Card and/or received the product/service at a reduced price or for free.
We all want a vacuum that really sucks. Literally! But are the cordless Dysons really all that in the vacuum world? Check out how the Dyson DC59 worked in our messy household including a long-haired cat.
Dyson DC59 Review
Price
The Dyson DC59 is available for $499.99 at BestBuy.com as of 2/11/14.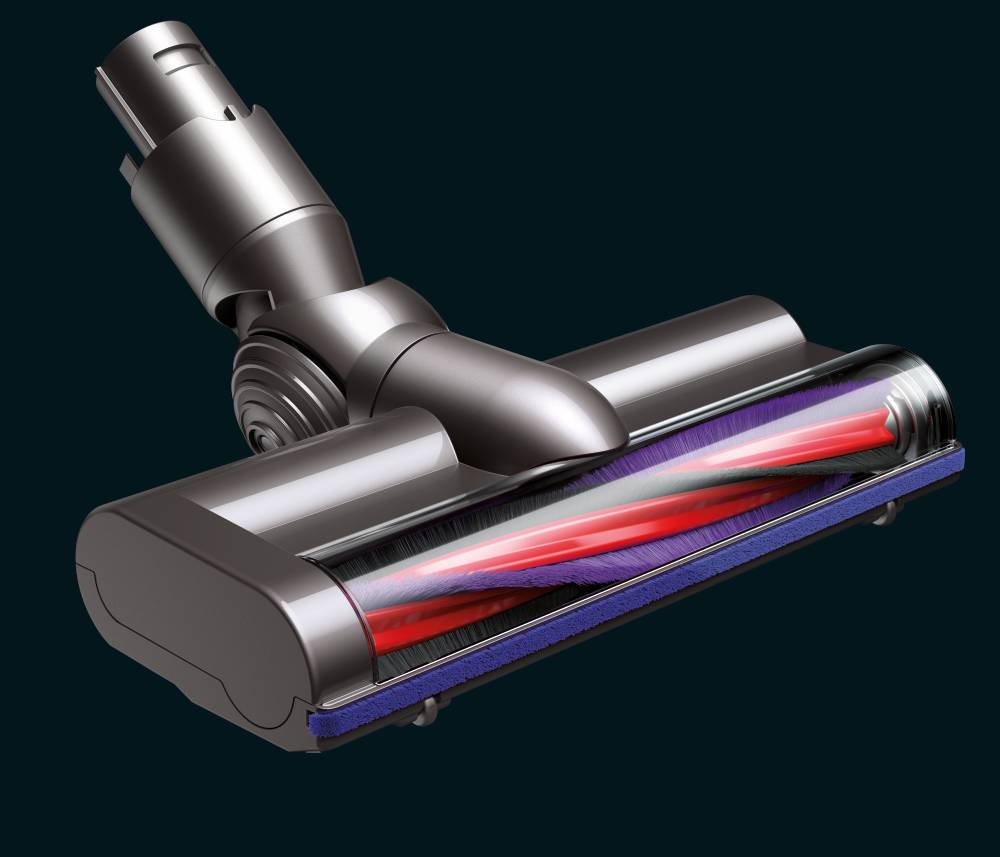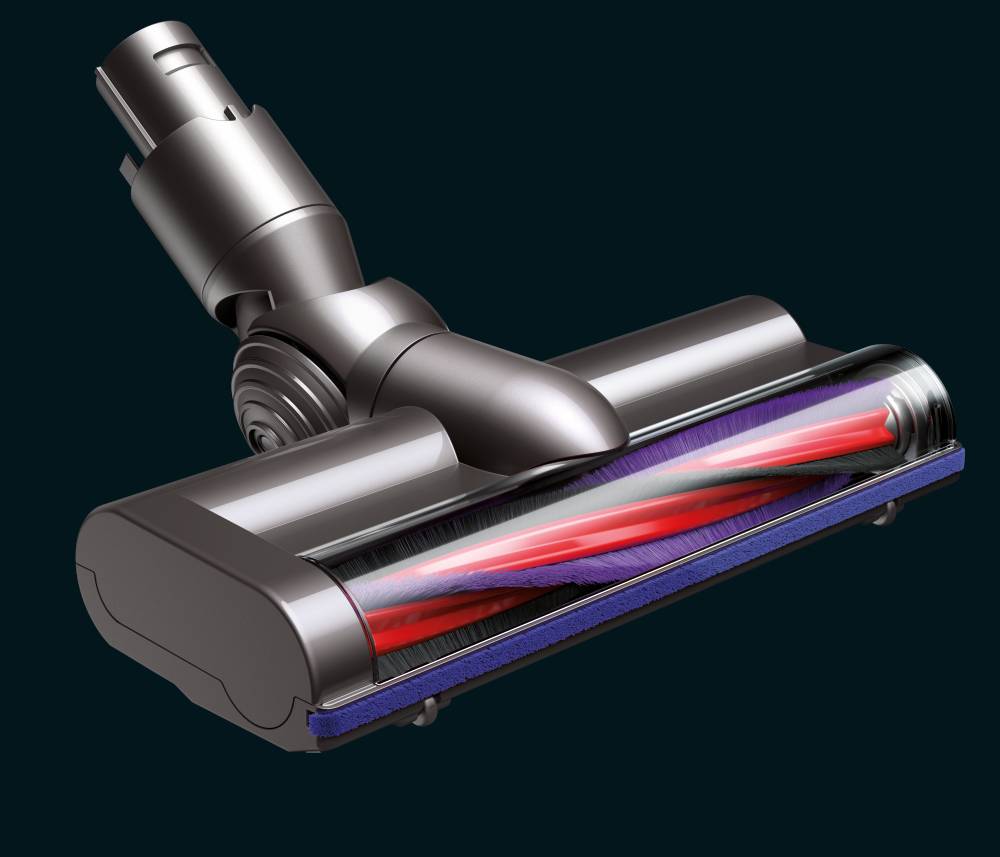 I love that this cordless vacuum attachment has a mini ball to provide quick and easy turns, with a power brush for deep cleaning.
Dyson DC59 Features
V6 motor that spins at 110,000rpm (5 times faster than a Formula One race car engine)
4-pole magnet that delivers 50% more power than its predecessor, V2
3 times smaller than a conventional vacuum motor
1.5 times more power than its predecessor (same run time, however – the extra capacity is used to power the V6 motor)
3.5 hour charging time (vs. 5 hour in the DC44)
Wider (approx. 10" vs. 8" on the DC44)
Improved maneuverability due to smaller ball at the back
New configuration of carbon fiber filaments and nylon bristle tips to remove fine dust and dirt across all floor types
Extended neck for greater ease of use
Ergonomic updates including: Soft-touch trigger is easier to hold (makes for longer clean time – people don't need to keep it on when moving furniture, etc. – less wasted energy); Handle now more comfortable to hold
Only 4.65 lbs
Hygienic one-touch bin emptying, now on both sides (for lefties and righties). One push empties bin, 2nd push detaches bin completely for washing, etc.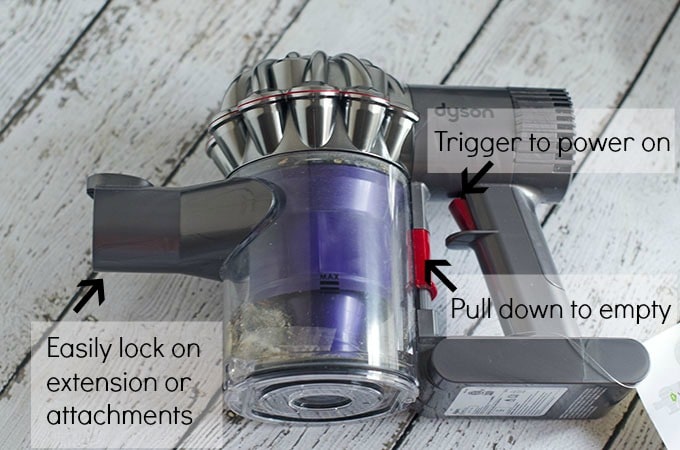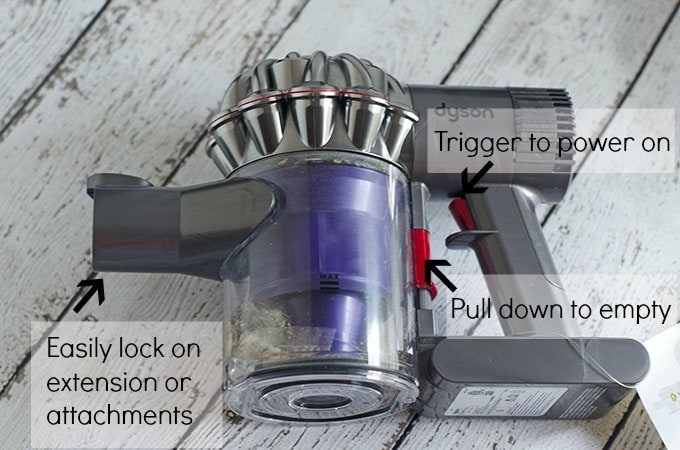 This cordless vacuums has several smart features to make cleaning quick and easy.
What I Thought Was Super Smart About The Dyson DC59
Very light weight (less than 5 lbs) compared to the upright versions and is cordless, which is great if you need to vacuum one or more stories, stairs, your vehicle, etc.
Can use boost mode on really dirty areas, otherwise using normal mode to conserve power
Variety of tools you can use, including an extension wand so you can use it like an upright vacuum or for ceiling vents, etc.
Can clean both carpets and hard floors
Fully charges very quickly - under 4 hours
Bagless, so less money spent over time
Picks up a variety of messes very well, including pet hair
Convenient wall mount that also stores attachments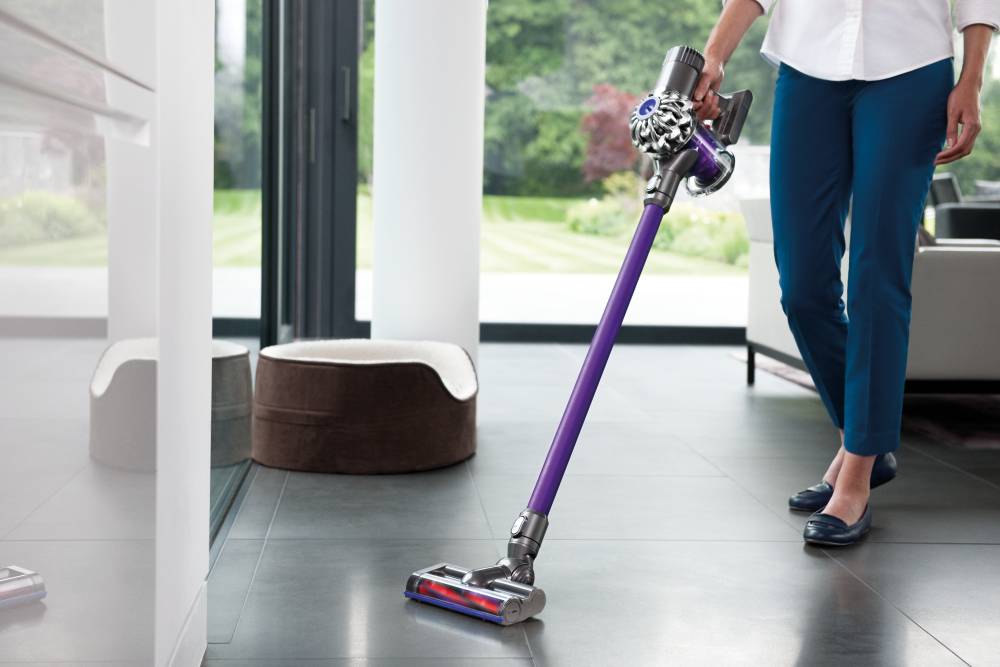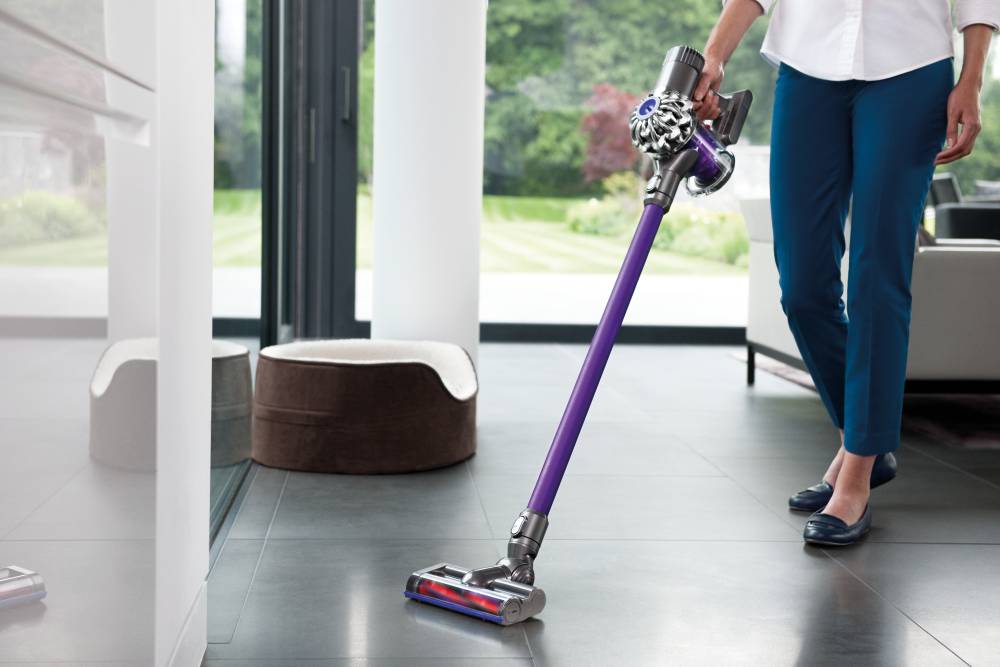 No getting on your hands and needs or stretching on a chair to clean down low or up high places with this cordless vacuum.
What I Thought Was Not So Savvy About The Dyson DC59
The only real problem I had is that the dust canister was a little finicky for me to get back on when I took it all the way off for a thorough clean
The dust canister is also on the small side, so you may have to empty it often if you have pets
Approximately 26 minutes of cleaning time, less with boost mode, so not for those that have long cleaning sessions - it usually lasts around 20 minutes for me with normal cleaning
My Experience With The Dyson DC59
Living in a 2 story house with only the 2 bathrooms and kitchen having hard floors, keeping the carpet clean is almost like a part-time job. Did I mention we also have a handful of cats, one that has long black fur? Yeah, if I get sick for a week, and don't vacuum, the floor might as well be black. ;) Luckily, with awesome vacuums, such as the Dyson upright we already owned, it wasn't too big of a deal. But, upright Dyson vacuums aren't the lightest things in the world, making dragging it up and down the stairs and vacuuming the stairs themselves a bit of a nuisance. Not to mention it isn't exactly practical to pull out a big vacuum for a quick mess in the kitchen or if a cat knocks over a pot of dirt. So, needless to say I was quite excited to get to write a cordless Dyson DC59 review.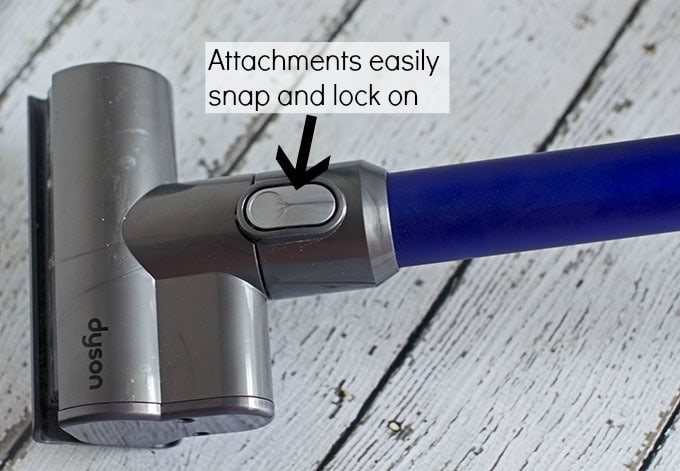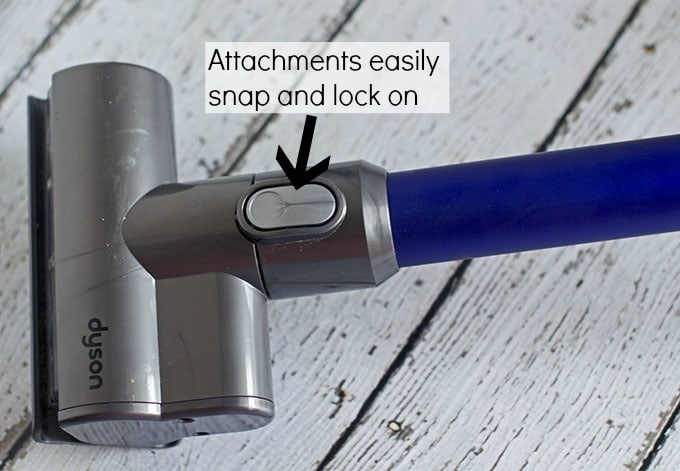 You can tell I've been using this one a lot! ;) I love that the attachments snap on (and that there are attachments to begin with!) so there's no chance of having them fall off.
I've always had very good experiences with the Dyson brand, so I had really high expectations for the DC59. Luckily, I was not at all disappointed. My first test was a doozy...our stairs. These stairs are also carpeted and are close to one of the litter boxes. That means they not only get dirt from our shoes, but also get covered in fur and even cat litter when the cats are really in the mood to dig. Needless to say, if I go more than a couple days without vacuuming, the stairs start to look more than a little dingy. Using a the upright on the stairs works really well to get the fur off, but it is quite cumbersome trying to get the attachment at the right angle while balancing the vacuum just right so it doesn't fall down the stairs. That's why I really love using the cordless on the stairs now. You don't have to use the extension to use the attachments, and it's super light weight while still providing just as much power to get the stairs clean quickly.
The cordless Dyson vacuum also did very well with every day messes like dropped cereal on carpet or flour on the kitchen floor as I'm a messy baker. The real kicker for me, though, was the day I dropped a bowl in the kitchen, which of course shattered into several pieces. Instead of bringing the heavy upright Dyson down from upstairs, I just picked up the cordless Dyson and it worked like a charm, picking up all the shattered pieces without leaving me worried about our feet or our cat's paws.
Is The Dyson DC59 A Smart and Savvy Choice?
I have to give a resounding 5 out of 5 YES! As I said, I have high expectations for Dyson and this cordless vacuum met all of them with awesome power that cleaned up everything I challenged it with. It's prefect for light clean ups, heavy duty messes and everything in between when you just need to clean up a couple spots instead of the whole house.