This bacon cheeseburger soup recipe is perfect to warm up with during the colder months while still enjoying favorite summer flavors.
One of my favorite things to eat during the summer is a big juicy grilled cheeseburger topped with a couple slices of perfectly crisp bacon.
As the weather gets cooler, I still love my burgers, but I often find myself wanting something a bit more comforting, hearty and hot.
Like many, one of my favorite cold-weather meals is making a big pot of soup. So, I couldn't resist combining 2 of my favorites into this delicious bacon cheeseburger soup recipe.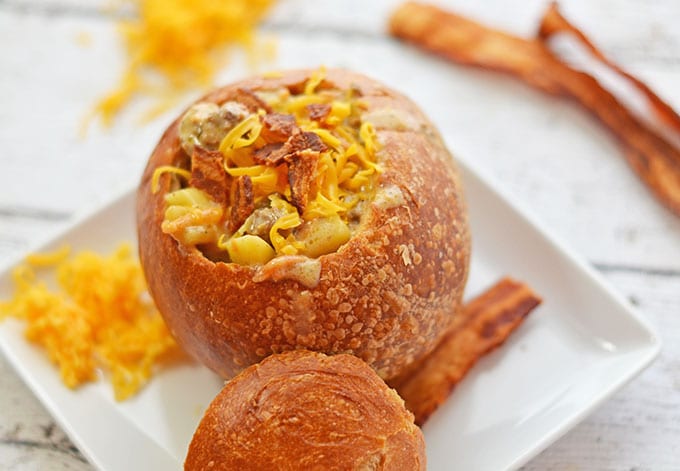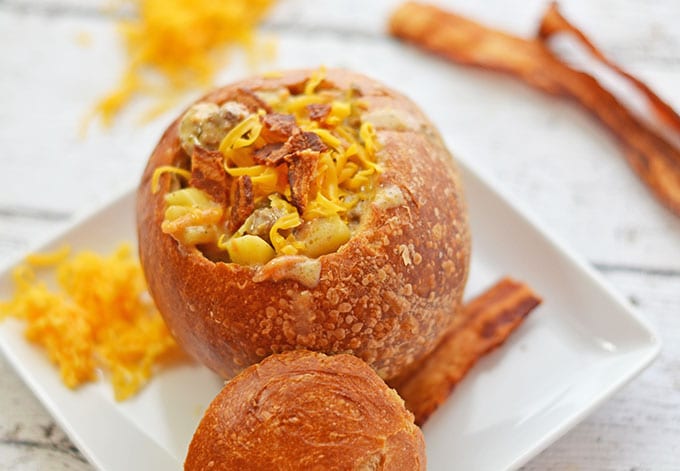 To me, this soup is the perfect combination of ingredients. It's full of flavor and hearty with all the meat, creamy from the touch of dairy, and everything is made better with bacon and cheese, right?
While you don't usually find carrots or potatoes on most burgers, I find they add a nice touch to this bacon cheeseburger soup recipe, and help make it a one-dish meal.
The bacon cheeseburger soup is great on its own, but we especially love it scooped into a warm crusty bread bowl and topped with an additional sprinkle of crisp bacon and shredded cheese.
The leftovers also reheat very well, and you can even add some pasta to change up the leftovers to create a mock cheeseburger Hamburger Helper.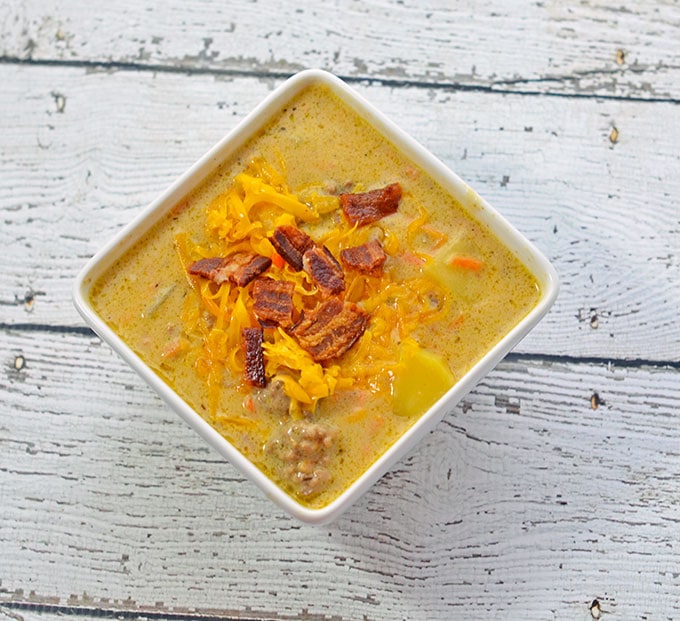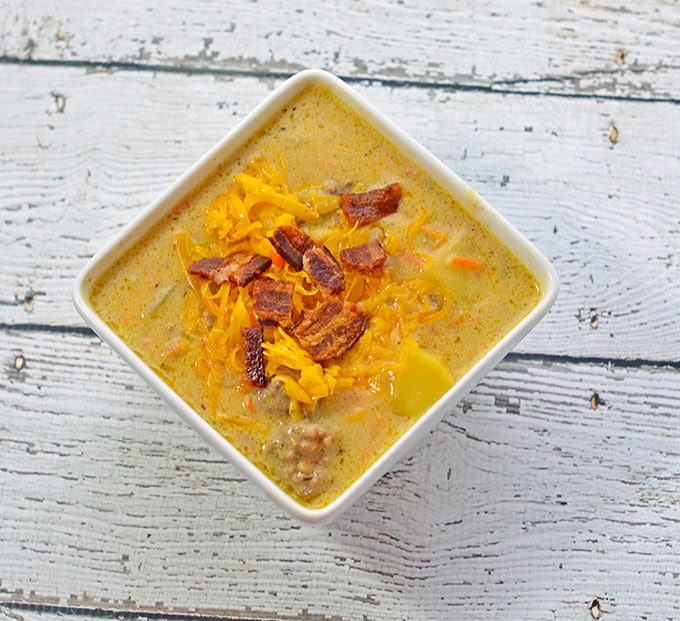 While a bread bowl makes this bacon cheeseburger soup even better, it's also great just in a bowl.
Recommended Equipment
I'm often asked about some of my favorite kitchen tools when I make recipes.
Here are a few of my must-haves for making this bacon cheeseburger soup: Lodge 6-Quart Dutch Oven, Oxo Good Grips Stainless Steel Ladle, and Oxo Good Grips Saute Paddle.
What To Serve with Bacon Cheeseburger Soup
This is a great all-in-one dinner but here are some bread recipes for dunking and some desserts that go well with this cheeseburger soup recipe.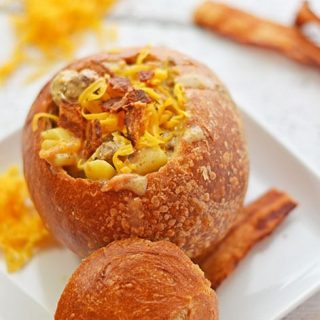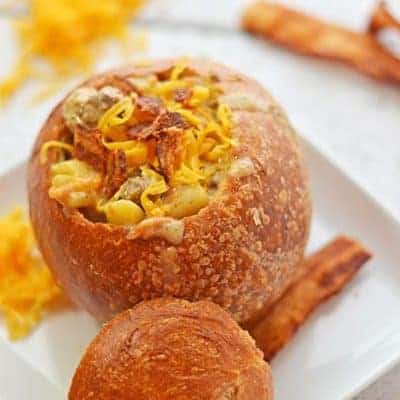 Bacon Cheeseburger Soup Recipe
This bacon cheeseburger soup recipe combines all your favorite flavors of a bacon cheeseburger with the hearty warmness you love during the winter.
Ingredients
1 pound thick cut bacon
1 pound ground beef (leaner is better)
1 medium to large yellow or white onion, diced
2 medium to large carrots, shredded
2 cloves garlic, minced (can also use powder)
1/4 cup flour
4 cups potatoes, diced and optionally peeled
3 cups beef or chicken broth
1 teaspoon Worcestershire sauce
2 cups cream, half &half or milk (depending on the richness you want)
2 cups shredded cheddar cheese
1/2 teaspoon cayenne powder or to taste (optional)
salt and pepper to taste
bread bowls for serving (optional)
extra shredded cheese and crisp bacon for topping
Instructions
Chop bacon into bite-sized pieces and cook until slightly crisp in a large dutch oven over medium-high heat.Once bacon is slightly crisp, add ground beef, breaking it up into bite-sized pieces with a large cooking spoon or spatula.
Once beef has cooked through, drain off any extra fat from the meat, leaving about 2 Tablespoons of fat in the pot with the meat.
Add in onion and carrot and cook until slightly tender, about 5 - 7 minutes. Stir in garlic and cook for about 1 minute. Stir in flour and cook for 2 - 3 minutes to cook out flour taste.
Add in potatoes, broth and Worcestershire sauce, cover and simmer until potatoes are tender, about 10 - 15 minutes.
Reduce heat to medium-low and stir in cream, half & half or milk. Stir in cheese until melted and season to taste with cayenne, salt, and pepper.
Cook until slightly thickened. Serve immediately, in bread bowls with extra shredded cheese and crisp bacon for topping, if desired.
Notes
If you have leftover burger buns, toasting them up as croutons to add to the top is also tasty!
Like this bacon cheeseburger soup recipe? Check out our broccoli, bacon and potato chowder with cheese recipe!