This is a Sponsored post written by me on behalf of Carton Smart. All opinions are 100% mine.
This Pumpkin Soup with Maple Spiced Whipped Cream recipe is a perfect warm yet light appetizer for your holiday get togethers!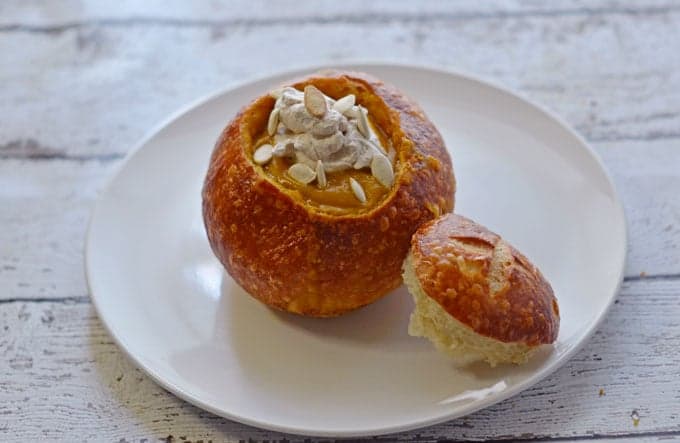 I love cooking and baking year round, but around the holidays I really get in the cooking mood. That means my pantry is full of a variety of cans like broth, pumpkin, cranberry sauce, beans, etc.
I often feel like I'm back in ancient Egyptian times building my own pyramids out of cans to try to utilize the most space, but unfortunately, they often end up more like the Leaning Tower of Pisa.
Then, because I'm short and some shelves are barely in reach, I feel like I should be wearing a construction helmet and steel-toed boots because the whole thing is bound to come crashing down as soon as I reach for a can.
You've been there too, right? ...right?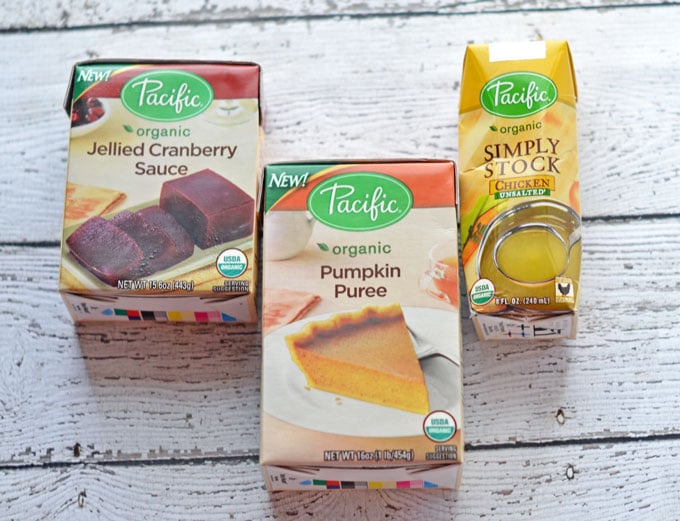 So, when Tetra Pack offered to send me a starter kit of Pacific Foods cartons to recreate one of my favorite holiday dishes with to show my carton smarts, I was excited to try them out.
In recent years, I've pretty much started exclusively using carton broths and soups, but I honestly had no idea that other foods were now also being sold in cartons.
I prefer cartons as they are easier to store (a brick-shaped object is so much easier to stack than a cylinder!), and often have less preservatives and sodium.
Plus, most cartons have reusable seals so you can easily reuse them instead of sticking leftover broth in a plastic container that just ends up in the back of the fridge until you find it, along with 2 other containers, 3 months later and it's a moldy mess.
Not that I would know anything about that...
I received 3 typical holiday-friendly foods for my quest to recreate one of my usual holiday dishes: Pacific Foods organic pumpkin puree, organic jellied cranberry sauce and organic (and unsalted - woohoo!) chicken stock.
We already buy big packs of Pacific Foods organic chicken broth at Costco that I'm very pleased with for when I don't have time to make my own, so I had big expectations and I wasn't disappointed.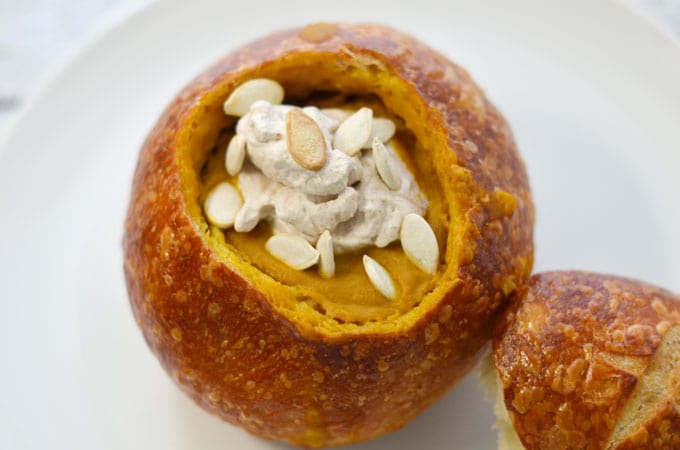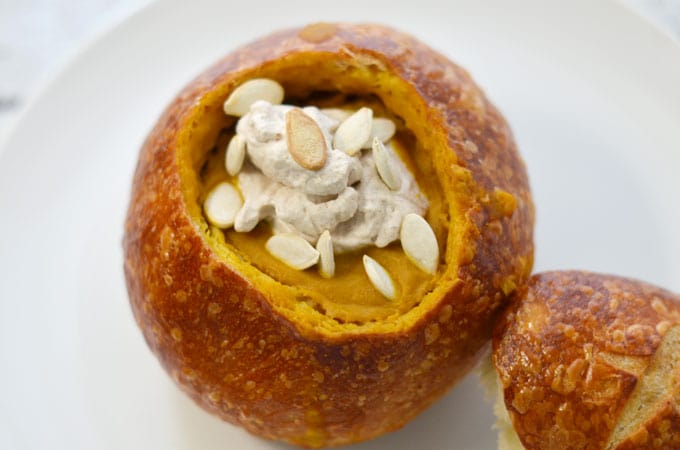 A close-up of what makes this soup really special - the maple spiced whipped cream!
Pumpkin Soup with Maple Spiced Whipped Cream Recipe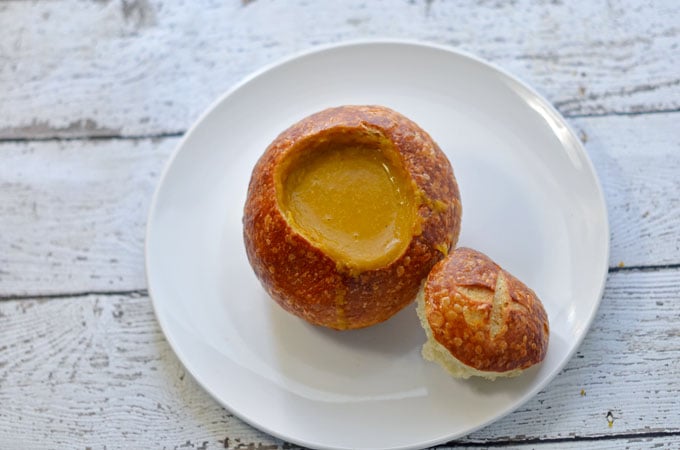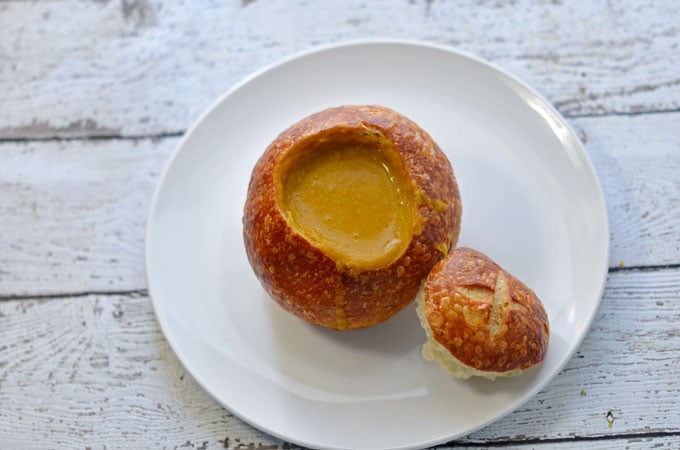 Even without the toppings, don't you just want to dip a spoon in?
So what did I choose to Be Carton Smart with? A deliciously savory pumpkin soup with maple spiced whipped cream recipe!
I know that pumpkin pie is usually the traditional dessert, but I have to be honest. The southern girl in me actually prefers sweet potato pie over pumpkin pie at our holiday feasts.
I know, you can breathe now, I promise! I still enjoy pumpkin flavor though, so I like to make a savory pumpkin soup as an appetizer.
This soup is warm and savory, yet light so it won't weigh you down before the big meal. I make it extra special for the holidays by serving it in a bread bowl with a dollop of maple spiced whipped cream and a sprinkle of roasted pumpkin seeds. I actually like the shell, so I leave them on, but you could of course shell them if you prefer.
LEFTOVER PUMPKIN RECIPES: Pumpkin Waffles, Pumpkin Blondies, Pumpkin Pasta,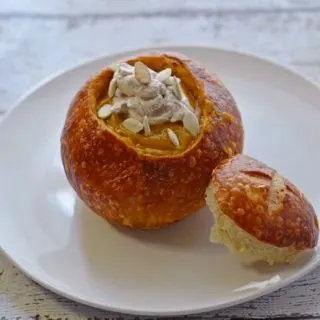 Pumpkin Soup with Maple Spiced Whipped Cream Recipe
This Pumpkin Soup with Maple Spiced Whipped Cream Recipe is great as a light yet warming appetizer for your holiday meals!
Ingredients
1 Tablespoon unsalted butter
1 Tablespoon olive oil
1 small onion, finely chopped (I usually use yellow)
1 garlic clove, peeled and finely chopped (can use garlic powder)
1 8-ounce carton Pacific Chicken Stock
1 16-ounce carton Pacific Pumpkin Puree
salt and pepper to taste
1 cup heavy cream
¾ teaspoon ground cinnamon
¼ teaspoon ground nutmeg
2 Tablespoons maple syrup
Roasted pumpkin seeds (optional)
Warmed bread bowls (optional)
Instructions
In medium-sized pot, melt butter and olive oil together over medium heat.
Once butter has melted, add chopped onion and sautee until it softens and starts turning translucent, stirring occasionally; about 5 minutes.
Add garlic to onion and sautee about 30 seconds (garlic burns quickly) and then add in broth.
Once broth has warmed up, add in pumpkin and heat through.
In the mean time, make the maple spiced whipped cream by combining cream, spices, and maple syrup in a bowl and whisking (or use a hand mixer) until soft peaks form. Store in a covered bowl in the fridge while you finish the soup.
Once pumpkin has warmed through, smooth out the soup by blending in a blender or with an immersion blender.
Once smooth, add salt and pepper to taste.
Serve soup immediately, in warmed bread bowls if desired, with a dollop of the maple spiced whipped cream and sprinkle of pumpkin seeds if you like.
Leftovers should be refrigerated in an air-tight container.