Can cheaper knives really be quality and get the job done? Read our Good Cook Nonstick Cutlery Review to get our opinion.
Smart Savvy Living was provided with products at no cost to us for this Good Cook Knife Review. All opinions are honest and our own.
2023 Update: I can't believe we've been using these knives for over 6 years! They're still working great but I like to make sure the products we review are still available several years later.
Some of the Good Cook Non-Stick knives are still available and I've linked to those on Amazon below. However, if you're looking for similar knives in quality and cost I can definitely recommend the Pure Komachi and Cuisinart brands that can also be found on Amazon.
For several years we have been using rather cheap knives that just weren't all that sharp no matter how much we honed and tried to sharpen them.
Mr. Savvy and I both do a lot of cooking from scratch with fresh veggies and meat, so when Good Cook offered to send us a set of nonstick cutlery to review, I couldn't wait!
Good Cook Nonstick Cutlery Review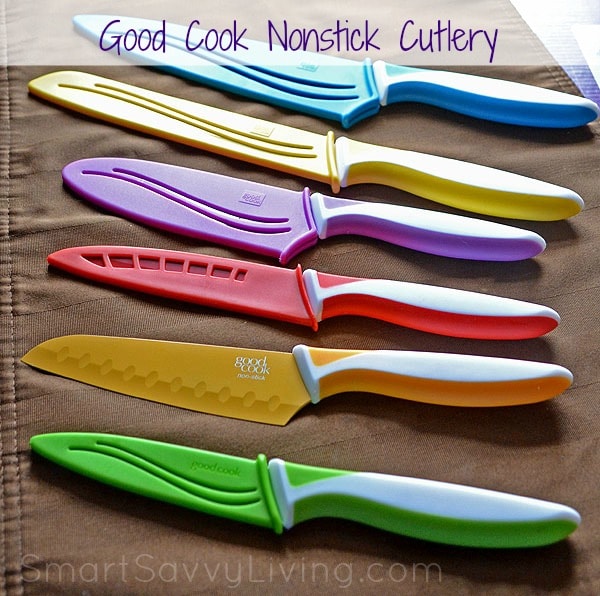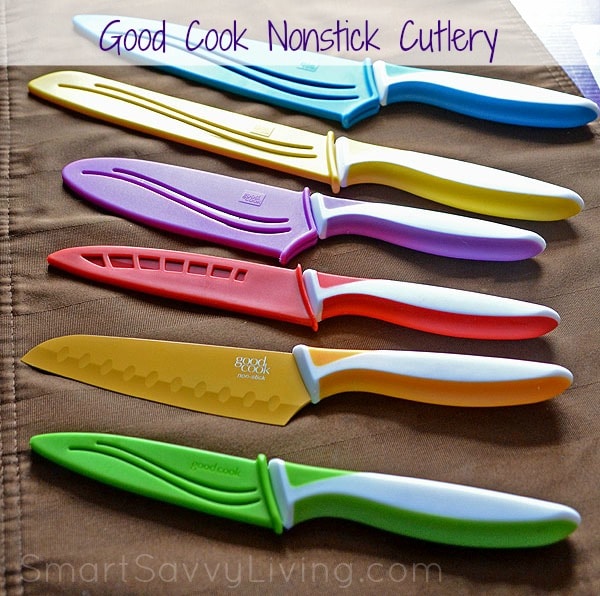 We received the following nonstick knives made from carbon steel with covers to review:
Good Cook Nonstick Bread Knife
Good Cook Nonstick Chef Knife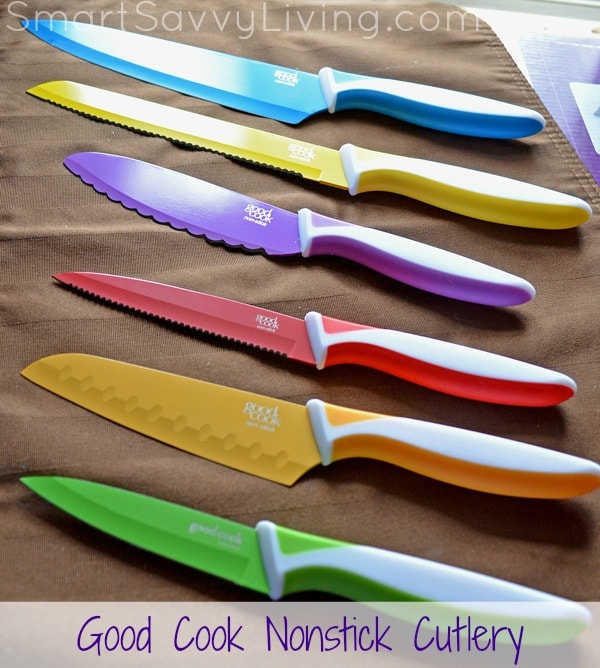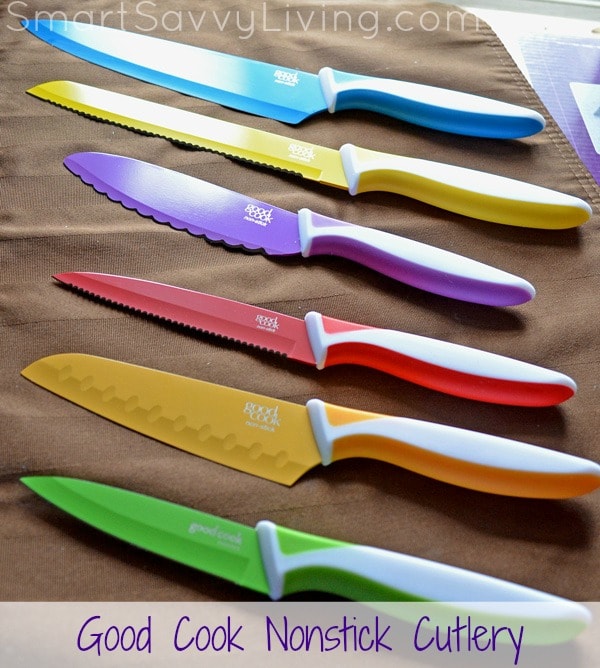 My Experience During the Good Cook Nonstick Cutlery Review:
We've been hoping to get a really nice knife set for a while, but if you're familiar with knives, you know that the really good ones can cost as much as $100+ per knife!
Unfortunately, spending that much just hasn't been in our budget with all the other things we have needed to buy and invest in. As a compromise, we bought some carbon steel knives at one of our local warehouse stores.
So far they've worked wonderfully, but they had a few issues that have made me question their longevity like being super thin and lightweight.
I have to say that after trying both, I definitely prefer the Good Cook knives.
They have just a bit more weight to them that makes them feel more natural to cut with, which makes sense as the knives seem to be a bit thicker than the others we have.
However, they're not as heavy as some traditional knives can be, which I like for extended use.
I also like that the handle was made to be more ergonomic, so not only does the weight make it nicer to hold, but the handle is much more comfortable to hold, especially when you have a lot of chopping to do for salads, stir-fry, etc.
Plus it's still easy to hold even when wet.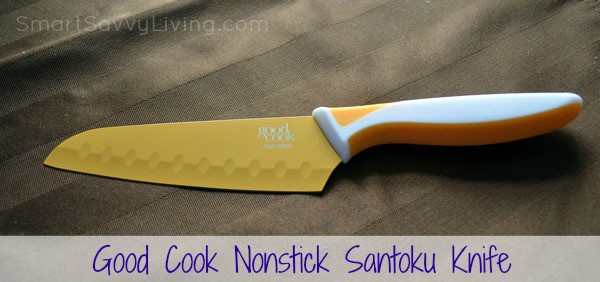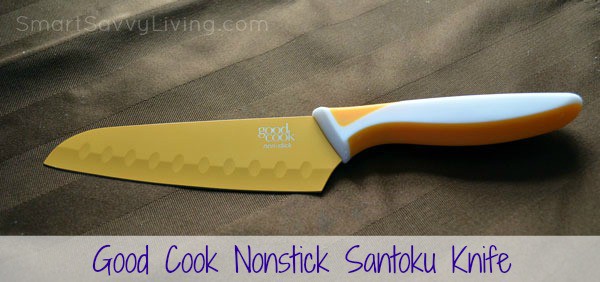 My favorite knife has been the 5" Nonstick Santoku knife by far (yellow-orange and pictured above).
It has a similar shape to the chef knife, but it is just slightly smaller, which is perfect for me as I'm only 5'2" and have smaller hands.
I've been using it to prepare a variety of recipes like my potato salad and sauteed onions and mushrooms.
It's perfect for cutting so many types of meats, veggies, and everything in between.
Mr. Savvy has been loving the chef's knife (blue) to carve meats, and I love using the bread knife (yellow) so I don't squish the fresh homemade bread that I make.
I also love that these knives come with covers so you don't need a block with them nor have to risk your fingers by putting them in a drawer uncovered.
They do also stick to magnetic knife strips if you rather have them hanging up - and they are so nice looking with beautiful bold colors that you would feel proud to display them in your kitchen, or at least I do!
My favorite part is how easy they are to clean since they are nonstick - even if you happen to use one to carve a glazed ham that gets forgotten about for a couple of days. Not that I know what that's like or anything.
P.S. - Please remember that even if these don't look like a traditional real knife they are still VERY sharp and shouldn't be used by kids without close supervision!
Final Takeaway: The Good Cook nonstick knives are my new favorite knife set - especially since the whole set is only around $125! And with each knife being super affordable you can easily build your set over time.
I can totally recommend them to anyone needing a new knife set on a budget. I honestly have yet to find a negative quality about them.