This cheesy rigatoni with sausage and mushrooms recipe comes together quickly for a warm and hearty meal that tastes like it took all day to make.
No matter the time of year, pasta has always been one of my favorite dinners. It usually comes together pretty quickly and is something pretty much everyone loves with its hearty comfort without being overly expensive.
While I do enjoy making my own homemade sauce to use with pasta, I have to also be real and say it's just not always possible nor practical to make with each pasta dinner.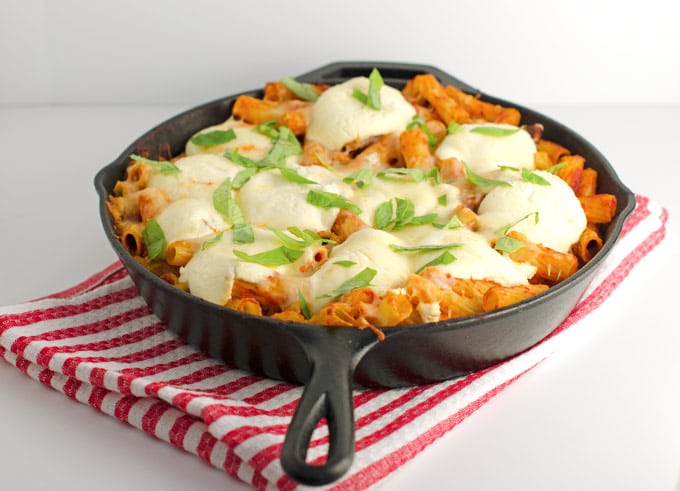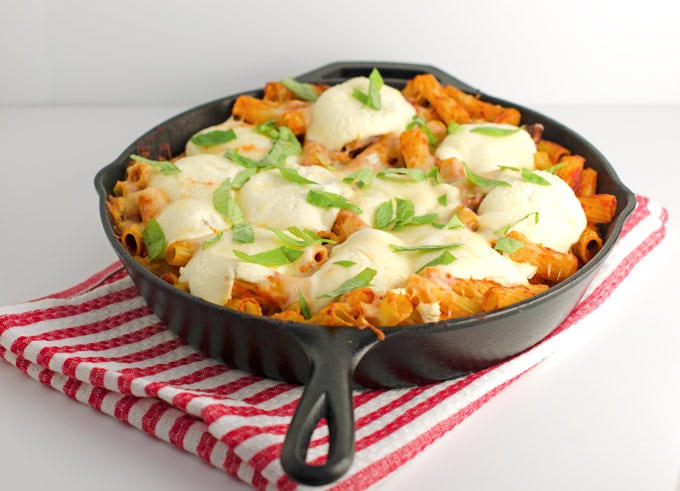 That's why I always have at least a couple jars of various pasta sauce flavors in our pantry, like RAGU's newest Homestyle Sauces.
I really like it because it not only tastes good, but it's Ragu's thickest sauce yet so it really sticks to the pasta instead of leaving tomato soup at the bottom of your bowl. It also doesn't have any artificial flavors, artificial colors, or high fructose corn syrup, which I really appreciate.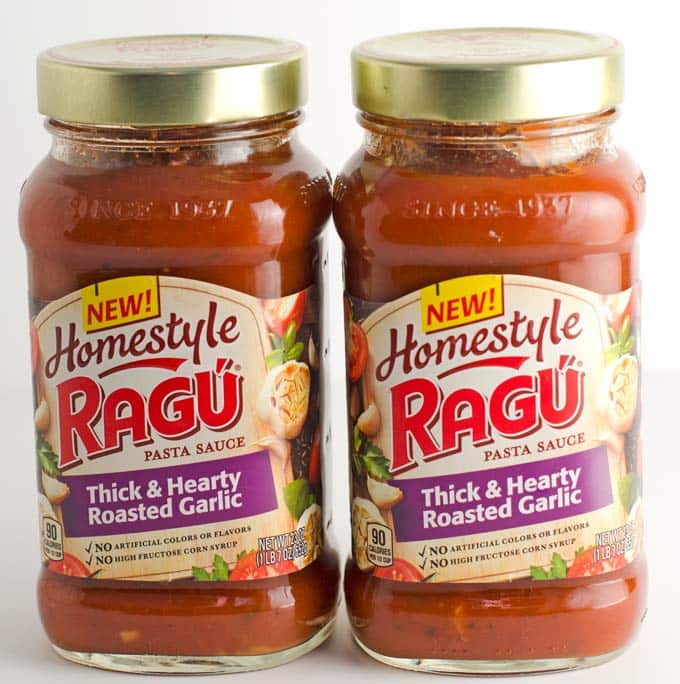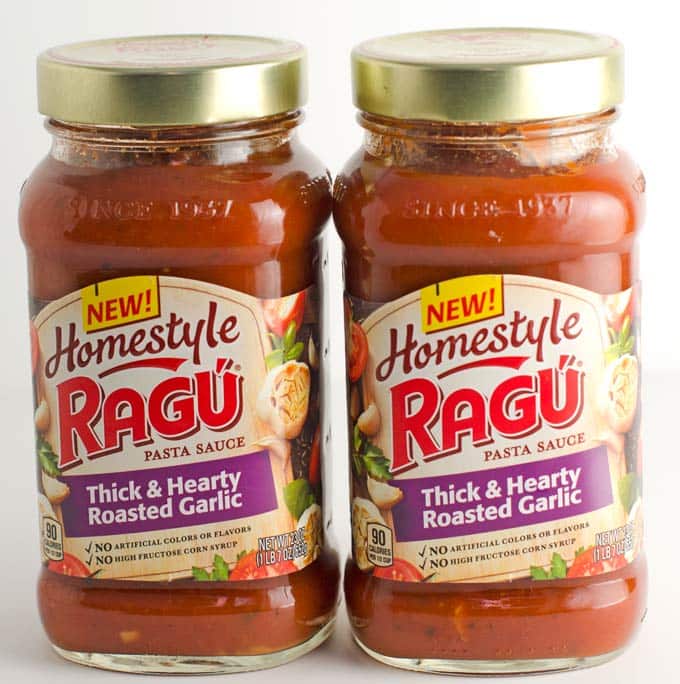 It's also very affordable. I've been able to stock up on jars for about $2 or a bit less per jar without any coupons or anything.
I used the Thick & Hearty Roasted Garlic flavor and I have to say it tastes pretty darn amazing on its own to this garlic lover. They have several other sauce flavors to make a variety of pasta dishes.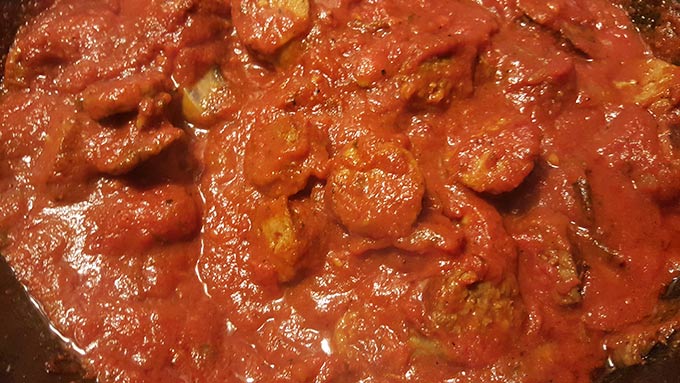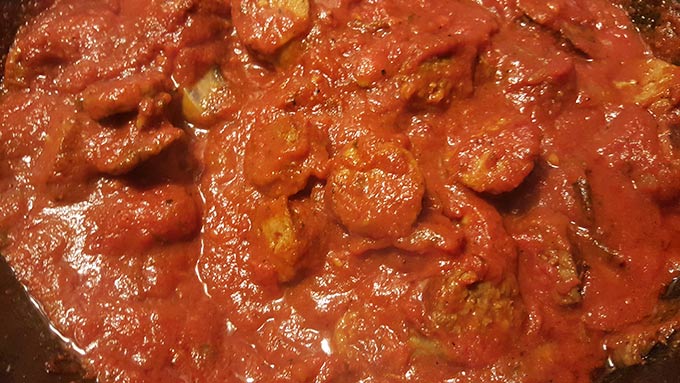 I love how thick and hearty this sauce really is. Yum!
You can check them out over at the Ragu site. When I make pasta I don't like it to be overly dry but I also don't like a soupy thin sauce.
I also like to pair it with some veggies, a lot of meaty goodness, and you can't forget plenty of cheese. I like using rigatoni because it's great for letting the sauce fill the pasta for that nice burst of flavor when you take a bite.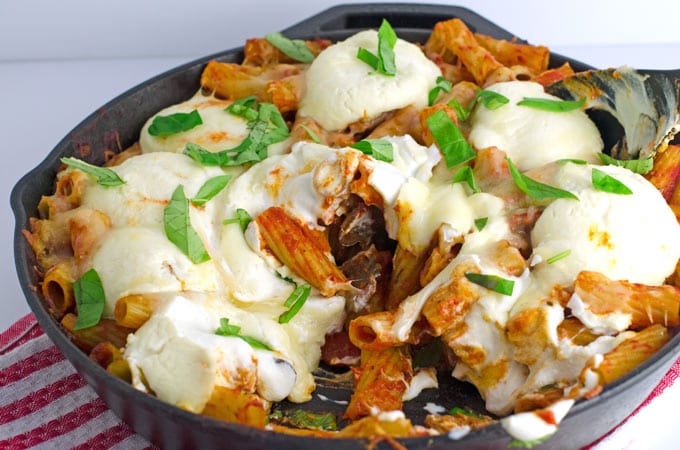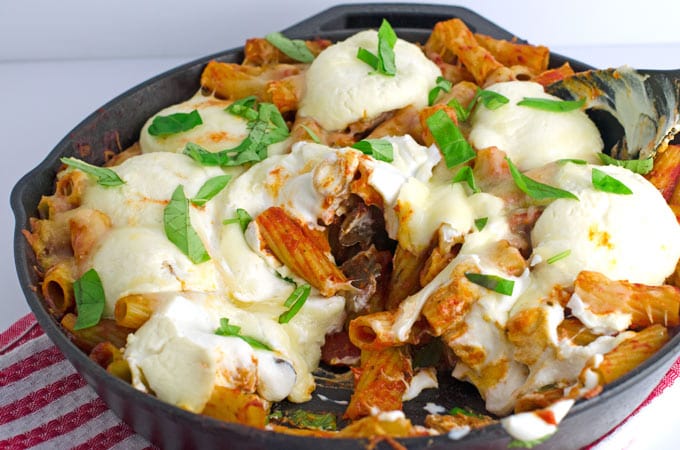 I also added Italian sausage, both hot and mild, for a nice meaty flavor bump. I also added mushrooms for a bit deeper flavor and because, well, mushrooms are awesome.
I then topped it with some nice scoops of super creamy ricotta and a healthy dusting of Italian cheese blend. The ricotta gets all melty and starts seeping down into the pasta for extra goodness.
After this rigatoni dish came out of the oven I topped it with some fresh basil. I even cooked everything, aside from the pasta, in the same cast-iron skillet for easy cleanup.
Eaten by itself, this cheesy rigatoni with sausage and mushrooms recipe is hearty and filling, but is also great with a side salad and/or garlic bread. We like it so much I always make a double batch so we have plenty of leftovers for lunch the rest of the week. Here's how I put it together.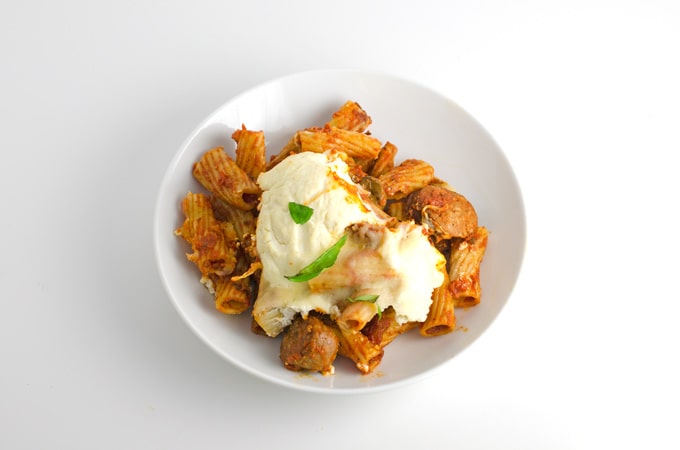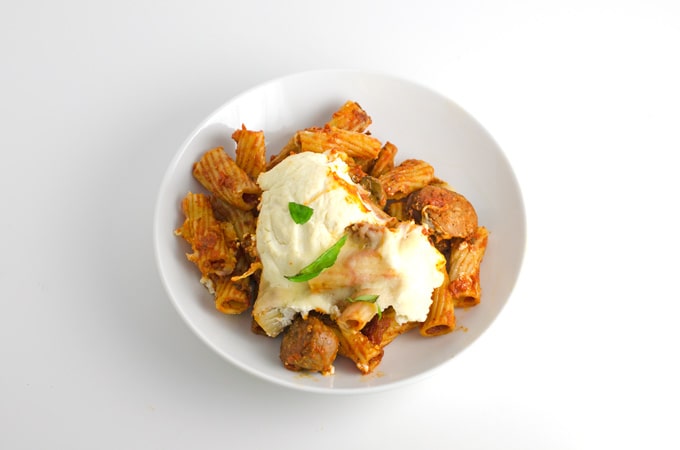 Cheesy Rigatoni With Sausage and Mushrooms Recipe
Total Time:
1 hour
10 minutes
This cheesy rigatoni with sausage and mushrooms recipe comes together quickly for a warm and hearty meal that tastes like it took all day to make.
Ingredients
Olive oil
About 1 pound of hot or mild Italian sausage, ground or links
8 oz mushrooms, cleaned and sliced
1 cup chopped white or yellow onion
2 cloves garlic, finely chopped
2 jars Ragu Homestyle Roasted Garlic Pasta Sauce1 1-pound box rigatoni
1 1-pound box rigatoni
8 oz ricotta cheese (I used whole milk based but you can use whatever % you like)         
1 cup Italian cheese blend
Instructions
Place a large skillet or dutch oven over medium-high heat and add just enough olive oil to cover the bottom, about 1 tablespoon.
Add Italian sausage. If using links, lightly brown on all sides. Sausage does not need to be cooked through yet. Once browned or lightly cooked, remove from pan and set aside.
In remaining pan drippings, add mushrooms and cook for 2 - 3 minutes until lightly browned.
In the mean time, start boiling water in a large pot for cooking pasta and preheat the oven to 350F.
Add onion and garlic to the mushrooms and cook until onions soften. Season with a pinch of salt and pepper.
Turn the heat down to low and add sausage back to the pan with onions and mushrooms. Pour in one and a half jars of sauce, reserving the rest to see if you want to add it later. Let simmer while pasta cooks.
When the water is boiling, add a large pinch of salt and the pasta. Stir and cook 2 minutes less than the box states since it'll finish cooking in the oven, usually around 8 minutes.
Thoroughly drain the pasta and add to the sauce. You can do this in the same pan you cooked everything in or in a baking dish. Add any extra sauce if needed.
Place large spoonfuls of ricotta on top of the pasta and sauce. You can season the ricotta with salt and pepper and herbs, if desired.
Sprinkle the Italian cheese blend on top.
Place into the oven with the rack in the middle for about 20 minutes, or until the sauce is bubbling and the cheese is melted.
Let sit for at least 5 - 10 minutes before serving.
Notes
You can also add spinach or kale to the sauce if desired.