Trying to eat healthier but everything tastes like cardboard? Try out these 10 healthy seasonings to make healthier foods taste good.
We all know that eating healthy is important but after a while, it can feel like you're in a rut eating the same things or that you're eating cardboard. That makes it easy to have the excuse to fall off the healthy eating wagon and go back to eating mostly junk food.
10 Healthy Seasonings to Make Healthier Foods Taste Good
It doesn't have to be that way, though. Here are 10 healthy seasonings to make healthier foods taste good so you continue eating well and actually enjoy it.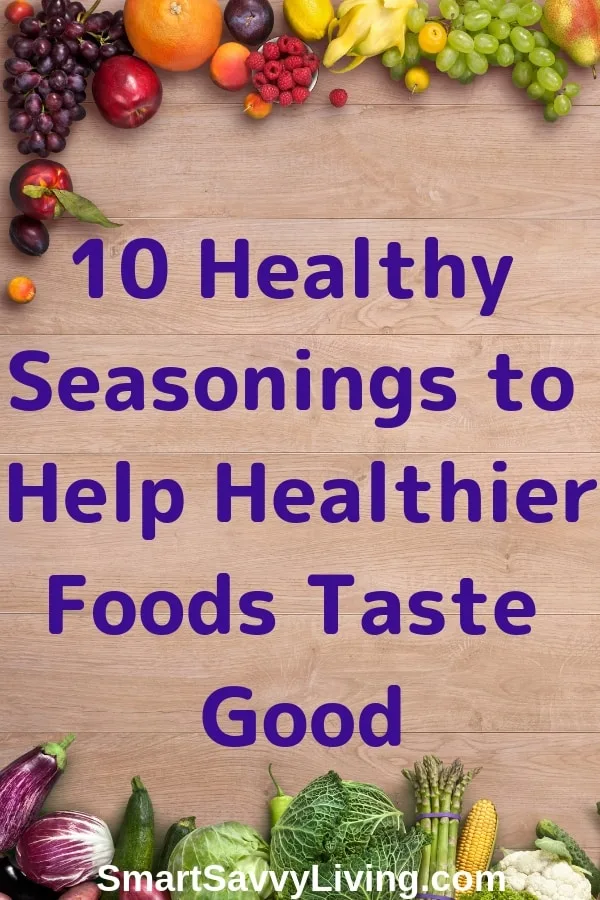 1. Herbs - There are so many delicious herbs out there to add to your food. Two of my favorites are basil and oregano, which go great with tomatoes and a variety of meats like chicken and pork.
There are different types of most herbs, like Mexican oregano and lemon basil, all of which have slightly different flavors so you have plenty of ways to change things up whether you're baking chicken or making a vegetable salad.
Tip: Dry herbs are more potent than fresh herbs, so use less of them in a recipe. Herbs can get bitter when cooked for too long, so add them in at the end for the best flavor.
2. Citrus/Fruit - The only time you may be used to using citrus is with lemon pepper or a squeeze over your seafood, but it is a great flavor enhancer overall.
Add some freshness to chicken with lemon or try lime in Mexican dishes. Just remember that juice adds a milder, more acidic flavor while the zest/peel adds a big citrus punch. Just stay away from the white pith - a microplane zester makes zesting citrus a breeze and can also be used for other ingredients like garlic cloves.
Apples go great with pork, berries with fowl like duck, pears with cheese, and dried fruits in salads. I actually crave salads with a sprinkle of this mix of dried cranberries and roasted almonds!
Frontier Cut and Sifted Mexican Oregano, 16 Ounce
McCormick Perfect Pinch Lemon & Pepper Seasoning, 15.5 oz
3. Salts - You may be surprised to see salt on this list. After all, it seems like we have had the mantra of salt being evil told to us for years.
However, it seems more and more news as of late is saying it isn't all that bad for those without heart-related and other conditions (as always, talk to your doctor first), so I say bring on the salt. There are many different flavors and types of salt out there other than plain table salt.
Sea salt has become my everyday salt of choice, while I love seasoned salt on eggs. Kosher salt is great to use on meats to really bring out their flavor and create a nice crust when roasting.
4. Pepper - There are all sorts of peppers that can be used in seasoning, but in this case I'm talking about regular old black and white peppercorns.
Whether you use the black pepper powder or grind it on before serving, pepper is a great way to spice things up and add a little kick without being too "hot spicy". Just remember, a little goes a long way and you can always add more but you can't take it out. I put pepper on meats, veggies, and even things like sweet potatoes and butternut squash.
5. Flavored Oils and Vinegar - Okay, so you don't want to overdo the oils obviously, but there are several flavored varieties (garlic, herb-infused, and sesame just to name a few) where a little goes a long way. I think I could eat (and love) just about anything topped with balsamic vinegar.
There's also flavored vinegar - rice vinegar being one of my favorites, such as garlic, red pepper, raspberry, etc. I love using these in salad dressings for different flavors instead of resorting back to a higher calorie ranch for something different. You can also add just a splash to dishes, similar to using citrus.
Sherpa Pink Gourmet Himalayan Salt, 5lbs Fine Grain. Incredible Taste. Rich in Nutrients and Minerals To Improve Your Health. Add To Your Cart Today. …
McCormick Table Ground Black Pepper, 16 oz
Nakano Seasoned Rice Vinegar Roasted Garlic 12.0 OZ(Pack of 3)
6. Garlic - You knew it had to be on here at some point, right? Garlic is one of my favorite seasonings and I always have some on hand whether it's fresh, jarred minced garlic, or garlic powder.
It's great with meats and veggies and to help make more flavorful broth-based sauces and soups. Just be sure to not overcook or burn garlic as it will turn bitter and ruin your whole dish. It only needs to sautee by itself for about 30 seconds - 1 minute.
As for garlic breath? I say 2 cancel each other out. ;)
7. Onion/Shallots - I also couldn't leave these out as they are the perfect partner to garlic and depending on the onion, it can provide a nice bite.
I almost always use garlic and onion when sauteing proteins like chicken and pork and they are great to help flavor up veggies and greens like green beans and spinach. You can also grate (or used dried) for dressings and soups. I always thought hard boiled eggs were bland until I started putting some dried onion and garlic on them!
I personally don't tolerate raw onion well so I keep green onion/scallions on hand for onion taste without all the side effects. I also use a lot of dehydrated onion flakes in things like egg or potato salad and sauces.
8. Ground Spices - Just as with herbs, there are tons of ground spices you can use to kick up healthy food a notch. One of my favorite things to do in the kitchen is to try out new flavor combos which usually involves ground spices.
I love adding tons of cinnamon to my steel-cut oatmeal and applesauce. Cayenne is a frequent ingredient in many proteins and light sauces in our home for a kick.
I also like getting spice blends at places like Penzey's which takes out all the guesswork of how much of what to add.
Kirkland Signature Minced California Garlic, 48 Ounce
Frontier Co-op Organic White Onion Flakes, 1 Pound Bulk Bag
McCormick Cayenne Pepper, 14 oz
9. Hot Sauce and Peppers - Do you like it spicy? We sure do and it's a great way to make almost anything taste better! I don't like to only taste hot spice in dishes.
But, with just a drizzle of hot sauce, a sprinkle of cayenne or chipotle, or a few slices of jalapenos and egg breakfasts, salsa chicken, sauces and even salads are reinvented.
10. Cooking Method - Cooking is technically a form of seasoning, right? If you think to eat healthily all you can do is poach things, think again!
My favorites are sauteing and roasting. Thanks to the abundance of non-stick cookware, very little, if any, fats and oils are needed for cooking. I often sear up chicken without using any oil thanks to my non-stick and well-seasoned cast iron pans!
Browned foods just look and taste better, and, as they say, you first eat with your eyes. If you do use fats and oils, make sure they are natural like olive oil, butter, coconut oil or maybe even some bacon fat.
The key, in my opinion, is to think of these things as seasonings and not something you need to drown your food in. Fats are even seen as very healthy in some of today's popular lifestyle diets like Keto and Primal eating.
Do you use any of these 10 Healthy Seasonings to Make Healthier Foods Taste Good? What are some of your favorites?