This sponsored post about What's All this Meowing About Cat Bearding and Cat Litter? is written by me as a member of the Collective Bias® Social Fabric® Community. #ClubFreshStep
What's All this Meowing About Cat Bearding and Cat Litter?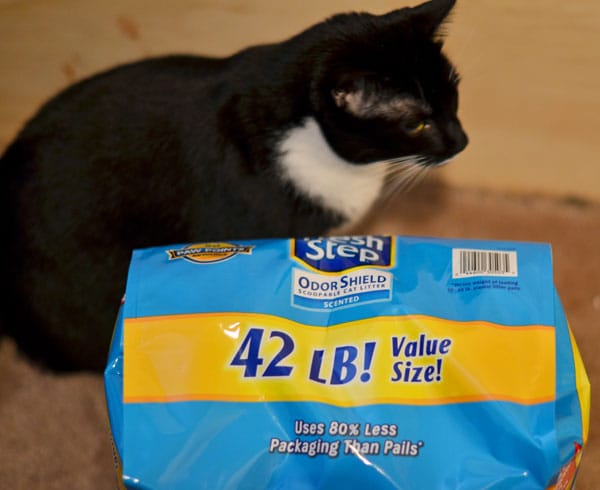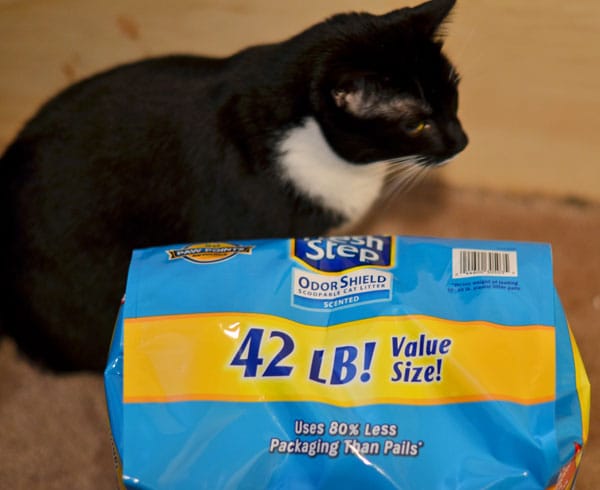 Growing up, I always thought I'd be a dog person. Even though we had a lot of stray cats come by when I was a child, I always just felt like I connected with dogs more. Then in my teens, we got our first indoor cat and I saw just how awesome of a pet cats can be. Fast forward to today where Mr. Savvy and I both love cats and have a multiple-cat household. We both still love dogs too, but we are both definitely cat people as well.
See Chewie's initial reaction to the new Fresh Step cat litter!
Our cats have never been the standoffish, mostly hidden and grouchy animals that many people would describe cats as. Instead, they still love playing at almost 5-years-old, actually fetching and bringing back their mice and bringing toys to us to play, constantly following us around the house for attention and being quite social. However, no matter the type of cats one may own, there is one thing they all have in common, especially if you have multiple cats: they all sure know how to yuck up the litter box!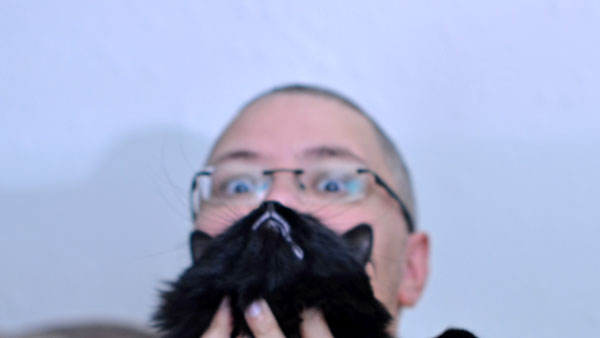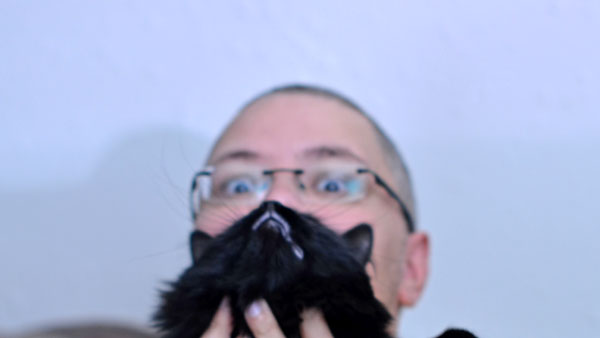 Our most successful shot at proper cat bearding.
We've been fans of the odor control of Fresh Step cat litter for years, so I was delighted when I was recently offered to try out the new and improved Fresh Step OdorShield Formula cat litter. I love that this formula uses more natural ingredients to help fight stinky litter box odors! I recently learned about how essential oils are good for not only a pleasant scent safely, but also have been found to stop odor-causing bacteria growth and can inhibit mold growth, so I was impressed to see it included in the new formula. This means the litter box not only smells better, but is also a bit healthier for both the cats and our family. Chlorophyll, the green stuff found in plants that absorbs and filters all sorts of things, is also a new addition to the cat litter.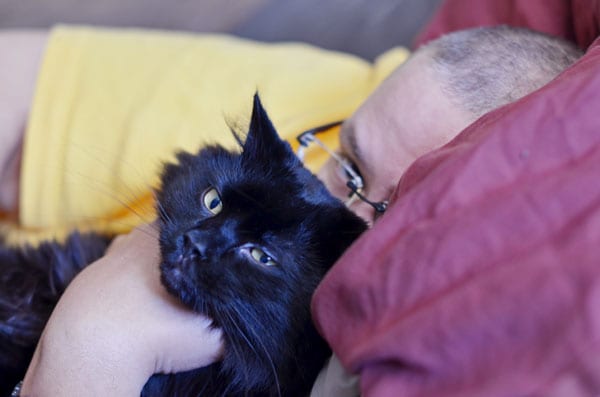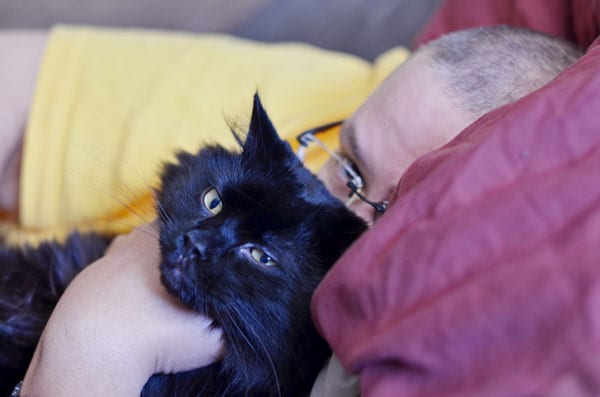 I loved this picture as we prepped Chewie for cat bearding.
We love buying our Fresh Step cat litter at Sam's Club. With so many cats, I'm often adding fresh cat litter to the box, so it's helpful to get a 42-pound bag instead of having to go back several times a week. Plus, at only $16 a bag, it's HUGE savings over the grocery store. Also, when you get the 42 lb bag at Sam's Club through 10/31/13, you'll get double Paw Points that you can redeem for free cat litter, coupons, and other cat-friendly items.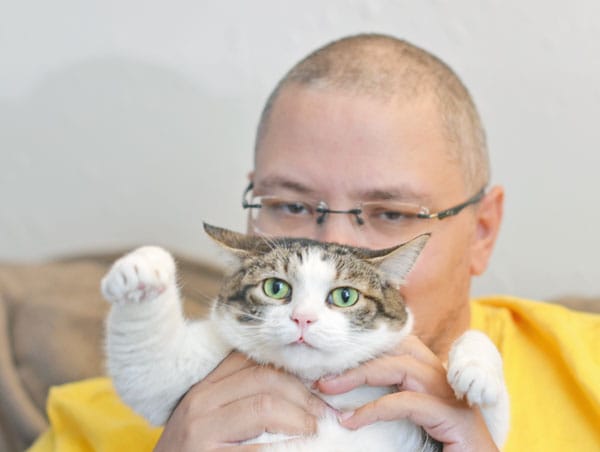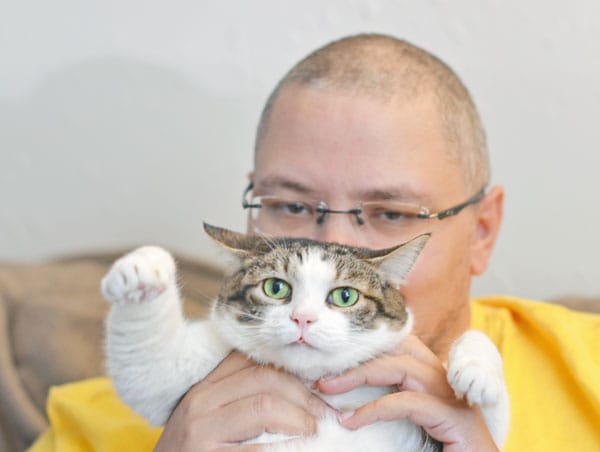 This one totally cracks me up. I love how Tidbit has her tongue sticking out just a little bit.
Fresh Step also invited us to try our hand at cat bearding to celebrate their new formula. I've seen a lot of cat bearding pictures lately, but I wasn't sure how well our cats would react to it. As I figured, our cats didn't really want to properly participate even though as much as they love attention, they just don't like being held. I still wanted to share some of the hilarious pictures I was able to take of Mr. Savvy and our cats.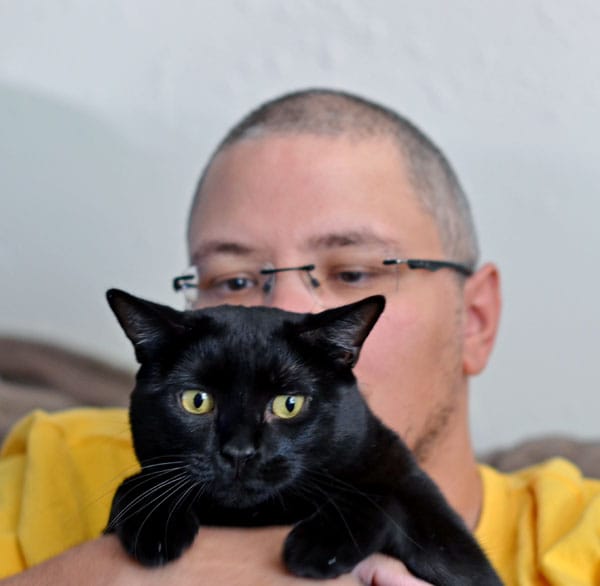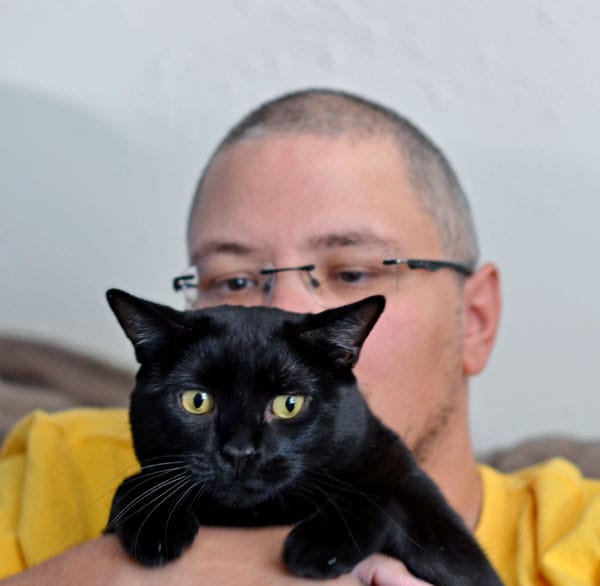 This one just totally slays me. How pitiful does Marvin look?! I think he must know what's coming. ;)
Have you tried the new and improved Fresh Step OdorShield Formula cat litter or cat bearding?