In sharing this recipe for Double Cheese Bacon-Wrapped Pierogies I am participating in a campaign on behalf of Millennial Central for Mrs. T's Pierogies. I received a product sample to facilitate my review and a promotional item as a thank you for participating. #MrsTsPierogies
Double Cheese Bacon-Wrapped Pierogies
Okay, you guys know I'm not a huge football fan and you'll rarely see me talking about sports here. But, as I've said in the past, I really do enjoy watching the Super Bowl. Usually the game is rather entertaining to watch, there are some good and hilarious commercials and we always have a nice array of good eats. Unfortunately, the game this year was less than stellar. We weren't really pulling for either side, but we were really hoping for a closer game instead of such a landslide. There were a few commercials that were okay like the puppy and Clydesdale horse for Budweiser and the dog and little boy Doritos commercial. The highlight of our Super Bowl party, though, was having a few friends over and enjoy all the food and laughter.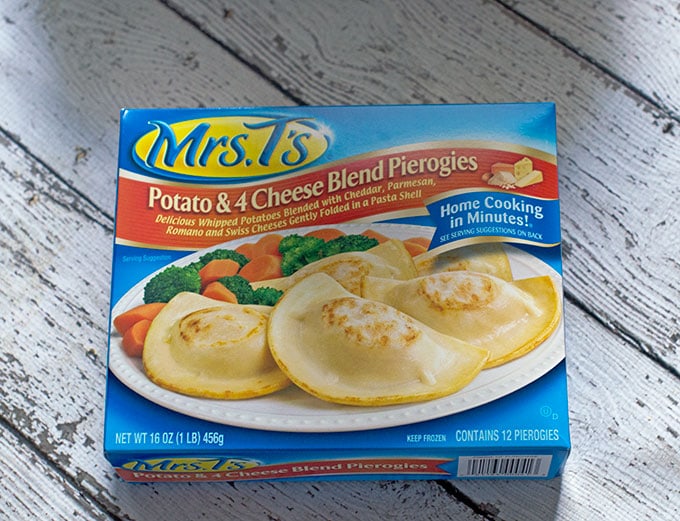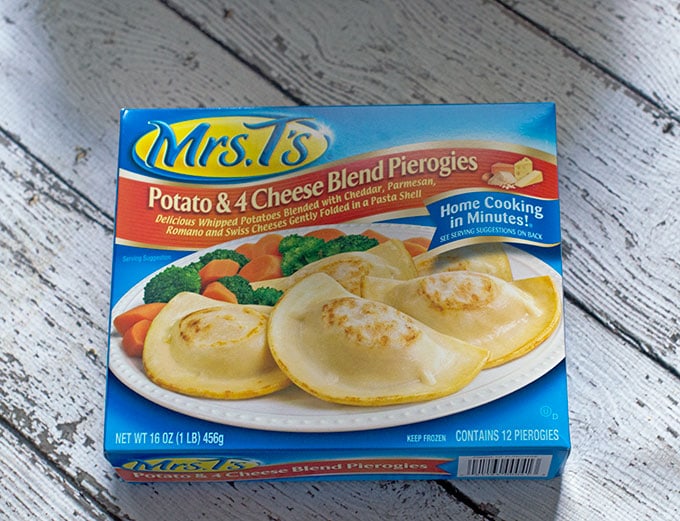 One of the hit dishes this year was something I never would have imagined making for a Super Bowl party, or any party really, but now I think they'll have a home at just about every party we throw. So, what is this magical dish you ask? Mrs. T's Pierogies, wrapped in bacon with a sprinkle of cheese to be exact. They were oh so good and the perfect finger friendly food. We used the Potato & 4 Cheese Blend Pierogies so they were just perfect with the soft and rich cheesy potato center, slightly crisp pasta shell that your teeth bite into, topped with that porky crisp bacon we all love and just a sprinkle of ooey gooey cheese. The end result is almost like the love child from a nacho and potato skin.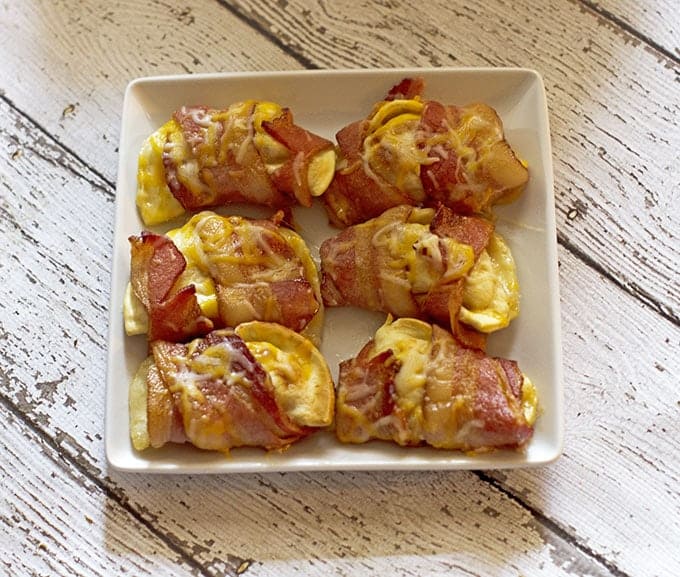 Bacon, cheese, potatoes - what's not to love?
I think these Double Cheese Bacon-Wrapped Pierogies are great for game day because they go great with beer, plus you don't need a huge clunky plate and knife and fork to eat them. Just your fingers and a napkin will do! But, they'd also be great for dinner parties, buffets and any sort of get together. Plus, they're super quick and easy to make and if you need more, they're very simple to throw together. You guys know I like to make most of our food from scratch, but pierogies are something I've never actually tried to make myself yet. I guess since I've been buying Mrs. T's pierogies for years and they've always tasted great, I've never really had a reason to. And, since they're available in a variety of flavors, you can easily make them your own by adding a few ingredients like I did. I always like to keep a few boxes in the freezer for unexpected guests since everyone loves them and they're so easy to cook.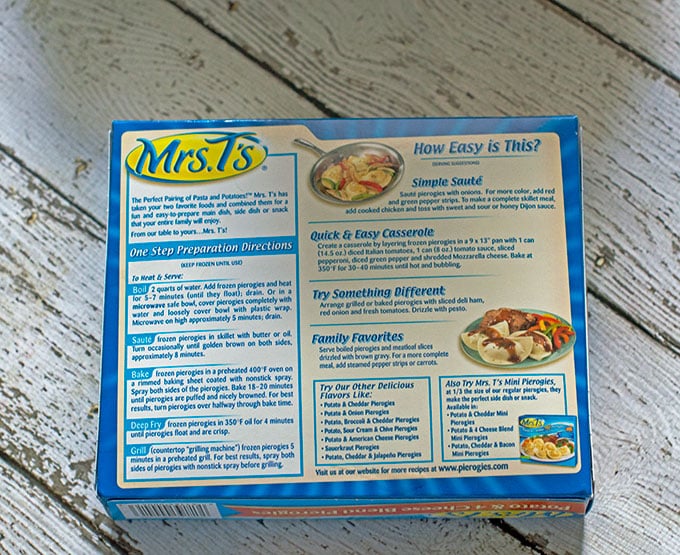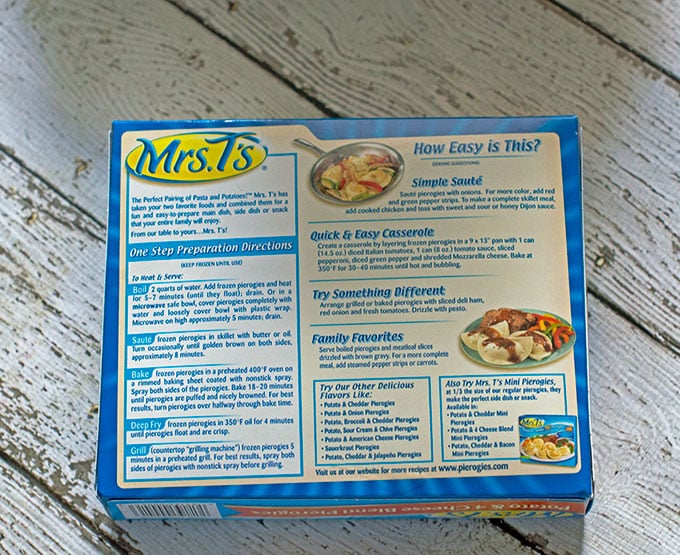 As you can see from the back of the box, there are several different ways you can cook pierogies.
If you aren't familiar with pierogies, they're a very simple yet delicious dish. You basically have mashed potatoes (even sweet potatoes work well) that you can flavor with cheese, onion, bacon, and a variety of other flavors if you like. You then put the pierogies in a pasta shell and then you can boil them and serve with sauce, sautee them, bake them, fry them, pretty much cook them any way you can think of. They're very similar to raviolis and stuffed wontons and can be made savory or even sweet with a bit of creativity.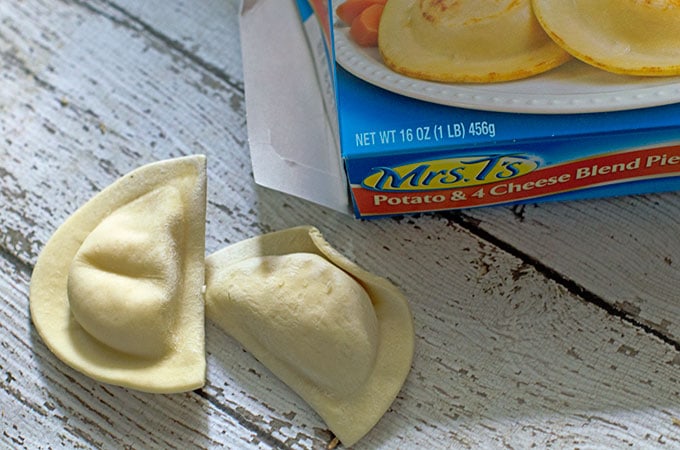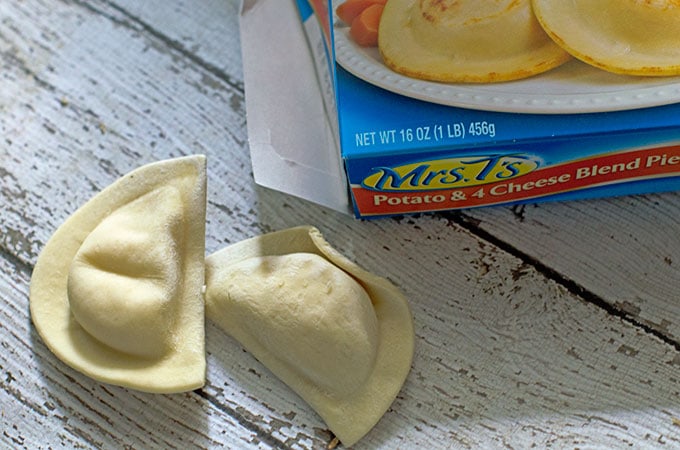 If you've never had pierogies, they are very similar to ravioli and wontons, just stuffed with mashed potatoes.
For more information about Mrs. T's Pierogies, follow Mrs. T's Pierogies on Facebook and Mrs. T's Pierogies on Twitter.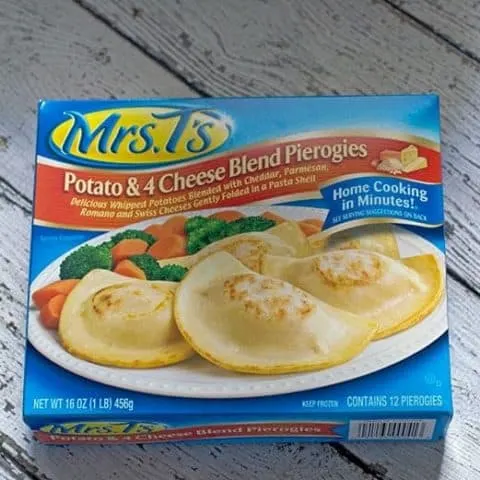 Double Cheese Bacon-Wrapped Pierogies
These double cheese bacon-wrapped pierogies will give you a new perspective on appetizers!
Ingredients
1 16 oz box Mrs. T's Potato & 4 Cheese Blend Pierogies (can also use mini sized), thawed (or you can boil in water for about 2 minutes if frozen)
12 slices bacon, preferably thicker cut
¼ cup shredded cheese, cheddar or blend that you like (I used a Mexican cheese blend)
Instructions
Preheat oven to 425°F.
While oven is preheating, take 1 slice of bacon per pierogie and wrap it around the pierogie. Whatever way you want to do it is fine, but I wrapped mine so that both ends of the bacon tucked under the middle section of the bacon on the back of the pierogie to help prevent the bacon from coming unraveled during cooking.
Place bacon-wrapped pierogies on a foil and non-stick spray lined sheet that has a rim, preferably on a baking rack as well to help bacon grease drain away.
Once the oven has preheated, bake the bacon-wrapped pierogies for 15 - 30 minutes depending on the thickness of your bacon and how crispy you like it. Our bacon was rather thick, so I baked them 20 minutes on one side, ran the broiler a couple minutes to crisp, flipped them, then baked 10 minutes on the other side.
Once bacon is to desired doneness, turn off the oven, take pierogies out and sprinkle with cheese and then place back in the still warm oven to melt if needed.
Place cooked pierogies on a paper towel lined plate for a minute to drain excess grease, then place on serving platter.
Serve immediately, with sour cream for dipping, if desired.