Love New England Clam Chowder but don't always want to cook it nor pay the expensive restaurant price? Read our Trader Joe's Refrigerated New England Clam Chowder review to see if it's a tasty, more budget-friendly alternative.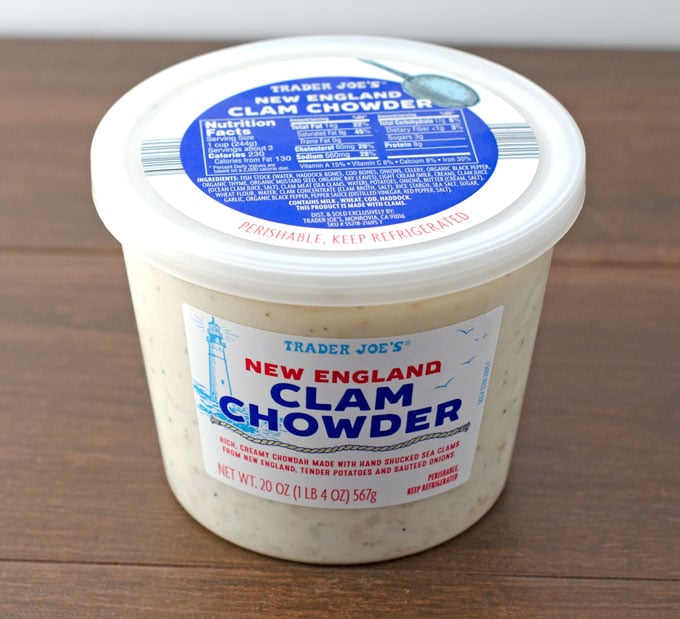 One of my go to lunches, like many, during the colder seasons is soup. I honestly wasn't too much of a soup person until recent years, but one I have loved since I was a child is clam chowder.
Where I grew up in North Carolina there was always a seafood restaurant close by and they all served clam chowders that were very similar in their thick, creamy base filled with chunks of potatoes and clams in the New England style.
I was rather sad when I moved to northern Virginia and couldn't find my beloved clam chowder as easily. A few years ago we moved to southern coastal Virginia and I can now rather easily find it again, but it's a rare treat since a small cup costs around $5.
So, when I saw that Trader Joe's had a refrigerated New England Clam Chowder a while back, I couldn't resist trying it out and wanted to share how I liked it with you all.
Product: Trader Joe's Refrigerated New England Clam Chowder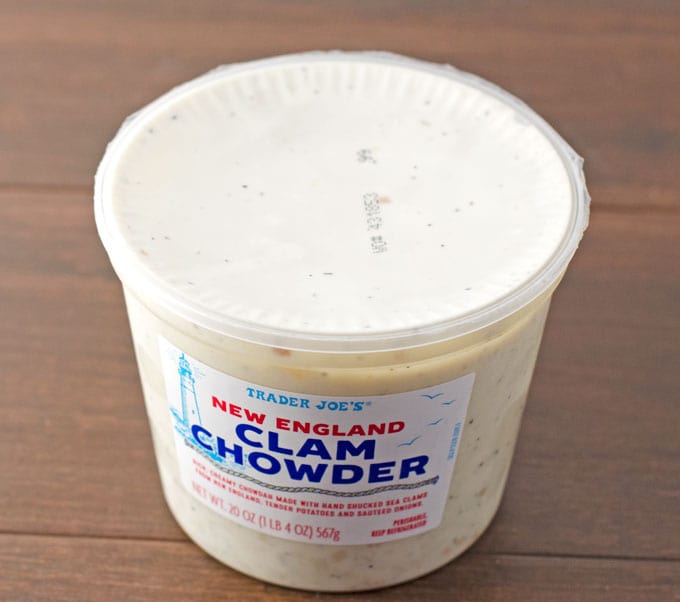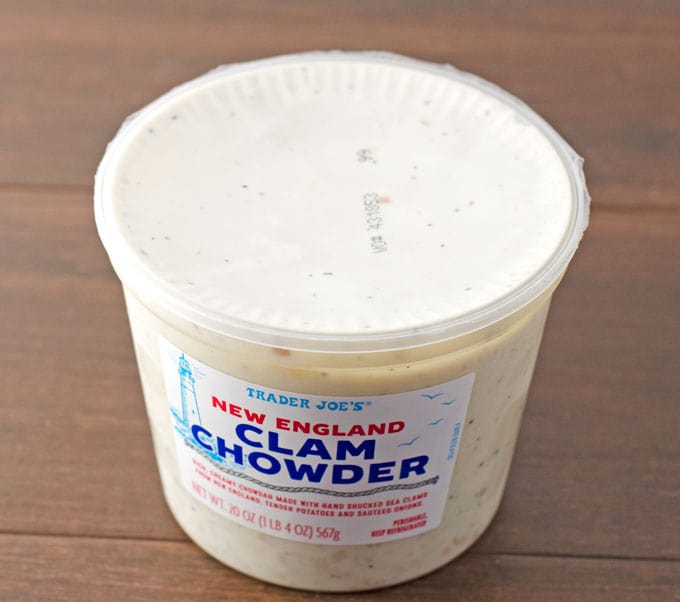 Price: I bought a 20 oz container for $4.49 at our local Hampton Roads, VA Trader Joes in December 2015
The Good
Comes in a clear, easy to store container (I like being able to see my food before I buy to make sure nothing is funky)
Well-priced for fresh, ready-to-heat clam chowder compared to most restaurants
Ready to heat in either the microwave or stovetop
Tastes good without having to really add anything to it - I added saltine crackers to mine because that's how I always like to eat clam chowder
What Could Be Improved
I thought the chowder was a bit on the thinner side
While I like a lot of pepper in my clam chowder, I know some people won't like the amount that Trader Joe's New England Chowder is made with
Trader Joe's Refrigerated New England Clam Chowder Review
As you can probably tell, I really like clam chowder which means I'm a bit picky about what I think makes a really good clam chowder.
For me, a good clam chowder must, first of all, have a base that is a creamy clam flavor, but not so thick it feels like you're eating a gloopy paste and not soup. The clam chowder should then be made thick with plenty of chunks of potatoes that are well-cooked but not mushy, softly cooked chopped onion, and, most importantly, lots of chopped clams that aren't sandy.
I also think that the best clam chowders have a bit of bacon in them, but I know that not everyone feels this way so I can't knock Trader Joe's for the lack of bacon.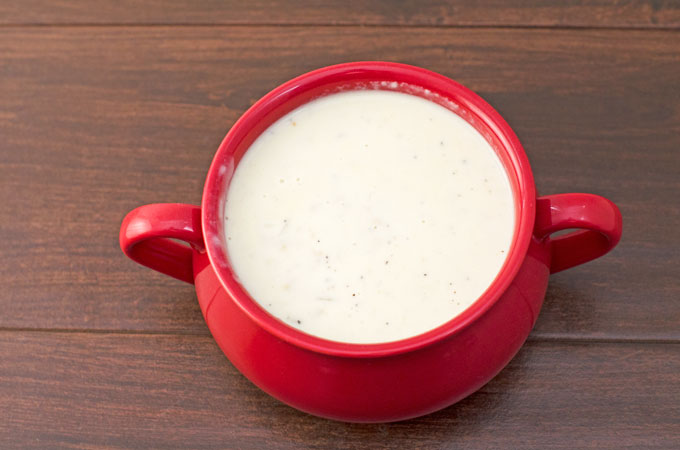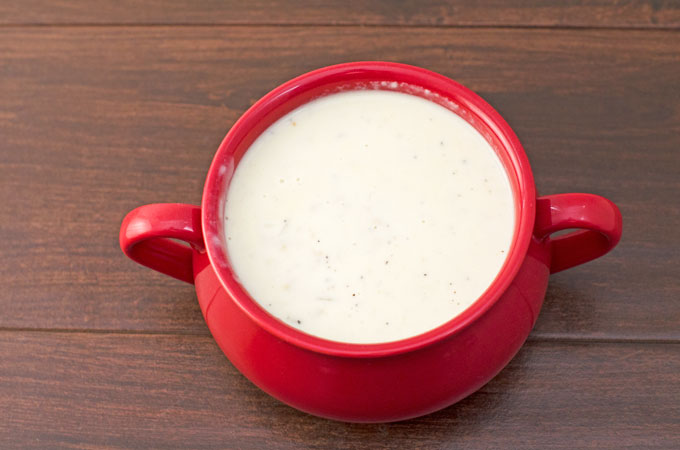 Trader Joe's luckily hits most of these notes as the chowder base is creamy and has a very nice clam flavor. One reason I didn't eat a lot of soup for quite a while was because I don't like many canned soups, especially creamy ones.
They tend to be made with soy and I seem to be sensitive to soy flavors in that they always come off really strong and off-putting to me.
I'm so glad more and more fresh soups like Trader Joe's clam chowder are being sold that don't have that problem. I do think that this clam chowder is a bit thinner than I'd normally like.
I warmed the chowder in a small saucepan on the stove and after pouring it into the bowl, all the potato and clam goodness immediately sunk to the bottom leaving all the creamy soup on the top so I was constantly having to dig into the bottom of the bowl to make sure each spoonful had clams and potatoes.
I personally think the perfect clam chowder should have enough clams and potatoes in it so that isn't an issue.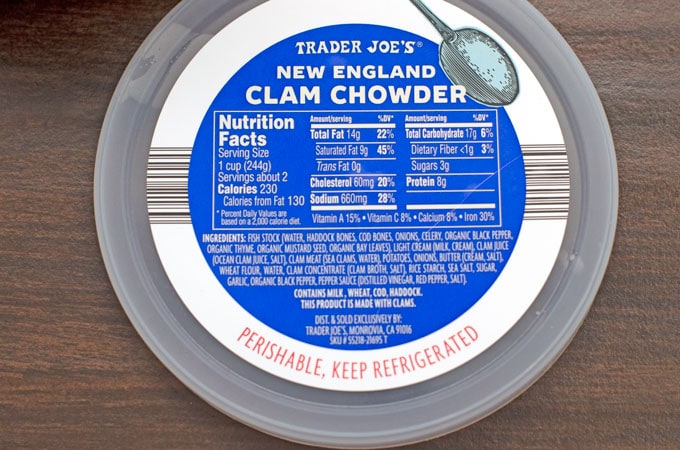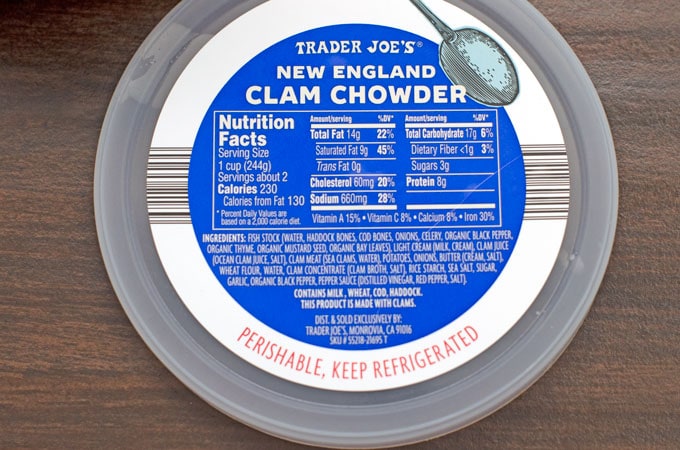 I did really like the clam flavor of the chowder and even if thin, it was very smooth. I usually have to add a bit of salt and pepper to products like this, but this clam chowder was well-seasoned enough that I didn't have to.
It does contain a good bit of sodium, so I was glad I didn't feel the need to add more. It also has a strong ground black pepper note, which I like, but I can see some people likely not being a fan of it.
I do appreciate the amount of chowder you get for the money. It's about half the price, if not less, for the same amount I'd get at a restaurant.
The container says it serves two people, and I think it would if paired with a salad or sandwich. Since it was all I was having for lunch, I ate the whole container.
Would I Buy It Again?
I did purchase this product myself and wasn't compensated in any way to write this review. As such, I would definitely buy Trader Joe's refrigerated New England clam chowder again.
While I will still get a bowl from local restaurants as it's not quite perfect for me, you do get a nice amount for the money and I like that I didn't have to add any other ingredients to warm up the clam chowder or to make it more palatable.
I give it a 4.5/5 rating and look forward to having it as a quick, hot, and tasty lunch again soon.
You can read more about Trader Joe's refrigerated New England clam chowder over on TraderJoes.com.