This is a sponsored post written by me on behalf of Cooper Tire for IZEA. All opinions are 100% mine.
Whether you're just in your car a lot or planning to travel this holiday season, it's always important to make sure your tires are in good condition. Check out our tire safety and maintenance checklist for some common things to check.
Fall may just now be officially starting, but that means many of us will be traveling to visit family and various family attractions and going to football games and other fall activities, perhaps even in rainy, snowy, or icy weather. It's always important to make sure your tires are in good condition for everyday driving, but it's obviously even more important when you're going to be traveling longer distances. Be sure to check our tire safety and maintenance checklist for some of the common issues your tires can have that you'll want to fix before traveling.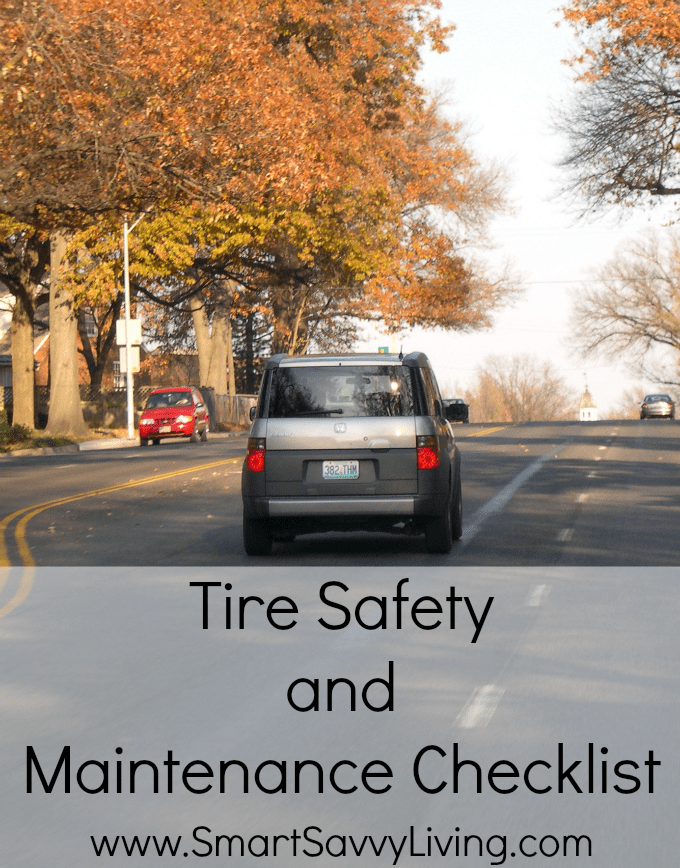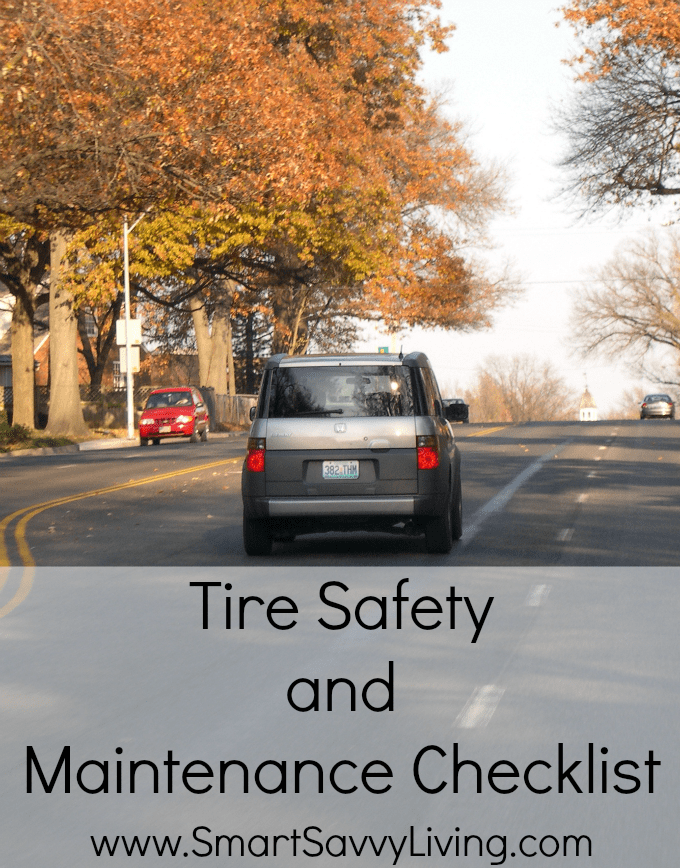 Give your tires a thorough look over. A lot of things can happen to your tires that aren't easily noticed at a glance. First of all, check your tires for any damage including cuts, bulges or items stuck in them like nails, glass or small rocks. If you find any problems, be sure to get the tires replaced or repaired. You can also use a penny to check your tire tread. Just place a penny upside down with Lincoln's head facing you. If you can see the top of his head, it's time to replace the tires. Lastly, you'll want to check for irregular wear.
Check the tire pressure. Tire pressure is something that should be checked regularly, but I'll be honest that I don't remember the last time we checked ours. However, it's something you absolutely need to check before you go on a longer trip as you don't want to have to deal with tire issues in the middle of your trip, and you'll get better gas mileage. Don't forget to check your spare tire, too! Also, remember that ideal pressure can depend on the tires and also your vehicle.
Make sure all the valves are capped. Valve caps are not only important to protect against air escaping, but also to prevent damage to the valve or having debris get into the valve.
Rotate the tires regularly. Depending on the type of tires you have, you may want to regularly rotate your tires from both side to side and back to front to help reduce irregular wear to your tires. Your vehicle's owner manual should have details on how often you should rotate the tires and which pattern you should use to help maximize the life of your tires.
Be mindful of how much weight your vehicle is carrying. When traveling long distances, it can be easy to load up your vehicle quite a bit, especially if you have a large family. Plus, if you live in icy or snowy weather, you may also be carrying heavy items like bottled water, cat litter or chains for your tires. So, be sure you know what the load rating or maximum load capacity is before you really start loading up. Otherwise, you may be risking literally destroying your tires.
Until recently, Mr. Savvy was commuting about 150 miles a day, so it was even more important that we regularly checked our tires since there are often rocks and other debris on the interstate.
Never put off repairing or replacing your tires when needed. Have you ever known that you needed to replace your tires yesterday but were trying to get the absolute most out of them that you could? While that may save you money in the short term, it's likely only going to cost you time, frustration and more money in the long run. So, never put off repairing or replacing your tires when needed. That way you have them working well when you need them, and aren't putting yourself and your family in extra danger. Tires can be expensive, so I'm happy to share that the Cooper Tire Fall Rebate Event is now going on!
Cooper Tire Fall Rebate Event If you need new tires, it's a great time to buy during the Cooper Tire Fall Rebate Event as there are numerous Cooper Tires for great prices and deals. From August 28 through October 31 2015, you can even be eligible to receive a prepaid Visa gift card worth up to $70 when purchasing a new set of 4 qualifying Cooper Tires through participating dealers. I think it's pretty cool you can get money back to spend on gas or presents!
What Tires Are Included?
The Cooper Discoverer SRX - A dedicated SUV and CUV tire that is available in numerous sizes to fit a wide range of SUVs and CUVs. They feature a wear square, which is an exclusive tread life indicator. When you see the exclamation mark, you know you need new tires! The Discoverer SRX offers a premium 65,000-mile Tread Wear Protection Warranty and a 45-Day Road Test guarantee so you can be sure you're making the right tire choice.
The Cooper Discoverer STT Pro - The Cooper Discoverer STT Pro is Cooper Tire's latest high-performance tire dedicated to off-roading. The nice thing is that you won't be sacrificing high on-road performance to be able to do all the fun things you love while off-roading. The tires are offered in a variety of commercial and large diameter flotation sizes.
The Cooper CS5 Touring - The CS5 touring gives everyday drivers real life performance in real life conditions as it is crafted with leading technology and innovations to help meet the needs of modern drivers. It also features the wear square mentioned above, along with the 65,000-mile Tread Wear Protection Warranty and a 45-Day Road Test guarantee.
If you're interested in taking part in the Cooper Tire Fall Rebate Event, find a location near you with the Dealer Locator.
Do you have some things you need to check from this Tire Safety and Maintenance Checklist?