Wondering if the Rubbermaid FreshWorks Produce Saver really works? Keep reading our Rubbermaid FreshWorks Produce Saver Review to find out!
This is a sponsored post for SheSpeaks/Rubbermaid. All opinions are my own.
I feel so lucky that we are blessed to almost always have a really well-stocked fridge. I love that we live in a time that it's fairly easy and affordable to have a variety of fresh produce year round.
However, I'll be the first to admit that we waste a LOT more food than I'd like. Sometimes we just don't get around to eating those berries and salad mix before they go bad or containers get pushed to the back and out of sight.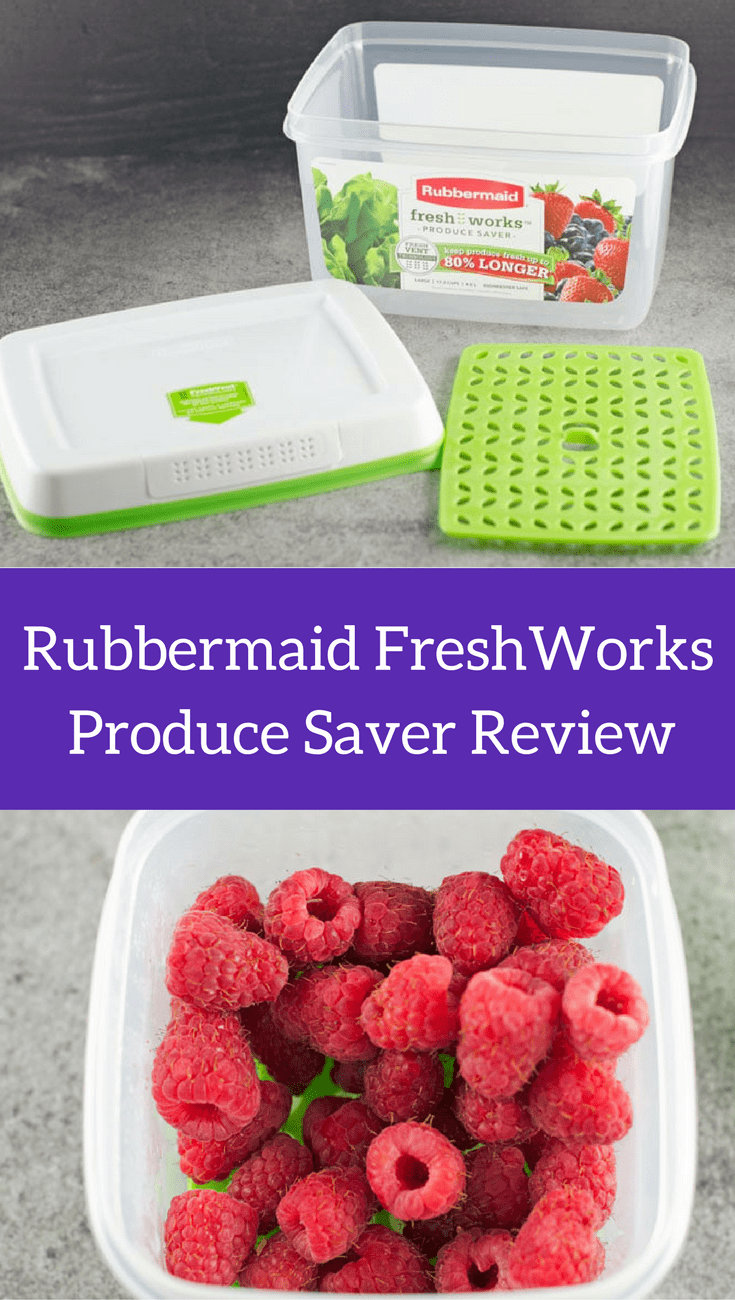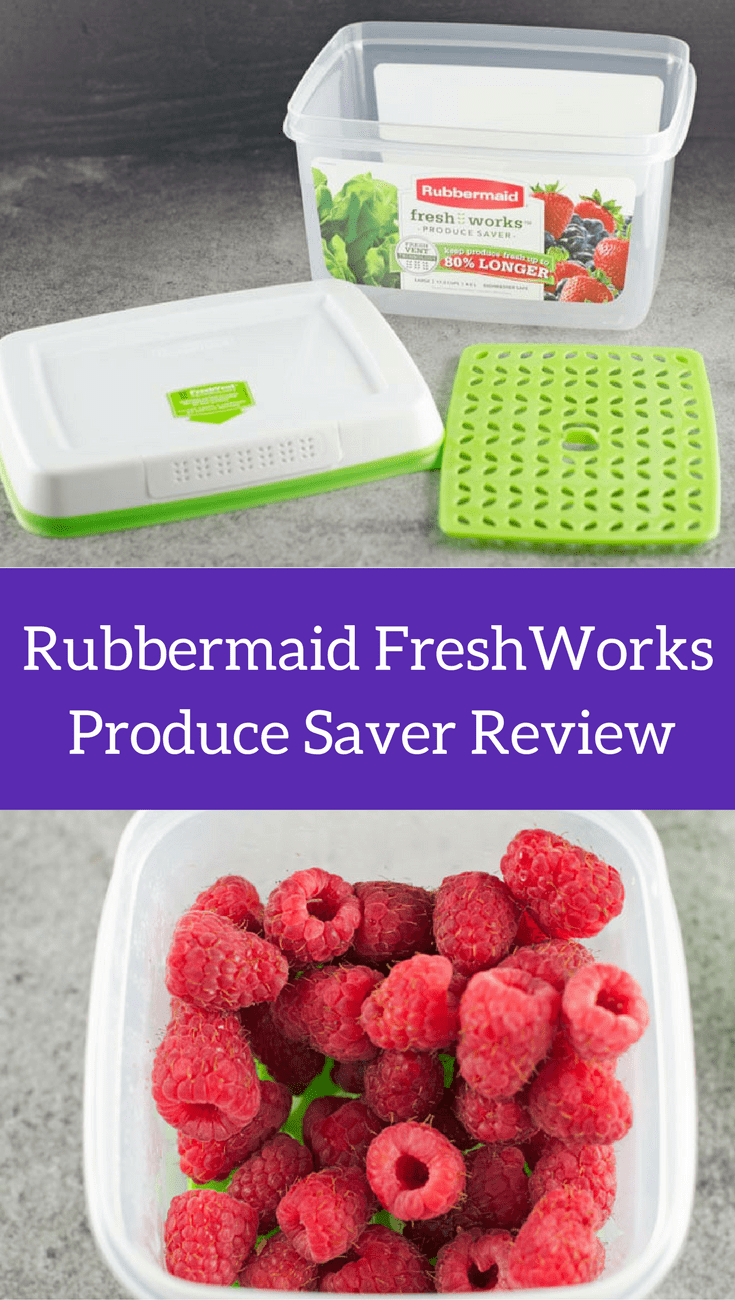 I'm always looking for ways to help fresh produce last longer so I was quite interested in doing this Rubbermaid FreshWorks Produce Saver review. So, do they really work? Keep reading to find out and also enter to win your own set of Rubbermaid FreshWorks.
About Rubbermaid FreshWorks Produce Savers
The Rubbermaid FreshWorks Produce Saver is a food storage container made to help keep produce fresher up to 80% longer* than traditional produce packaging by using FreshVentTM technology. It works by regulating the flow of oxygen and carbon dioxide to create the optimal environment for produce to stay fresh. There's also the CrispTrayTM that elevates the produce reducing exposure to moisture and increases airflow.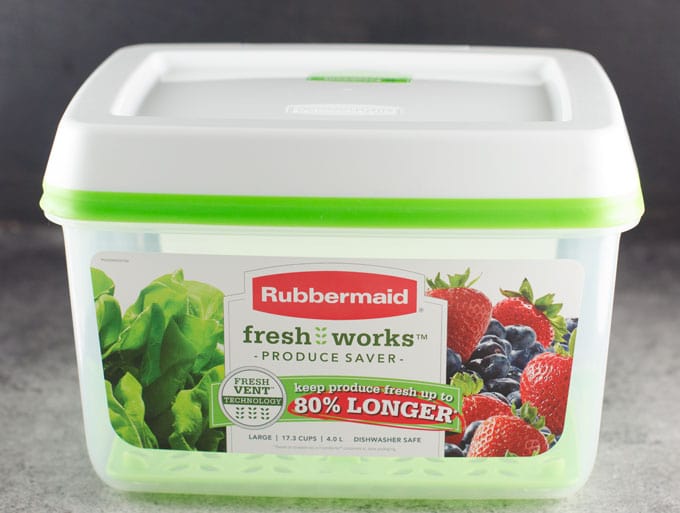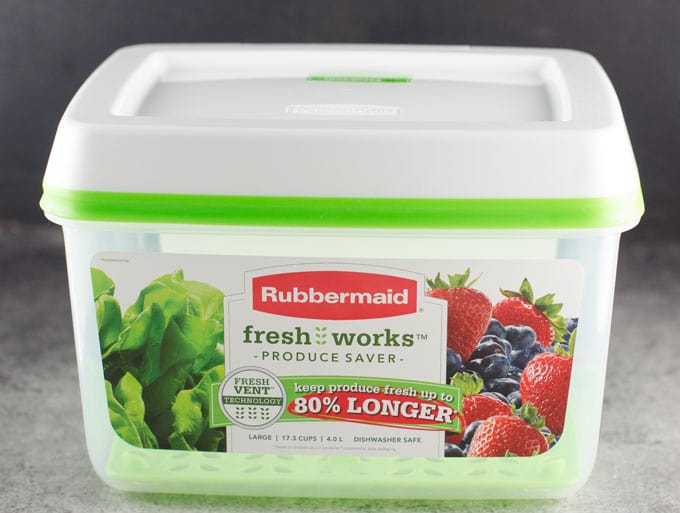 To use the containers all you have to do is remove the produce from its original packaging, place into the containers on top of the tray, and then put on the lid. All the pieces are reusable, even the lid filter that doesn't need replacing, and can be washed on the top rack in the dishwasher. They're also BPA-free and can even be used in the microwave.
FreshWorks is available in 3 sizes including:
Small (2.5 cups) which is good for small berries such as raspberries
Medium (6.3 cups) which is great for strawberries
Large (17.3 cups) which is best for leafy greens and salad mixes
*Based on strawberries in FreshWorks™ containers vs. store packaging. Results may vary depending upon produce and use.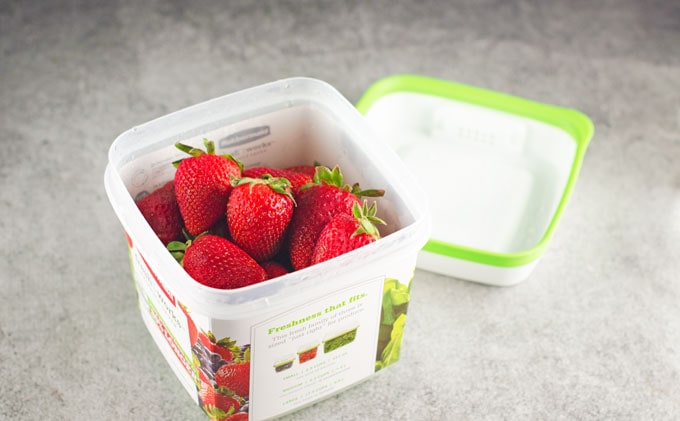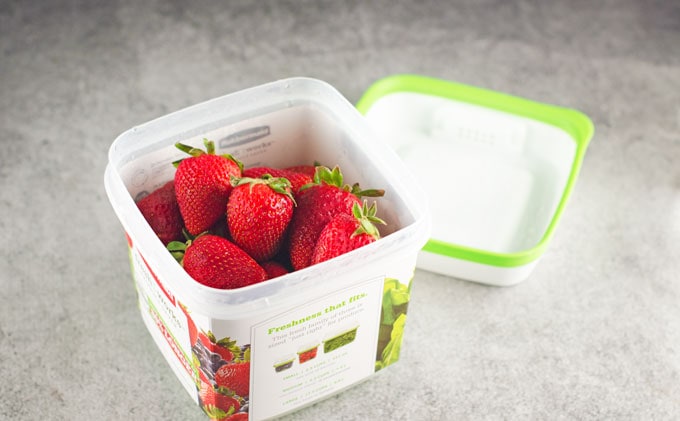 What I Love About Rubbermaid Fresh Works Produce Savers
They really do work
Easy to use
Can be washed in the dishwasher
What I Felt Could Be Improved About Rubbermaid Fresh Works Produce Savers
The containers are on the taller side so you may have to adjust shelving
I'd love to see a larger size for those that purchase large containers of salad mix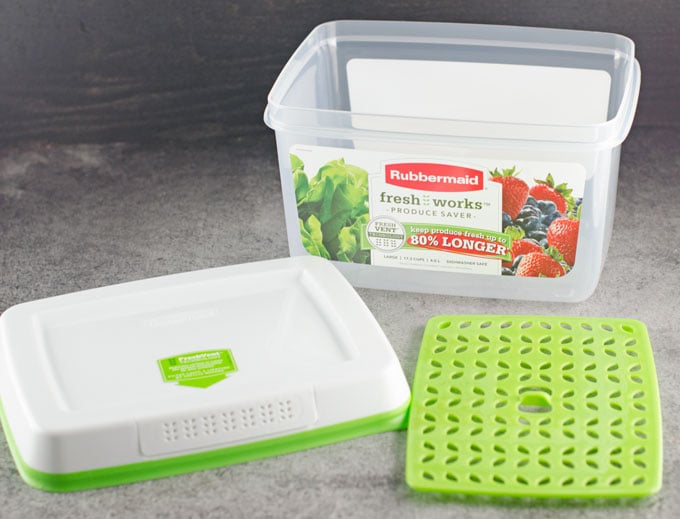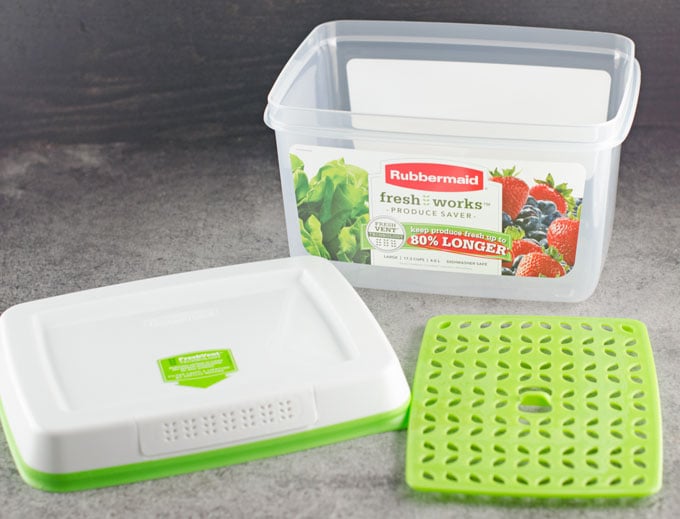 Rubbermaid FreshWorks Produce Saver Review
I love fresh produce but it goes bad so quickly. I've gone so many times to make a salad for lunch only to discover that half the salad greens have turned into a slimy mess in just a few days.
Raspberries are one of our favorite berries to eat but if you leave them in the fridge for more than a day they are usually next to inedible. So, I knew that to really test out these containers my first test would be raspberries.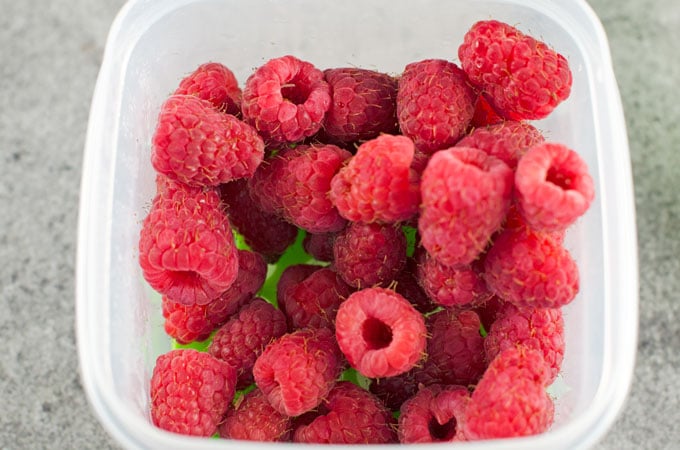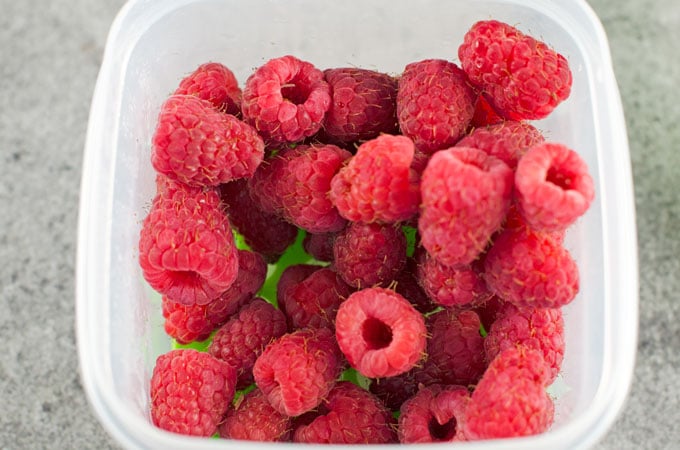 I picked up a pint of raspberries at the store and when I got home put them right into the small container. It was hard to wait it out knowing how quickly raspberries usually go bad but I waited over 4 days to see how they were doing.
Much to my elated surprise, the raspberries were still super fresh and not mushy at all. I think they could have lasted even a couple days longer which is pretty impressive. You can see what they looked like on day 4 with the picture above.
One important thing to note is that Rubbermaid does recommend to NOT wash or cut your produce before using these containers. It's not ideal if you're looking for ready-to-eat produce but the containers do work really well on whole, unwashed produce in my experience.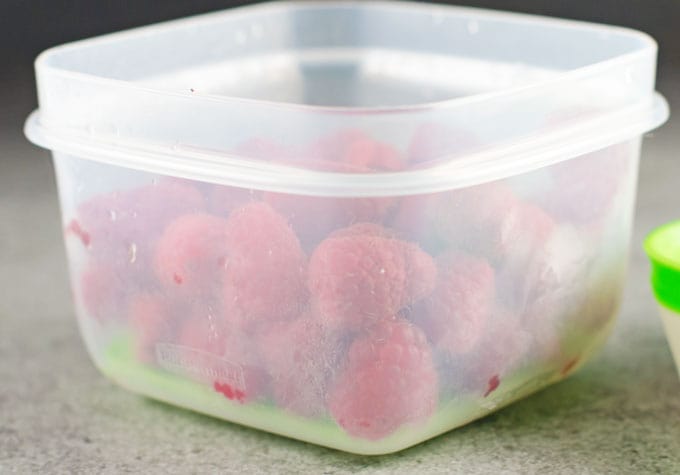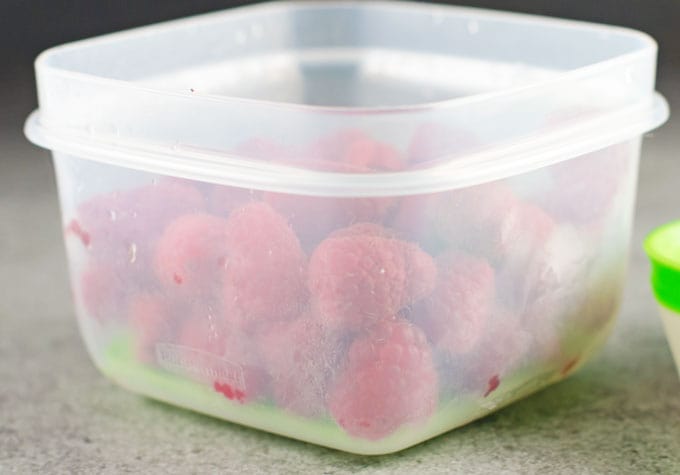 Do be careful when opening the containers as the lids and bottoms of the container may have a good amount of water built up. This is totally normal and is part of what is helping your produce stay fresh!
I also tried out some strawberries in the medium container. I did leave them in the original container for a day before putting them into the Rubbermaid FreshWorks Container but I just checked them today, 8 days after purchasing them, and they still look great!
I haven't tried lettuce yet as I got so tired of throwing away half a container of greens that I started buying small bags of salad but I'm now really excited to see how it works out.
Do We Recommend Rubbermaid FreshWorks Food Saver Containers?
Yes! This is one product I'll honestly buy more of to use in our everyday life. I feel so good knowing that we'll be able to eat the healthy fresh produce we love without wasting nearly as much money because we end up throwing half of it away since it went bad.
Good luck!