Smooth and creamy peanut butter filling is nestled into a rich brownie crust and topped with fluffy whipped cream for this peanut butter pie with brownie crust recipe.
This is a sponsored recipe written by Smart Savvy Living on behalf of Collective Bias, Inc. and its advertiser.
If you've visited me here at Smart Savvy Living for a while now, you probably know I love cooking and baking, especially for others.
When it comes to baking and dessert making, I find it to be relaxing, plus it's pretty darn awesome to share your confections with friends and family and see the smiles on their faces and enjoyment while they eat your creations.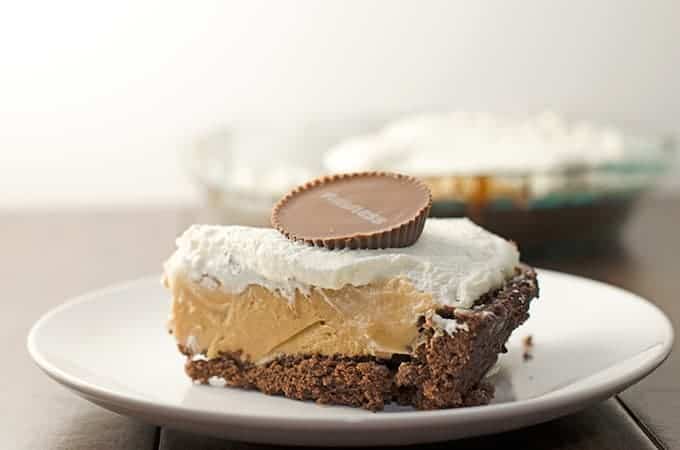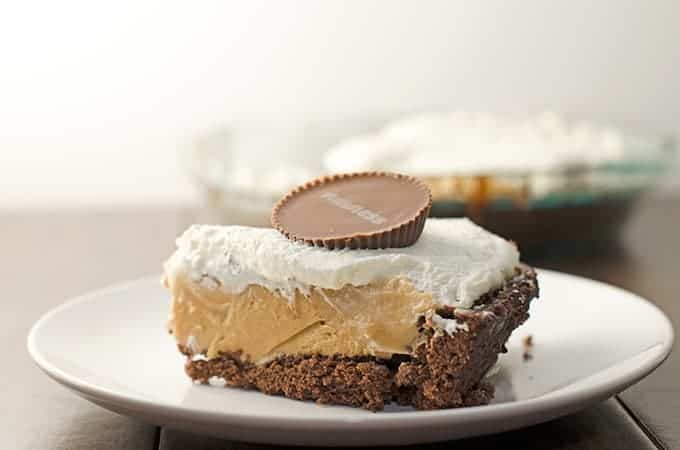 So many people love the combination of peanut butter and chocolate, myself included. But, I wanted to make something a little bit different from the usual and so this Peanut Butter Pie with Brownie Crust recipe was born.
Yep, that's right, a brownie crust. Regular pie crusts are great and all, and so are cookie crusts, but a brownie crust makes it all that much more special!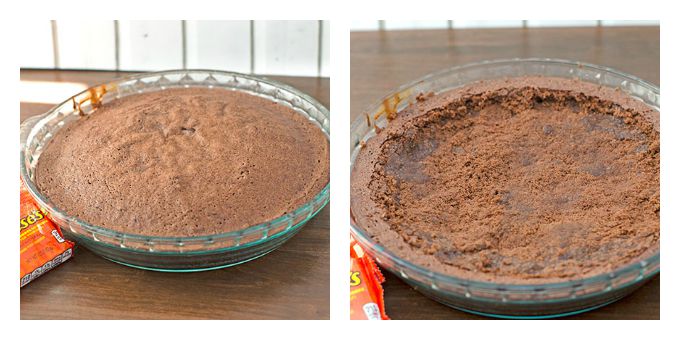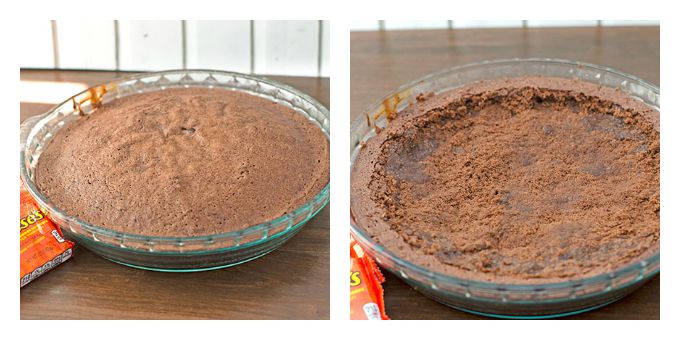 On top of that fudgy brownie crust, you pile on slightly sweet, smooth and creamy peanut butter filling because what goes better with chocolate than peanut butter?
Then on top of all that, there's a dreamy thin layer of fresh whipped cream you can't help but want to stick your finger in.
Then, yes, it gets even better by topping it all off with a REESE'S Cup to bring all the flavors together.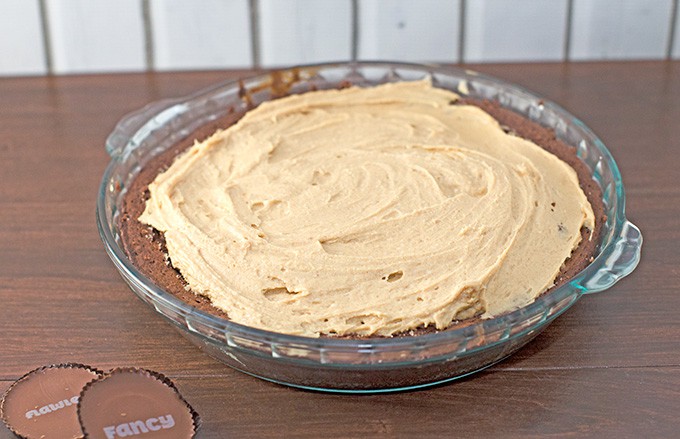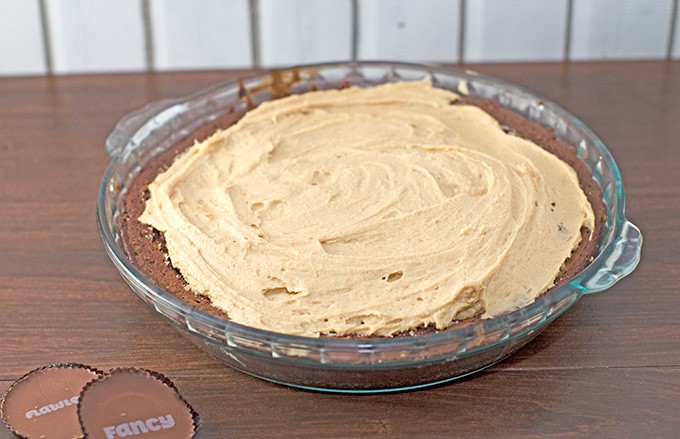 I love that these REESE'S Cup have personalized messages on them so I can bring a slice to the neighbor that always makes me laugh or tell my good friends that I've been thinking about them.
This time around, I made this pie to really treat Mr. Savvy. I wanted to celebrate the new job he just got, that means he can be home more, and give him the BFF, 2 Funny and My Fave because, well, he really is my favorite best friend in life that always make me laugh.
Yes, yes, please pardon the sappy sweet moment. But, this pie is perfect for all those sweet moments to share together as it's on the richer side, which makes it perfect for sharing with all those special someones in your life.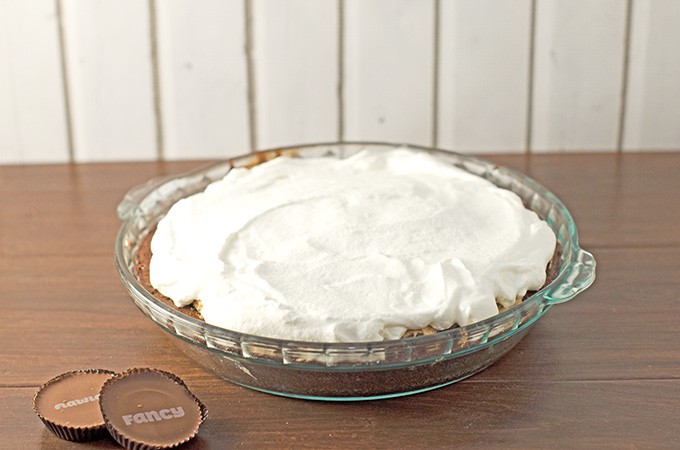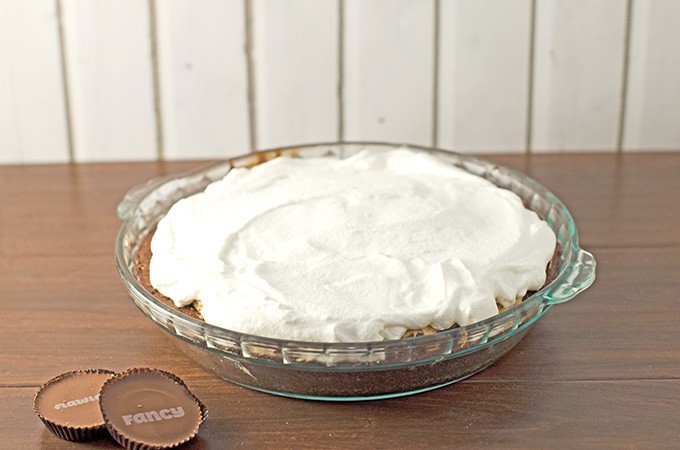 Even better is that this is a pie best served cold to help you cool down on these stifling hot summer days. Win-win, my friends, win-win.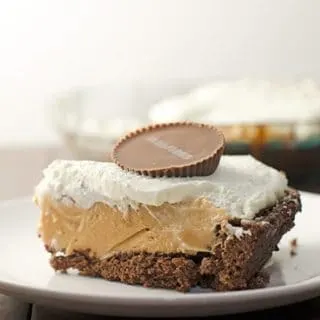 Peanut Butter Pie with Brownie Crust Recipe
You'll never look at a peanut butter pie the same way again once you make this Peanut Butter Pie with Brownie Crust recipe!
Ingredients
Brownie Crust
2 Tablespoons Butter
1 9x13 Family Size Brownie Mix (preferably fudgy variety)
1 large egg
½ cup buttermilk
½ cup Coca-Cola
¼ teaspoon salt (I use sea salt)
Whipped Cream
1 cup heavy (or whipping) cream, very cold
2 Tablespoons granulated white (or powdered/confectioner's) sugar
1 teaspoon vanilla extract
Peanut Butter Filling
¾ cup creamy peanut butter
4 oz cream cheese, softened to room temperature
1 cup powdered (confectioner's) sugar
¼ teaspoon salt (I use sea salt)
1 cup whipped cream
Topping Ideas
8 REESE'S Peanut Butter Cups (with messages to make it extra special), Chocolate Curls and/or Chocolate Sauce
Instructions
Preheat oven to 350F. Place butter into medium-sized microwave-safe bowl and microwave until melted, about 30 seconds depending on your microwave.
In the meantime, grease a 9.5-inch pie dish or springform pan. Once butter has melted, add the brownie mix, egg, buttermilk, Coca-Cola, and salt and stir with a wooden spoon until ingredients are thoroughly mixed together and there are no flour pockets, about 50 strokes.
Pour brownie batter into greased pan and bake for about 30 - 40 minutes, until brownies are done and edges are slightly pulling from the side of the pan. Keep brownies in pan and place on a cooling rack until completely cooled.
While brownies are cooling, make the whipped cream by mixing together cream, sugar and vanilla in a medium-sized bowl until soft peaks form with a whisk or mixer. You should end up with about 2 cups, and you'll want to separate one cup for the filling and one cup for the topping.
Make the peanut butter filling by putting peanut butter and cream cheese into a medium-sized bowl and mixing on medium - high until thoroughly combined.
Add in powdered sugar and salt until thoroughly combined again. Mixture will be crumbly. Mix in 1 cup of the whipped cream until thoroughly combined. Mixture should be smooth, creamy and uniform in color.
Prepare the brownie crust for the filling (once completely cool) by using your hand or a measuring up to flatten the brownies in the center, creating a traditional "pie crust" shape, leaving a higher edge. See photo for an example. If your brownies are on the cakier side, you may need to remove some of the brownie center. The crumbs are great to use in trifles, a cook's snack or you can even crumble over the finished pie.
Pour peanut butter filling over brownie crust, smoothing out the top. Cover and refrigerate for at least 2 hours before serving.
Once ready to serve, top with a thin layer of whipped cream and one REESE'S Cup per slice of pie. You can also garnish with chocolate curls and/or chocolate sauce, if desired.

Notes
To make this even richer and more special (when only serving to adults), you can also add a Tablespoon of Godiva Chocolate Liqueur when making the whipped cream, instead of vanilla extract.
Leftovers should be stored covered in the fridge for up to 3 days.
Nutrition Information:
Yield:

8
Serving Size:

1
Amount Per Serving:
Calories:

502
Total Fat:

36g
Saturated Fat:

13g
Trans Fat:

0g
Unsaturated Fat:

11g
Cholesterol:

54mg
Sodium:

518mg
Carbohydrates:

40g
Fiber:

3g
Sugar:

29g
Protein:

13g
Nutrition information may not be accurate. Nutrition information is calculated automatically by and provided by Nutritionix. Exact nutrition information depends on the specific ingredients, brands, and amounts you use.