Have you been wanting a new mattress but are totally overwhelmed by all the options out there? Check out our NECTAR Mattress review to see if it's the mattress for you.
Smart Savvy Living received a complimentary NECTAR mattress and pillows to facilitate this review.
Have you been wanting a new mattress but are totally overwhelmed by all the options out there? Check out our NECTAR Mattress review to see if it's the mattress for you.
About The NECTAR Mattress
The NECTAR mattress is a memory foam mattress designed and assembled in the USA. It features a 4-layer foam construction.
It's said to be a medium-firm mattress with the comfort of a pillow top mattress. NECTAR features temperature control technology to help prevent overheating and is specially designed to keep dust mites out.
As of the time of our review (Oct/Nov 2017), NECTAR features free shipping and returns, a 365-day trial, and a Forever Warranty. The mattress starts at $500 for a twin size up to $900 for a king size. You can currently find the mattresses on sale and also get 2 free NECTAR pillows.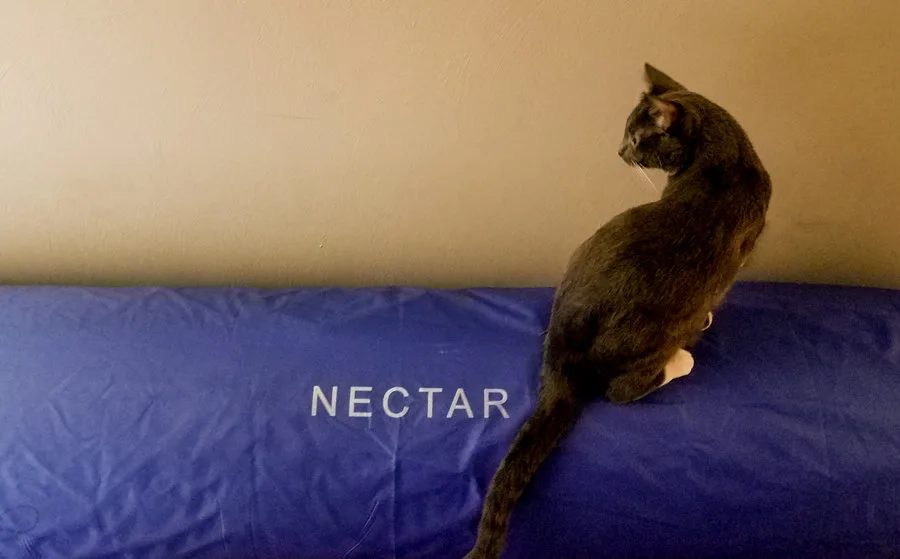 What I Loved About The NECTAR Mattress
Extremely comfortable
Molds to your body without feeling like you're sinking
A good compromise between soft and firm
What I Felt Could Be Improved About The NECTAR Mattress
Shipping packaging is a bit awkward
The mattress is on the thinner side
NECTAR Mattress Review
We've been using a memory foam mattress for over 10 years. Overall, memory foam is definitely our top choice when it comes to mattresses.
They offer great support for multiple sleeping positions. They're also nice if your partner tends to go to bed or get up at a different time than yourself as you'll feel minimal disturbances.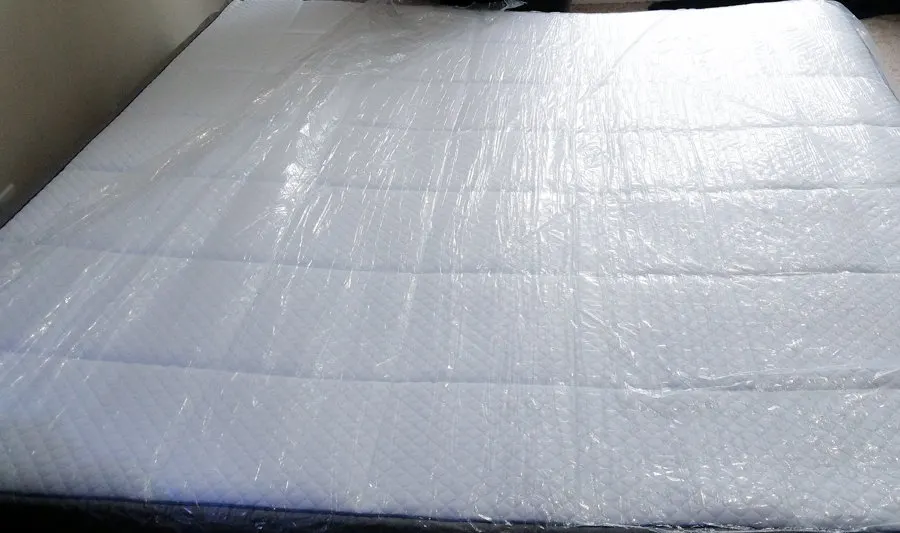 Our previous mattress had begun breaking down which led to us feeling more back pains when getting up. So, we'd been looking at a new mattress to try and there are a ton more options out there than the last time we bought a mattress.
As luck would have it during this shopping process, I developed a pinched nerve in my neck from sleeping incorrectly. Luckily, right after it developed we received our NECTAR mattress to review.
For the first couple nights I was sleeping on our old mattress. Let's just say that it was next to torture. It took me a few hours to be able to finally get comfortable enough to fall asleep for 30 minutes at a time.
As a too long, didn't read...the first night I was able to sleep on the NECTAR mattress it was such a relief. So much so that it was the first night in days I was able to sleep for at least 2 to 3 hours without waking up and without being in terrible pain when I woke up.
Now to get a little bit more in-depth.
First of all, shipping. The mattress took a week to get here with the caveat that the mattress was directly sent to us. We didn't go through the process of ordering it through the NECTAR mattress website.
The packaging is different from how I've seen memory foam mattresses shipped in the past. I've ususally seen them shipped in boxes.
The NECTAR mattress is shipped rolled up in a duffel-style bag that has a zipper and handles so it's reusable, which I thought was pretty cool. This bag is wrapped in another bag of sorts, the purple material you see above.
This bag doesn't have handles which makes the mattress kind of awkward to handle at first considering it weighs about 90 pounds. The shipping company apparently thought it was awkward too because the purple bag had been thoroughly ripped up.
We have a security camera at our front door and the delivery person even dropped the mattress while rolling it up to the door on a furniture dolly. Thankfully, since the mattress is thoroughly wrapped it was not at all damaged.
Once you get your NECTAR mattress inside, I definitely suggest taking off the outer purple wrapping as it's much easier to move with the handles. Once you unzip the bag just pull the mattress out and set the bag aside.
The mattress is wrapped in plastic and you'll also find a packet in the bag. It contains a handy cutter for opening the mattress so you don't risk damaging the mattress and directions for setting the mattress up.
After you cut open the plastic, you can roll the compressed mattress out. It works for all bed types from the traditional box spring to adjustable bases and even the floor. We used ours on the same platform we used for our previous memory foam mattress.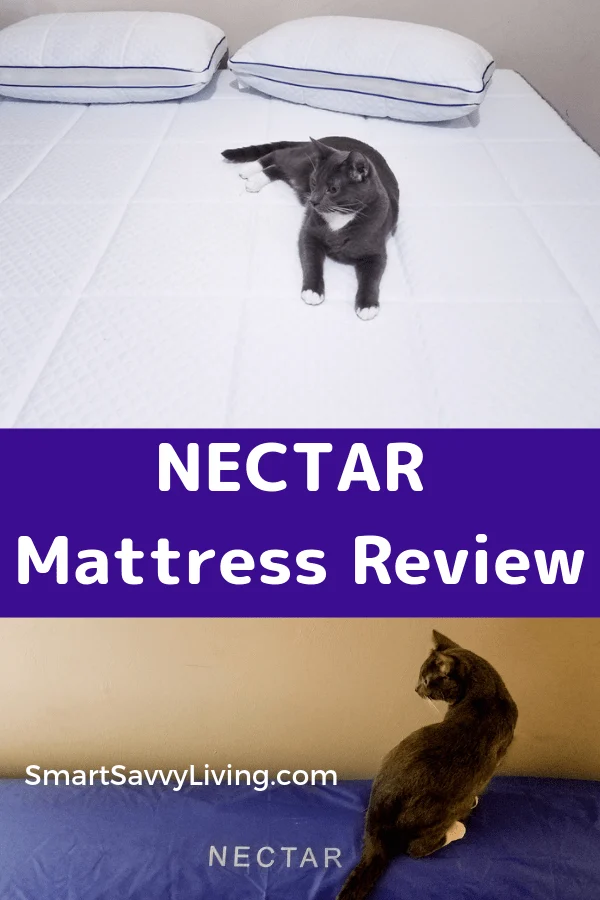 NECTAR Pillow
We received a set of pillows with our mattress which was a nice unexpected bonus. This is also a limited time bonus available to those who order through the Nectar website.
The pillows are very comfortable but overfilled on purpose so that you can take out filling to your desired firmness and height. In my opinion, it's a really thick pillow so you have plenty to work with to your liking.
It also has a cover that I really like and is very similar to the cover on the mattress. It's super soft and sleeps cool. You can also take it off via the zipper to wash it.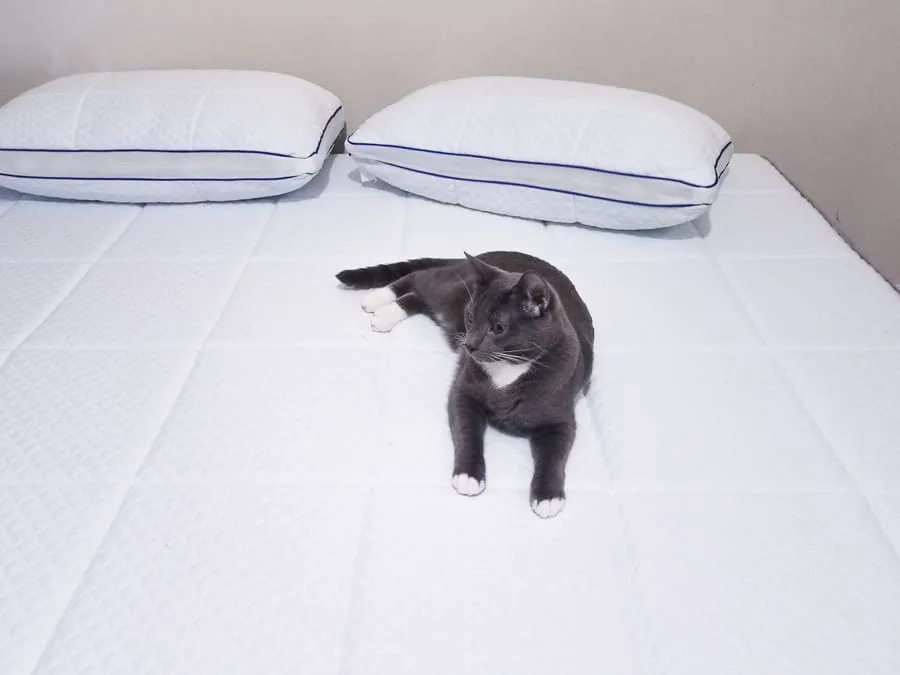 NECTAR Mattress
After unrolling the mattress it will immediately start expanding. You'll just need to pull the rest of the plastic off.
It will take a few hours to expand. We opted to wait 24 hours before sleeping on it to make sure it fully expanded.
As you can see, our cat Chester immediately loved the new mattress. I have to say, we did too.
As I mentioned above, it was immediately a ton more comfortable for me than our old mattress. With our old mattress and my pinched nerve it took me literal hours to get comfortable enough to fall asleep. With the NECTAR I feel asleep in minutes.
By the time morning came around I still felt like my whole body was well supported. There weren't any pressure points that felt like they had been on concrete overnight or anything of that sort.
I wasn't sure how I would end up liking the firmness as it is a bit less firm than our previous mattress.
It's kind of scary to think about buying a mattress you haven't actually tried. Luckily, at the time of this review NECTAR offers a full 365 days for you to trial the mattress. If you end up not liking it during this time you can return it for free.
But, I didn't wake up feeling like I had settled in a valley that sometimes happens with memory foam. After sleeping on it for several days I'm a fan of the medium firm.
I loved that the mattress really did sleep cooler than our previous one. It's nice that if you use thinner sheets during the warmer months the top of the mattress is so soft and comfortable like a pillow top.
The only thing I really miss about our old mattress is the height. I didn't feel it necessarily had better support because it was taller, though I'm curious how it will hold up in the long run.
NECTAR does have a forever warranty. All the details are covered in the packaging with your mattress but the construction, materials, quality, and durability are covered, well, forever.
It is shorter than any other mattress we've ever used. As such, we will have to adjust our current foundation for the same comfort that we're used to in that regard.
Is The NECTAR Mattress Recommended?
We've been using the NECTAR Mattress for a few weeks now and are still really enjoy sleeping on it. I've been sleeping better than I have been in quite a while.
Overall, we definitely recommend the NECTAR mattress at this point. It's a great price compared to other brands and types of mattresses while still being high quality and very comfortable.
I certainly recommend giving it a try even if you're unsure thanks to NECTAR's long trial and warranty. Head over to NectarSleep.com to get more information or to order a mattress to try.