The reviewer has been compensated in the form of a Best Buy Gift Card and/or received the product/service at a reduced price or for free for this Jawbone UP review.
I have to admit that the hardest part about a healthier lifestyle for me is making sure I take the time to get up off my butt and move for a decent amount of time daily. Yes, this is even coming from a person who has dealt deals with, it's a life-long battle, emotional eating and food addition. I've just never been able to stick with a morning routine as I'm most certainly not a morning person. I usually work well past 5 PM so an evening workout often gets excused away due to being tired. I do okay with taking a break in the middle of the day for a walk, etc. but to be completely honest, it's hit or miss.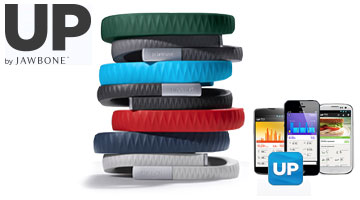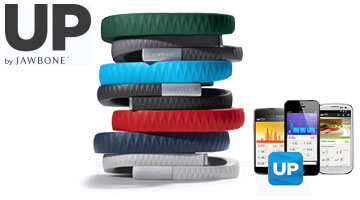 A few months after I started getting serious about getting healthier (once upon a time I weighed nearly 400 lbs, and now I'm about 140 lbs lighter), I decided to take exercising more seriously as well and would walk a mile or so, ride a recumbent bike for an hour, or lift weights pretty much daily. Since then, I've moved a couple times and my business has grown by leaps and bounds which means I totally got out of my exercising routine. Needless to say, I was quite excited when Jawbone offered to send me a Jawbone UP to review and help motivate me to get moving more again as it's more than just a pedometer. I've used pedometers in the past, but they always felt lacking because they couldn't really count activities other than walking and running, I'd lose them, etc.
Jawbone UP Review
Buy It: The Jawbone Up is available at Best Buy for around $130.
Live Better. Start Now. Jawbone UP. Track your sleep activity, steps, calorie intake and more with the Jawbone UP wrist sensor and free mobile app. UP gives you meaningful, personalized insights so you can make lasting improvements to your everyday life.
Here are some of my initial thoughts from my Jawbone UP review.
What I Think is Super Smart About the Jawbone UP
UP is a system that takes a holistic approach to a healthy lifestyle
Fits on your wrist like a bracelet so you aren't nearly as likely to lose it or forget to wear it
Water resistant so you can keep it on in the shower (though I didn't - Mr. Savvy likes to refer to me as the gadget killer so I didn't want to risk it ;)
Can track your steps, activity, food intake and sleep
Syncs with an app on both iPhone and Android phones so you can always have your info on the go
Battery lasts a week
One of my favorite features is that you can set it to vibrate when you have been inactive for xx minutes
Has an alarm feature that is so much less annoying than the traditional kind
Power nap option
What I Think is Not So Savvy About the Jawbone UP
Doesn't have wireless syncing, though this is positive in that it provides a longer battery time (lasts around a week before charging)
I had a lot of sync errors in the beginning - I have the best luck first launching the app and then plugging the Jawbone UP in
Not spot on with tracking - if you are doing an activity that moves your arm a lot you will likely artificially inflate your steps while if you don't move enough while walking, your steps may not count (there is a calibration tool to help this)
Food intake choices are limited
My Jawbone UP Review Experience
Did you know that those who track their activity with things like the Jawbone UP tend to be more active overall because you can see just how active you're actually being? It's definitely true for me. I received my Jawbone UP the first day around 1 PM and immediately put it on. By the end of the day, I only had around 3200 steps. That's quite a bit of the way off from the daily recommended 10,000 steps a day! Now, I have been tracking my activity a few times during the day, so I know when I need to step it up a bit, pun intended. ;) This also brings about one of the things I love most about the Jawbone Up, the inactivity monitor. Basically, you can set it up to vibrate if it hasn't sensed any activity for xx number of minutes. Since it's super easy for me to lose track of time when I'm working, I set mine for 45 minutes and if it vibrates, I know it's time to take a few minutes to get up and take a quick walk, go downstairs for some water, reload the dishwasher, etc.
The Jawbone UP itself is pretty comfortable to wear. I didn't find it overly obtrusive unless I was wearing it on my right hand while using the mouse (though you are supposed to get more accurate results when it's one your non-dominate hand. I did feel like it got a bit sweaty when I was wearing it the first week or so, but I think that's mostly because I wasn't used to it as I don't commonly wear bracelets or watches.
The nice thing is that it is water resistant, so you can even wear it in the shower and while swimming, but I chose not to to help extend the life since I tend to have not so great luck with gadgets. ;) I found that it isn't always accurate, as is the case with most items like this, though it does include a calibration feature. Basically if you do any movements that moves your arm a lot, like lifting weights, you will likely have an artificially high count, but I expected as much. It is nice that in addition to seeing your steps, you can see how long you've been active, calories burned, etc.
I also enjoyed a couple other features including that you can add in other activities to track, which I like since I try to lift weights or ride the bike a couple times a week instead of just walking. Another feature I really like is that it includes an alarm that you can set based on the day, time, etc. Instead of the super annoying blaring alarm every morning, you can be woken up from a vibration on your wrist.
The best part is that the Jawbone UP can sense when you're in a deeper or lighter sleep and wake you up at the optimal time in a window. It's really amazing how much more refreshed you can feel when you wake up at the right time! When you sync the device, you can also see how many times you woke up, how long you slept, how much deep sleep you got, etc. The only part of the Jawbone UP that I didn't really like is the food tracking as a lot of things aren't listed and to me it just wasn't worth the time.
Is the Jawbone UP a Smart and Savvy Choice?
The Jawbone UP has been a tremendous help in helping me consistently be more active and more conscious of my sleeping habits so it definitely gets the smart and savvy seal of approval! It is a bit pricey, but it is also so much more than a regular pedometer.
Be sure to check out some of our healthy living tips if you enjoyed this Jawbone UP review!