While store-bought mixes are quick and easy, this homemade taco seasoning mix recipe tastes so much better!
Mexican food is one of our favorites to go out for as much as we can. I love the freshly cooked chips and salsa and the usual variety of nachos, carnitas, chalupas, and the old standby, tacos.
These days, though, we are trying to cook at home more in an effort to eat healthier and save money. So, when I asked Mr. Savvy what he'd like for dinner one night when we had some leftover ground beef in the fridge, he suggested tacos.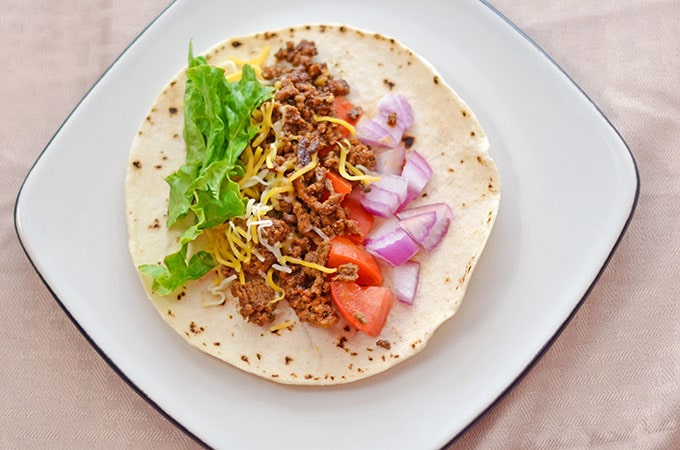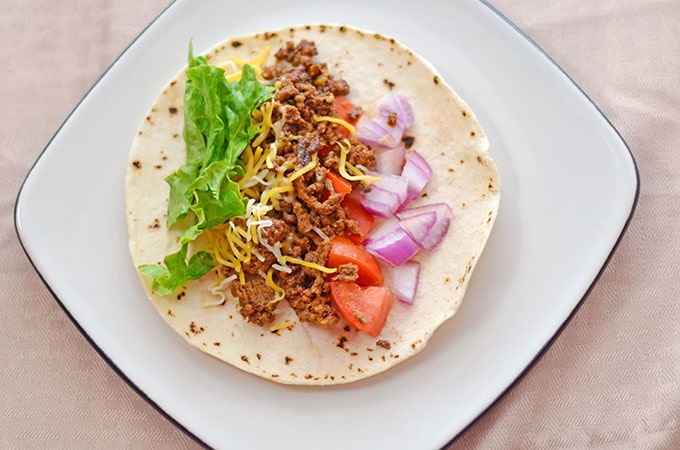 I've used a number of store-bought taco seasoning mixes in the past, but I often found they were a bit too salty and I would usually add in additional seasonings. That kind of defeats the purpose, doesn't it? So, this time I thought I'd try making my own homemade taco seasoning mix recipe.
The taco seasoning is pretty versatile - take out any flavors you don't like or add more of those that you do. For instance, we like things to be a bit spicy and saltier, so I use cayenne for part of the pepper flakes and a very heaping tablespoon of salt.
I use about 3 tablespoons of the mix per pound of beef, chicken or turkey and then put the rest in an air-tight container to use over the next few months.
Then to make the taco filling I add about ½ cup of water to the meat once it has mostly cooked through, along with the seasoning, and let it simmer for about 10 minutes while I get all the toppings together.
I don't add additional water if I cook more than one pound of meat at a time as I don't want it to get too thin. But, if you add too much water, just keep simmering until it cooks off.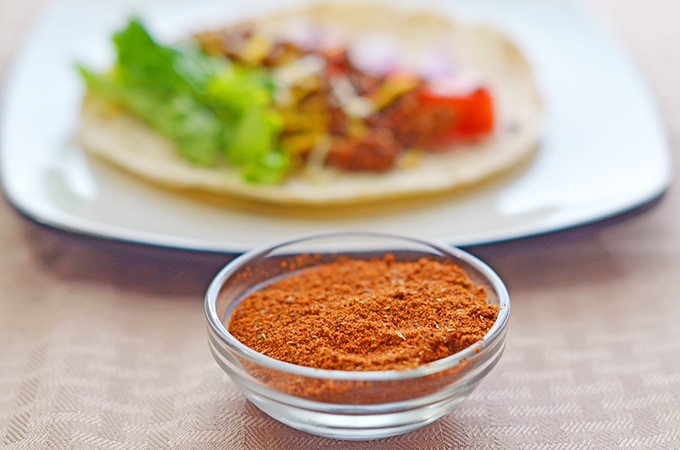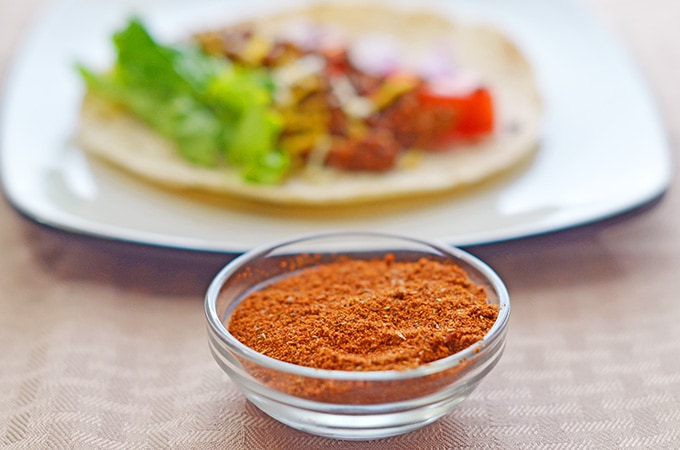 Recommended Equipment: Small container or jar for mixing and storing.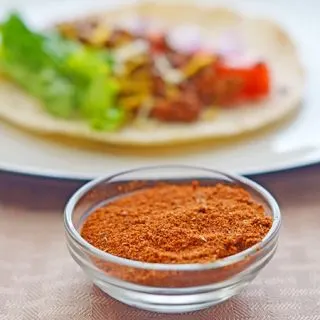 Homemade Taco Seasoning Mix Recipe
Control the salt and your favorite flavors when you make this homemade taco seasoning mix recipe versus using the packet.
Ingredients
4 Tablespoons chili powder
1 teaspoon garlic powder (I always use heaping)
1 teaspoon onion powder
1 teaspoon crushed red pepper flakes (I sometimes use ½ t pepper flakes and ½ t cayenne)
1 teaspoon dried oregano
2 teaspoons paprika
2 Tablespoons ground cumin
1 heaping Tablespoon sea salt
1 heaping Tablespoon ground black pepper
1 Tablespoon cornstarch
Instructions
Place all of the ingredients in a small bowl or container. Whisk or shake all ingredients together until thoroughly mixed and there are no clumps.
Brown one+ pound of desired meat for tacos (beef, chicken, turkey, etc).
Mix in 3 Tablespoons of taco seasoning per pound of meat and ½ cup water and let simmer at least 10 minutes.
Taste for seasoning, adding more taco seasoning, salt or pepper, if desired.
Store taco seasoning mix leftovers in air-tight container.
Notes
This recipe makes just over 10 tablespoons of mix or enough to season about 3 pounds of meat. The mix is also great to use when seasoning meat for nachos, enchiladas, fajitas, etc.
Nutrition Information:
Yield:

12
Serving Size:

1/12th of recipe
Amount Per Serving:
Calories:

19
Total Fat:

1g
Saturated Fat:

0g
Trans Fat:

0g
Unsaturated Fat:

1g
Cholesterol:

0mg
Sodium:

608mg
Carbohydrates:

3g
Fiber:

1g
Sugar:

0g
Protein:

1g
Nutrition information may not be accurate. Nutrition information is calculated automatically by and provided by Nutritionix. Exact nutrition information depends on the specific ingredients, brands, and amounts you use.
What protein will you be using this Homemade Taco Seasoning Mix Recipe for?