The 2013 holiday season is just around the corner! With this in mind Smart Savvy Living is putting together our 2013 Holiday Gift Guide. We'd love to include your brand, service or products in our guide for our readers looking for the perfect holiday gifts. Please read through the various options for promoting your brand in our 2013 Holiday Gift Guide below then email me (Michelle) at [email protected] with the subject line 2013 Holiday Gift Guide so we can get started as soon as possible!
If you would like more information about our normal advertisement options, please visit my Work with Me page.
Please keep in mind that all links will be nofollow as per Google's Terms of Service for paid links.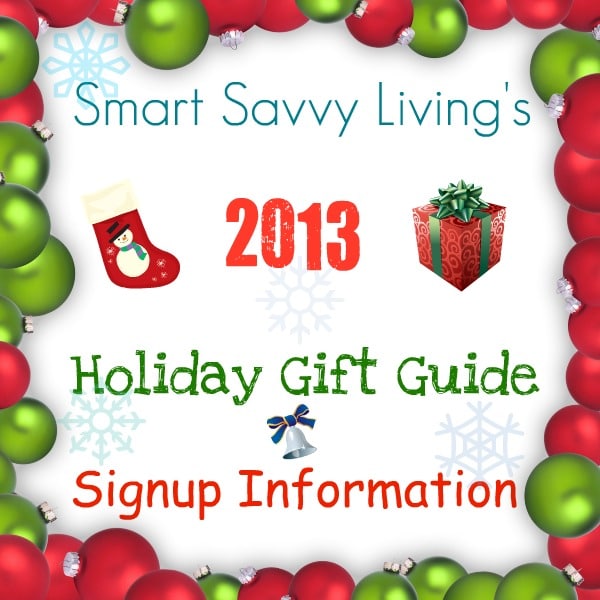 What You Get
Anything included in our holiday gift guide will receive the following perks:
At least 1 post dedicated to your brand and/or product featuring our own pictures and experiences, when applicable, along with a link to your website and where the product can be purchased
A link to the dedicated post on our holiday gift guide page. The gift guide page will be linked to on our top navigation bar as well as a graphic on the sidebar. These links will be live through the end of 2013, though all posts will remain on the website after this time
Multiple mentions of your brand/product through our social media networks with a total reach of over 50,000 throughout the holiday season. The sooner you claim your spot, the more exposure you'll get!
Your product pinned to our 2013 holiday gift guide Pinterest board
Food, drink, kitchen and entertaining-friendly items will also be promoted on our newly founded food blog's (Grub Geek) social media
Possible mentions in future posts after the holiday season when applicable. I write several tip posts throughout the year and often include products I love
10% off sidebar advertising, if desired
Options Available for Being Included in the Gift Guide
All payments must be paid prior to posting or within 48 hours of posting or any associated post will be taken down until payment is received unless discussed otherwise. Any product sent to me will not be returned as it is considered payment for being featured. All products must be received by 12/5/13 to be included.
Product Review - A 300-word minimum thorough review of our experience with your product including pictures. This option is free with a $75 minimum product value. You may also pay via product value + remaining balance via PayPal or Amazon.com gift card to reach the $75 minimum product value (such as $25 in product + $50 Paypal payment).
Giveaways - Giveaways will be free with a product review or sponsored post, otherwise a $75 fee will apply. Giveaways will be posted with the review or sponsored post. Stand alone giveaways will feature a short intro paragraph about the product and where it may be purchased. Our giveaway mandatory entry will be to leave a comment about your product and you may request up to 3 social media follows for optional entries. Sponsor is responsible for shipping prizes to winners. Any additional products sent to me will be considered gifts.
Sponsored Posts - A 300-word minimum informative post about your brand or product including product details, how I see the product being a great choice as a holiday gift, a link to the product site and where it can be purchased. Sponsored posts included in our gift guide are available for $150.
Linking to a Prior Post: Have we already worked together on a product you'd like to include this year? We're happy to include a link to the original post in our gift guide for a $25 fee or write about the product again from a gift-giving point of view for the fees as discussed above.
Thank you so much for your consideration to be included in our 2013 gift guide! Please email me (Michelle) at [email protected] as soon as possible to discuss inclusion in our 2013 Holiday Gift Guide. All items will be considered for inclusion in our gift guide, but all may not be ultimately accepted due to time constraints and what we feel fits our readers best.