Looking for a fun Halloween recipe that's a little spooky? Check out our Halloween Eyeball Popcorn Balls recipe!
One of the things I love about fall are all the seasonal foods and tasty treats. It also happens to be home to one of my favorite holidays, Halloween.
There's just something so fun about Halloween where both children and adults alike can be a little silly and have an excuse to eat just a bit too much sugar.
One of the common Halloween treats I'd never made before, and actually never had even eaten, are popcorn balls. I'm not sure why I'd never had them.
I guess because caramel apples were the tradition in my family. But, I had gotten a popcorn ball maker a while back and since Fall has started, it seemed like a good time to try out a popcorn balls recipe.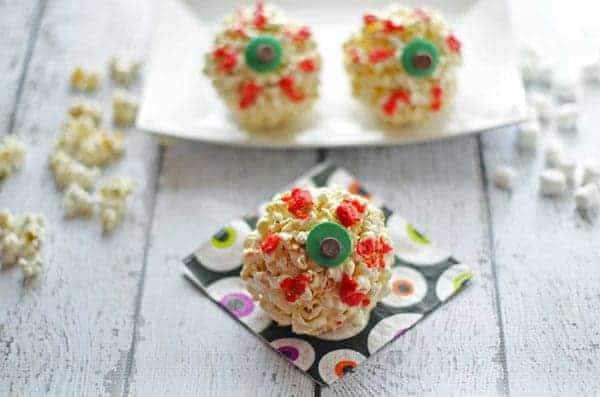 I wanted to make a pretty simple popcorn ball recipe, so I choose to use marshmallows, similar to how you make marshmallow crispy treats. Plus, since Halloween will be here before we know it, I thought eyeball popcorn balls would be perfect for Halloween.
With the popcorn balls being naturally white, you only need some colored candy melts, regular sized chocolate chips or small discs, melted chocolate to act as glue, and red decorating icing/gel or some melted red candy melts to make the bloodshot lines.
I used decorating gel, but I think next time I would use the candy melts with a smaller tip so that the lines don't end up quite as wide. The popcorn balls themselves are fun to eat since they're a bit sticky, and have a nice slightly sweet vanilla flavor that complements the popcorn really well.
Then, there's that bite of chocolate at the end (or beginning if you prefer) that will have you craving to eat eyeballs again soon.
Recommended Equipment
These marshmallow popcorn balls are pretty easy to make, especially with the help of a few tools. First, it's important to have a large good quality pan to melt everything in so you don't scorch the mixture. Le Cresuet is my favorite, but there are also cheaper brands that are nice quality, like Lodge.
The popcorn ball maker also helps you to make all the balls the same size and make less of a mess. I also like to set them on parchment paper to completely cool.
If you're having a hard time finding the color of candy melts that you want, you can find them for a decent price (especially as an add-on item) online at Amazon. I always use the Wilton brand.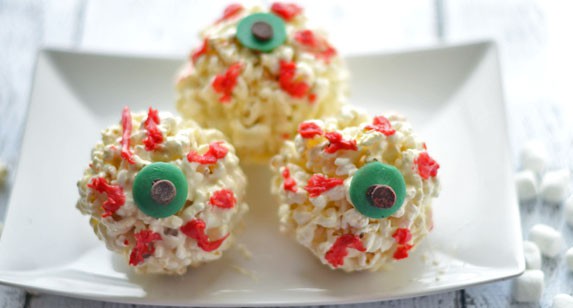 Halloween Eyeball Popcorn Balls Recipe
All eyes will be on these eyeball popcorn balls at your next Halloween party!
Ingredients
8 quarts popped popcorn (post coming soon on how I pop my own microwave popcorn)
1 stick unsalted butter
¼ cup packed light brown sugar
1 10-ounce package mini marshmallows
¼ teaspoon sea salt
½ teaspoon vanilla extract
Candy melts in desired color for iris of the eye
Chocolate chips or small discs for pupil of the eye
Chocolate or candy melts to use as glue
Red decorating icing, gel or melted chocolate to make blood-shot streaks
Instructions
Melt butter over low heat in large dutch oven pan.
Once butter has melted, stir in brown sugar with rubber spatula until melted.
Add in marshmallows and stir until coated with the butter/sugar mix.
Keeping over low heat, stir marshmallow mixture occasionally until completely melted. This will take several minutes.
Once mixture has melted, stir in salt and vanilla.
Pour mixture over popcorn in large bowl, or add popcorn to pan if it's large enough.
Toss to thoroughly coat popcorn, using a buttered spatula if needed.
Mold into desired popcorn ball size and set on parchment or wax paper.
Melt chocolate you're going to use as the glue.
Place some melted chocolate on the rounded side of the candy melt you're going to use as the iris of the eye and then stick it on one side of the popcorn ball.
Slice off tip of chocolate chip, if using, or chocolate disc then add a bit of the melted chocolate on the back and place on top of the candy melt iris.
Using red icing, gel or chocolate, make swirly red lines around the iris for the blood lines.
Let chocolates harden and serve immediately or wrap tightly for up to 2 days.
Will you be making this Halloween Eyeball Popcorn Balls Recipe for your Halloween party this year?