These free printable Love Potion #9 adult valentines are sure to make your Valentine's Day extra special!
Disclosure: This article may contain affiliate links.
Even as a woman, I'm honestly not big on the grand material extravagance Valentine's Day has become. Sure, flowers, chocolates, jewelry and a nice dinner out are lovely. But, instead of focusing on material things, I like to treat Valentine's Day as a fun day to remind all my friends and loved ones that I really appreciate having them in my life. One thing I do miss about Valentine's Day from childhood is all the cute little Valentines with candy, pencils or other little tokens of affection we'd all give out to each other at school. So, I thought what the heck? Why not make some cute adult valentines to give to friends, co-workers and other people you care about?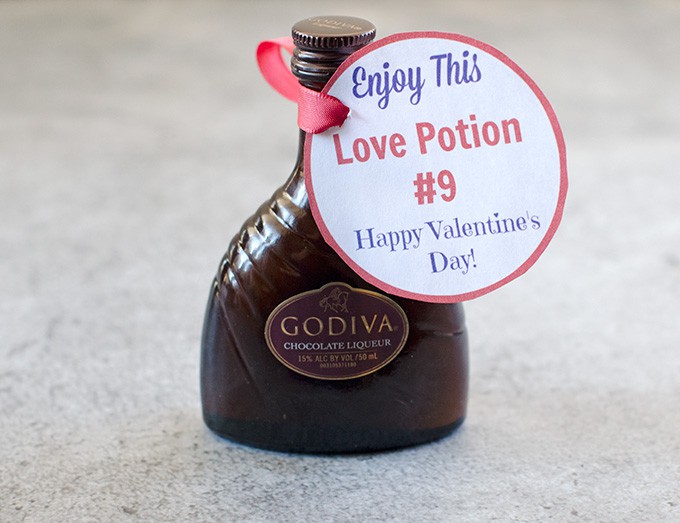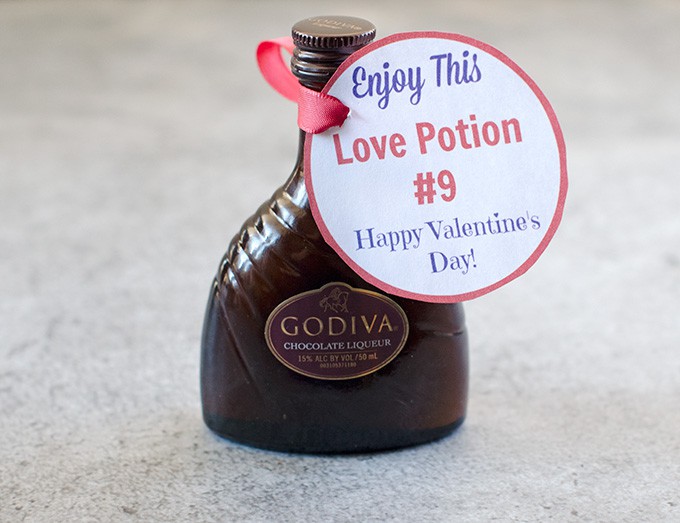 And so these free printable Love Potion #9 adult valentines were born. You could also use this for kids with juice boxes, drink mixes, sodas, etc, of course. I just think this is extra special for adults paired with a mini bottle of some sort of alcoholic drink or a nice craft beer. I just recently, sadly, in my 29th year of life, discovered the wonderfulness of Godiva Chocolate Liqueur, so that's what I decided to use. It is yummy chocolate, after all!
Click the image above for the heart shaped valentines or click here for the round shaped valentines.
Here's the super simple way to put this adult valentine together!
Materials Needed
The free printable adult valentines in either the round or heart shape (just click the link to download the free PDF you can print). Each page has 6 valentines.
Ribbon, twine or other material to attach the valentines to the bottle
Small bottles of liquor or other beverages
Scissors
Hole punch (I love the price on this 3-pack of different shapes that I've used the past couple years!) or box cutter
Put it Together
Print out the Love Potion #9 Valentines in either the circle or heart shape. You can print out on regular printer paper or card stock to make them a bit nicer and more durable.
Cut out the valentines.
Using a hole punch or box cutter, punch a hole or cut a small slit into each valentine.
Thread ribbon, twine, etc. through each valentine.
Tie one valentine around each bottle as desired.
Gift love potions to your valentines and expect to feel plenty of warm fuzzies!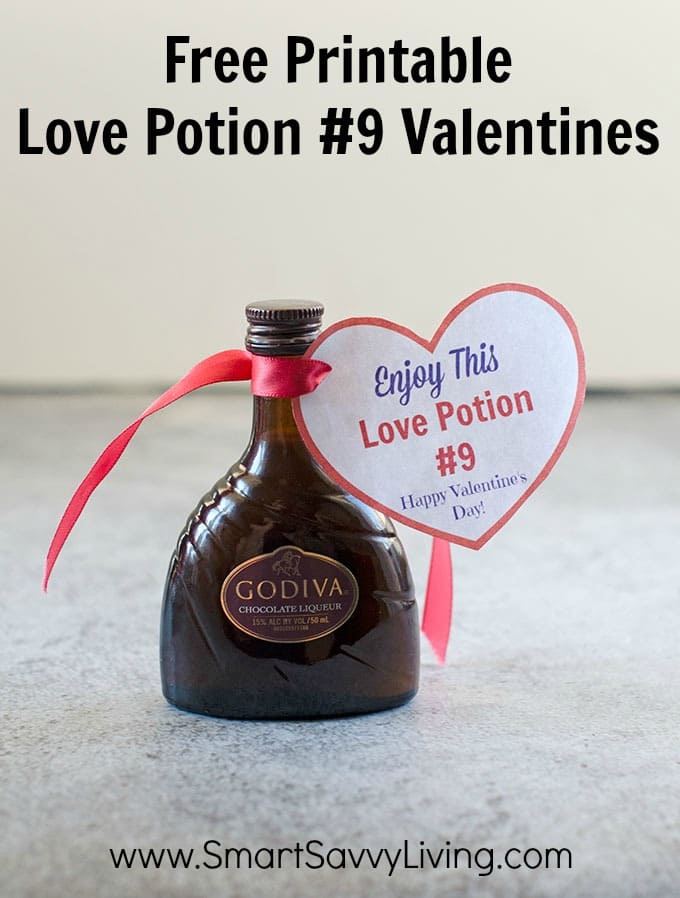 Looking for more Valentine's Day gift ideas? Check out our customizable free printable Valentine's Day coupon book!
We hope you love giving out these Free Printable Love Potion #9 Adult Valentines as much as your valentines are sure to love receiving them!