This Free Printable - 2013 Year in Review is written by me and sponsored on behalf of HP. I received an HP PC, an HP tablet, an HP printer, and a Snapfish gift card as part of my participation. #HPFamilyTime
Can you believe we're already almost 2 weeks into 2014? It really does seem like every year passes faster and faster. So fast, in fact, it can sometimes be hard to remember the hardships that we overcame in the recent past year or the awesome feats we may have accomplished throughout that year. That's why I like to take at least a few minutes at the beginning of the new year and write out a year in review. There's been a lot of memorable news throughout the world from last year from unfortunate deaths and acts to royal births and actions of others that inspire us all. But for right now, I prefer to take the time to concentrate on what happened in our family's life.
It's actually a lot of fun taking some time to remember what all you have accomplished over the past year as a family. It's also interesting looking at some of the hardships you have survived together and being proud that you made it through or finally seeing the big picture that maybe those days weren't as terrible as you thought they were months ago. Often times I forget how much our family has done throughout the year, or just how much I have grown both personally and as a business over the past 12 months. So, this year I decided to actually make a free printable year in review worksheet to share with you all.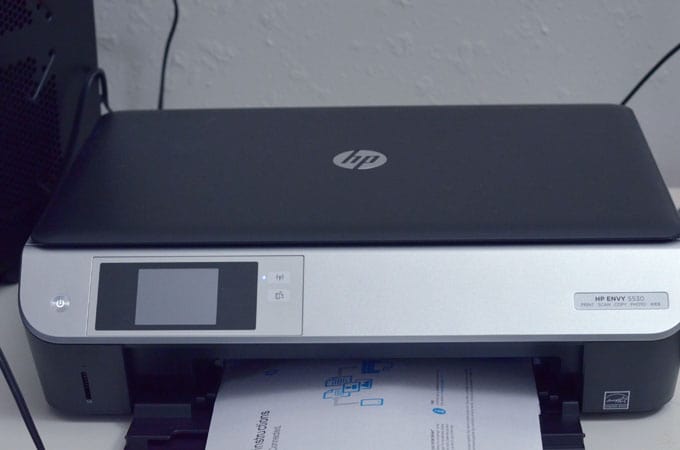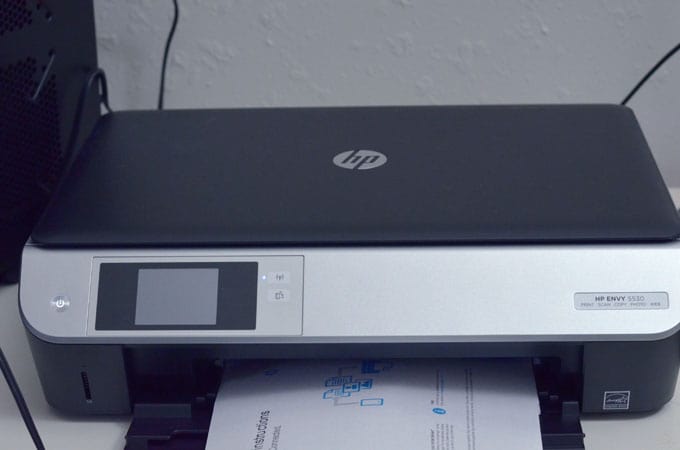 I remember having similar sheets to fill out as a kid to mark all our achievements and accomplishments once the school year was nearing its end. But, I think it's just as important as an adult to see how things have changed from year to year to stay focused and not always feel like we're in a rut when so much of our day to day life can be the same tasks over and over. Thanks to my new HP Chromebook 14 and HP ENVY printer, it's been so easy to put together this year in review printable. I always thought you had to have a heavy duty desktop to make decent graphics and printables, but I've found that the HP Chromebook has enough power to help out even a novice like me make professional looking printables to share. Plus, with the HP ENvy printer, I can print the pages out without any break in quality so that I can turn them into a scrapbook of sorts, or even frame them in my office for inspiration. The best part is, everything is completely mobile so I'm free to enjoy plenty of #HPFamilyTime instead of being stuck and isolated in my office.
Free Printable - 2013 Year in Review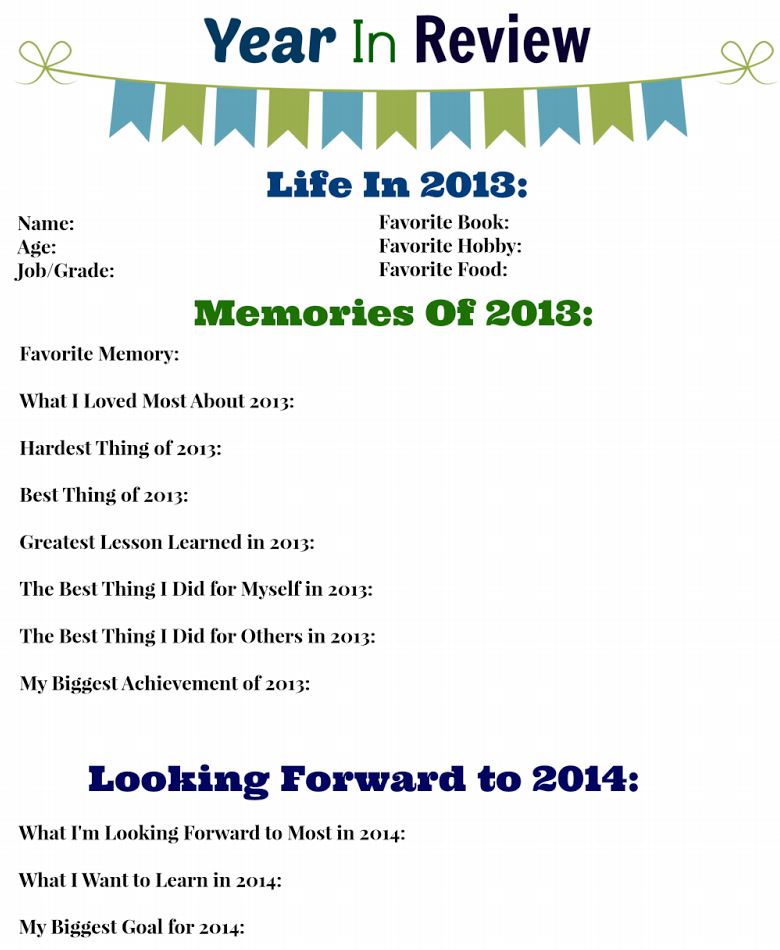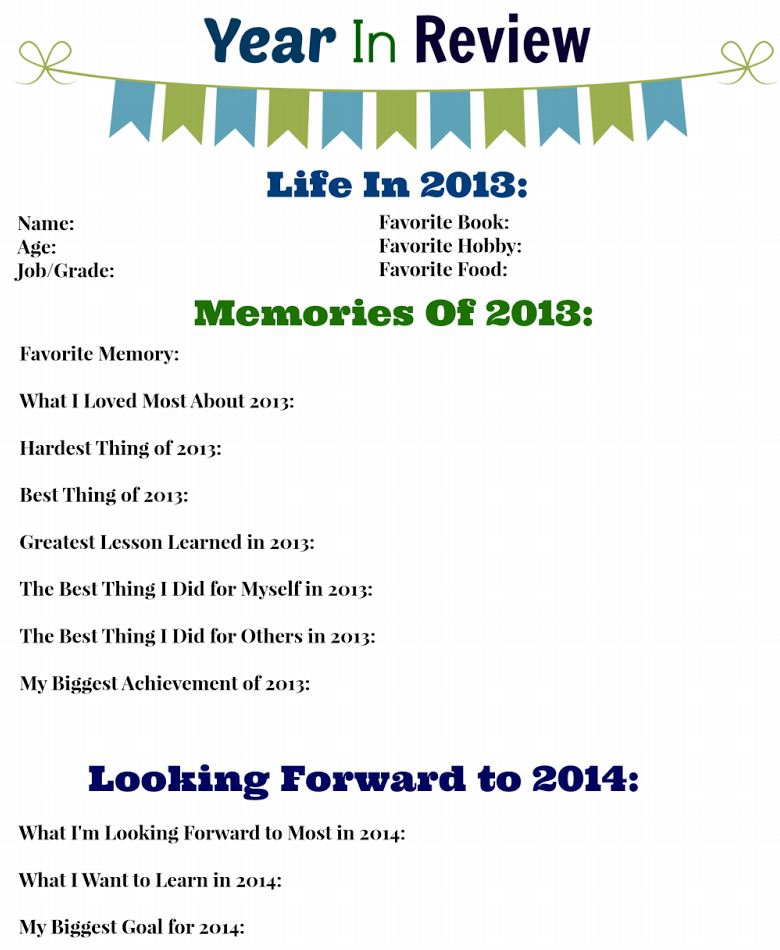 Want to write out your own year in review? Just download the free printable year in review and print! If you don't have Adobe Reader installed, you can also print directly from this Google Documents link. Note that the worksheet is in color if you plan on printing several copies. Worksheet is intended for entertainment or scholastic purposes only and may not be reprinted for commercial use. Frame it to keep in your office as a reminder of last year or stick it in a scrapbook of all your family's adventures over the year, etc. Enjoy!
Here's a look back at my 2013 when I was 27 - 28.
Job: Blogger and Freelance Writer
Favorite Book: I'm a total food geek and have loved looking through Alton Brown's cookbooks this year.
Favorite Hobby: Cooking and baking - shocker I know!
Favorite Food: Man, this is hard one, and I want to say chocolate, but I'm going to choose something new I tried this year and say sushi. This year is the first time I finally tried it after shying away but it was quite awesome!
Favorite Memory: There are a lot of day to day memories I love, but one that sticks out in my head is when the Mr. and I were trying cat bearding without much luck. It was so much fun and hilarious, though!
What I Loved Most About 2013: Seeing myself grow as a person and through my business.
Hardest Thing of 2013: Having to see Mr. Savvy suffer through pain for months, and still today, after an injury.
Best Thing of 2013: Meeting so many new people from all over the world through blogging.
Greatest Lesson Learned in 2013: To make time to enjoy the small things because work will be there forever, but people, and even places, won't.
The Best Thing I Did for Myself in 2013: Slowly learning to truly love myself as I am more and more so that I can truly be happy.
The Best Thing I Did for Others in 2013: This is something I want to work on more next year, but for this year I'd say always listening and trying to make everyone I see smile.
My Biggest Achievement for 2013: Since I firmly believe that health and happiness affects our whole life, I'd say my biggest achievement is really taking my health more seriously and eating mostly freshly prepared foods and trying to live/cook with less processed items.
What I'm looking forward to most in 2014: Just hanging on for the ride and seeing what the year brings!
What I Want to Learn in 2014: I'd really like to continue learning more about photography and photo styling, and maybe also learn how to knit.
My Biggest Goal for 2014: To continue working on loving myself, building my confidence and treating my body and mind better through healthier choices.
For additional information about the products from HP I've been using the past couple of months, check out the following links: HP Chromebook 14, HP Slate7 tablet, HP ENVY 5530 e-All-in-One printer, and Snapfish.
What was your favorite thing about 2013?