This is a Sponsored post written by me on behalf of Duck Brand. All opinions are 100% mine.
Do you always struggle for gift ideas? I know I sure do. I really prefer to give practical gifts that I know the receiver will really enjoy and actually be able to use instead of having another knickknack in the corner or closet collecting dust. One gift I really enjoy giving lately is plants. Sure, cut flowers are beautiful, but they are expensive and don't last very long, thus why I love to give plants. I know a lot of fellow cooks, so one gift I know I can always count on being loved is a potted herb. Herbs are just so fragrant and fresh, plus gifting them can often get you a free home cooked meal to taste them in. ;) So, when Duck Tape® recently asked me to come up with a spring time craft with their tape, I knew it had to involve plants. And since Mother's Day is just around the corner, I thought this would make for a great DIY Mother's Day gift idea.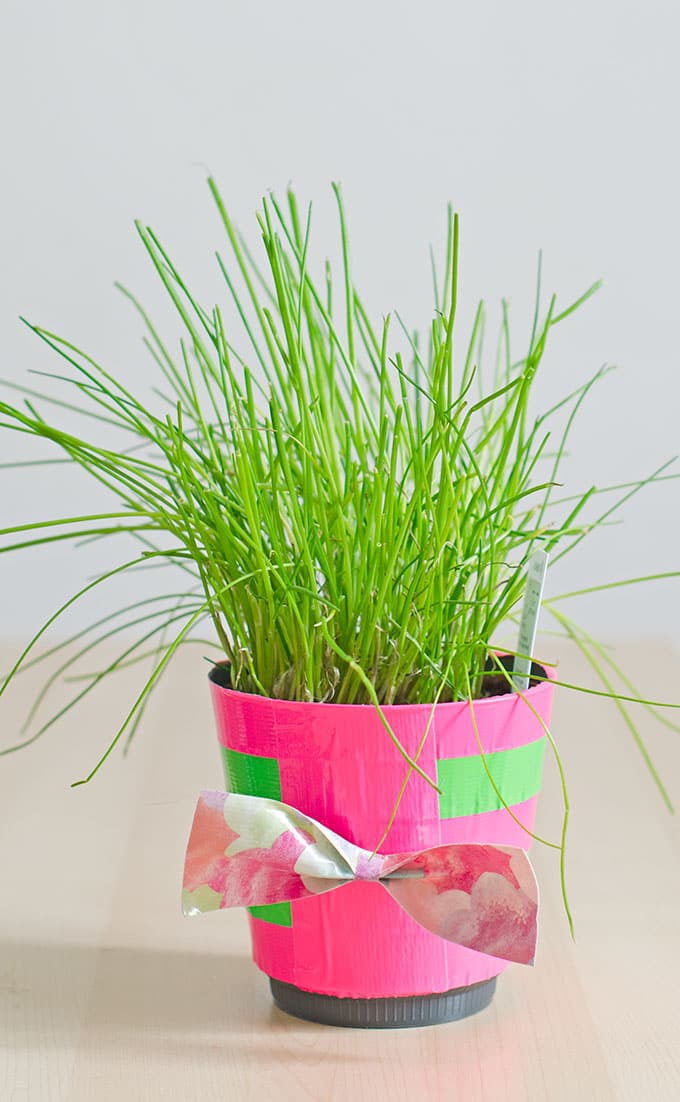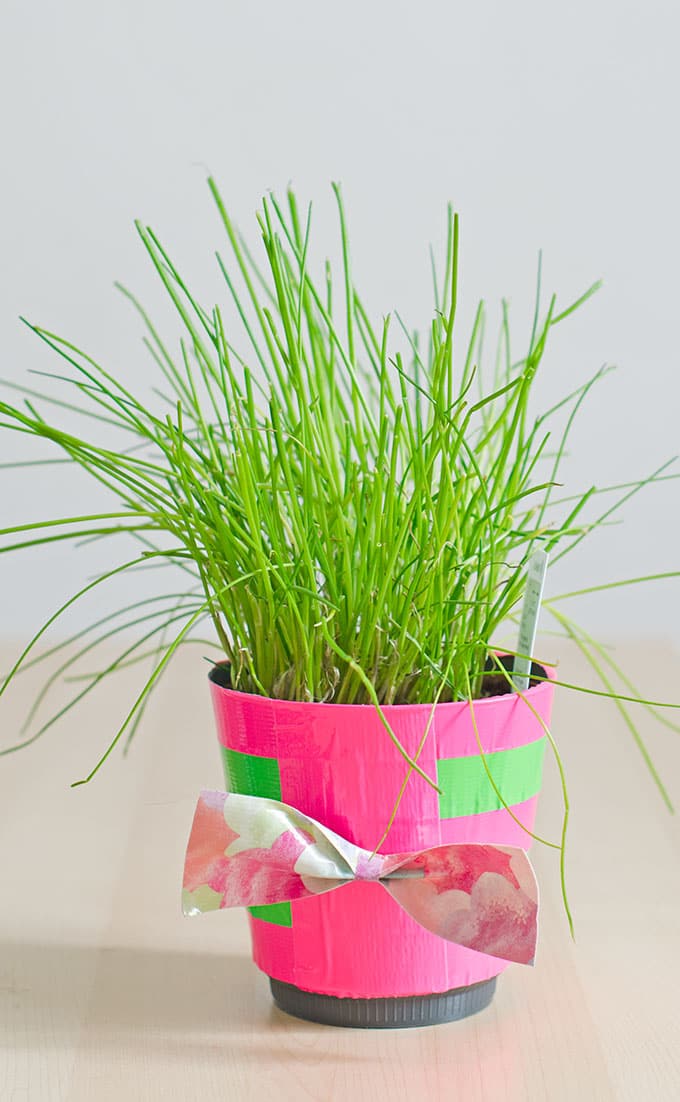 Now, I'll be upfront and say I've never been the super crafty kind. Sure, I enjoyed arts and crafts as a kid, but I never really felt artistic. But, I've been wanting to broaden my horizons, so I took the leap and tried out a Duck Tape® craft. I've seen several crafts lately using Duck Tape® and I figured it was a safe material to use as I started to bring out my inner craftiness again. Luckily, it was a good thing to start with as I still have all my fingers and I didn't have to worry about spilled paint or cat paint prints every where. ;) I decided to go with sprucing up the pot for a plant gift because they can often be a bit dull and boring. I feel good about using Duck Tape® as it's made in the USA, plus I have to say for a first time tape crafter, I don't think the end product turned out too shabby.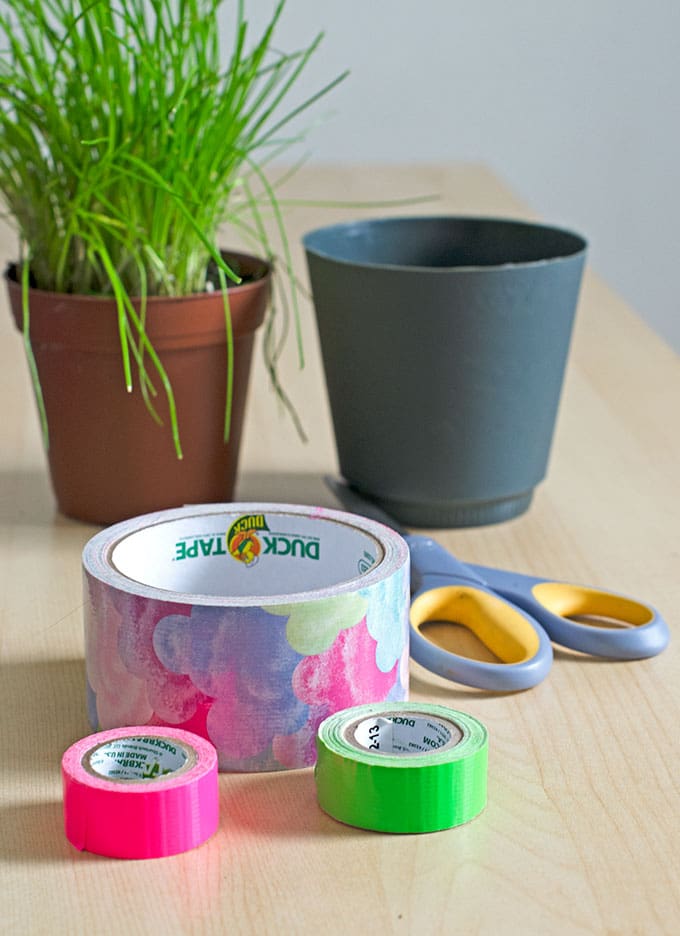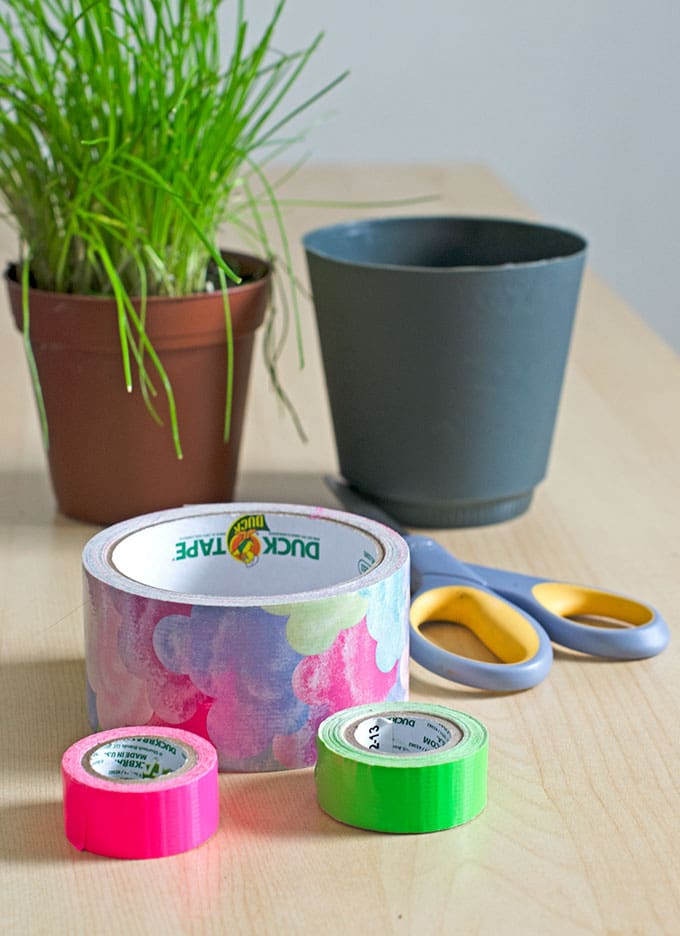 I also used the regular side pink Duck Tape®, but I forgot to include it in the photo.
Materials Needed:
Potted herb, flower or other plant - make sure there are drainage holes in this pot
Larger pot for decorating - this one can have drainage holes but not needed
Duck Tape® in desired colors, I suggest at least 3. I used the wide roll in pink, the green and pink Ducklings and the floral wide roll print.
Scissors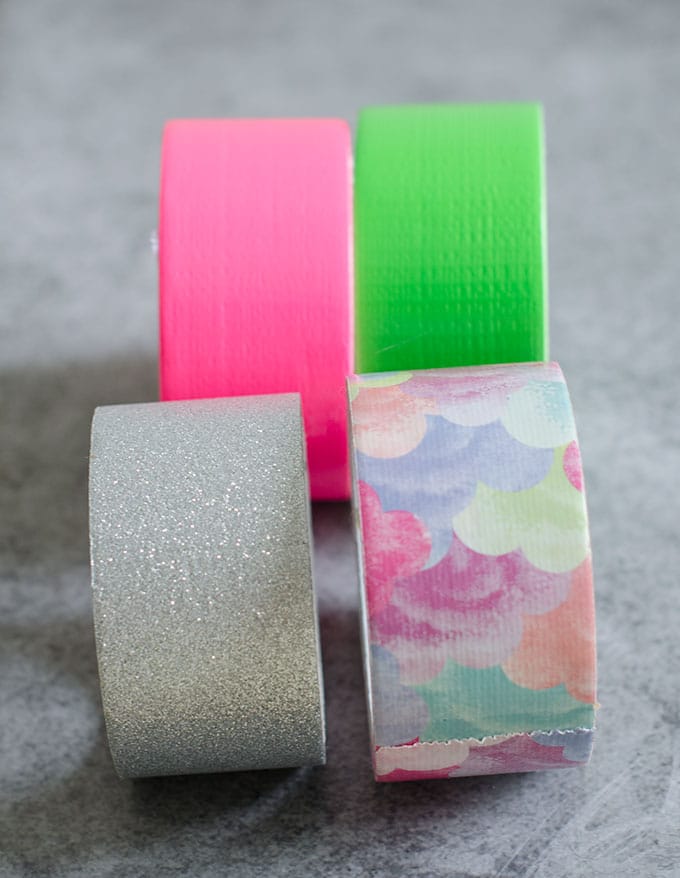 Duck Tape® has several colors and patterns in regular-size.
Put it Together: 1. Make sure the larger pot for decorating is free of any stickers or other materials, clean and dry so tape will go on smoothly as possible. 2. Plan the design you want for the flower pot. I made one with horizontal stripes but this would also work just as well with vertical stripes. In my experience, the wider tape works best as it goes on smoother with the curves for a better looking final project, but I used the Duck Tape® Ducklings for the one pictured.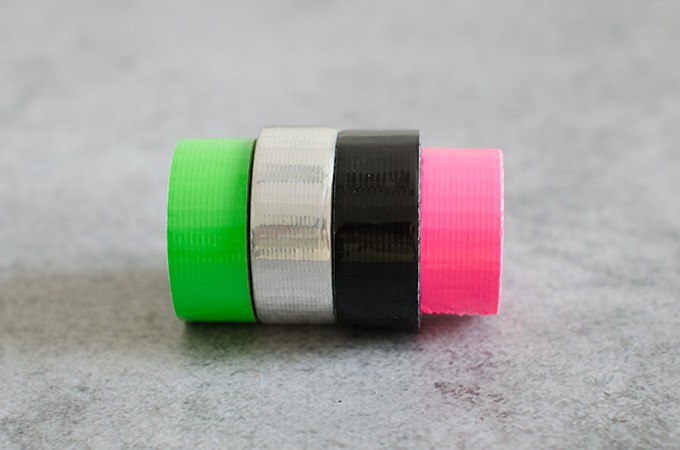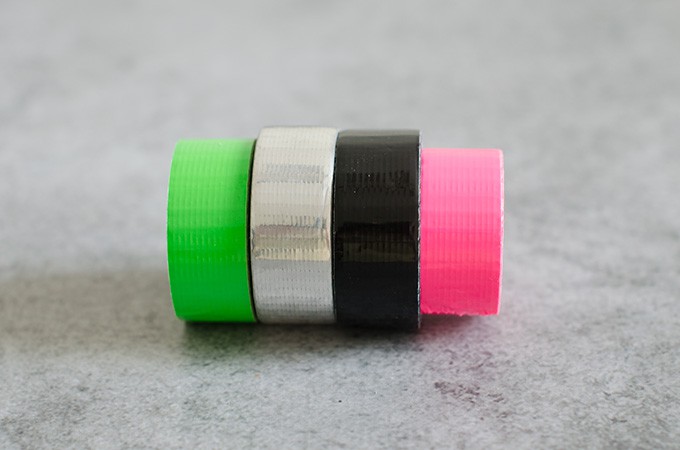 There are also several varieties in the smaller Duckling size.
3. Slowly press tape onto the pot in your desired direction. Remember to be patient and go slow to keep things even and smooth. If you notice that you have a few larger bubbles or that you didn't line it up quite evenly, you can peel the tape back several times and reapply it. Not that I would know about this or anything. ;) If applying the tape in horizontal stripes, I find it a lot easier to start at the bottom or top so I have a line to follow to keep them as straight as possible. If applying horizontally, your seams will also be much more apparent, so try to keep them in the same area so you can go back at the end and cover them with a vertical strip of tape.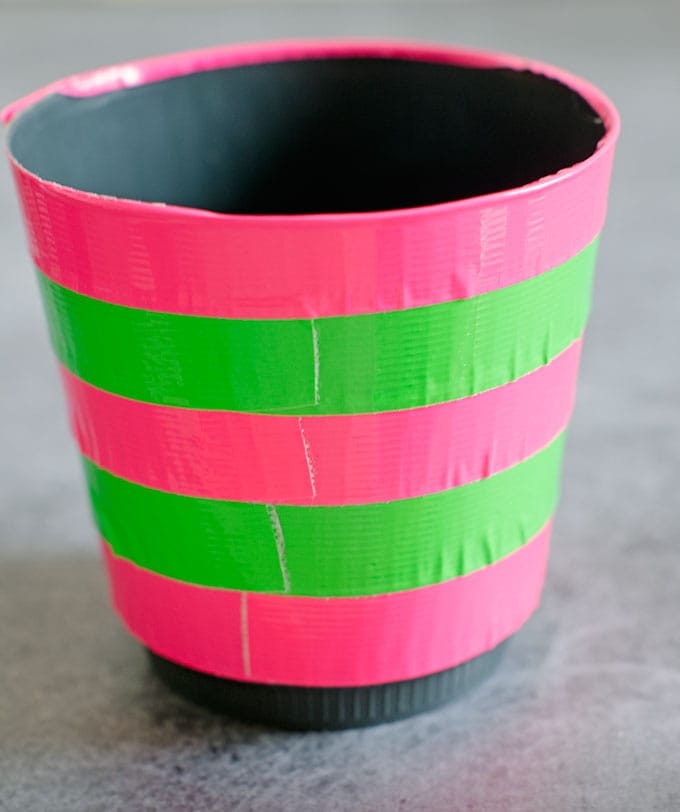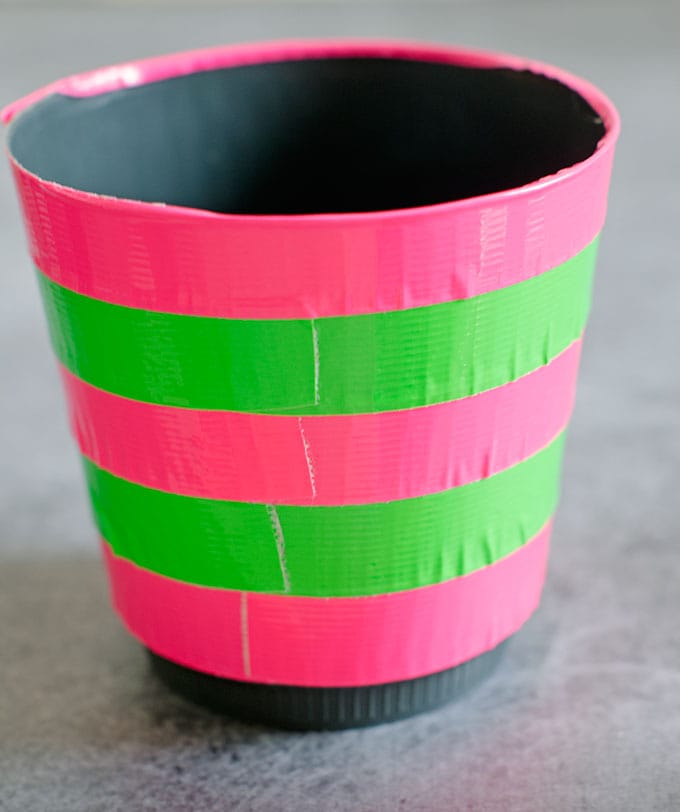 4. Once you have all your tape applied, you can now apply the vertical strip of tape to cover your seams, and/or make a bow if it's for a gift to make it look extra special.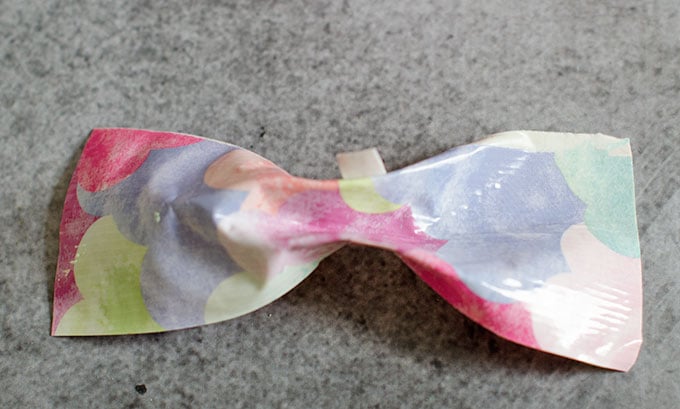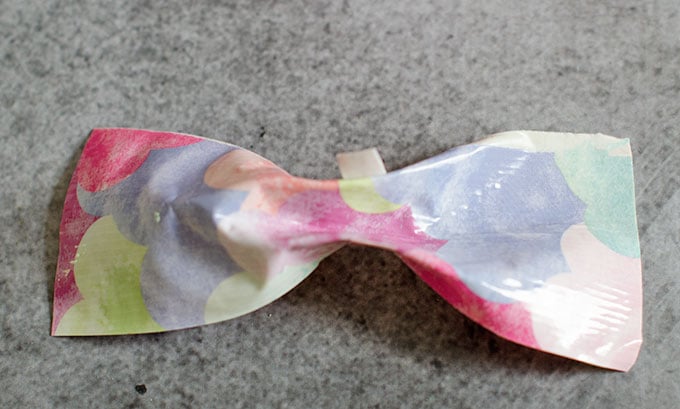 5. Here's how I made my bows since I'm a beginner Duck Taper: Take a long strip of Duck Tape®, about 6 inches long or longer depending on your pot size, and then fold the tape over on itself so that the sticky parts are sticking together. Trim away any sticky or uneven parts that are showing on the front. Then cut a small piece of tape to go over the middle of your bow and to attach it to the pot with. Pinch the middle of the large strip of tape to make a bow shape, then take the smaller strip and place it over the middle of the bow, leaving a small sticky spot on the bottom to attach the bow to the pot with.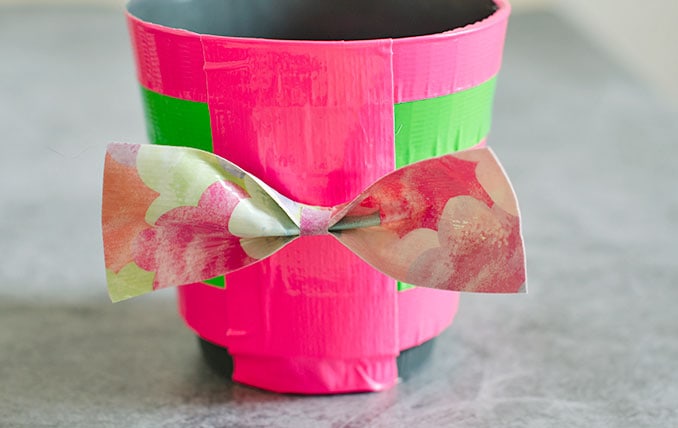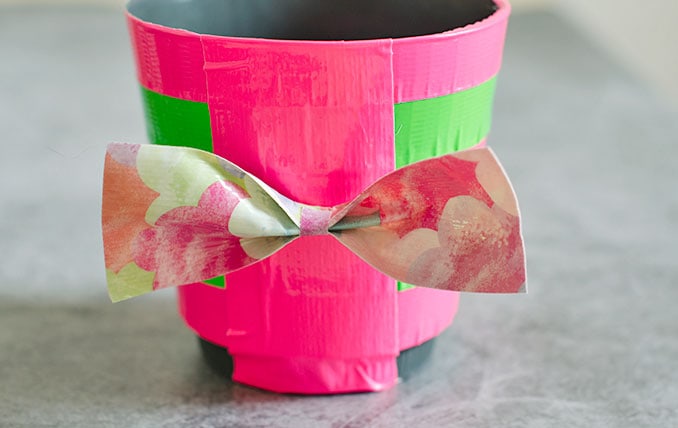 6. Attach the bow to a central area of the pot and fluff out the sides a bit to make it look pretty. Place the smaller potted plant into your newly decorated pot and you're all done!
Find more info about Duck Tape® by following them on Pinterest, on Facebook and on Twitter and see where you can find Duck Tape here!
What are some of the Easter and Spring crafts you've been working on this year?