This is a sponsored post written by me on behalf of The Hershey Company. All opinions are 100% mine.
Looking to make some new baking traditions with your family this holiday season? This chocolate gingerbread cake roll with peppermint buttercream recipe is a delicious spin on a holiday classic! #NewTraditions
During the holidays I love to do a lot of baking for gifting, parties, and dinners. I make the usual baked goods like my yeast rolls and a variety of cookies, but my favorite is always the gingerbread.
It was something my mom would always make at least once during the season and it's a tradition I enjoy repeating.
Plus, Mr. Savvy spent a good chunk of his childhood living in Germany so loving gingerbread is basically a part of his DNA.
Besides, it's pretty amazing just how much drool-worthy spicy flavor a seemingly simple looking piece of gingerbread cake holds. Sadly, it often gets passed over for holiday cookies and pies.
So, this year I decided to turn gingerbread into a centerpiece worthy holiday dessert with this chocolate gingerbread cake roll with peppermint buttercream recipe.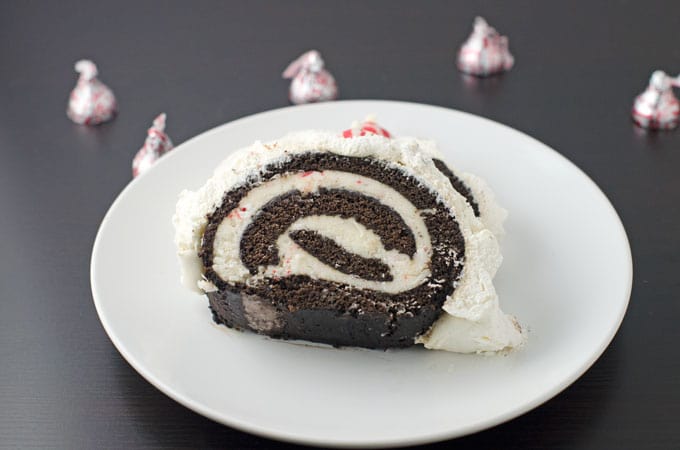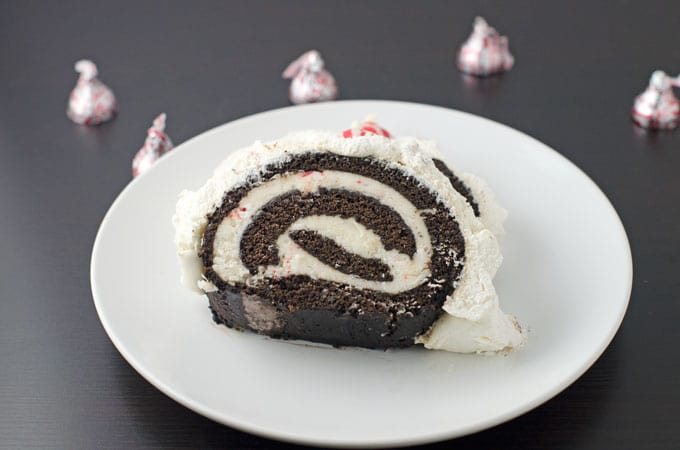 Like many of my fellow baking enthusiasts, products made by The Hershey Company are at the center of my baking pantry.
I grew up watching my mom use Hershey's Cocoa Powder in all sorts of desserts like brownies, pudding, and cake.
I always looked forward to when we made peanut butter cookies with Hershey's Kisses chocolates in the middle because not only were they a special treat, but I also got to unwrap the chocolates from their festive read, green, and silver foils.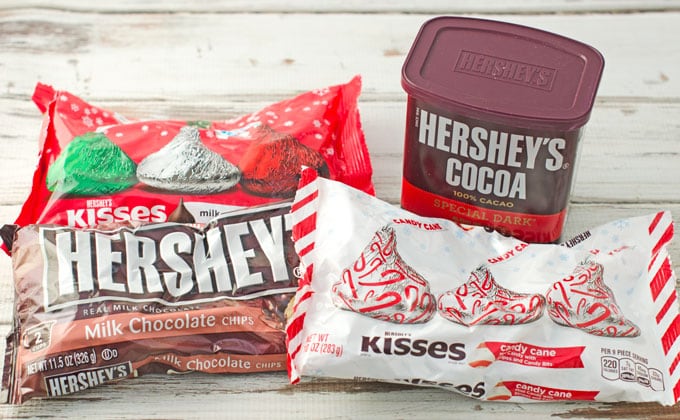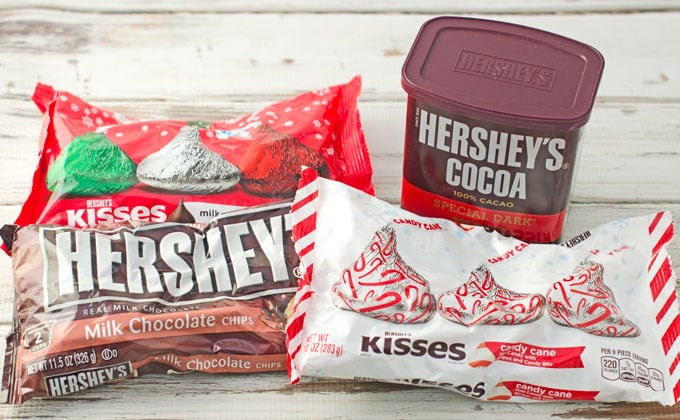 These days I love making brownies even better with Heath Milk Chocolate Toffee Bits and the first time I tried Hershey's Kisses Candy Cane Mint candies a few years ago, I loved them so much I think I bought 5 bags to last me throughout the year.
For this chocolate gingerbread cake roll, I used Hershey's Special Dark Cocoa Powder as it has a bit deeper chocolate flavor to it that really goes nicely with the warm spices like ginger and cloves.
Chocolate, of course, pairs well with peppermint, so I couldn't resist chopping up a few Hershey's Kisses Candy Cane Mint candies to go in the peppermint buttercream filling. It's such a lovely light and fluffy contrast to the heavier gingerbread cake.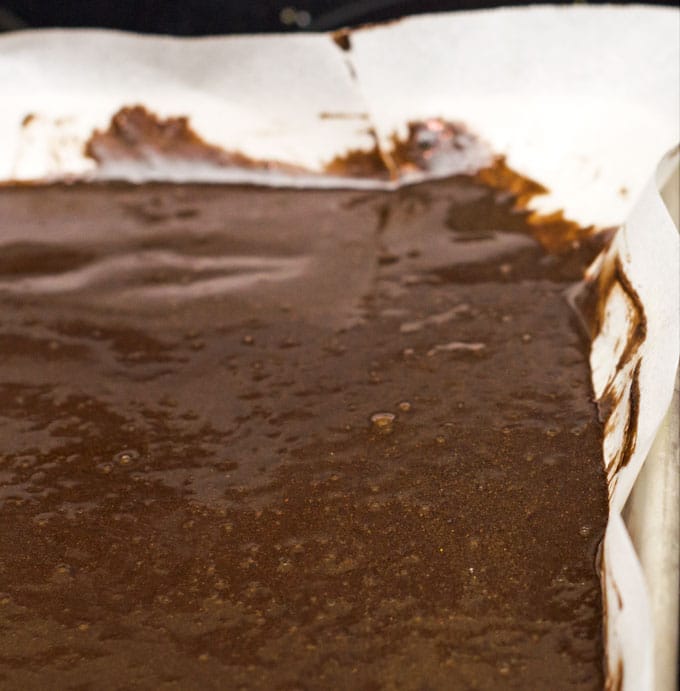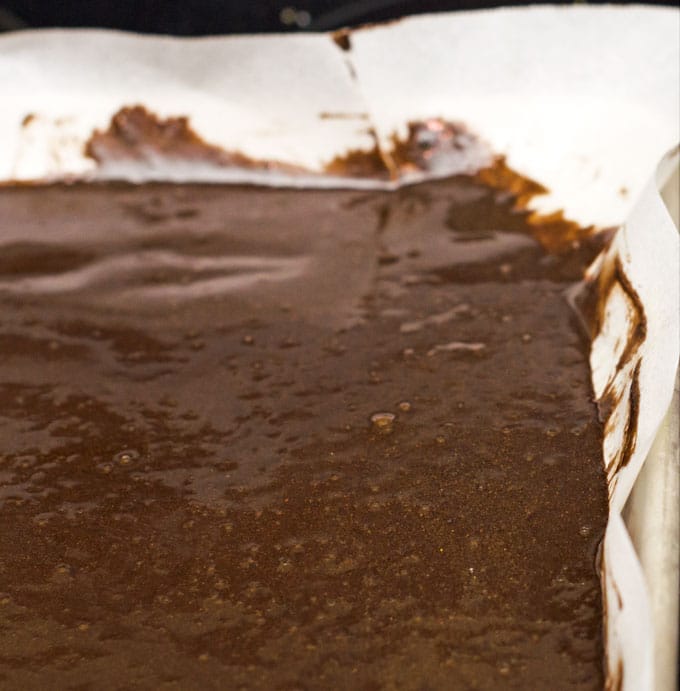 It's amazing how many air bubbles can be in a cake before tapping the pan on your counter. Getting rid of the bubbles leads to a sturdier cake.
If you've never made a cake roll before, don't be intimidated as they're actually rather easy to make. They're surprisingly quick to put together and take just minutes to bake compared to a layer cake.
The trick is to roll them up in a clean towel sprinkled with a generous amount of powdered sugar right as the cake comes out of the oven.
Yep, you don't want to let this one cool first as rolling it up while it's hot will help it crack less later.
This cake roll also uses the whole eggs so you don't have to worry about whipping up the whites and folding them in separately.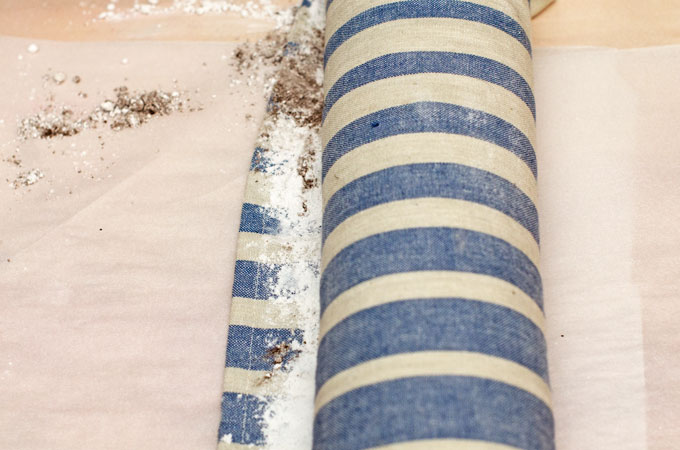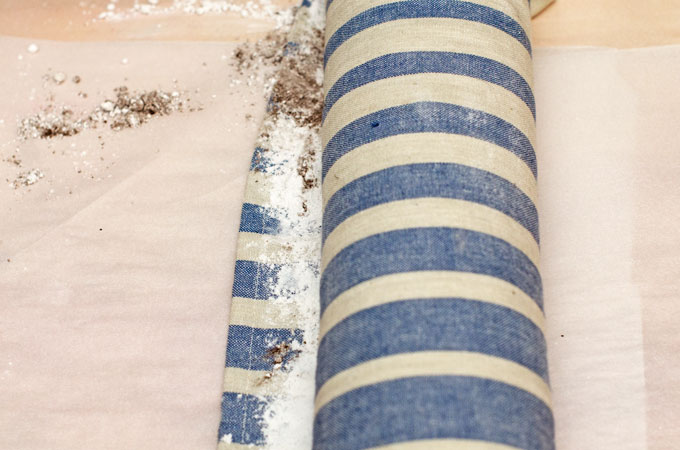 If your cake does end up cracking, you can easily cover it up with extra frosting or whipped cream that just makes it look all the more special for your holiday guests.
If for some reason your cake does end up falling apart and can't be rolled up, you can easily just crumble it apart and make a large or individual trifles or parfaits, layering it with the buttercream.
Here's how to put it all together.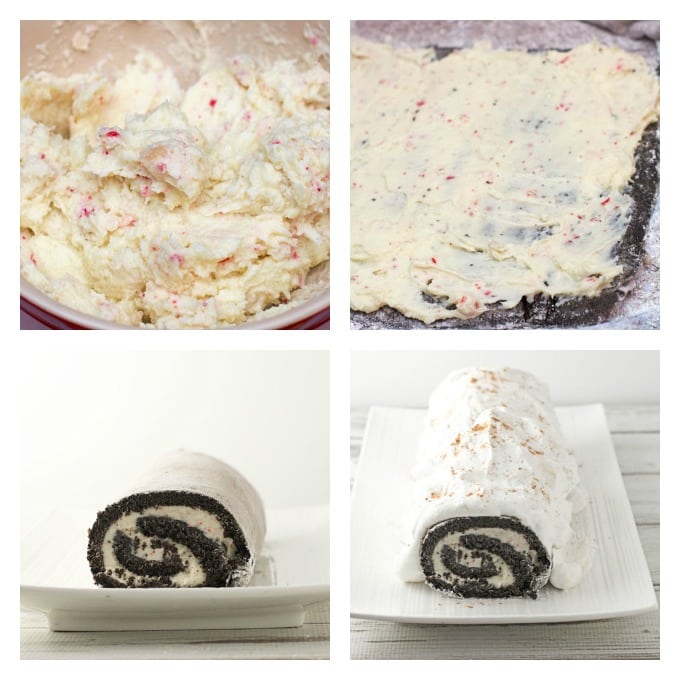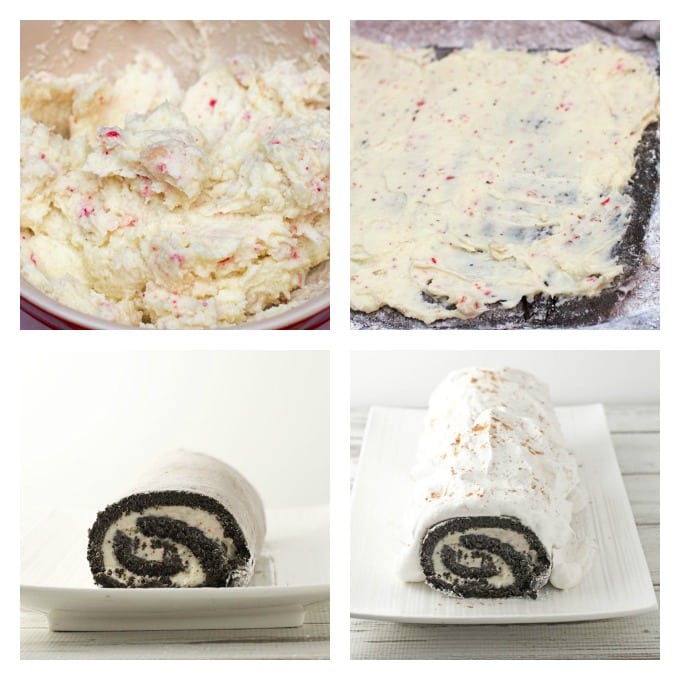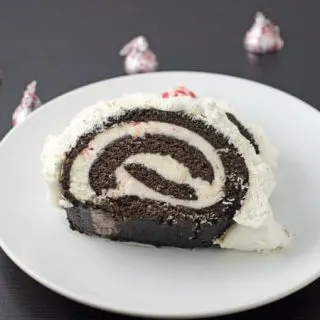 Chocolate Gingerbread Cake Roll With Peppermint Buttercream Recipe
Gingerbread is loved by many during the holidays, but it's not the fanciest looking dessert. However, turn it into this chocolate gingerbread cake roll with peppermint buttercream and you'll have an impressive Christmas dinner dessert everyone will want you to make year after year.
Ingredients
Chocolate Gingerbread Cake Roll
3 large eggs
½ cup dark brown sugar
2 tablespoons melted unsalted butter
½ cup molasses (don't use blackstrap; it tends to be bitter)
¾ cup all-purpose flour
¼ cup Hershey's Special Dark Cocoa Powder
1 teaspoon baking powder
2 teaspoons ground cinnamon
¼ teaspoon ground cloves
1 teaspoon ground ginger
¼ teaspoon ground nutmeg
½ teaspoon salt (I use sea salt)
Powdered sugar and additional cocoa for the towel
Peppermint Buttercream Filling
1 cup (2 sticks) softened butter
3 cups powdered (confectioner's or icing) sugar
⅛ teaspoon (a pinch) of sea salt
1 teaspoon vanilla extract (can also use peppermint flavoring but may want to use less)
1 – 2 tablespoons heavy cream
10 – 15 Hershey's Kisses Candy Cane Mint candies, chopped finely
Optional Garnishes
Fresh whipped cream
Hershey's Cocoa Powder or spices
Hershey's Kisses Candy Cane Mint candies
Instructions
Preheat oven to 350°F.
Line an 18? x 13? half sheet pan (or jelly roll pan) with either parchment paper or foil and grease. I use non-stick baking spray.
Place eggs into a large bowl or bowl of a stand mixer and beat on high for 3 – 5 minutes until eggs are frothy and a darker yellow color.
Turn down the speed to low and beat in brown sugar, butter and molasses until thoroughly combined.
In a separate bowl, whisk together flour, cocoa, baking powder, cinnamon, cloves, ginger, nutmeg, and salt then stir into wet ingredients until thoroughly combined.
Spread the cake batter evenly into the lined and greased pan. It may seem like a thin layer of batter, but it's supposed to be.
Tap the pan a few times against your counter to release any air bubbles and then place into the preheated oven.
Bake at 350°F for 10 – 12 minutes until the cake is completely done. If using a jelly roll pan, you may need to bake a few minutes longer as the cake will be a bit thicker due to the smaller pan. Remember that for cake rolls it is better for the cake to be overdone versus underdone so they are easier to roll without cracking.
While the cake bakes, sprinkle a large clean kitchen towel generously with powdered sugar. I also like to sprinkle a bit of cocoa powder into the powdered sugar since this is a chocolate cake. Don't be afraid to use a lot as the sugar is what keeps the cake from sticking to the towel.
Once the cake is done, immediately turn it out onto the sugar-lined towel.
Slowly remove the foil or paper from the cake, sprinkle a little more powdered sugar on top of the cake, then roll it up tightly in the towel starting at one of the shorter ends.
Let the cake cool completely, which may take 2 – 3 hours.
In the meantime, make the peppermint buttercream by combining softened butter and powdered sugar in a large bowl or stand mixer bowl.
Using the whisk attachment, mix on low until the butter and sugar are mixed together well and then increase speed to medium-high and beat for at least 3 minutes.
Decrease speed to low and add in salt and vanilla or peppermint extract. Add in 1 to 2 tablespoons heavy cream to reach a very spreadable consistency.
Stir in chopped Hershey's Kisses Candy Cane Mint candies.
Cover and refrigerate until cake roll is ready to fill.
Once the cake is completely cool, unroll, brush off any excess sugar, and frost with peppermint buttercream as evenly as possible.
Starting at one of the small ends, slowly roll the cake back up (without the towel this time). Some buttercream may spill out of the ends, just clean it off and consider it a baker's snack. Slice off the ends to make the cake roll even if needed. At this point, you can place on a platter and serve immediately or wrap with plastic wrap and refrigerate until serving.
When ready to serve you can garnish with additional powdered sugar, or make it extra pretty by topping with fresh whipped cream (also great to cover up any cracks) that you sprinkle with additional cocoa powder or spices you used in the cake. I also like to serve each slice with an additional Hershey's Kisses Candy Cane Mint candy.
Cover and refrigerate any leftovers for up to 3 days.
Notes
This cake can be made the day before serving, just make sure to not top it with whipped cream until just before serving.