This Chocolate Death Star Waffles with Strawberry Sauce recipe is perfect to indulge with during a Star Wars marathon.
I received the Star Wars Death Star Waffle Maker at no cost to make my chocolate death star waffles with strawberry sauce recipe.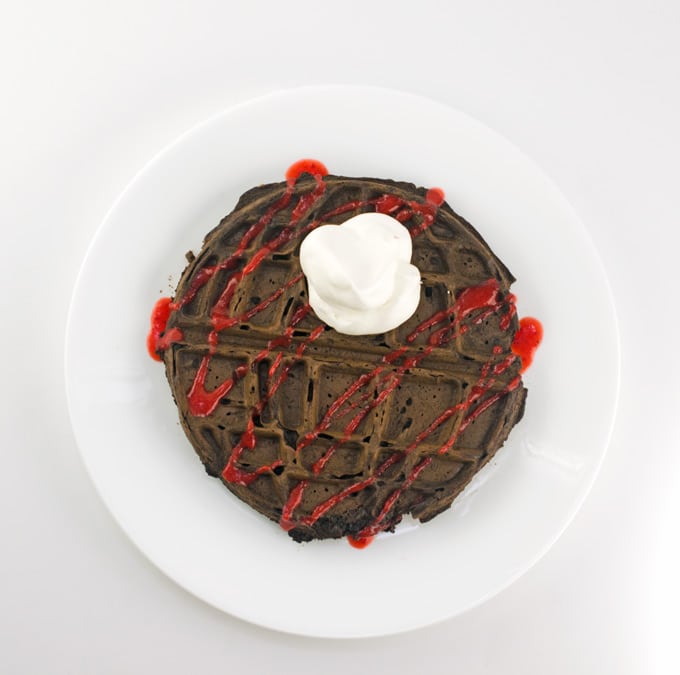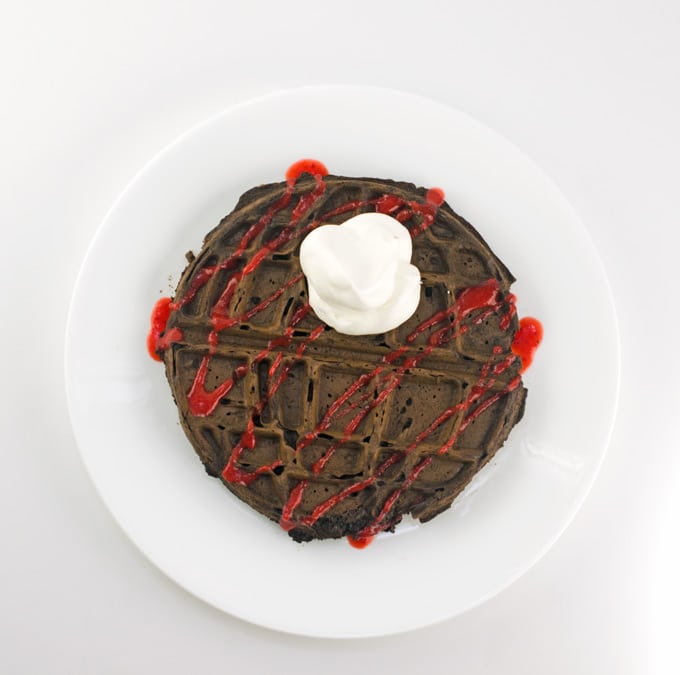 I've become such a big Star Wars fan over the past several years that it amazes me that I had never seen Star Wars until I met Mr. Savvy when I was 23. It was so exciting to see The Force Awakens last year and I can't wait to see it again now that The Force Awakens was released on Blu-ray earlier this month.
The Rogue One trailer I saw recently was also pretty darn awesome and has me super excited for the movie later this year.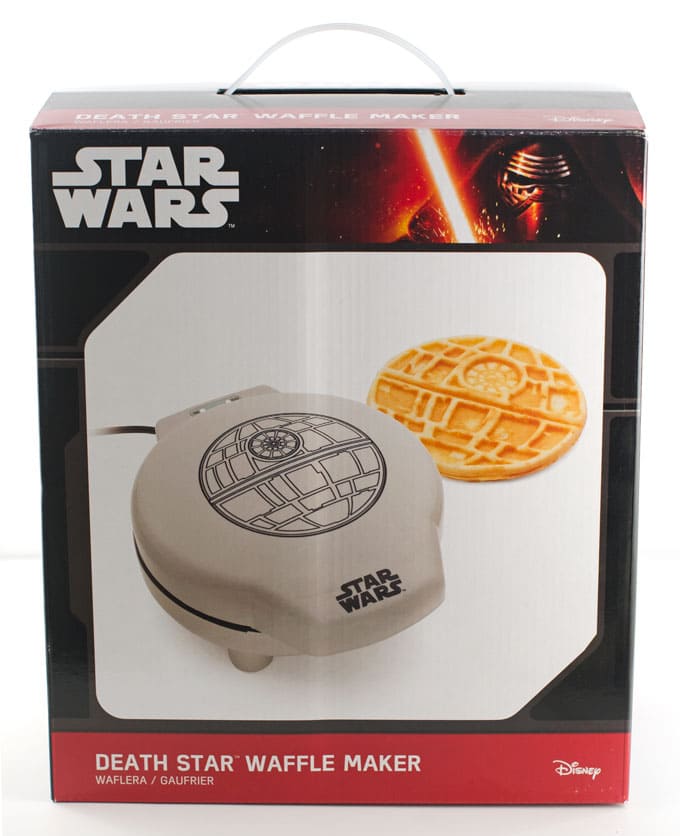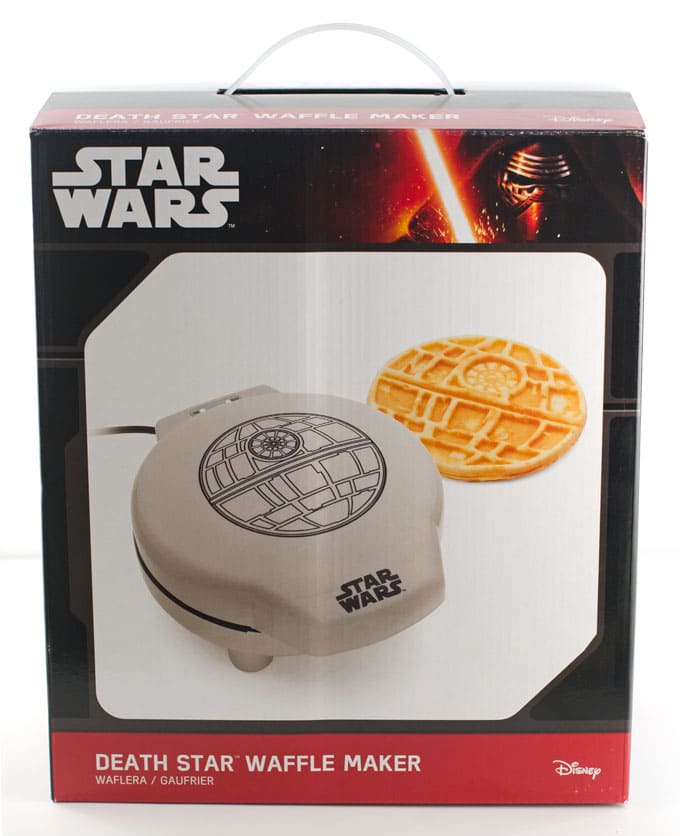 Since we're obviously total Star Wars lovers, we, of course, love all sorts of Star Wars items and gear. We have apparel, action figures, stuffed animals, and even cook and bakeware, which are some of my favorites.
That's why I'm excited to share this chocolate Death Star waffles with strawberry sauce recipe today.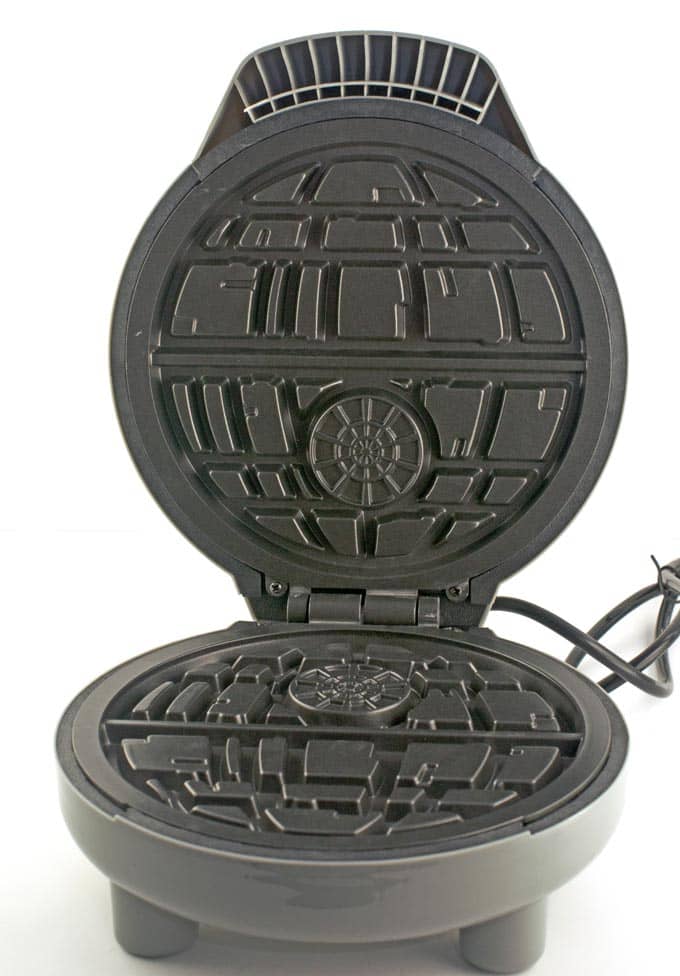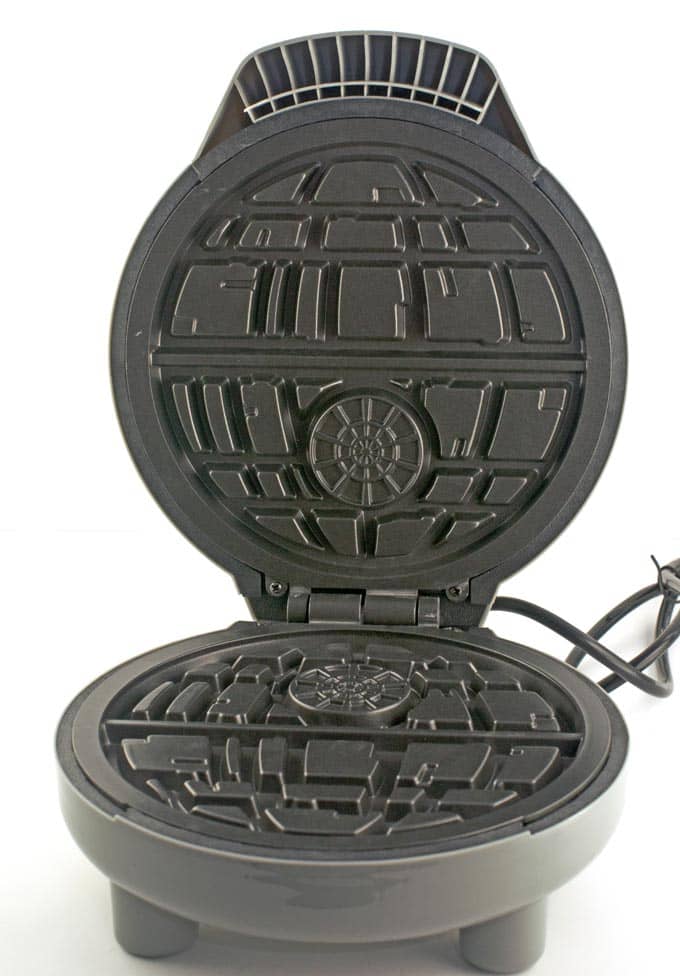 The Death Star waffle maker is available for just $39.99 at ThinkGeek.com, which has a ton of other cool Star Wars products for the kitchen. The Death Star waffle maker is so easy to use and does a great job at making waffles that are crispy on the outside and soft and fluffy in the center.
I only sprayed once with some coconut oil spray and none of the waffles stuck at all. Plus, it's really easy to clean, too. I used a large cookie scoop to fill the waffle maker and it took a bit of trial and error.
Three scoops was a bit too much, which made the batter overflow and make a mess. Two scoops wasn't quite enough and didn't quite make a full waffle. So, two and a half-ish scoops was pretty perfect.
Just make sure to slightly spread out the batter with the back of the scoop before closing the waffle maker.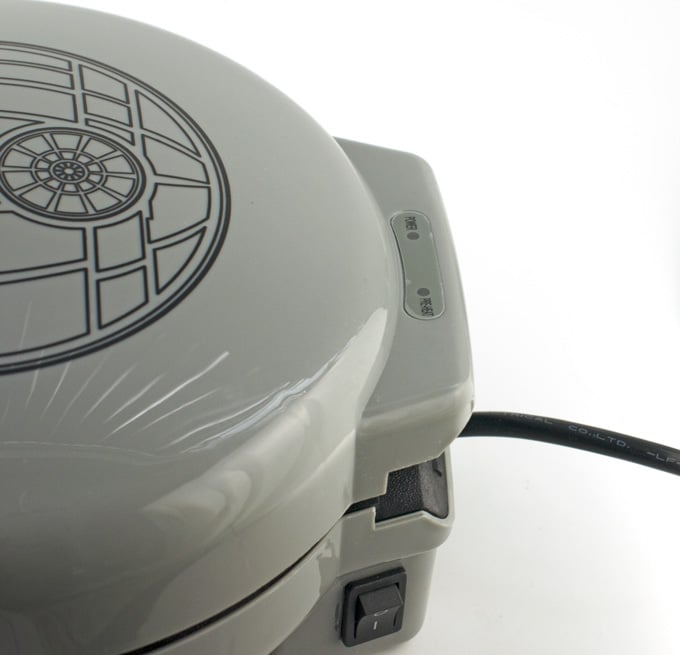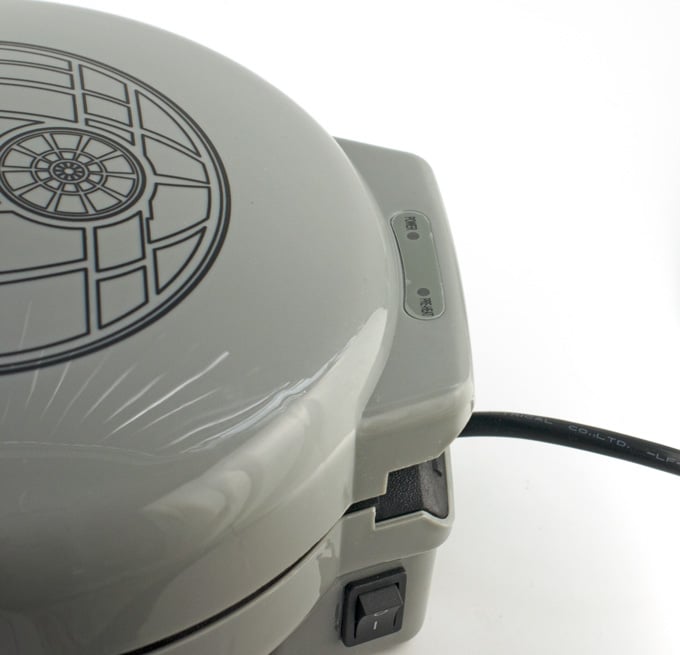 I do also recommend having a large wood or nylon spatula turner to get the waffles out, though, because it's very important you don't scratch up the non-stick surface. I generally pull my waffles out when there's little to no steam coming out the waffle maker and the top is a bit crispy.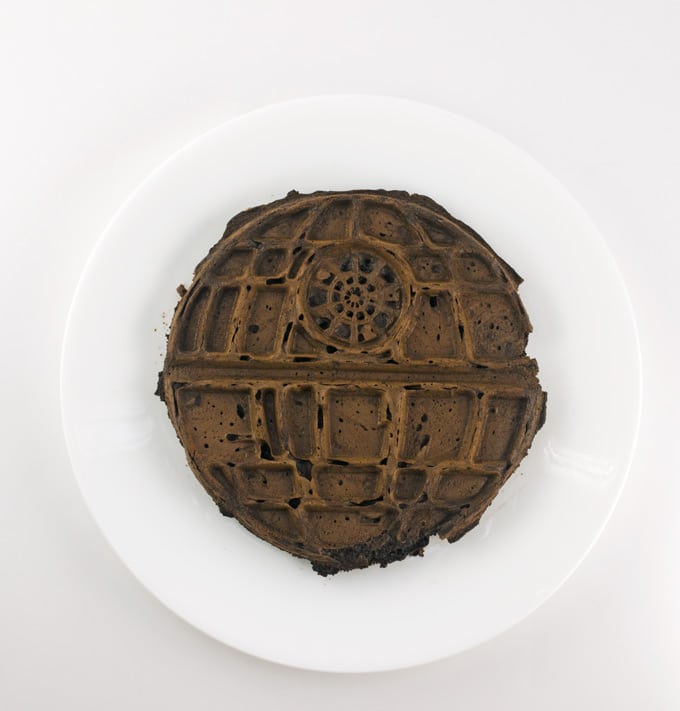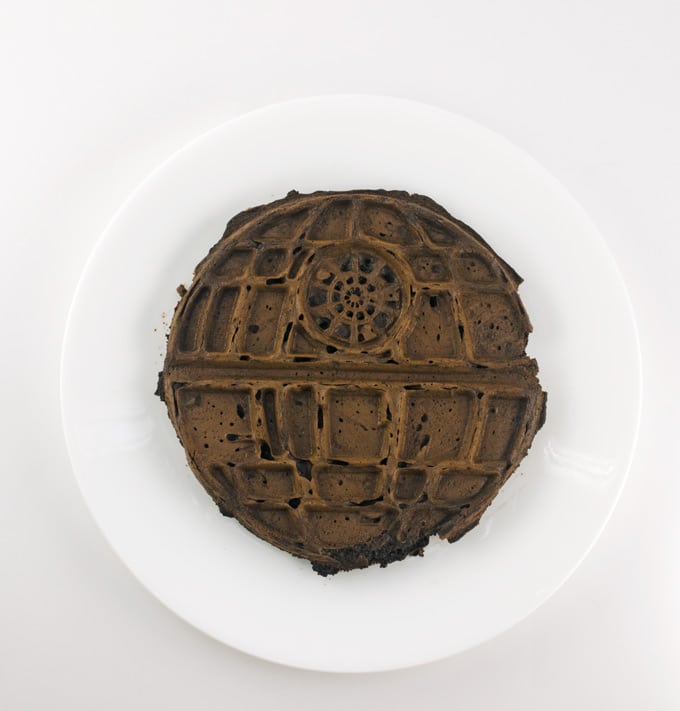 Since the Death Star is practically synonymous with the Empire and always makes me think of Darth Vader with his black gear and red lightsaber, I decided to try out chocolate waffles with a strawberry sauce to keep up with the color theme.
I recently shared my recipe for no-cook strawberry sauce so you don't have to worry about keeping an eye on two things cooking at once.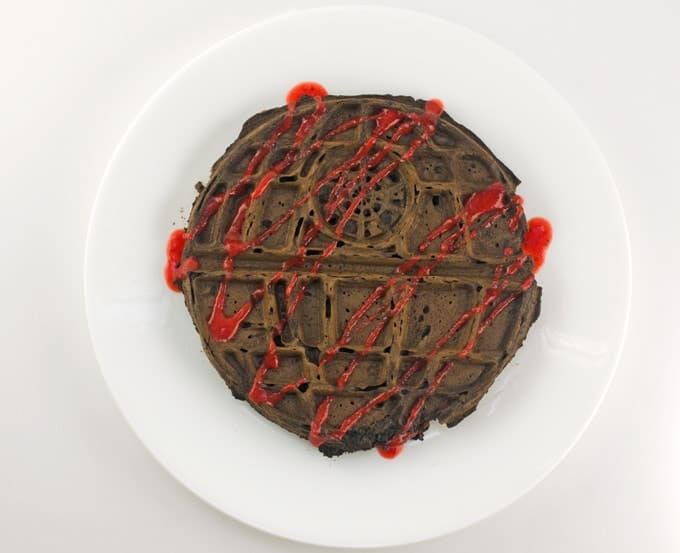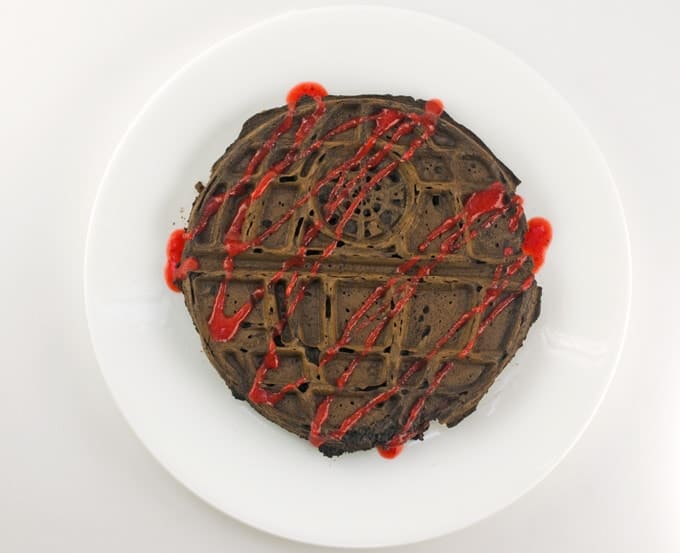 Related:
With dark cocoa powder and coffee, these chocolate waffles have a deep chocolate flavor without being too overly sweet. That means they're perfect topped with fruit and whipped cream, or even for dessert with a big ol' scoop of ice cream and chocolate or caramel sauce.
Either way, they're a great addition to your Star Wars marathon watching eats. Here's how to put them together.
Serve These Chocolate Waffles With: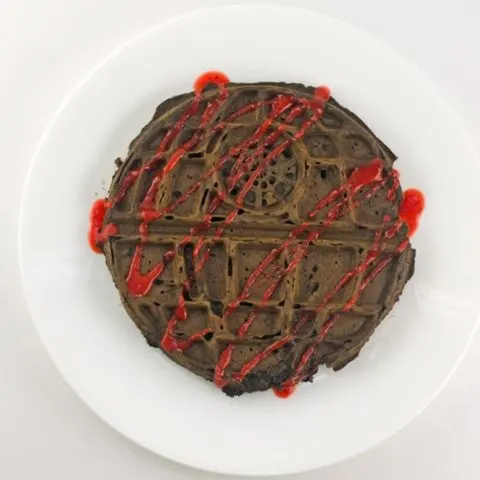 Chocolate Death Star Waffles With Strawberry Sauce Recipe
Celebrate your love of Star Wars with this chocolate death star waffles with strawberry sauce recipe
Ingredients
½ stick unsalted butter
1 ½ cups all-purpose flour
½ cup granulated sugar
½ cup cocoa, preferably dark or dutch-processed
1 teaspoon baking powder
1 teaspoon salt (I used sea salt)
½ teaspoon baking soda
2 cups buttermilk, preferably room temperature
3 large eggs
1 teaspoon vanilla extract
1 teaspoon instant coffee
½ cup mini chocolate chips, tossed with ½ tablespoon flour (optional)
Non-stick spray for cooking
Topping Ideas: strawberry sauce, whipped cream, chocolate sauce, ice cream, caramel sauce, fresh fruit
Instructions
Melt butter and set aside to cool slightly.
In the meantime, pour flour, sugar, cocoa powder, baking powder, salt, and baking soda into a medium-sized bowl and thoroughly whisk together.
Measure 2 cups of buttermilk into a medium-sized bowl (or 4-cup measuring cup), and then add eggs, melted butter, vanilla, and instant coffee. Whisk until thoroughly combined and coffee has mostly dissolved.
Mix wet ingredients into the dry ingredients until well-combined. It's okay to still have some lumps but you don't want any flour pockets.
Gently fold in chocolate chips, if desired.
Let batter rest while you preheat the waffle maker.
In the meantime get your toppings together like the strawberry sauce and homemade whipped cream.
Once the waffle maker is heated, spread just enough batter over the bottom half of the waffle maker to just cover. If you add too much, it will overflow and make a big mess.
Cook waffles for about 3 - 5 minutes, or until there is little to no steam coming out of the waffle maker and waffles are a bit crunchy on top.
Serve immediately with desired toppings, or keep warm on a baking sheet in a 200F oven until ready to serve.
Cover and refrigerate any leftovers for up to 3 days. I think these would also freeze well, though I haven't tried it yet.