I received product samples and a gift card at no cost in exchange for an honest Campbell's Skillet Sauces review which resulted in a super yummy Quick Chicken Marsala recipe!
Update: The way this product may have changed from when I originally posted this review back in 2013.
Several have commented that the sauce is now terrible and not like marsala at all but I haven't tried it recently to be able to give my opinion.
Campbell's Skillet Sauces Review
As you can probably tell from the number of tried and true recipes I've posted in recent months, I really love cooking and baking. It's actually one of my greatest passions in life that I love to share with others.
Most every day I can be found in the kitchen cooking up something, often completely from scratch. Some may find me odd (it wouldn't be the first time ;), but I really find cooking to be relaxing and a great way to show others how much you care for them straight from the heart.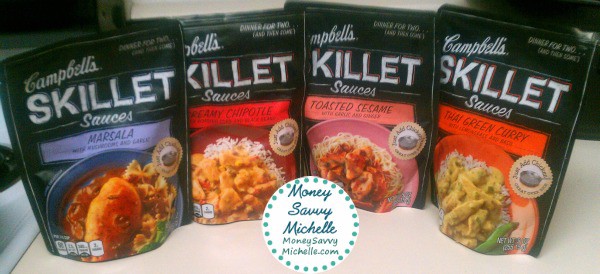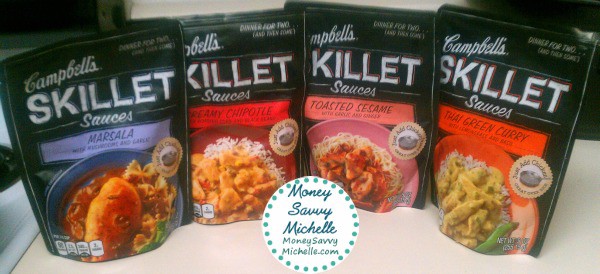 With that said, as much as I love cooking, I'm certainly not Susie B. Homemaker, and there are some days I want to get a good dinner on the table quickly without hitting up the fast food lane.
So, when I was recently given the opportunity to try out the new Campbell's Skillet Sauces, which tout dinners ready in as little as 15 minutes, I was intrigued!
Campbell's Skillet Sauces are available in a variety of flavors including Creamy Chipotle, Scampi, Fire Roasted Tomato, Thai Green Curry, Toasted Sesame, and Marsala.
I can't remember the last time we had a Marsala dish, so that was my first pick.
The idea behind the skillet sauces is that in 15 minutes you can brown up some protein and/or veggies, then stir in your sauce, let heat through for 5 minutes until your protein and/or veggies are done and dinner is ready.
I can totally handle a Quick Chicken Marsala!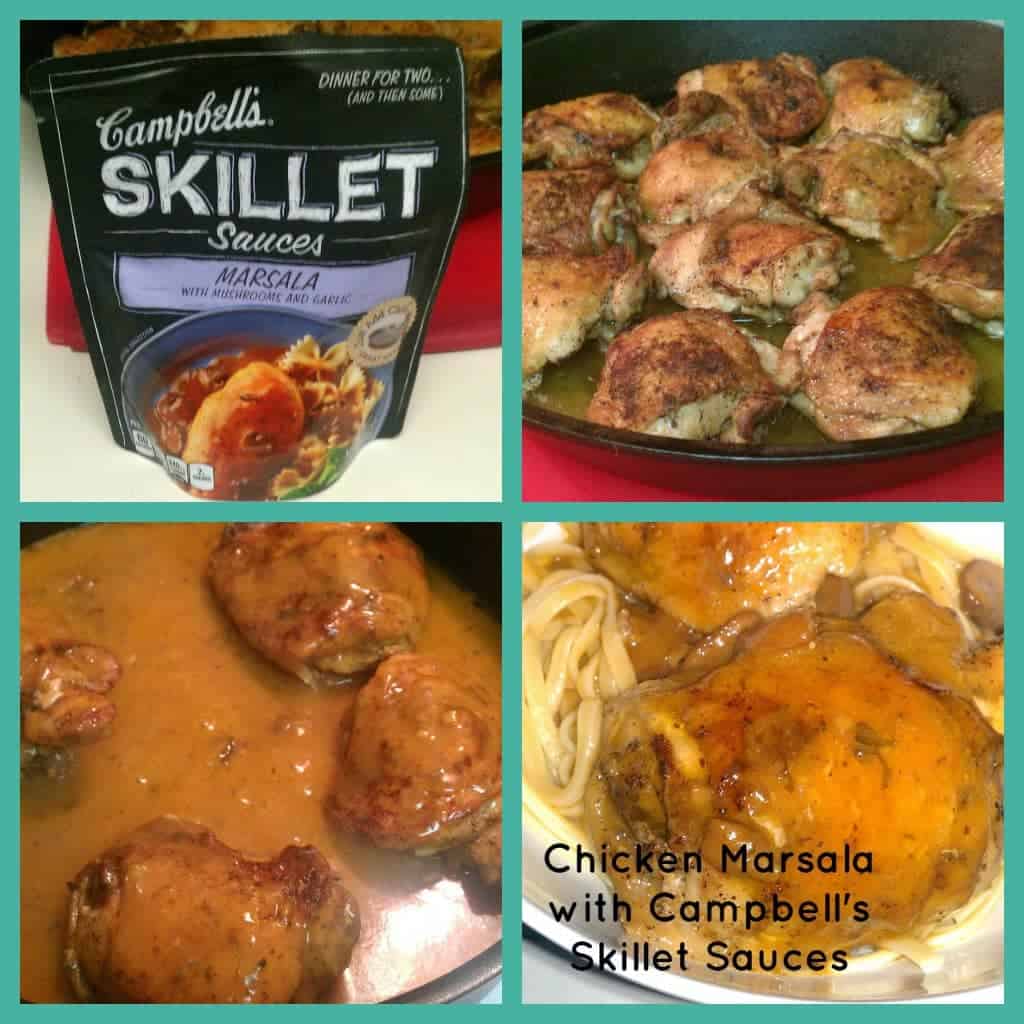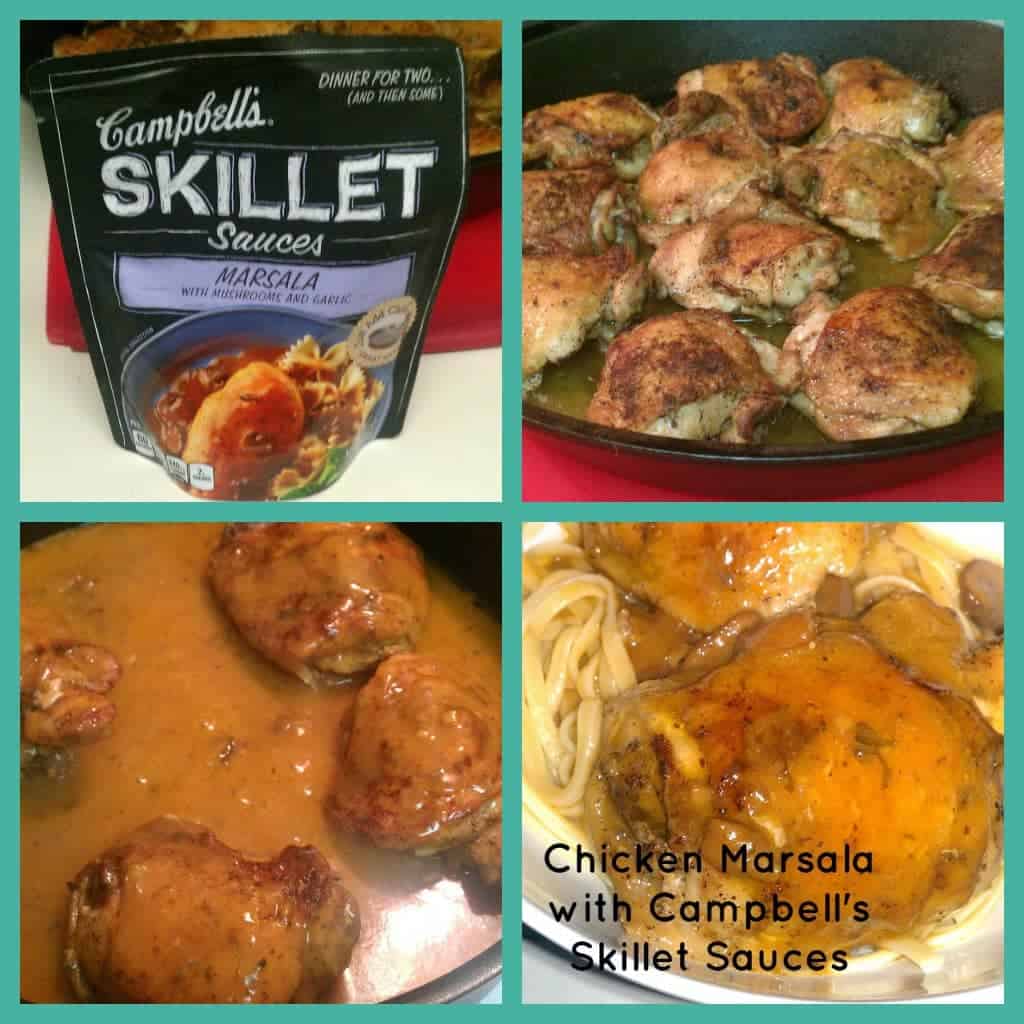 Not being one to always stick to what I'm told, I decided to change things up a bit (aka I had a bunch of chicken thighs in the fridge that needed to be cooked). So I simply put some olive oil into my favorite cast iron pan, seasoned my chicken thighs with salt, pepper and garlic and seared on both sides.
Then I placed them into a 375° oven until done - about 45 minutes. While I love the idea of pouches, which means foods usually contain less salt, I have to say I almost rather have had them be canned or at least in a carton.
The pouches are fine, but you risk having a bit of the sauce explode out when you tear off the top strip to open, and then to get all the sauce out, you really have to squeeze the pouch from the bottom and roll up like you're trying to get the last bit of toothpaste out from the tube.
When I finally got all of the sauce into the skillet, I noticed it was on the rather thick side and since I was boiling pasta to go with it, I decided to add some of the juices from the cooked chicken thighs to help thin it out a bit.
Once the sauce was heated up a bit, I added the chicken thighs and coated them with the sauce. We added some cooked linguine to a bowl, placed a couple of chicken thighs on top, and spooned over some extra sauce, added a salad and fresh bread and dinner was ready!
See below for the recipe of how I put it all together.
The flavor of the sauce was most excellent and the bit of chicken juices really made the dish taste homemade. We each had 2 chicken thighs over pasta as our main dish which used all of the sauce.
However, I think if you used it in conjunction with a salad or veggie or 2, you could easily feed 4 people with it.
Final Takeaway: We both really enjoyed the taste of the Marsala sauce and definitely be purchasing more for quick meals in the future.
About the Product: Campbell's Skillet Sauces are available at grocery stores nationwide among boxed dinner kits, marinades, sauces, gravies, etc. for approximately $2.69 per pouch.
The Marsala flavor has a serving suggestion of ¼ cup with 60 calories, 2.5g fat, 10mg cholesterol and 340 mg of sodium per serving. Ingredients include Marsala wine, portobella mushrooms, water, tomato puree, butter, modified food starch, salt, garlic, spice, citric acid, and soy lecithin.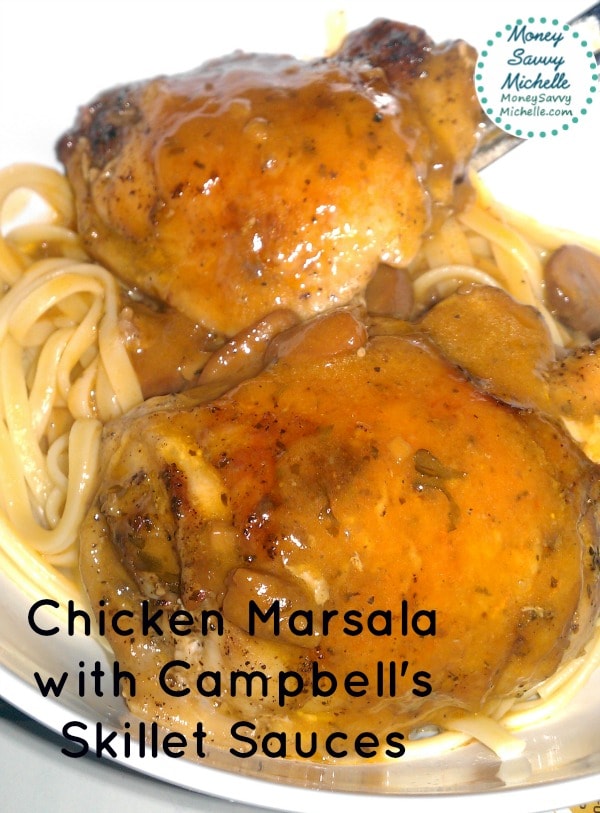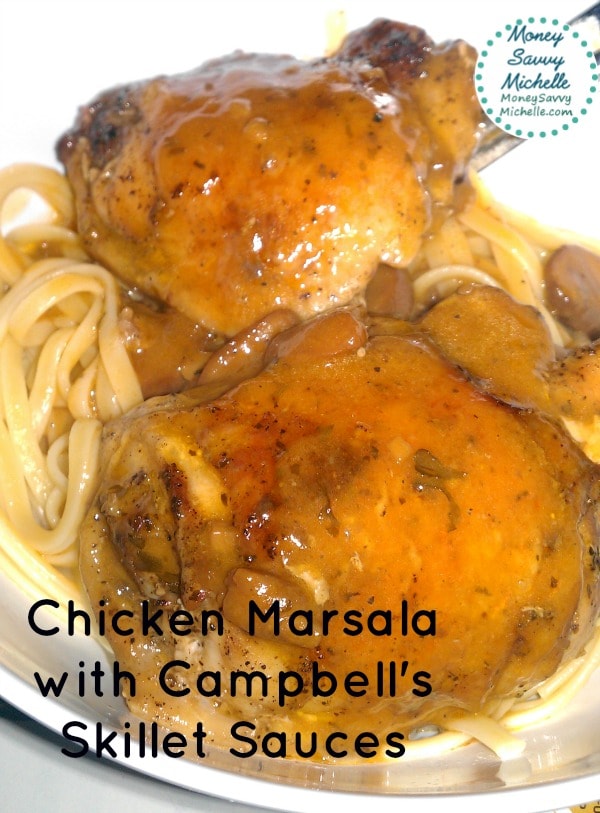 Quick Chicken Marsala with Campbell's Skillet Sauces Recipe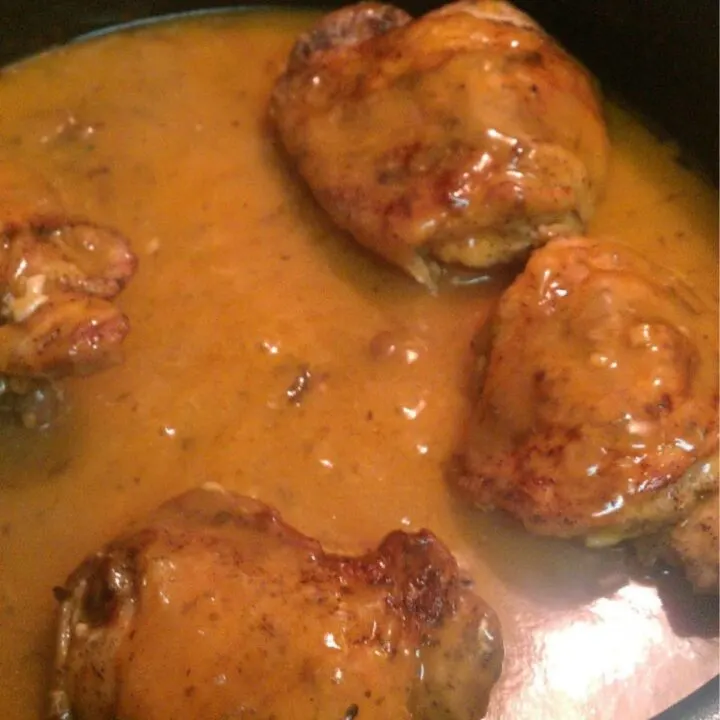 Quick Chicken Marsala with Campbell's Skillet Sauces
Making chicken marsala is quick, easy and fool-proof while still being tasty thanks to Campbell's Skillet sauces
Ingredients
4-6 Chicken Thighs or Breasts - about 1 lb
Olive or Vegetable Oil
Salt
Ground Pepper
Garlic Powder
Pasta of choice (I used linguine), about 1 lb - cooked and kept warm
1 pouch Campbell's Skillet Sauces, Marsala flavor
Chicken broth (optional)
Instructions
Preheat oven to 375°.
Pour enough cooking oil into a skillet to lightly coat and heat over medium-high heat.
Season chicken, on side with skin if applicable, with salt, pepper and garlic powder.
Place chicken, skin side down if applicable, into hot skillet and sear until golden brown.
In the mean time, season other side of chicken.
Once first side of chicken is browned, flip and brown the other side.
Once second side is brown, place skillet with chicken into oven and cook until juices run clear, about 45 minutes for chicken thighs. If using breasts, reduce heat to medium-low, remove chicken from pan and cool slightly and then cut into chunks. Place chicken back into skillet and add sauce, heating until sauce is hot and chicken is cooked through.
When chicken thighs are done, remove from oven and set aside.
Add Campbell's Skillet Sauce to a skillet over medium-low heat and warm.
If sauce is too thick for your liking, add some of the chicken juices or chicken broth to thin out as desired.
Once sauce is warm, add chicken thighs and lightly coat, cooking until both sauce and chicken are hot.
Serve over freshly cooked hot pasta.
Notes
Stretch the dish further by cooking some sliced mushrooms in the chicken juices after baking and serving with the sauce.