Looking for an easy holiday drink recipe for your next gathering? This berry pomegranate vodka spritzer recipe is not only easy but festive and delicious! You must be 21 to consume alcoholic beverages. When doing so, please drink responsibly. No drinking and driving, and no drinking and texting!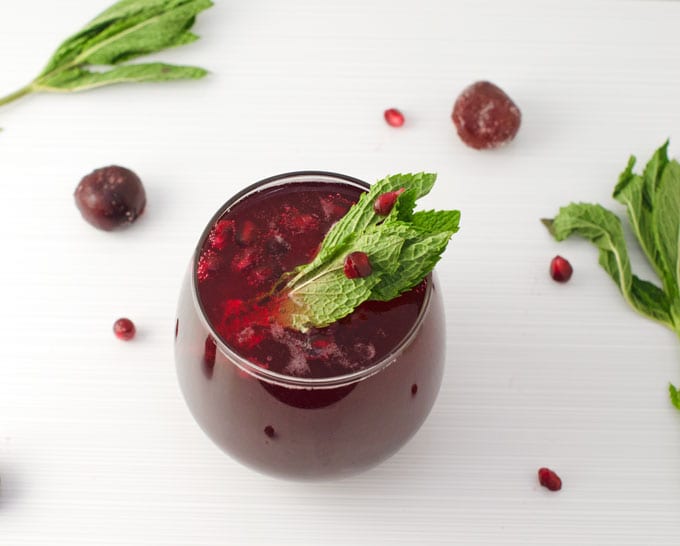 Freeze some fresh berries (like the cherries pictured above) and pomegranate arils to use in place of ice.
Entertaining this time of year is so much fun because you get to be extra creative in making your food festive. My favorite time to have friends over is for appetizers or brunch, which, of course, must include some festive drinks well.
There are so many different kinds of drinks and cocktails you can make, but I'm personally a fan of spritzers that are slightly sweet and full of fruity flavor. They go exceptionally well with breakfast and can easily be made stronger for those that want something with a little more kick.
That's why I love this berry pomegranate vodka spritzer recipe that has a beautiful red color for the season and lots of fresh fruit flavor. And it has plenty of fizz thanks to a flavored seltzer water.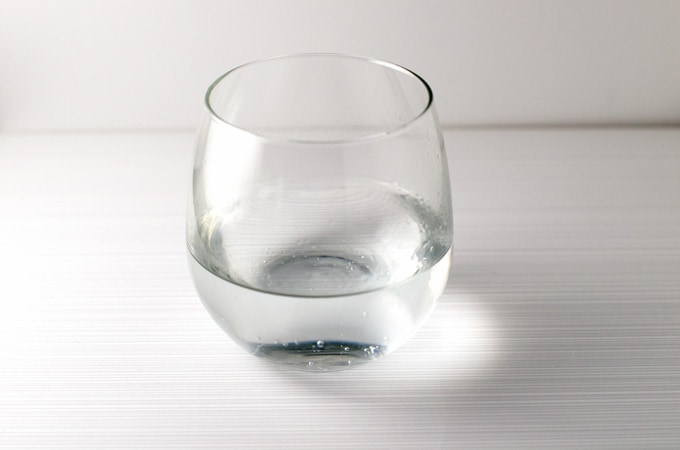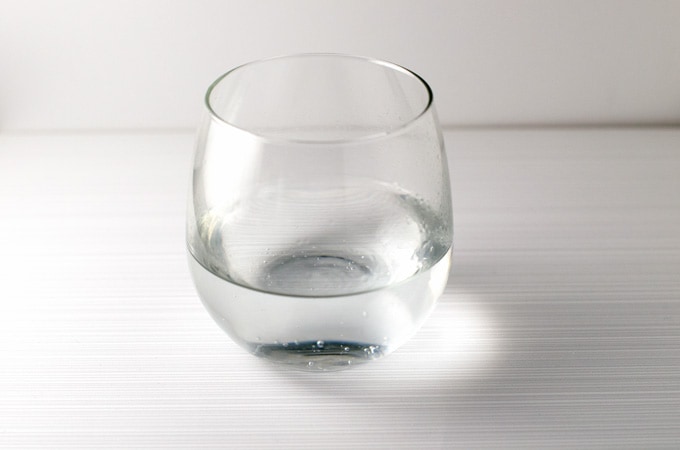 I normally shy away from flavored waters because I find they are usually artificially sweetened and flavored, but DASANI sparkling water is one I can honestly say I really love because it truly has a real, crisp, and refreshing flavor.
In this berry pomegranate vodka spritzer, it adds a nice light berry flavor without making things too sweet and, of course, adds that bubbly effervescence we all love, making it perfect to serve at those holiday brunches.
I love that it comes in cans so I can leave the whole box in the fridge or use the can holder in our beverage refrigerator so I can easily make drinks for a whole party or just for Mr. Savvy and myself on the weekend.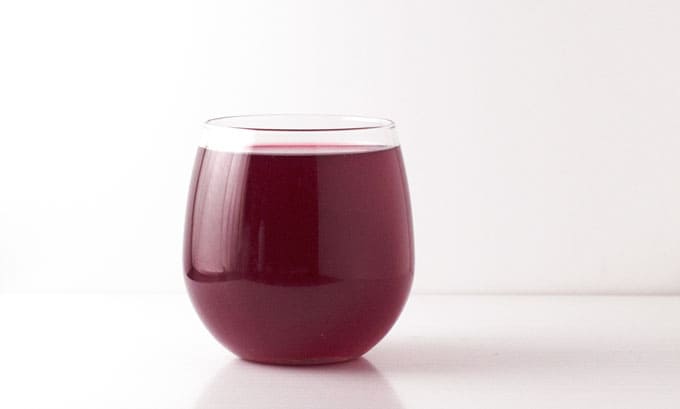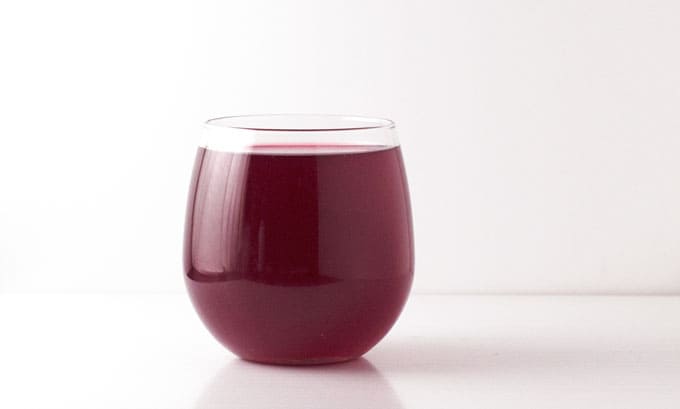 I just love the color of this spritzer for this time of year! Garnish with some fresh mint and it looks even more festive.
Spritzers are one of my favorite drinks because they're basically like an adult soda and super easy to make. I always like to set out extra ingredients so everyone can make theirs as strong as they'd like.
However, one thing many people are often surprised about is that I don't like to use ice in my spritzers. I find when you're at a party you're usually mingling and taking short sips of your drink.
This means that over time your ice will melt and just water down your drink which most of us don't enjoy. Instead, my trick is to freeze some of the fruit and berries of the flavors you're using in your spritzer.
In this case, I froze some pomegranate arils and sweet cherries. Not only do they make your drink cold without watering it down, but they also add a nice little pop of flavor while acting as a garnish! Here's how to put them together for your next holiday brunch or gathering.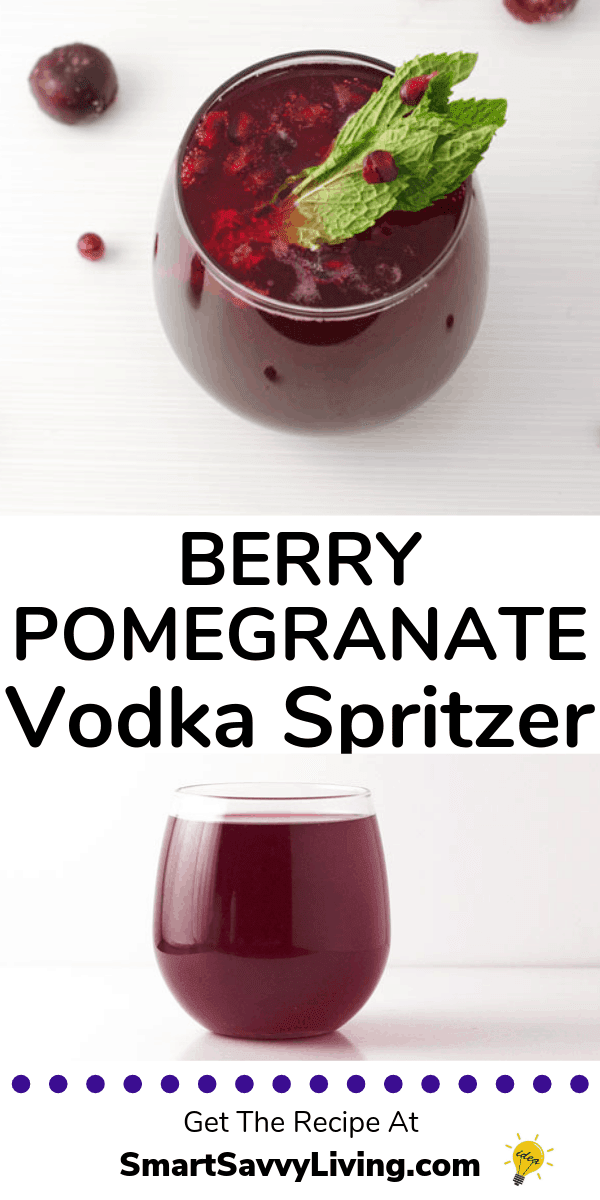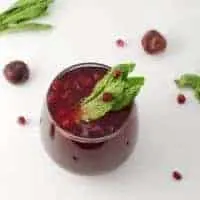 Berry Pomegranate Vodka Spritzer Recipe
This Berry Pomegranate Vodka Spritzer Recipe is full of fresh fruity flavor with beautiful colors for the holidays.
Ingredients
Fresh berries (or already frozen) and pomegranate arils - I used sweet cherries
4 oz chilled pomegranate juice
1 shot (or to taste) vodka, chilled preferred
Simple syrup to taste, optional
4 oz chilled DASANI Sparkling Water in berry flavor
Optional garnishes: extra berries, pomegranate arils, fresh mint, and/or slices of citrus like lime
Instructions
To prevent watering down of your spritzers, freeze desired berries (after being washed and thoroughly dried) and pomegranate arils in a single layer on a flat sheet. Once they have frozen through you can pile them into a baggy and store in the freezer until you're ready to make the drinks. This way they shouldn't freeze together in a big clump and they can act as ice without watering down your drinks.
Place about a tablespoon each of frozen berries and pomegranate arils into a 12 oz or larger glass.
Pour pomegranate juice and vodka over the fruit.
If your fruit or juice is on the tarter side, you may want to add in up to a tablespoon of simple syrup.
Slowly pour in DASANI sparkling water.
Gently stir drink to combine all ingredients.
Garnish with a fresh mint sprig, citrus slices, and/or more fresh or frozen berries and pomegranate arils as desired.
Serve immediately and enjoy.