This is a Sponsored post written by me on behalf of The Parking Spot. All opinions are 100% mine.
6 Tips for Stress-Free Air Travel
Can you believe I'm nearly 28-years-old and have never flown before? I know, I know, but it's true! I really do hope to fly within the next year or so, though, to be able to finally attend some various blogging conferences and the like. I'm the type of person that likes to be very prepared and have heard various horror stories from Mr. Savvy and friends about how stressful flying can be, so I came up with these simple tips for stress-free air travel.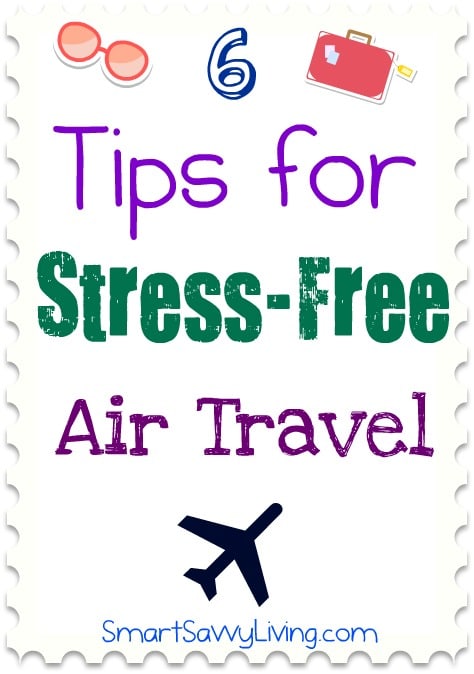 1. Be organized. As I mentioned before, I always like to be super prepared and organized (even if my desk doesn't look like it). Because of this I always like to make lists when packing to make sure I have everything I need. I typically make a list several days before leaving and then go through it at least 2 more times to make sure I have everything on it that I need and to also think about things I really need to take or not in conjunction with tip #2.
I also make sure to have all my ID's, any medication, tickets, cash, etc. ready to go. I know I'd want to become as familiar as possible with any airports for connecting flights and any typical delays, distance between terminals, etc. to make sure I can get to my next flight in time. Lastly, be prepared for the unexpected in case you need cash, medications, etc. in case of major delays, and have items like cell phones and laptops fully charged.
2. Pack as light as possible. We all know that bag fees are insane these days, right? Because of this, it's always a good idea to pack as light as possible, trying to stick to a carry-on and your personal item (purse, laptop bag, etc.). Take the minimum amount of clothing needed and use items like packing cubes to get the most out of your bag. Many hotels have laundry accommodations these days if needed. Consider purchasing some items like hygiene items, gifts, etc. when you get to your destination as you may save more money in the long run.
Take empty space-saving bags and containers if you plan on bringing items back with you from your trip, or maybe consider even shipping them back home. Another trick to save time picking up your extra luggage is to tie a long ribbon or unique tag to the zipper. Many bags may look alike and the ribbon will help you find yours that much more quickly.
3. Keep important items on you, in your carry-on or personal bag. My cousin used to travel a lot by air for work and his biggest tip was always to keep some cash on you in case your cards don't work, you lose your bags, etc. Keep your ID's easily at hand, along with tickets, passes, medication and other important essentials in your carry-on or personal bag in case any other luggage is lost.
4. Check in ahead of time when possible. Did you know that most airlines these days will let you check in online or electronically at a kiosk at the airport ahead of time? If you can, check in this way and you'll usually be able save time by only having to have your bags checked.
5. Wear proper clothes for screening lines. Screenings are a reality we all have to deal with these days and being prepared for it will make things much less stressful, not to mention quicker. Wear shoes that can be easily slipped on and off, preferably with socks due to all the germs. Opt to keep jewelry in a separate, easily accessible bag in your carry-on instead of having to take the time to take it off and back on. Avoid wearing belts for the same reason. If it's chilly, wear jackets or hoodies that can easily zip on and off.
6. Need to park? Use The Parking Spot! Finding decent parking at an airport for while you're gone can be quite the adventure in of itself, which is why I totally love the idea of The Parking Spot. I love that it has benefits ranging from parking reservations, care care services while you're gone, luggage assistance and even complimentary chilled water which is great with this super hot heat wave we're currently experiencing.
While there is a budget-friendly fee to use The Parking Spot, it's a service that's currently even more wallet-loving as now through Labor Day 2013 you can get 15% OFF PARKING at The Parking Spot nationwide!
What are some of your tips for stress-free air travel that you live by?