Disclosure: This article with 5 reasons it's time to switch wireless providers is a sponsored post written by me as a member of the #VZWBuzz team. #MoreVA
If you're reading this post, chances are you've jumped on the smartphone or other mobile device bandwagon. After all, about 75% of our readers use mobile devices to surf the site. I was honestly hesitant at first, but now that I use my phone for everything from taking pictures and videos of our quirky cats to helping make dinner on an almost daily basis, I don't know what I'd do without my phone! As we all know, life changes constantly, which means we need to make changes as well. If you're like me, and thought you would never use your phone that much a handful of years ago, you might have chosen a wireless provider that no longer offers all the options you need. See if you can relate to these 5 reasons it's time to switch wireless providers like I recently have.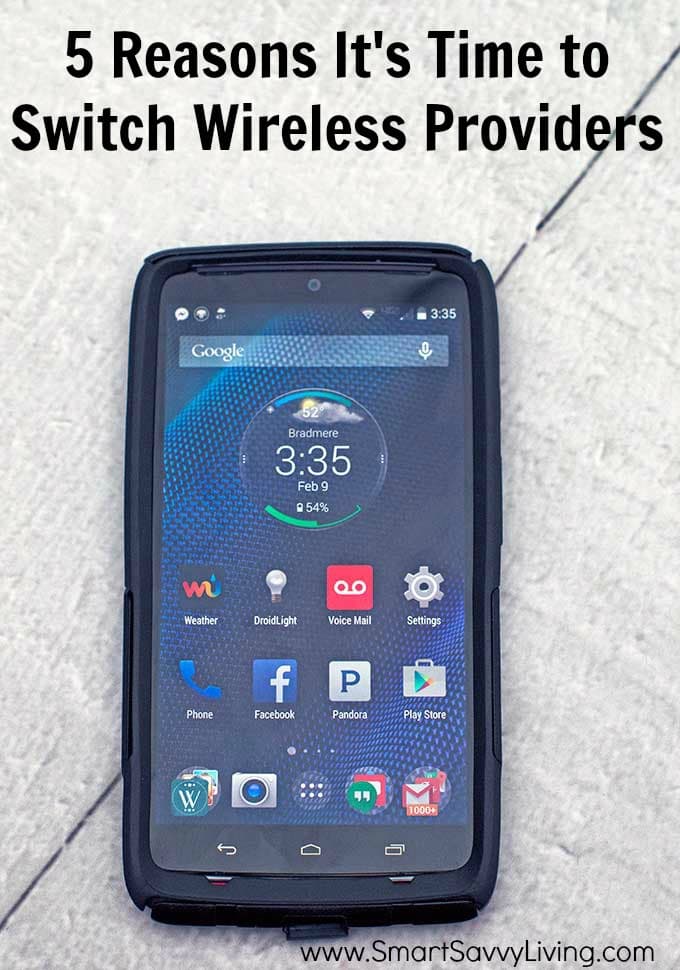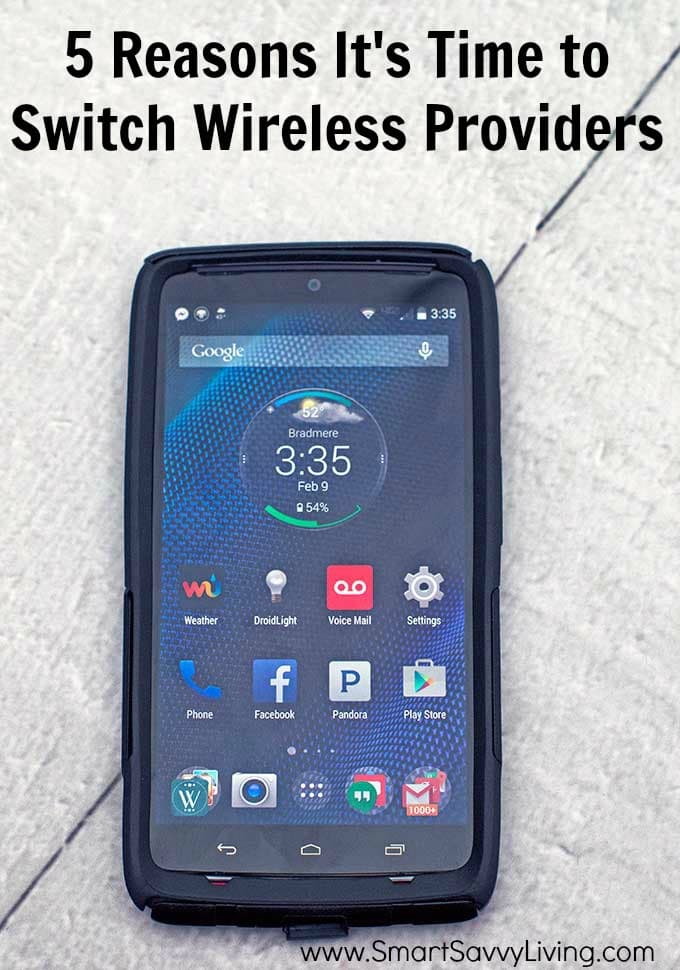 1. Your provider just isn't reliable. Mr. Savvy and I have moved around a lot for job changes the past 7 years, so I know first hand that service can vary depending on where you are. For example, when we lived in Northern Virginia, Verizon Wireless was nice to have because it was the provider that worked best on the metro. Another time, we couldn't even get connectivity in our house on AT&T without extra equipment.
2. Your provider doesn't provide current tech. Sometimes it's tempting to go with smaller carriers because the overall price may be cheaper. However, they often don't offer the latest phones, tablets and other devices. As phones and other wireless devices become more important in both our work and personal lives, I know I definitely want to be able to use the most recently released devices.
3. Your family has grown and you're just paying too much. It's pretty easy to find a decent plan when your family is just 1 or 2 people. These days, though, it's common to have multi-generational households and kids that have phones. Needless to say, that can get pretty expensive very quickly. That's why I really love family plans like Verizon's because it's super easy to add up to 10 lines per account without having to pay $90+ per line.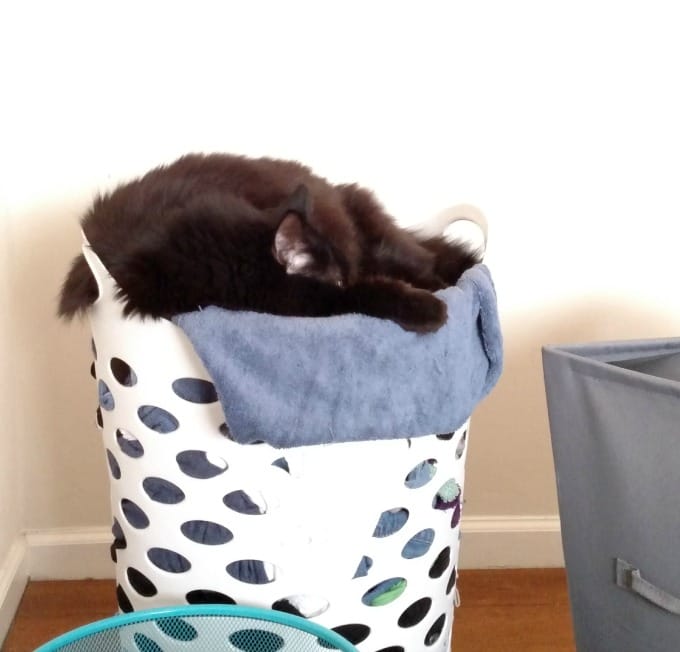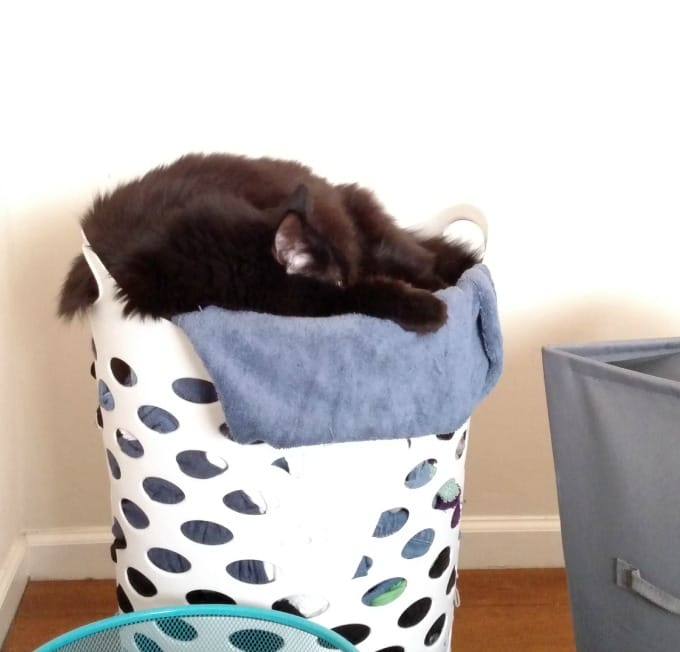 Having a top of the line phone with a great camera is a must for me so I can take pictures of our cats doing funny things, like turning a laundry basket into a cat bed. ;)
4. You need more plan options. Maybe you have had a single line plan for years, but now you'd like to add your partner or kids to your account. Perhaps you'd like the option to add additional data for your new tablet. Kid heading off to college and you want to gift them a prepaid plan? These days we can all use a variety of plans for different reasons, but not all carriers have the options we need. I really like the variety of options Verizon offers whether you're bringing your own phone and want to use prepaid service, have a single line but need a lot of data, or want to have your whole family sharing a package plan.
5. Your carrier is leaving your area. With so many companies being bought, sold, and even just ceasing to exist, your wireless carrier may even leave your area. In fact, here in the Hampton Roads/Richmond area of Virginia, nTelos recently announced they will be leaving the area. That means it's the perfect time to take advantage of Verizon's awesome offer of getting a $150 bill credit per line when you make the switch. You can get the credit for up to 4 lines, which is an amazing $600 in savings!
Why I Ultimately Decided to Make the Switch from AT&T to Verizon
Before I met Mr. Savvy and we decided to combine our wireless provider accounts, I used Verizon Wireless. Even living in a rual area at the time, I had amazing coverage and really enjoyed my time with them. At the time we ultimately went with AT&T because Mr. Savvy had been using them for years. However, I honestly haven't been overly thrilled with AT&T over the years. It was always disappointing to never have service on the NOVA metro, randomly dropping service in weird spots and even having to buy an expensive device to be able to get service in our own home. It's not fun to potentially miss work calls!
So, I decided to try out Verizon and compare the two. I've been using Verizon for about 2 weeks now and so far I'm loving it. I'm using the Droid Turbo that I really love, especially since it has such a great camera. I have yet to experience a drop in service or calls. And, when I'm out and about, websites load so much faster on the Verizon network. Right now I'm using the prepaid plan, which is an amazing value with unlimited texts and calls, and 1 GB of data a month for $45, that's perfect for me since I work from home. I love knowing that I can add extra data when needed without having to upgrade my plan permanently, but that I also can upgrade my plan in the future to include more devices. I'm excited to update how my experience is going in the coming months!
#VZWBuzz Weekly Twitter Chats with Awesome Prizes
One of the things I'm most excited about as being part of the #VZWBuzz and #MoreVA teams is getting to participate in the Twitter chats! Each Friday at 3 PM ET, the team gets together to talk about an amazing tech subject with our readers, who also have a chance to win awesome prizes like smartphones and other tech products. This Friday (2/13/2015) we'll be chatting about one of my favorite things, mobile shopping! I love being able to order online from my phone, or being able to compare prices on my phone when I'm in brick and mortar stores. Be sure to join us Friday and also RSVP over at TheOnlineMom.com to be able to have a chance to win the awesome prizes!
Can you relate to any of these 5 Reasons It's Time to Switch Wireless Providers?