This is a sponsored post written by me on behalf of Fiber One.
Trying to eat healthier but love to snack? Check out these 5 places to keep healthy snacks so you stay on track with your healthy eating goals.
Buttery popcorn, salty pretzels, decadent chocolate candies, peanut brittle, pastries...sweet and/or salty, you name it, I love to snack on it. As you may have noticed that doesn't exactly include healthier snacks like fresh cut veggies and fruits. I love fruit and veggies with meals, but I didn't grow up eating them as snacks so the habit of doing so just never caught on. Staying at a healthy weight has been an issue for me since I was a young child. Unfortunately, snacking on cakes, bread sticks with cheese dip, and cookies dipped into icing certainly didn't help.
As such, I've had to develop new eating habits as an adult, which means healthier snacks. I do still keep some treats in the house because I know if I constantly deny myself it'll just end badly in the form of eventually giving in, eating way too much, and then beating myself up for it later. But, it can be easy to just reach for those treats instead of a healthier snack. That's why I've been using some tricks and tips to help myself eat better, likes these 5 places to keep healthy snacks so you stay on track.
1. In the candy bowl. We have the common candy bowl on the coffee table where we spend a lot of time watching TV and movies because Mr. Savvy is diabetic and sometimes needs some sugar, fast, if he took too much insulin. Plus, sometimes you just have a major chocolate craving. It's also nice to have there for guests. I sometimes even work from the couch there, so it's super easy to be busy and just reach for a snack from the bowl. If I also have a healthy snack in the bowl, I can't use the excuse of not taking a minute to get a healthier snack.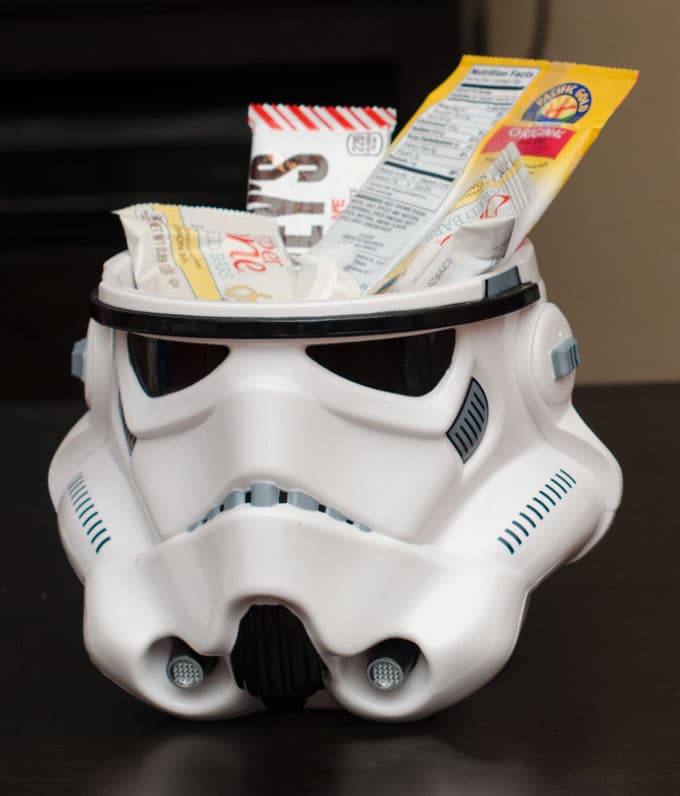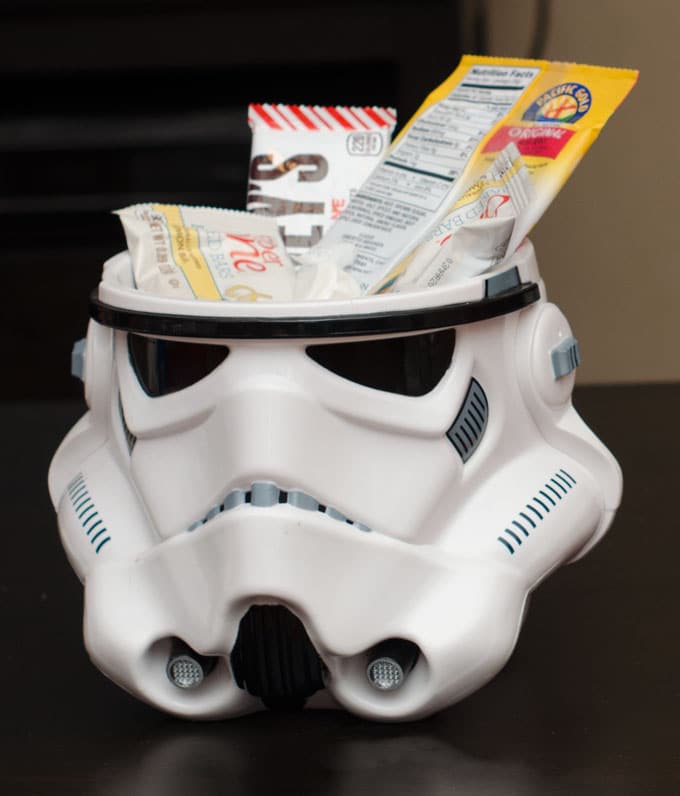 Yes, we're big geeky kids and have a stormtrooper candy bowl. :)
2. In my purse and/or car. Like most women, when I'm on the go my purse is always nearby whether I'm shopping at the mall or on a day trip. When hunger hits while you're on the go it's always tempting to go to the drive-thru but that's obviously not exactly the healthiest decision. With a healthy snack in my purse, I'm always prepared. I also like to keep some in the car in case something happens or we get stuck in traffic. No one wants to be hangry trying to get home.
3. In my office. We've all had days where we're so busy with work that we just can't get away to get a real meal or snack even if we're starving. I'm lucky enough to work from home where this really shouldn't be an issue but often is. Yet again, having a healthy snack nearby takes away my ability to make an excuse for bad food choices.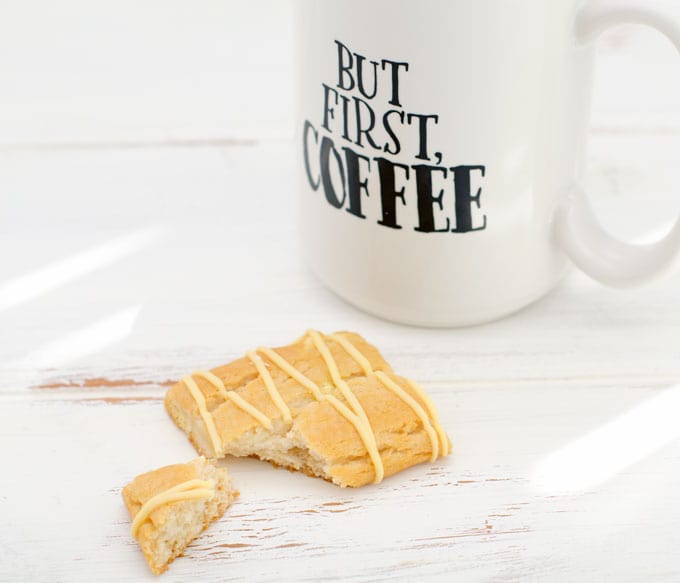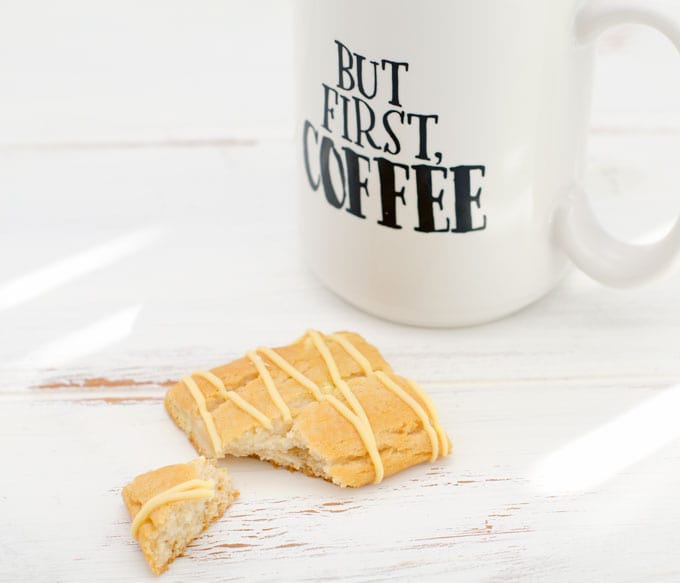 4. At the front of the pantry. Do you ever find yourself reaching for your favorites in the fridge or pantry and slowly but surely all the healthy stuff gets pushed to the back to be forgotten? Yep, I'm guilty. So, I put the treats out of sight (and mind) and stick the healthier items in the front so they're quick and easy to grab.
5. In the nightstand drawer. Sleep doesn't always come easy for me so when I wake up hungry it makes it that much harder to go back to sleep. I'm not the only one, right? That's why I have a couple small healthy snacks in the nightstand drawer so I don't have to go downstairs and make a bunch of noise nor risk waking Mr. Savvy up.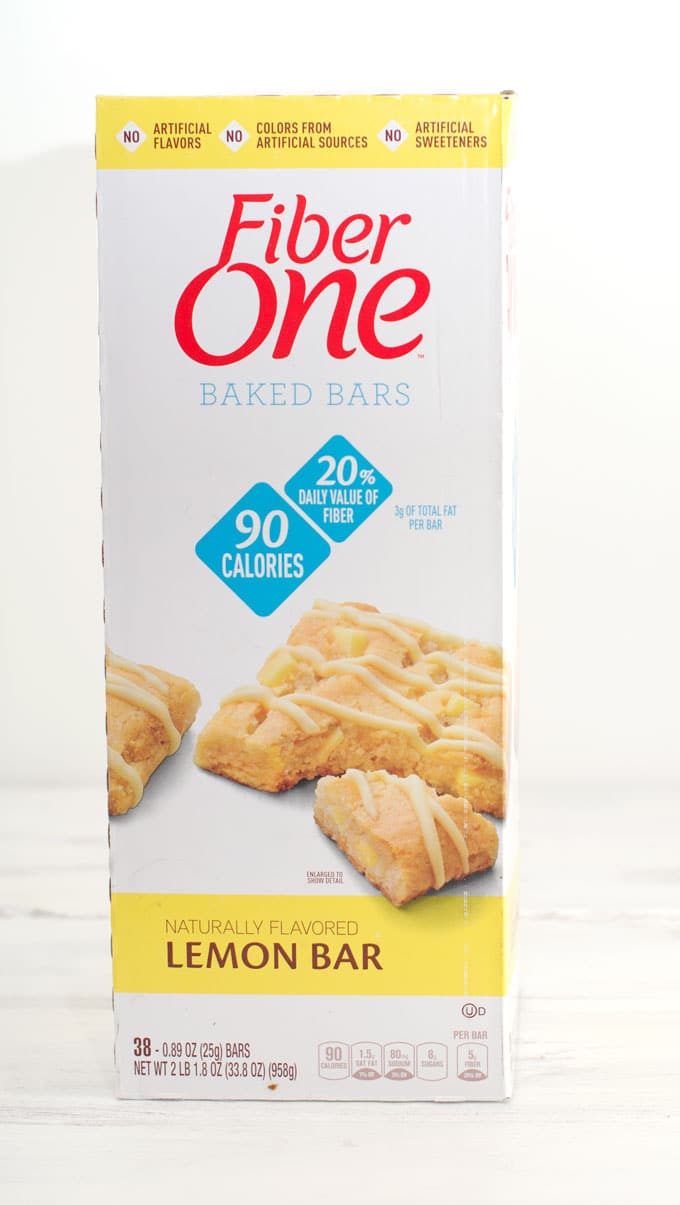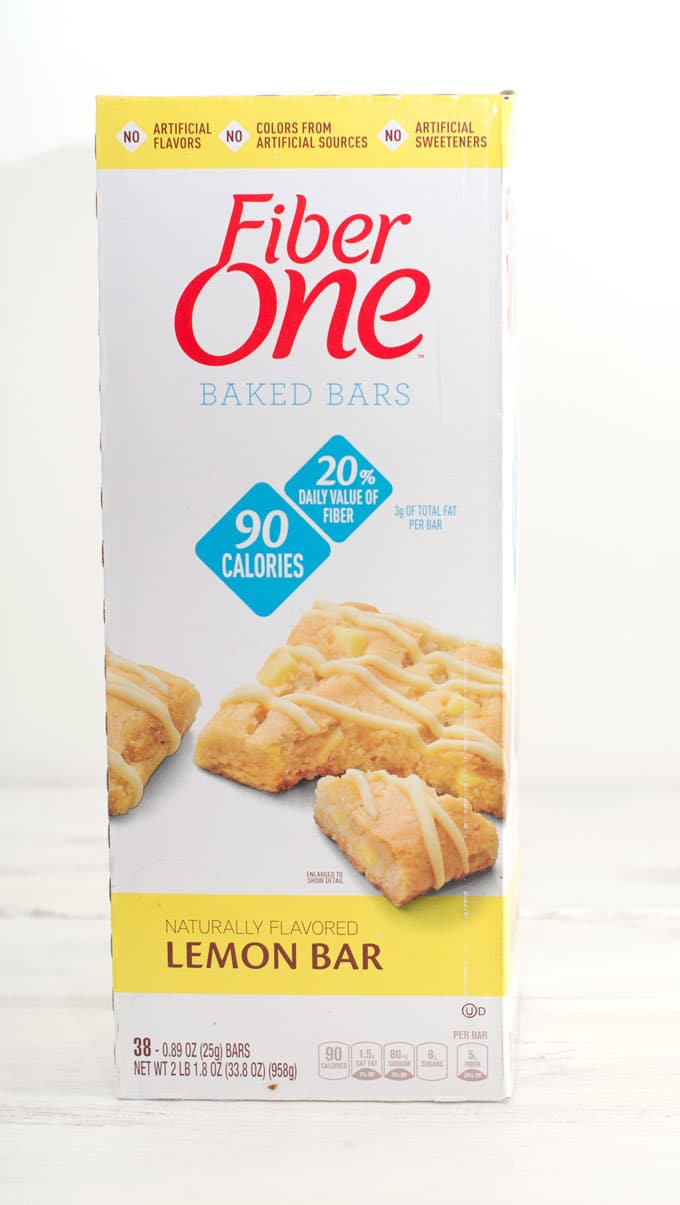 So, now that you know some good places to keep healthy snacks so you stay on track with your healthy eating goals you might be asking what exactly are some healthy snack options? I'm personally a fan of foods that are more shelf-stable in these applications, or that can at least be stored at room temperature for a reasonable time. These include roasted nuts, beef jerky, dried fruits, fresh fruits that can last a while and are easily portable like oranges, and Fiber One Bars. I really like Fiber One Bars because they come in flavors like the light and refreshing, with just a touch of sweetness, Lemon Bars, and the slightly more decadent and hearty Oats & Chocolate Bars. Both are a great size for a snack or super quick breakfast and have the taste of really treating yourself while certainly being a lot better for you than a huge cookie or handful of chips as Fiber One Bars have more fiber than sugar!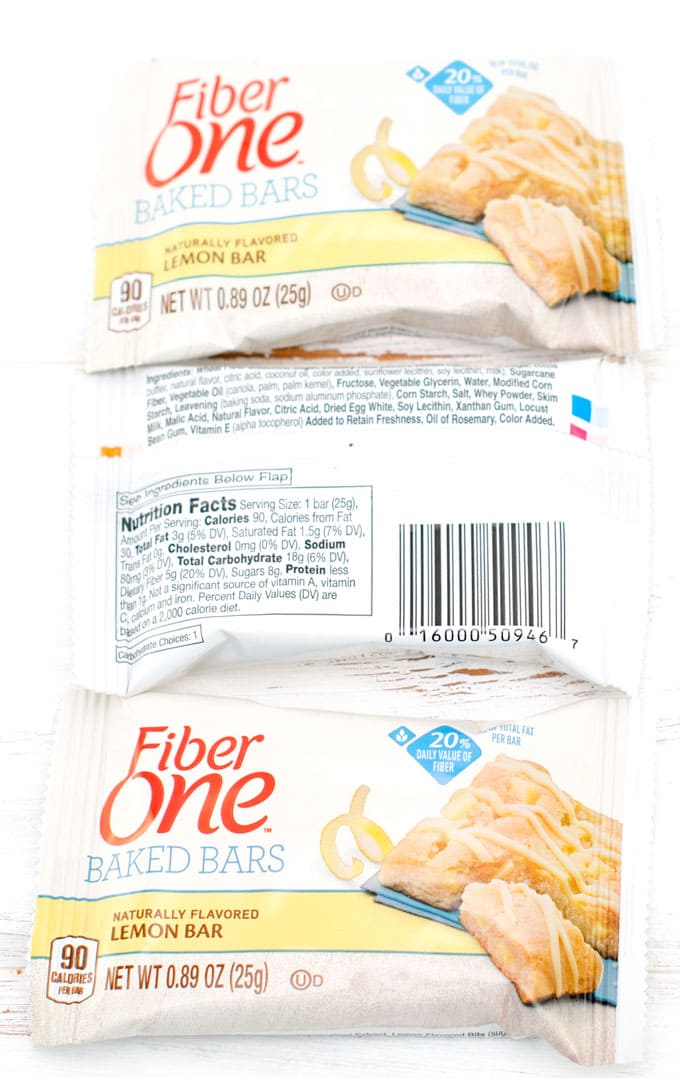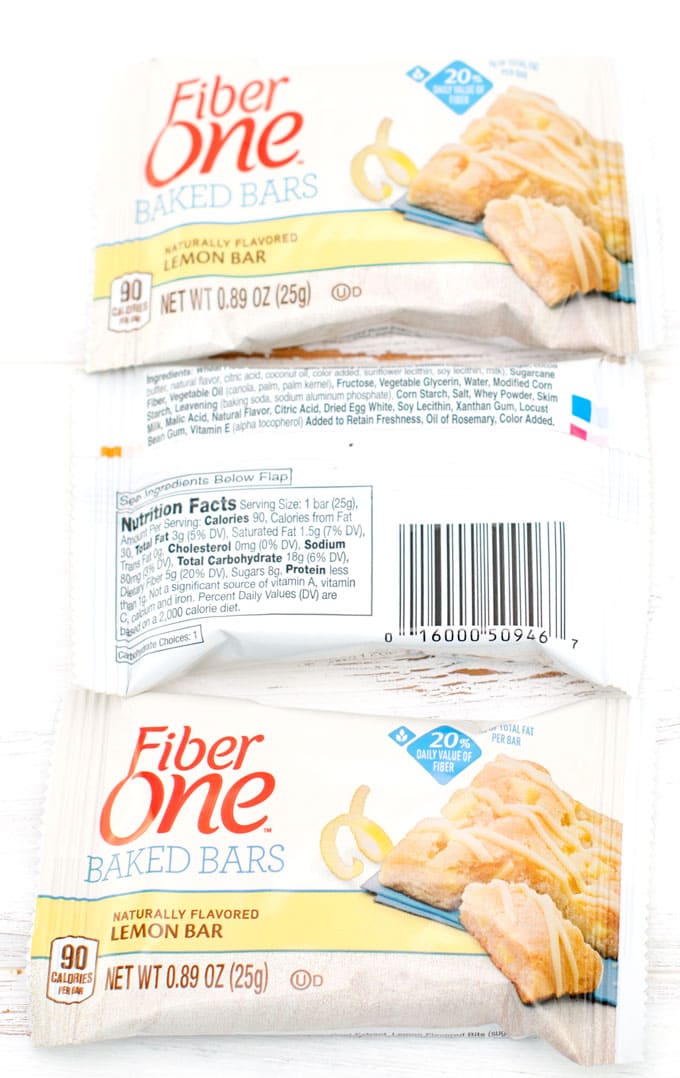 Honestly, Fiber One Bars are so good they should have another name. You know, something like Saviors Of Healthy Eating Sanity, because that's exactly what they are for me! And, really, that says a lot coming from me because I love baking and usually turn up my nose at pre-made products. The lemon bars don't taste fake at all and have a moist, soft texture bursting with citrus flavor. Fiber One Bars are something I can really stand behind because they are naturally flavored and contain no artificial flavors, colors, nor sweeteners, all of which are important to me in trying to eat healthier. That's why I regularly stock up on a big box of them when I'm shopping at Costco. They're already a great price there and go on sale a couple of times throughout the year to enjoy for breakfast, when I need a snack, or just want a treat with coffee after dinner. If you need some more ideas for healthy snacks, especially while on the go, check out this Pinterest board.
So delicious, it should have another name. Check this video out to learn more:
What are some places that you keep healthier snacks so you're not tempted?