This is a sponsored post written by me on behalf of BROOKSIDE Chocolate . All opinions are 100% mine.
Just about everyone loves chocolate, which makes it an easy and affordable gift to give all year long. However, it just doesn't feel that special to give someone a bag of chocolates as a meaningful gift. Check out these 5 creative ways to gift chocolate to make it an extra special gift. Plus, you won't want to miss how you can enter to win 100 lbs. of BROOKSIDE Chocolate at the end of this post! #100lbsofBrookside
I personally never really overly cared for dark chocolate until I tried BROOKSIDE Chocolate. The dark chocolate isn't super bitter like many others and it's also paired with sweetened soft centers that are made with exotic fruit flavors like acai and goji for a really special chocolate treat that's unlike any you've ever tried before. As such, that's also why I love giving it as gifts using these creative ways.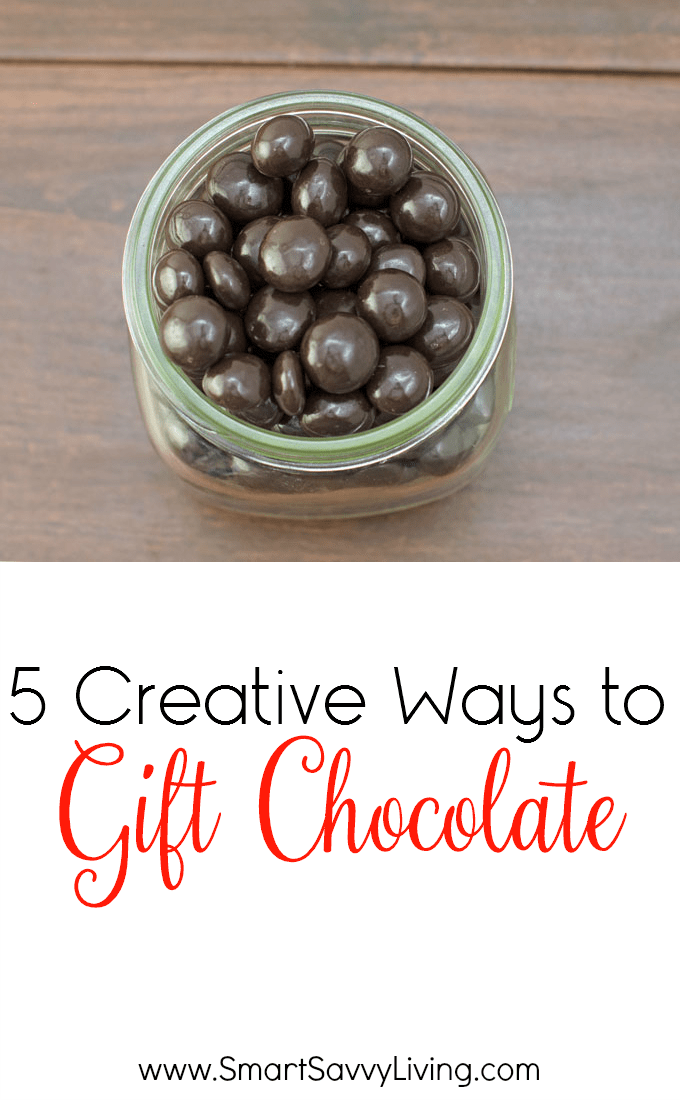 1. Make your own variety gift box. BROOKSIDE Chocolate comes in several different flavors including:
BROOKSIDE

Dark Chocolate Acai & Blueberry Flavors

BROOKSIDE

Dark Chocolate Pomegranate Flavor

BROOKSIDE

Dark Chocolate Goji & Raspberry Flavors

BROOKSIDE

Dark Chocolate Whole Cranberries

BROOKSIDE

Dark Chocolate Crunchy Clusters Berry Medley Flavors
As such, when gifting BROOKSIDE Chocolate, I like to give several varieties. So, I purchase a large bag of each flavor and then put some of each flavor in each box. You can separate them out, or make things a bit more adventurous and mix them all together.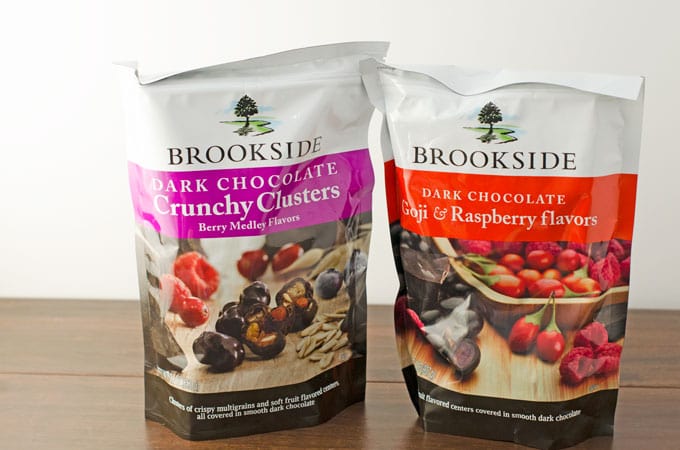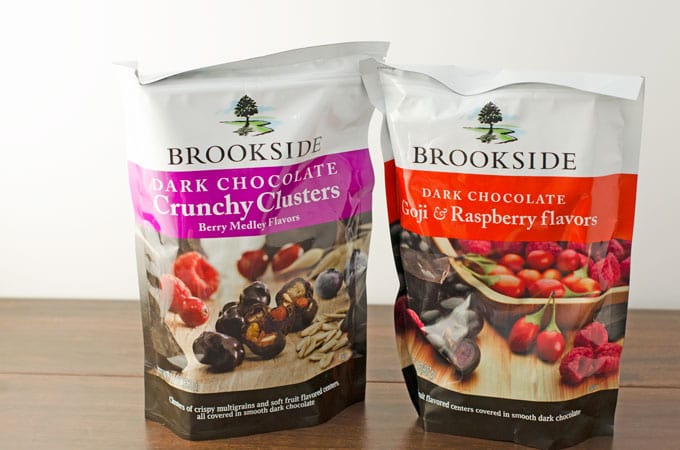 2. Put them in baked goods. What's better than chocolate? More chocolate, of course! Another way I love to gift BROOKSIDE Chocolate is to put them into family favorite baked goods. Cookies made with BROOKSIDE Chocolate instead of chocolate chips have an awesome flavor boost and I always like to put a handful into cupcakes and brownies, too. Then just pack up the baked goodies and watch your family and friend's faces light up as you give out their favorite homemade treats.
3. Make simple party favor bags for your guests. I really can't believe the holiday season is already here! But, I am looking forward to a bit of holiday entertaining like parties and having friends and family over for dinner. I always like to have a little gift for my guests to take home with them to enjoy and BROOKSIDE Chocolate is a perfect choice. You don't have to get too fancy, either. I like to get some small cellophane bags, fill them with the chocolate, and then tie them off with a small ribbon bow.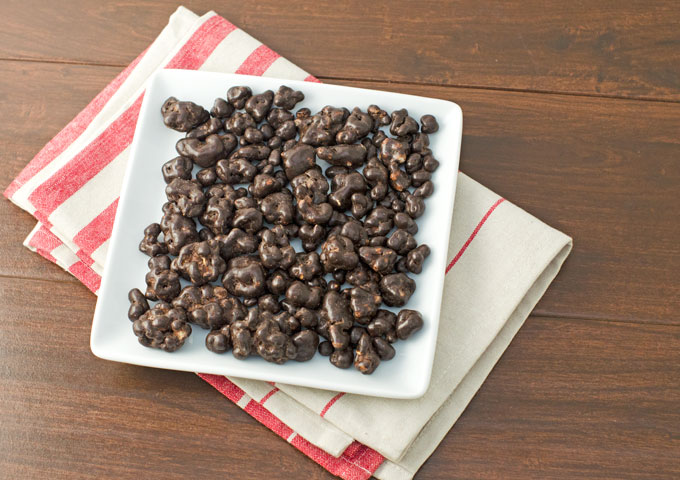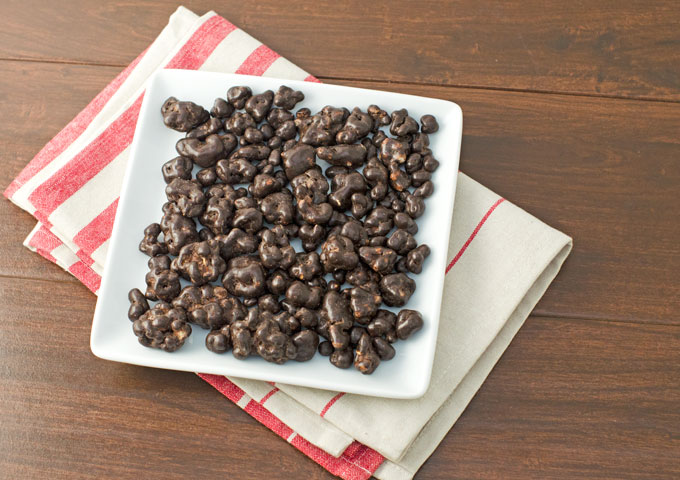 4. Need to ship chocolate? Consider using a tin. Just because someone lives on the other side of the country doesn't mean we can't gift them chocolate. Boxes can get thrown around a lot in shipping, so when gifting things like chocolate that need to be shipped, I really like to use a tin. Tins hold up very well while being jostled around during shipping, and if you pack the tins full, the contents won't have a chance to move around too much and get damaged.
5. Move over cookie jars, there's room for candy, too. One of my favorite ways to gift BROOKSIDE Chocolate is to simply put it into a beautiful jar. I usually keep things simple and use mason or other glass jars, but you could, of course, use themed ceramic jars or whatever you feel suits who you're gifting to best.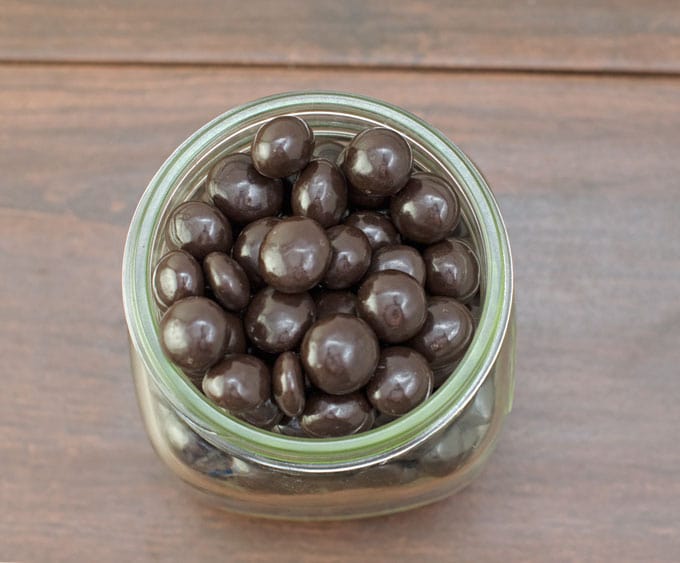 Enter to Win 100 Pounds of BROOKSIDE Chocolate to Share
How would you like to win 100 pounds of BROOKSIDE Chocolate to share with your loved ones? From now through 11/22/15 you can enter to win just that! All you have to do is head over to the Brookside Chocolate sweepstakes site, click on the Enter Now button and then submit your info and hope to be one of the 15 lucky winners. Good luck! Who would you share 100 pounds of BROOKSIDE Chocolate with if you won?