Whether you're just starting to learn to cook or are a seasoned pro, these 5 best free Android cooking apps are sure to help you in the kitchen.
This post with the 5 best free Android cooking apps is part of a sponsored post written by me as part of the #VZWBuzz team. #MoreVA
I've loved cooking and baking pretty much since I can remember. My mom would always let me help bake cookies or make candies as a young child. A few years later I started teaching myself through cookbooks and trial and error. In my later teens I cooked most dinners and really loved baking. As I've gotten older, I now read cookbooks like most people read "normal" books, and cooking and baking have just become bigger passions in my life as I love regularly sharing recipes here on Smart Savvy Living. Thanks to cooking apps, cooking and grocery shopping has gotten a lot easier these days. It's not that it was overly difficult before, but it did take a lot of time to search through several cookbooks for a recipe to use up a specific ingredient, flip through pages looking for substitutions and then having to go through several books to make sure you had everything on your grocery list that you needed for the recipes. That's why I'm happy today to share my favorite 5 best free Android cooking apps.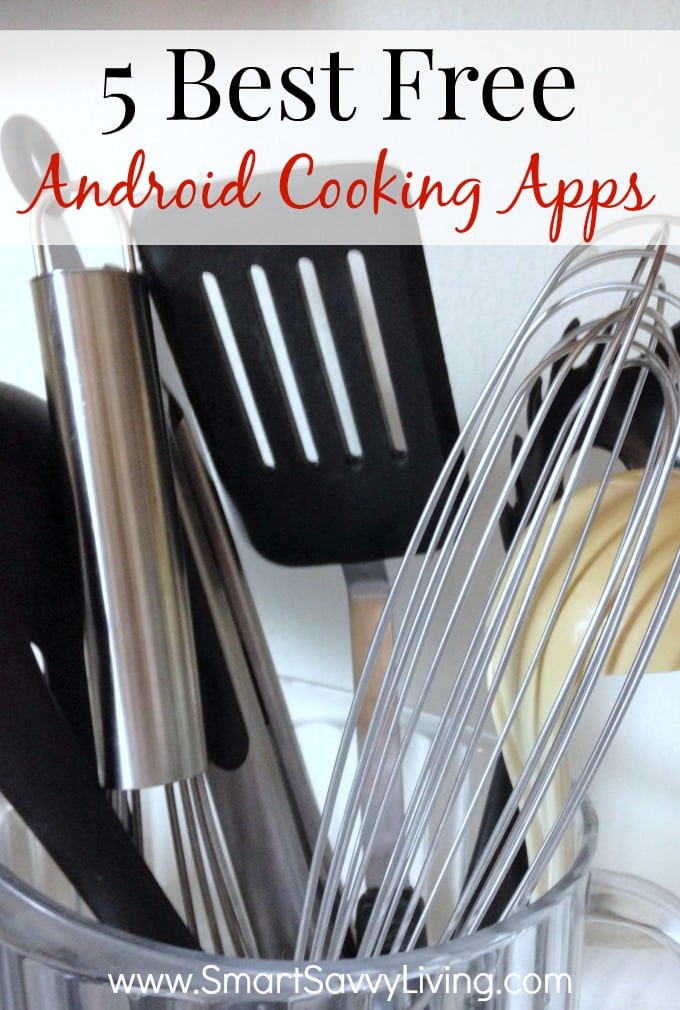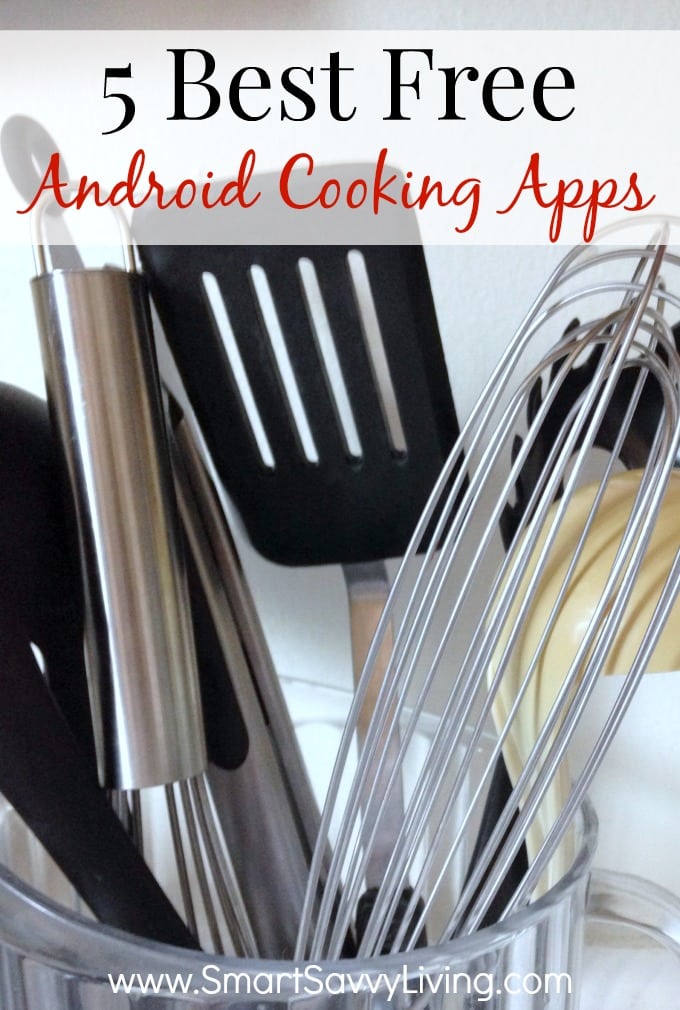 1. Food Network in the Kitchen - One TV channel I really got into as a teen was the Food Network. I grew up watching some of the cooking shows on PBS with my mom that I really enjoyed, so it was really cool at the time to see an entire channel dedicated to cooking. Even today I often have the Food Network or their sister channel The Cooking Channel on as background noise. So, it's no surprise that I also love their app. With the Food Network in the Kitchen app, you can easily find recipes by your favorite personalities (total Alton Brown fan girl here), and many of those recipes also have a video option. There's also a recipe box, shopping list, unit converter and timer that are quite handy.
2. Food Substitutions - When cooking, little is worse than getting everything together for a meal you've planned...only to discover that one of the key ingredients has gone bad or you forgot to buy it. Yes, I will admit that sometimes I even miss buying an ingredient that is on my shopping list, oops. Luckily, a lot of times you can substitute ingredients and the dish will turn out just as good. I love having the Food Substitutions app on my phone so I can just look up the replacement in the kitchen. It isn't the prettiest app ever, but it does have a variety of substitutions from herbs to low-fat options. It also includes a conversion calculator for a variety of measurements.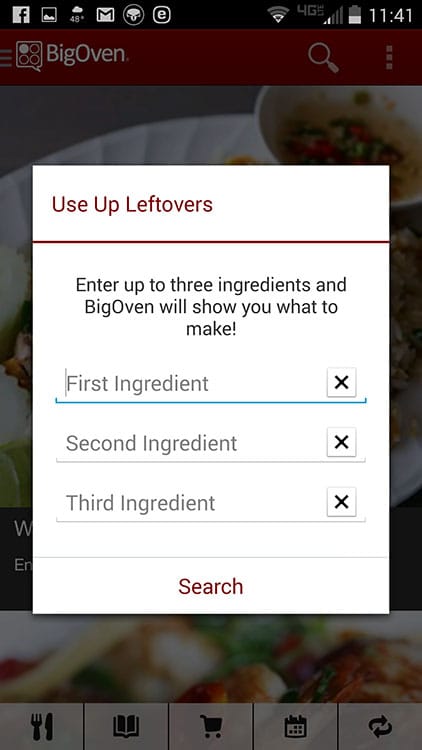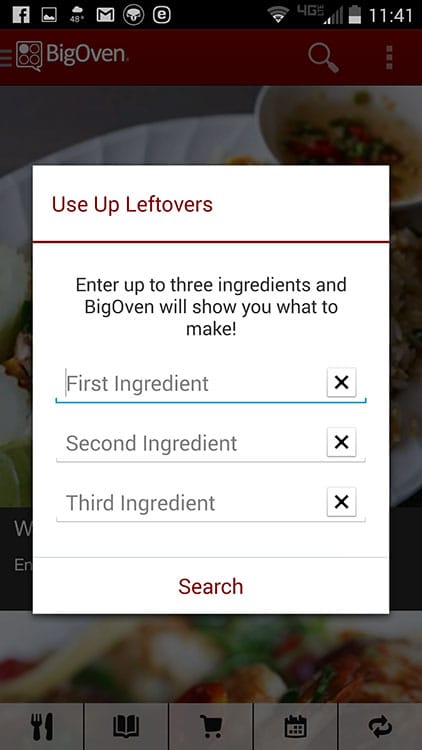 3. BigOven - The BigOven app is one of the most popular cooking apps, and for good reason. With over 350,000 recipes, you're sure to always find something new to cook, plus the app is just beautiful. I really like that they have collections of recipes, so if you're looking, for example, for dinners you can make ahead, there is a collection you can look through. I also love that there is a Use Up Leftovers option where you can add up to 3 ingredients and it will give you recipes you can use. I love making big batches of foods, but you can only reheat the same old same old so many times before it gets boring.
4. Pepperplate - If you only download one of these apps, Pepperplate is a great choice. It has several features any cook will love including multiple cooking timers (in my opinion one of the hardest parts of cooking to master is getting everything done at the same time), the ability to import recipes from multiple sites and input your own so all your favorites are in one place, create menus and even organize your meals for the week or month. The thing I really like about this app is that you can also use the website and all your information will be synchronized so you can access it on all your devices.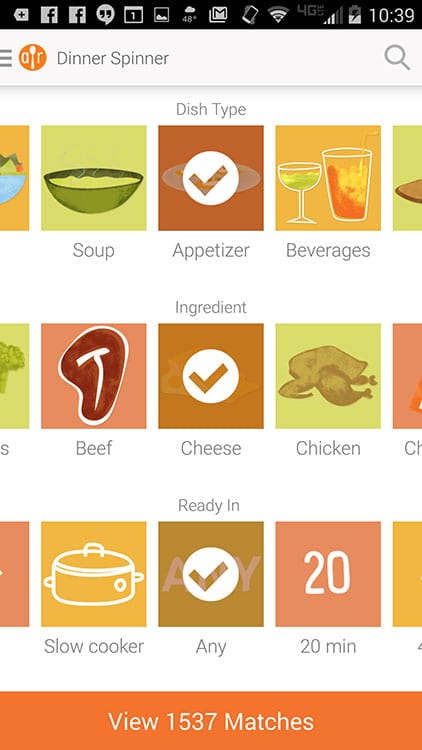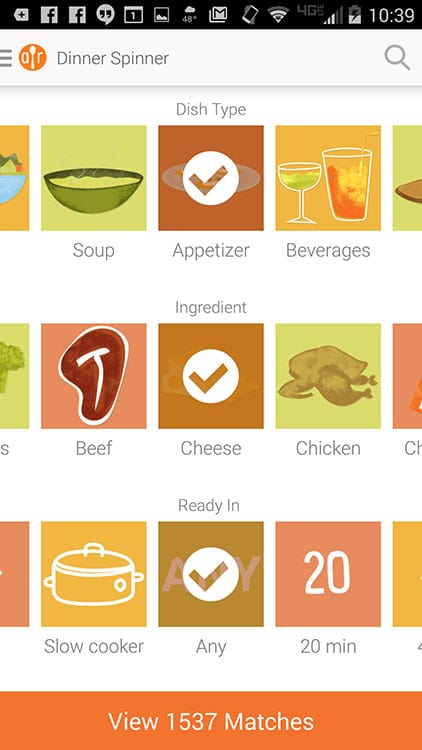 5. AllRecipes Dinner Spinner - The Dinner Spinner app has been a favorite of mine for several years now. Before then, AllRecipes.com was one of the recipe sites I used a lot to find inspiration as they have a ton of recipes. The app has grown in functionality over the years to include handy things like a shopping list and recipe box, but my favorite part is still the Dinner Spinner. Basically, you have 3 rows of options. First you pick the dish type you want to make such as an appetizer or breakfast. Next you choose one of the ingredients you want to use such as fish or chocolate. Lastly, you choose how quickly you want the recipe to be ready such as in 45 minutes or that it can be made in a slow cooker. Once your options are set, the app will automagically fetch any recipes that fit your selections for you to choose from. I love this because I love a variety of dishes and trying new ideas and this app makes it so easy to do that.
What are some other best free Android cooking apps that you use?
My Third Month Using Verizon Wireless
If you haven't seen my previous posts about switching to Verizon Wireless and my favorite productivity apps, you may not know that this is my third month using Verizon Wireless. I'm still loving Verizon and am so happy I switched. As a matter of fact, our internet was down for a couple of hours earlier in the month, and normally I would be pulling my hair out since I work from home and pretty much everything revolves around the internet. This time, though, I didn't even have to wince because I'm continually amazed as just how quickly things load on Verizon Wireless!
$150 Credit Per Line for nTelos Customers is Still Available
As I've mentioned previously, nTelos is leaving the Hampton Roads area and also some other areas in Virginia. If you're looking for a new wireless provider because of this, it's a really great time to make the switch to Verizon as you'll not only get free activation, but also a $150 credit per line, up to 4 lines, with a new 2-year contract or EDGE smartphone plan. I really think you won't be disappointed with the switch and be sure to check out the Droid Turbo! It's the smartphone I've been using and it has a ton of awesome features, especially the ability to charge up to 8 hours of battery life in just 15 minutes.
Time for a Mobile Upgrade #VZWBuzz Chat
If you'd like to chat about upgrading your mobile devices, be sure to join us for the Time for a Mobile Upgrade #VZWBuzz chat tomorrow, Friday April 10, 2015 at 3 PM ET! It's a great time to get information about upgrading, and you'll also have a chance to win some awesome devices like the Mophie Powerstation Plus 3x charger or a Moto X by Motorola smartphone. Get more information and find out how you can RSVP at TheOnlineMom.com.