Disclosure: This article with 5 apps to help increase productivity and motivation is a sponsored post written by me as a member of the #VZWBuzz team. #MoreVA
I love being self-employed and being able to work from home in my PJ's when I see fit. However, I've honestly had a pretty mean streak of procrastination within me since I can remember. Though I do often feel like I work best under pressure, procrastinating isn't always a good thing when you're the only one that holds yourself accountable and your paycheck is usually a pretty direct result of how much work you're putting in. Needless to say, having productivity aids is very important to my day-to-day work life and I'm so thankful that there are a variety of apps to help me stay motivated and on task. Here are my favorite 5 apps to help increase productivity and motivation.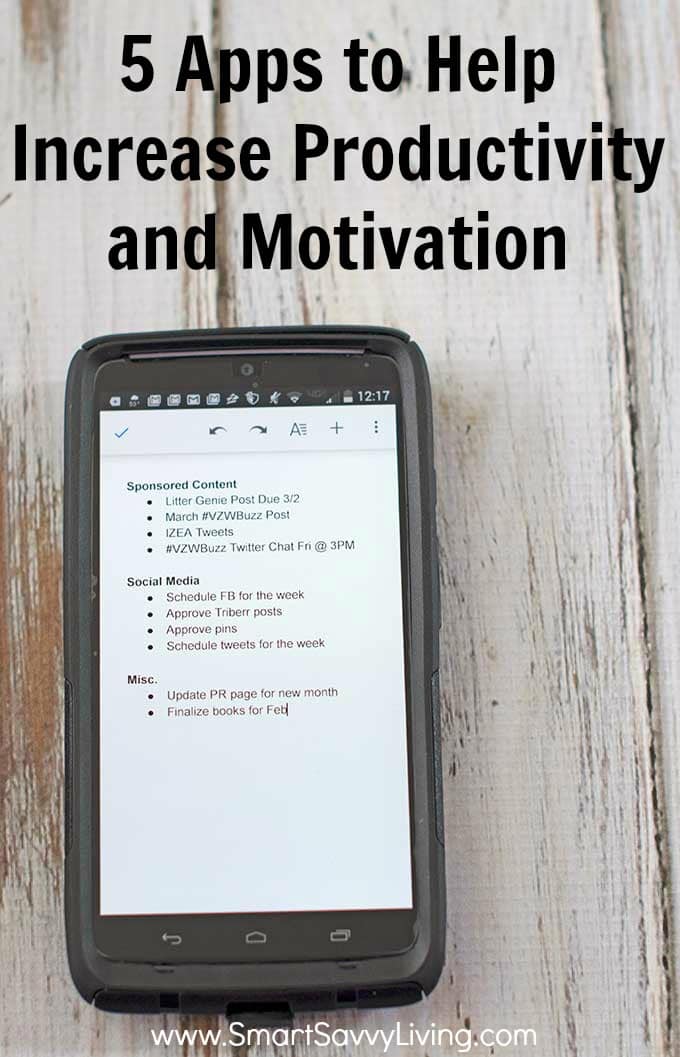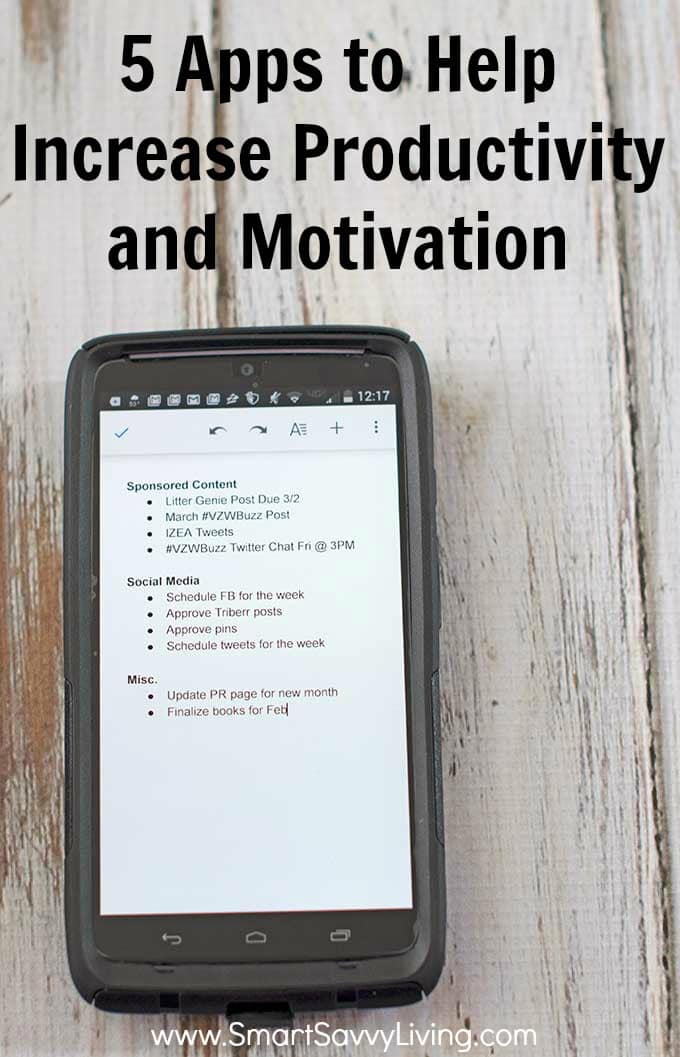 1. Google Drive/Docs - To help me stay on task, I make a LOT of lists. I have lists for things I need to do, due dates, future article ideas and more. I also use a lot of spreadsheets to keep track of accounting, editorial calendars and more. I may not use them all every day but it's so refreshing to be organized whether it's tax time or I'm wanting to schedule social media and need to quickly see what posts I have for the season and everything in between. I really like Google Docs in particular because I can access them on my phone, tablet, and computer all at once.
2. A Timer - It's easy for me to get distracted when I set out to finish a task. After all, it's quite common for me to have 20 or more tabs open in my browser that I want to read later with social media tips and the like that I come upon while working. So, in the morning I like to start my work day with a timer for the things I absolutely want to spend time on that day. Once the timer goes off, I know it's time to move onto the next task. There are lots of apps with timers out there, but I'm a fan of the timer that comes with the Droid Turbo.
3. Pinterest - Pinterest is an app you have to be careful with since it is really easy to get distracted and spend an hour or more browsing. But, as a writer and blogger I often need creative inspiration. One of my tricks for not getting writer's block is having a Google Doc with a list of articles that I'd like to write in the future. Sometimes ideas randomly come to me, but I also spend some time seeking out inspiration. One of my favorite sources for that inspiration is Pinterest. I may see a casserole I'd like to try as a soup or a DIY project I'd like to tweak to my own. Having my topics planned out definitely keeps me productive instead of scratching my head trying to come up with something to write about.
Follow Smart Savvy Living's board Smart Savvy Living on Pinterest.
4. LastPass - Okay, I know some of you may be looking at your screen skeptically, saying, "A password manager makes you productive? Really?" Let me explain. Just about every day I seem to run across an article about emails and phones being hacked, credit information stolen or some other data breach. Because of this, it's really important to have strong, secure passwords that are different for each site you use. I know I probably use 50 sites or more on a semi-regular basis and there is no way I can remember all those passwords. Using LastPass helps me to log into all those sites with a couple clicks whether I'm using a computer or my phone (for just $12 a year). It sure beats trying to hunt down a document to copy and paste or having to reset the password because I forgot to write it down or just can't remember.
5. Pandora - I really enjoy having background noise while I work. Music is usually my choice because an upbeat song can really help me stay motivated and productive, similar to when working out. People are always so surprised to learn I listen to a lot of techno and dubstep during the day, but it does wonders at helping my productivity. While you can listen for free with ads, I do subscribe for $5 per month to go ad-free as I find it's worth every penny.
March 6, 2015 #VZWBuzz Mobile Music Twitter Chat
Speaking of music, be sure to join me and the #VZWBuzz team for a Twitter chat about mobile music at 3PM ET 3/6/15. I always learn a great deal at these chats, plus you can win some awesome tech and gadget prizes! Get full information at TheOnlineMom.com.
The $150 Credit Per Line Offer is Still Available
If you've been on the fence about switching to a new wireless provider, I totally understand. Just last month I wrote an article about 5 reasons it's time to switch wireless providers! Whether you're provider is leaving the area, like nTelos here in Hampton Roads, or you're just ready for a change, you can currently get a $150 credit per line AND free phone activation for up to 4 lines when you switch to Verizon Wireless. I'm still super happy with my recent switch to Verzion with the great service and awesome modern phone with the Droid Turbo. I wish I had switched a long time ago like I had been thinking about!
What other apps to help increase productivity and motivation do you use?