This post with 15 Rich Chocolate Pudding Recipes is part of a sponsored post written by me on behalf of Mode Media.
Check out Rich Chocolate Pudding Recipes

by Michelle Pegram at Foodie.com

Can you believe that Valentine's Day is just over a week away? I'm not much for all the material things for Valentine's Day like flowers and jewelry. But, there's one aspect I can get behind: chocolate. Rather than buy expensive chocolates at the store, I love making some chocolate goodies for my loved ones on Valentine's Day. Not every one enjoys sweet chocolate candies, and I usually question their sanity if they don't. ;) Pretty much everyone I've ever met loves a good rich chocolate pudding, though.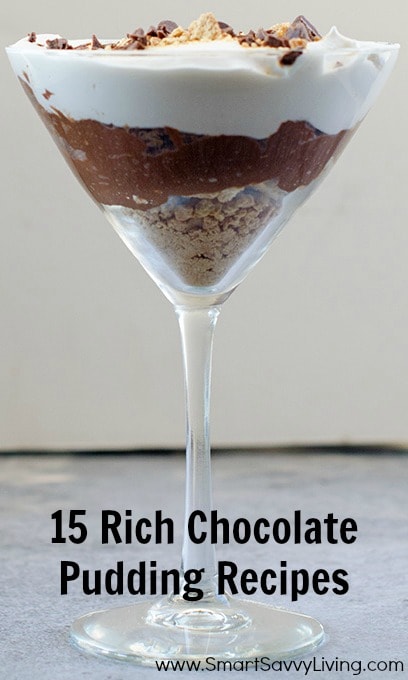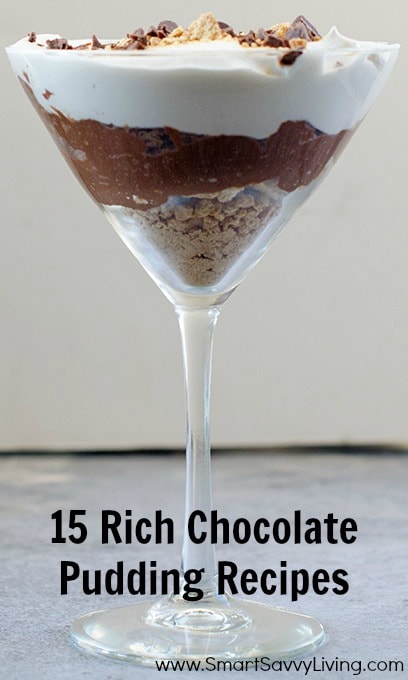 So, for this month's Foodie collection, I just had to find 15 rich chocolate pudding recipes to share. Chocolate pudding is great on its own, perhaps topped with just a bit of creamy whipped cream to make it even better. For Valentine's Day, I like to make things a bit extra special and add an additional flavor or 2. When you scroll through the Foodie widget at the top of this article, you'll find classic chocolate pudding pairings like peanut butter and fruits. But you'll also find some interesting blends like rice krispies and avocado.
One of my personal favorites is one we also have posted here on Smart Savvy Living, our homemade s'mores pudding cups recipe. To me, it has a perfect blend of flavors with the crunchy graham crackers, rich and smooth chocolate pudding and a nice pile of fluffy creamy whipped cream. For other chocolate pudding recipes to try, scroll through the Foodie widget at the top of this article. If you find one you'd like to see the recipe for, just click on the image!
Which of these 15 rich chocolate pudding recipes are you going to try first? I can't stop thinking about the malted chocolate pudding parfaits with pretzel crunch as I love sweet and salty!