Do you tend to go to a lot of parties or dinners and want to give the host or hostess a gift but don't want to spend a ton of money? Check out these 15 hostess gifts for under $15.
Honestly, I'm not an expert of hostess gift etiquette. However, I always like to bring the hostess a little gift to say thank you.
Something other than just a dish for a party or dinner itself. Just a little something they can enjoy after the party.
The great thing about hostess gifts is that they don't have to be elaborate or even expensive. Even if you buy something completely store bought, just wrap it with a pretty bow and you have an elegant hostess gift in seconds.
Check out our favorite 15 hostess gifts for under $15 below.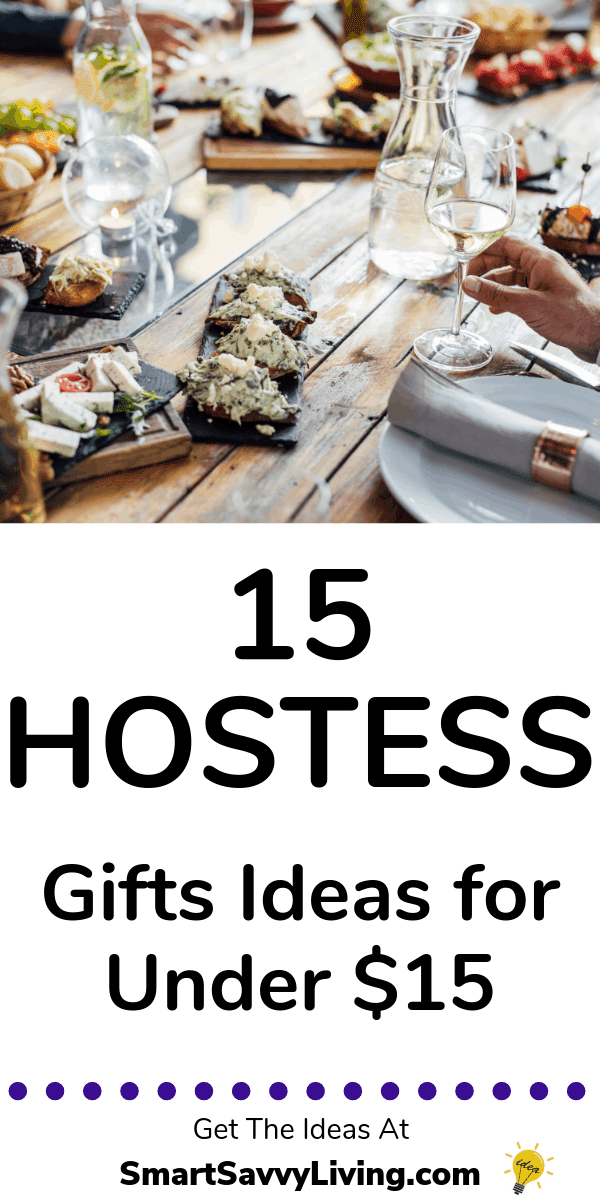 1. Chocolates or Candies - Most everyone I know loves chocolate or other candies.
Especially when I'm in a rush, I'll buy some sweet confections to give as a hostess gift. I'll take a bag of chocolates or other candies (I really like the Dove chocolates brand for something tasty, yet not expensive), empty into a cellophane bag (and this way I can totally steal a few for myself) and tie it closed with a pretty ribbon.
You could also buy a bar of good quality chocolate and tie it with a ribbon.
2. Candles or Bath Products - Most of us love taking a few moments to relax in the quiet with a nice scented candle or while taking a hot bath. Tie a ribbon around a nice candle or bubble bath and you have a great gift.
3. Alcohol - A bottle of wine or ale is almost always a welcomed gift. Even if your hostess doesn't drink, it can be used in a number of recipes, or you can opt for sparkling juices.
I love buying things like this at Trader Joe's as you can often find a bottle of wine or seasonal ale for as cheap as $5.
4. Flowers/Plants - A bouquet of flowers (tip: go ahead and put the flowers in a vase or even a mason jar so the hostess isn't scrambling for a vase) or a small plant is always a cheerful hostess gift idea.
5. Herbs - Just about every cook loves using fresh herbs. Give your hostess a small herb plant and it will be the gift that keeps on giving.
6. Mug with Hot Chocolate Mix, Tea or Coffee - Not much more says me time like sitting down with a mug of your favorite hot drink. Our Snowman Hot Chocolate Spoons would also be a great addition!
7. Snack Mixes - A bag of trail mix, caramel popcorn, etc. all make for excellent snacking gifts. Our Chex Mix recipe is always a favorite.
8. Baked Goods - I love baking, so often I will take over a batch of cookies, brownies or muffins. You can also buy store-made items and just dress up the packaging.
9. Decorative Pot Holders or Kitchen Towels - Some may already feel like they have too many of these items, but I always enjoy getting more as I seem to never have too many clean.
That may have something to do with the fact that I'm rather lazy when it comes to laundry, though.
10. Cookbooks - Odds are that if someone is hosting, they love to cook. Many awesome cookbooks retail for $10-$15. Here's my list of 10+ best cookbook gift ideas.
11. Decorative Coasters - This is another thing that always seems to go missing for me. I just love the unique ones that are always conversation starters sitting on the coffee or dining room table.
12. Decorative Salt and Pepper Shakers - I love unique salt and pepper shakers and they make great gifts - especially if you go ahead and put some flavored salt or pepper inside!
13. Flavored Oils - I love trying out new products and flavors and flavored oils are one of my new favorites. With varieties like garlic and lemon, who can say no?
14. Vanilla Sugar - If your hostess loves to bake, they'll also love a bag of vanilla sugar. Plus, you may just get some yummy treats in your future - talk about win win!
15. Offer to Help Clean - As a hostess, one of my favorite gifts is a free one - offers of helping to clean up!
Do you have any other hostess gifts for under $15 that you've given?