With these 10 Unique Valentine's Day gift ideas, your valentine likely won't even miss the expensive store bought chocolates and flowers! This post contains affiliate links.
10 Unique Valentines Day Gift Ideas
Valentine's Day will be here before we know it. Are you tired of buying the same old same old commercialized items every year? Mr. Savvy and I still enjoy celebrating Valentine's Day, but without all the expensive commercial gifts. I personally choose to see Valentine's Day as a day to really celebrate loving one another whether it's our significant other, kids, friends, family, etc. Check out these 10 Unique Valentines Day Gift Ideas for something different and more special this year.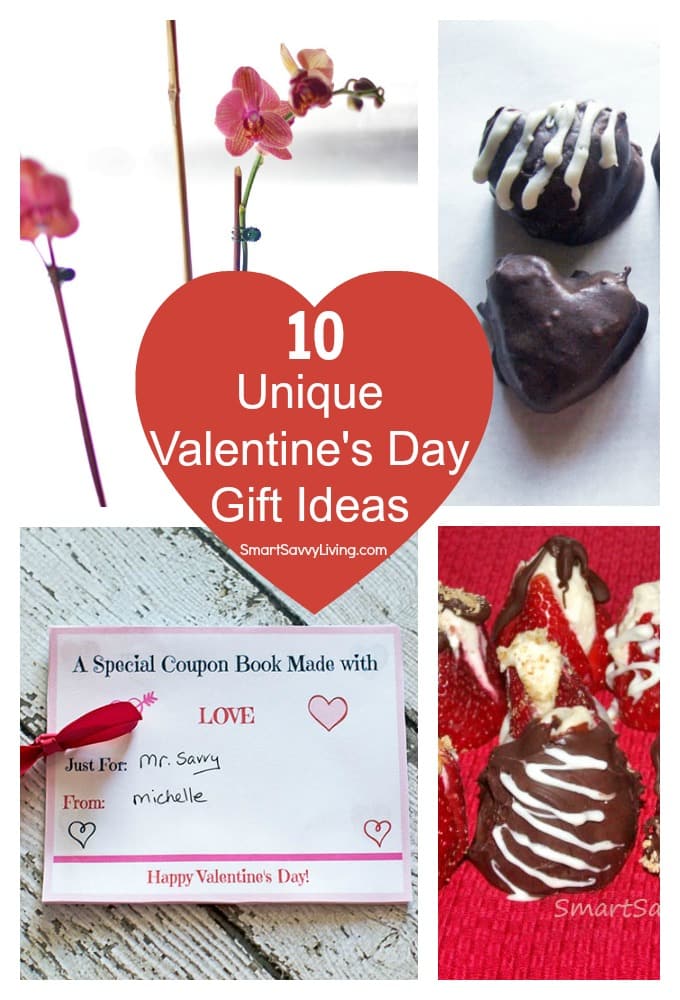 1. Recreate Your First Date - Even if you can't go to the exact place where you had your first date or where you first met, I think this is an incredibly romantic way to remember how you first fell for each other. You can go to a similar restaurant, do the same activity, have the same meal, etc.
2. Make Your Own Chocolates – It's so easy to go out and buy a variety of chocolates these days, but what about taking the time to make your own? In these days of go go go, one sure way to knock someones socks off is to make them a homemade treat. One of my favorite homemade chocolates to make that are delicious and super easy are chocolate covered peanut butter balls (just roll into balls or shape into hearts instead of footballs), but you could also dip pretzels, rice krispies treats and other lovely sweet treats in chocolate. There's also these super easy cheesecake stuffed strawberries that you can dip in chocolate, and my shortbread Hershey Kiss cookies are actually pretty easy as well. Your sweetie is sure to love all the effort you put in even if it's not as pretty!
3. Give a Potted Plant - Don't get me wrong, cut flowers are beautiful and have their place, but I have never understood giving them as gifts. I'd much prefer a potted plant that I can enjoy for years to come, especially orchids. If your sweetie likes to cook, a potted herb garden would also be a gift you'll see the benefits of for months to come! Isn't that clever? ;)
4. Have a Special Date Night at Home - Sure, going out to your favorite pricey restaurant is fun and tasty, but it's also expensive and heavy crowds and waits can put a damper on the romance. Why not make a romantic dinner at home where you can enjoy each others company? It'll be so much quieter and romantic, plus your sweetie is sure to love all the effort you put in to show your love! I also like to make a romantic breakfast with love-themed foods like these bacon hearts.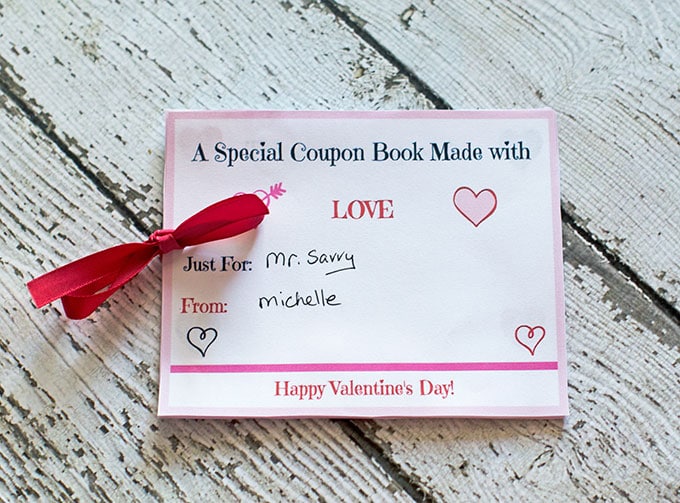 5. Create a Custom Coupon Book - Coupons don't just have to be for groceries! I love custom coupon books as they are a great way to show someone you appreciate all their hard work. Plus, with your sweetie you can be as nice or naughty as you want.
They're also great non-candy Valentine's Day gifts for kids when you include things like staying up past bedtime and getting to choose pizza for dinner. Check out my free printable Valentine's day coupons to make your own.
6. Take a Class Together - There are lots of one-day classes available at community colleges and various places that are perfect to go to with your sweetie. My favorites are cooking, wine tasting and massage classes. You may even get to score a great deal on one at sites like Groupon and Living Social.
7. Make Time for Something You Used to Do Together - When you and your sweetie were getting to know each other was there something you'd do a lot of but don't get to do as much because of busy work schedules and looking after the kids? Hire a babysitter or enlist the help of family or friends and take some time off to hit up your favorite coffee shop, park, restaurant, etc. where you can enjoy each other's company and reconnect without getting interrupted.
8. Write a Love Letter or Poem - Okay, so we aren't all Shakespeare's, but I still find written words to be one of the most romantic gestures. Put your heart into a meaningful love letter or poem and your sweetie is sure to love you all the more. If you're more artistic, maybe opt for a sketch instead.
9. Make a Scrapbook or Collage of Your Years Together - It's funny how life can change so much in just a few years from dating to married with kids, cross-country moves, career changes, etc. Put together a scrapbook or collage with pictures of you and your sweetie on dates, vacations, at special events, etc. through the years to remember all the fun you've had together.
10. Other Homemade Gifts Like Candles, Picture Frame, Etc. – Some of my favorite gifts are homemade, even if they may not look as pretty, but they are that much more heartfelt and meaningful. Some of my favorite ideas are homemade candles, picture frames, knitting scarves (a great beginner's class on the cheap!), etc. Our cute food gifts for Valentine's Day with free printables are also great for kids or friends and coworkers where you not exactly looking for a romantic gift but want to say I love you or thanks for being a friend.
What are some of your favorite unique Valentine's Day gift ideas?