These 10 mocktail recipes are so delicious you won't even miss the alcohol!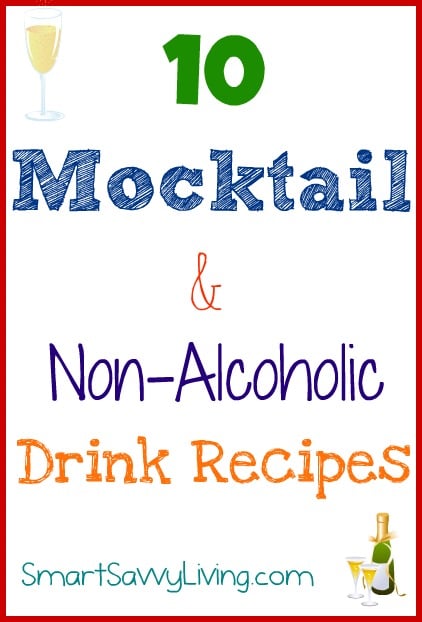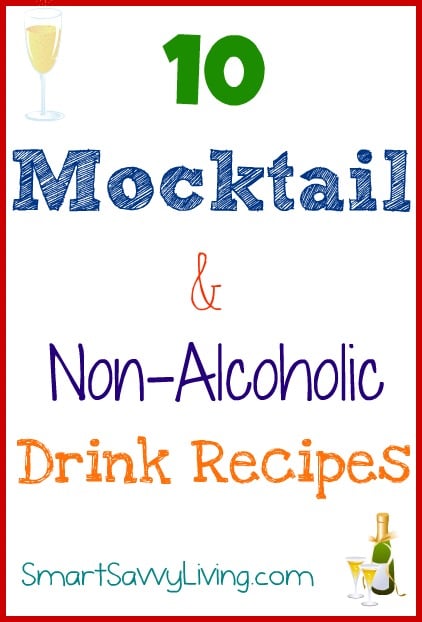 When I originally put together this post on Money Savvy Michelle it was for New Years. However, I know there are a ton of holiday parties just around the corner and a lot of us don't drink alcohol or need kid-friendly drinks so they don't feel left out when it comes to fun and colorful drinks. So, I thought I'd reshare this post with 10 mocktail recipes or non alcoholic drink recipes.
Besides, without the alcohol, most drinks are less in calories which is a great way to keep your waistline happy this holiday season...or you can be like me and use it as an excuse for an extra cookie. ;)
10 Mocktail Recipes
1. Mock Champagne – This is so tasty you won't even miss the booze.
2. Alcohol-Free Mojitos – Mojitos are my favorite drink and with the addition of lime sherbet, these sound great.
3. Sparking Apple Juice – A fizzy drink all ages are sure to love!
4. Fuzzy Lemon Fizz – Peach and 7-Up? I'll definitely be trying this one!
5. Virgin Strawberry Daiquiri – Perfect for warmer climates – who can say no to a strawberry daiquiri?
6. Sparkling Cran Razzy – I love combining seltzer and cranberry juice, so this looks like a great way to kick it up a notch!
7. Blackberry Pomegranate Spritzer – Yum, pomegranate has become one of my favorite flavors this past year!
8. Green Lemonade – This looks like a drink even the kids would love!
9. Michigan Fizz – With Cherry and Ginger Ale, what's not to love?
10. Hot Toddy Mocktail – I love this drink to warm up with. You can also use regular black tea instead of the tea packets, you will just likely want a bit more honey for sweetness.
Bonus: Truffle Hot Chocolate Balls - I couldn't not include a hot chocolate recipe since it's a cold time of year even though it's not really a mocktail! Kids will love rolling these together and making a mess. Super easy to flavor customize and pre-make.
What are some of your favorite mocktail recipes?