Do you love Twitter parties and the chance to win awesome prizes? If so, you won't want to miss the #WalmartGroceryDeliver Twitter party this Friday, December 7, 2018!
This is a sponsored post written by Smart Savvy Living in partnership with Walmart and Savings.com.
These days we're all super busy between work, caring for kids and sometimes other family members, getting all our chores and responsibilities done, trying to have a social life, and doing something every now and then for ourselves to stay sane.
While I love cooking, going shopping for groceries is another story entirely.
For a couple years now I've absolutely loved that I can place an order online at Walmart and then the next day pick up our groceries and not even have to get out of my car.
Now that Walmart is delivering groceries to more areas I don't even have to leave the house! Talk about convenient on those extra busy days. If you haven't given it a try yet, you can sign up here.
#WalmartGroceryDelivery Twitter Party
If you love Twitter and winning prizes then you know how awesome Twitter parties are. Here are the details of the #WalmartGroceryDelivery Twitter party I'll be participating in.
When: Friday, December 7, 2018 at 10AM PT/1PM ET
Where: Twitter using the hashtags #WalmartGroceryDelivery and #WalmartWIN
Hosts: @ssavvyliving,@MomsWhoSave, @katbalogger, @TheSamiCone, @FindingDebra2, @savings
Prizes: $500 in prizes including: (6) $25 gift cards, (2) $50 gift cards, (1) $100 gift card, and (1) $150 gift card grand prize
RSVP Here: http://bit.ly/WalmartGroceryDelivery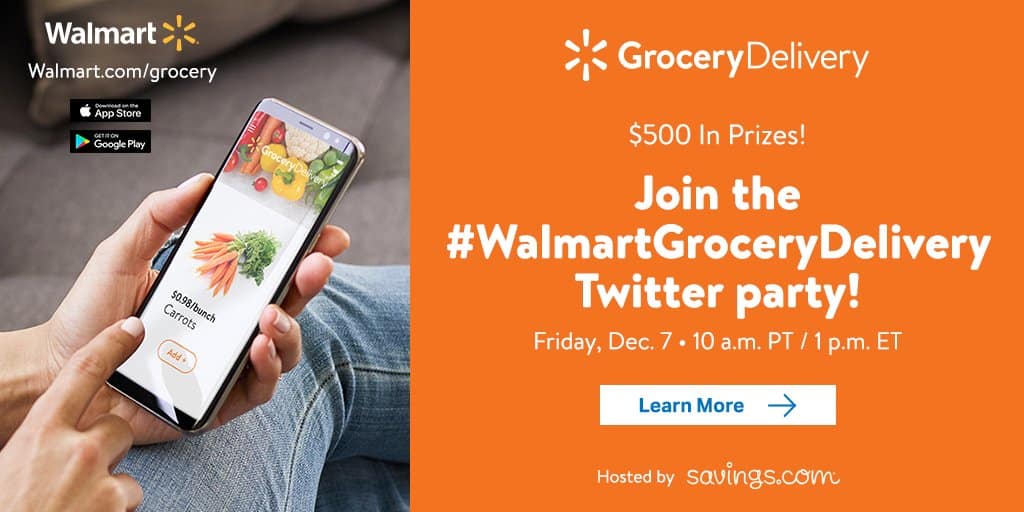 Hope to see you there!