The month of May seems to have flown by as it's already time for the May 2013 Blog Monetization and Traffic Report! May was the first full month that our rebranded domain was live. With the new start here I decided to bring back 2 popular post series that I haven't posted in a while since starting fresh – our blog monetization and traffic reports.
May 2013 Blog Monetization and Traffic Report
I enjoy posting these to first of all be transparent in ways that I monetize this blog. Secondly, while my blogging success has been in due part of hard work, a lot of it has also been from lots of reading and advice from fellow bloggers and I see this as a way to give back on that same note. Lastly, it's a lot of fun and very informative to look back on past months and see where you are growing and where you could improve as a business!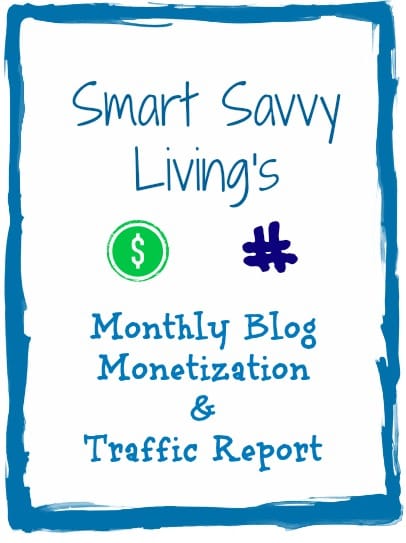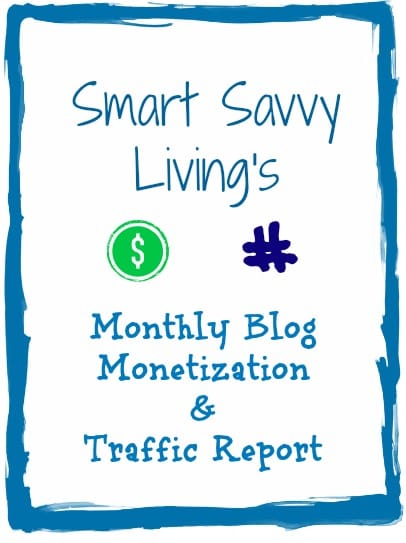 May 2013 Blog Monetization Report
Please note that at this time I am choosing to keep any direct monetization (advertisers that directly contact me instead of working through a 3rd party) private. The following links are networks that most bloggers may sign up for to monetize and may include affiliate links when applicable.
Sponsored Posts:
SocialSpark: $437.5
Mom Central: $100
Best Buy: $50
Sponsored Post Total: $587.5
Ads:
Glam Media: $251.14 (includes a sponsored post)
Google Adsense: $40.69
Burst Media: $11.28
Pulse Point: $.50
Media.net $.44
Ad Total: $304.5
Affiliate Networks:
ShareASale: $11.41
Amazon.com: $10.36
Escalate Media: $8.12
Affiliate Network Total: $29.89
Grand Total for May 2013:   $921.89
May 2013 Blog Traffic Report:
This month Smart Savvy Living received just over 30,000 page views while Money Savvy Michelle received just over 15,000 page views since I am slowly transferring posts after optimizing them.  I was so happy to see that I didn't experience a huge drop in traffic after rebranding.
Most Viewed Posts for May 2013:
Homepage
Homemade Yeast Rolls or Bread
Top 10 Traffic Referrals for May 2013:
StumbleUpon

Direct (usually bookmarks, when someone types the address, etc.)
Google organic searches
Feedburner/email
Online-Sweepstakes.com
Bing organic searches
Top 5 Blog Referrals for May 2013:
What I Learned this Month
Going through all your posts and transferring them one by one is long and tedious work, BUT it is SO worth it to take the time to go through old evergreen (content that is pretty much always relevant) posts and SEO optimize them. I'll admit that when I first started blogging I knew very little, if any thing, about SEO and my search results reflected that for the first year or so.
Now I've learned quite a bit through lots of reading and research and it seems to be paying off. Let's just say to the tune of this PR 0 1.5-month-old blog with just over 50 posts having almost as many hits from organic Google searches in one month than the prior PR 3 2-year-old domain with over 3,000 posts had before I ever rebranded. I don't know about you, but I think that's pretty awesomely amazing and I hope it keeps going! :)
How was May 2013 for blogging for you? If you wrote a May 2013 Blog Monetization and Traffic Report please feel free to share below!