I'm totally running behind to get the June 2013 Blog Monetization and Traffic report up after the short holiday week! As much as I love blogging, it sure felt good to take a few days off and really unplug from working hours a day. I hope you all had a great holiday week as well!
June 2013 Blog Monetization and Traffic Report
Why do I choose to post my blog monetization and traffic reports? First of all, I always wish to remain transparent in the ways that I monetize this blog as while it does always contain my honest opinions, it is also a business I seek to make a profit with. Secondly, while my blogging success has been in due part to hard work and long hours, a lot of it has also been from lots of reading and advice from fellow bloggers. So, I see this as a way I can give back to the blogging community. Lastly, it's a lot of fun to be able to look back on past months and see where the blog is growing and areas that could use improvement.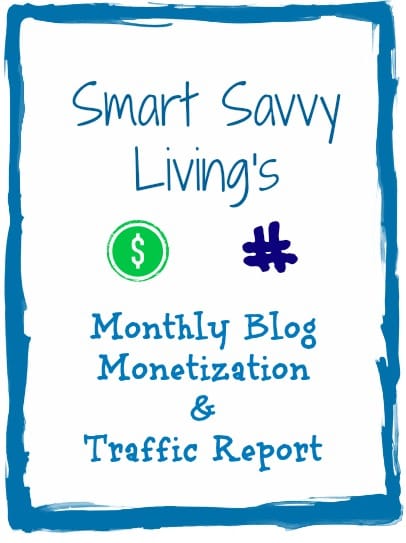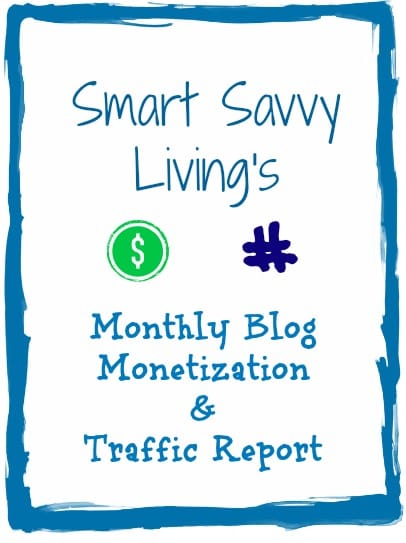 June 2013 Blog Monetization Report:
Please note that at this time I am choosing to keep any direct monetization (advertisers that directly contact me instead of working through a 3rd party) private. The following links are networks that most bloggers may sign up (some networks may no longer be seeking new members or are only open to select niches) for to monetize and may include affiliate links when applicable.
Sponsored Posts/Social Media Promotions:
Linqia: $144
SITS Girls: $100
Mom Central: $75
Social Spark: $50
Best Buy: $50
Sponsored Posts/Social Media Promotions Total: $419
Ads:
Glam Media: $180.69
Passionfruit Ads: $150.00
Google Adsense: $48.66
Burst Media: $13.05
Ads Total: $392.4
Affiliate Networks:
Amazon: $.16
Escalate Network: $3.11
Affiliate Network Total: $3.27
Grand Total for June 2013: $814.67 compared to May 2013 of $921.89
June 2013 Blog Traffic Report
This month Smart Savvy Living totally shocked me with the amount of page views we received at 85,283 – and that doesn't even include 5 days of tracking due to an error with my analytics code! As a comparison, Smart Savvy Living received 30,000 views in May. This makes me feel totally confident in rebranding to Smart Savvy Living, as our previous page view record as Money Savvy Michelle was about 55,000 views!
Most Viewed Posts for June 2013:
Homepage
Homemade Yeast Rolls or Bread Recipe
Top 10 Traffic Referrals for June 2013:
Google Organic Search

Direct (Usually bookmarks or direct URL input)
StumbleUpon
Google Referral (Usually image search)
Yahoo organic search
Bing organic search
Top 5 Blog Referrals for June 2013:
Carole's Chatter
What I Learned This Month
This month I took away 3 main things:
Take the time to SEO optimize your posts –  I know I mentioned this last month also, but this definitely helped Google become my #1 source of traffic this month.

Evergreen posts, especially those geared toward the time of year (Father's Day, 4th of July/summer) are a must. Plus, you can republish and/or promote them year after year.
Twitter really can bring traffic! This month I really took the time to utilize Twitter more. Read my posts about how I doubled my Twitter followers and How to Use JustUnfollow to gain more quality Twitter followers for more information.
I can't wait to see what July brings as we move into the second half of the year!
How was June 2013 for blogging for you? If you wrote a June 2013 Blog Monetization and Traffic Report please feel free to share below!