This is a Sponsored post written by me on behalf of Rubbermaid® All AccessTM Organizers for SocialSpark. All opinions are 100% mine.
I often wonder if having a clutter free home is really possible. For the past 4-5 years we have moved each year for new jobs or bigger places. At this point I've gotten so tired of packing and unpacking that a lot of our stuff that we don't regulary use is still in boxes in the closets or corners of the office. However, we recently decided that we should be staying at our current location at least a few years, so it's time to get rid of the clutter, I hope.
We don't have tons of storage space, so being able to keep our belongings accessible, yet neatly organized and tucked away is a big deal. While I love the big deep containers for storing a variety of things that don't often get used, like holiday decorations, they aren't the most practical for everyday items like crafts and clothing. Even if I was tall, I don't think I'd find unstacking all the containers and hoping I chose the right one fun.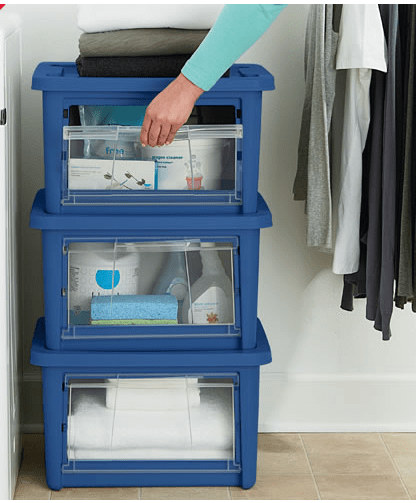 However, I recently ran across the new Rubbermaid® All AccessTM storage containers which seems to have solved the accesibility problems! First of all, I love that they come in a variety of colors so I can easily sort items without creating a treasure map to remember what is what. I can have containers for my craft/DIY projects and office supplies in the same room side by side and since they are different colors, I don't have to guess what's what. Plus, they also have clear drop-down doors, so that you can see inside and be able to take stuff out while the containers remain stacked. I'm sure the boyfriend would be happy to have one less thing I'm constantly asking him to get down for me.
What would you use these containers for? I can see so many uses! Laundry items like detergents, laundry sheets, stain removers, and other cleaners, etc. in the laundry room. Spices and dried goods for the pantry. Seasonal clothes and shoes for the closet, plus the office like I mentioned before. I can also see these being great for knickknacks in the basement and car items in the garage when we eventually have a home that has them.
Want to check out the Rubbermaid® All AccessTM organizers yourself? They're currently availble at Walmarts across the country!