Are you constantly questioning how to get more Twitter followers?
Social media currently seems to be the best way to really rope in your readers and remind them to come visit your site regularly. I happen to find Twitter to be one of the most elusive and confusing of the networks, and I think a lot of others do, too. So, last month I decided to really concentrate on Twitter and try to figure out how it works a bit more.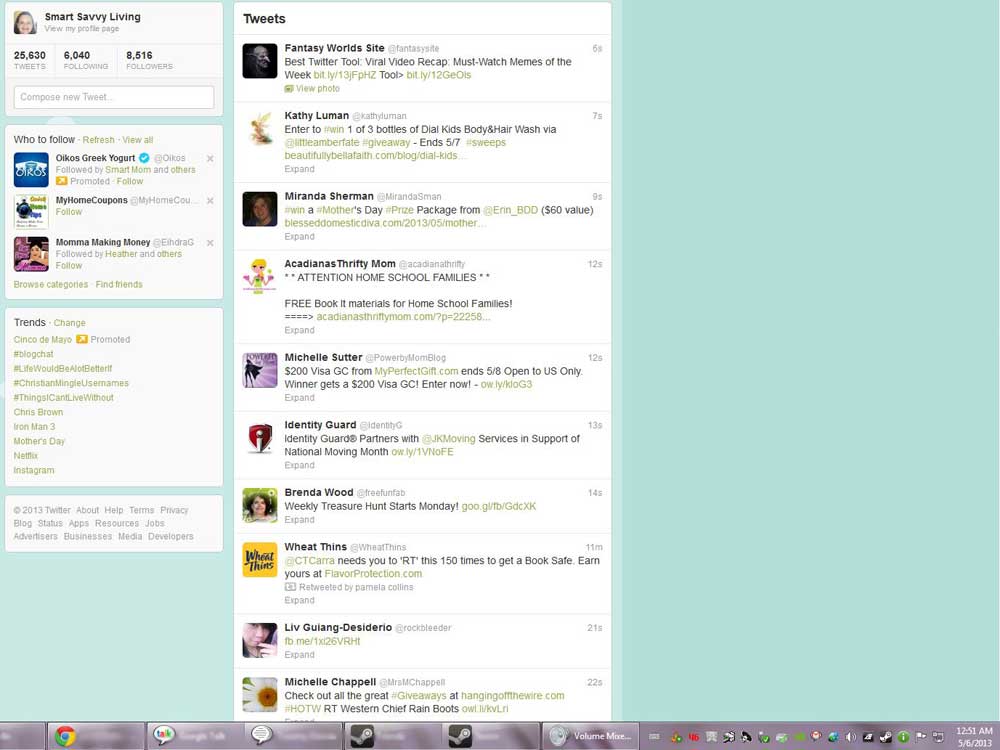 On 5/6/13 I had just over 8,500 Twitter followers.
I first started using Twitter 3 years ago in 2010. I hadn't yet started blogging and, honestly, I didn't really care much about interacting on social media, mainly using it for the purpose of entering sweepstakes/giveaways and keeping up with some news networks. In just doing that, I gained about 2,000 followers. So, in April of 2011 when I decided to start blogging, I of course opted to use that Twitter account since it had a head start.
In my first year of blogging I did a lot of giveaways, which helped me get to about 8,000 followers on Twitter as of late last year. After I stopped doing a lot of giveaways, my increase in Twitter followers became really stagnant and most of my followers were those that were still interested in giveaways/sweepstakes. Since there are millions of people on Twitter, I was left wondering why it was so easy for me to get new followers 3 years ago and so difficult now. In thinking about what I did at the beginning, I realized that in 2010 I pretty much followed everyone back, which was something I definitely didn't do now.
So, I started with following people that followed me back along with a couple other important tips. As you can see in the screen shot below, it totally paid off as I was juuust shy of doubling my followers. Here's what I've been doing for the past month to get more Twitter followers and interaction.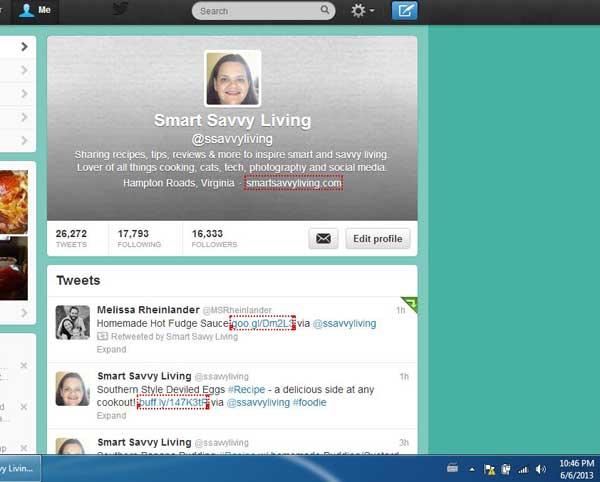 By 6/6/13, my Twitter following had nearly doubled to 16,333. I also have more people than ever interacting with me, retweeting and favoriting my tweets, along with more traffic to my blog from Twitter.
How to Get More Twitter Followers
Follow back everyone that follows me, with some exceptions that I'll list below. If you want to follow Smart Savvy Living on Twitter I'll happily follow you back! :)
Followed new accounts daily – see my list of who I followed below.
Unfollow accounts that didn't follow me back within 4 or so days, not counting those that I wanted to follow regardless like a favorite blog or news network.
Who I Follow on Twitter:
Those that follow me first, with some exceptions below

Accounts in the same niche as me such as food bloggers, DIY bloggers, health and lifestyle bloggers, etc. (this is a must for better interaction so you all have something in comment to tweet to each other about)
Followers of those accounts in the same niche as detailed above – if they enjoy someone else posting about content similar to yours it's very likely they will follow you back
Who I Don't Follow on Twitter:
Even if they follow me first, I don't follow accounts with the default egg as their profile picture. While there may be some quality accounts, these are typically accounts for those not seeking interaction and just want to enter giveaways, spam, etc.

Adult accounts (erotica, etc.) – These accounts can be easy to not notice if you're doing mass following and get click happy, but I try to skip following these accounts or unfollow them if I find them in my feed as it's not something I want associated with my business
Accounts where the user only speaks in a foreign language – while the extra follower number may be nice, someone you can't communicate with isn't a quality follower
Accounts with a low number (<500) of tweets or spammy tweets with the same link over and over as they are likely not a quality follower unless they just joined
Accounts with the default egg picture and/or no profile. Sometimes these can be decent followers, but most of the time if someone is going to really use a network, they will put up some sort of profile picture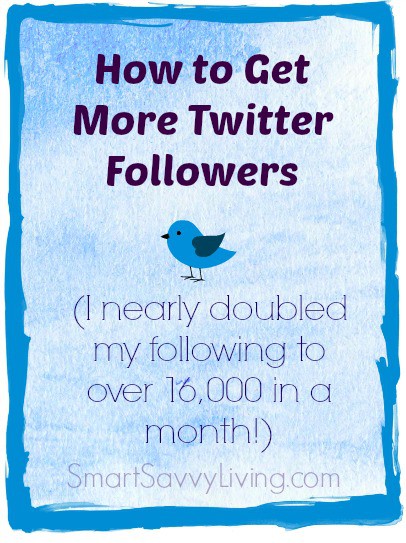 Twitter Follow Limitations:
It is very important to be somewhat cautious of who you follow because –
You can only follow 1,000 new accounts a day

You can only follow 2,000 accounts overall until you get 2,000 followers and from there the ratio stays very tight. This is why I will unfollow those that haven't followed me back within several days.
I know you're probably saying "Okay, Michelle, that sounds great and all…but, that's kind of a ton of work to do daily!"
And you're right. Luckily I've found a pretty awesome Twitter tool called JustUnfollow. JustUnfollow basically helps you do all of the above more efficiently and quickly than you could straight from the Twitter user interface. I don't want this post to be a total novel, so I'll go into detail about how to use JustUnfollow next week, though it's pretty easy to figure out. There is a free version, but I do currently pay the $9.99 a month to be able to follow and unfollow more users a day. It's also usable with Instagram.
Disclosure: I was not compensated to write this post. I simply love JustUnfollow and Twitter and wanted to share how I experienced success.
 Be sure to check out our other blogging posts and tips if you enjoyed this post about How to Get More Twitter Followers!