Sponsored post by Mirum. All opinions are my own. #IntelODHolidaySavings

Do you spend most of your day working at a computer? If so, you know that a slow computer can really hinder your productivity.
I often have multiple browser tabs open. Some for writing posts. Some to stream videos to learn new stuff or to have background noise. Others for multiple email addresses.
Then I usually have a word document for quick notes and a photo editing program open. Needless to say, with all that going on I need a super fast computer that can handle all those tasks.
Otherwise, I'm literally wanting to pull out my hair. Don't even get me started on counting the minutes I'm wasting waiting. Minutes that could be spent doing stuff I really love instead, like playing with our cats or reading a book.
If you're in a similar position when working it's definitely time to invest in Intel® Optane™ memory.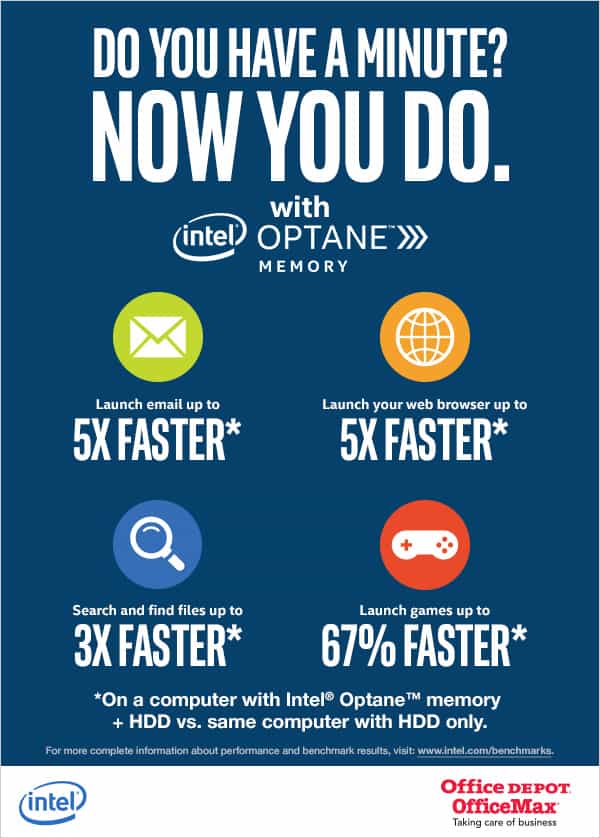 What Is Intel® Optane™ Memory?
It's a new class of memory that has high performance but doesn't sacrifice storage capacity. It can even learn your computing habits over time, giving priority to the programs and files you use most often.
Everything you do on your computer will feel faster. Even if you're streaming movies or looking at a lot of photos you won't have to slow down what you're doing.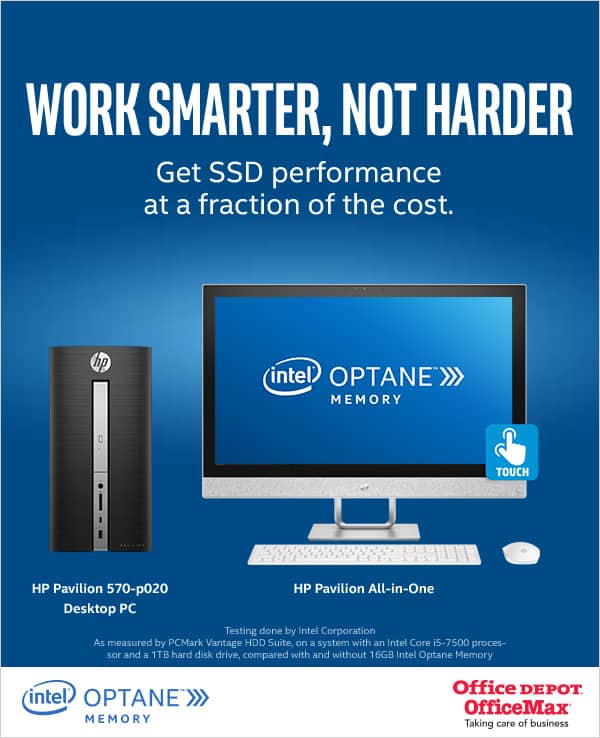 Where Can I Find Intel® Optane™ Memory?
You can find Intel® Optane™ Memory at Office Depot in the following configurations. It's pretty amazing how affordable this speedy technology is.
First, there's the HP Pavilion Desktop available both in-store and online for $549.99 (regular price is $649.99). It's a nice powerhouse for playing Facebook games, watching videos, and more.
There's also the super cool HP Pavilion All-in-One available online for $1049.99. It's perfect for the whole family to use. The widescreen full HD display is gorgeous.
Plus, both have 1 TB hard drives so you don't have to worry about running out of space storing all those family photos and videos.
Start the new year off right by saving time, money, and even your sanity with Intel®!
What would you do with all those extra minutes of time if you didn't have to wait on your slow computer?