This is a Sponsored post written by me on behalf of Ditch The Space for SocialSpark. All opinions are 100% mine.
If you've ever rented a home or office space, you know how difficult the transition can be out of the old rental and into the new even when your lease is naturally over. If you have to break your lease early, you know it's even more of a pain. Mr. Savvy and I have actually just been going through the whole leasing game again. Our lease is up at the end up this month, and we had originally planned on extending our lease again. But, Mr. Savvy recently got a new job that had a nice salary increase, so it was time to see our dream and rent a nicer single family home.

It was quite stressful, though, as we were trying to find a house just 5 weeks before our lease was up on our own and we needed to give a month's notice. We had just about given up and were ready to renew our lease anyway because we weren't finding houses we really liked. Luckily at the last minute we found one we really liked and were able to sign a lease – for 2 years this time!
In the past we've had situations be just as stressful because we needed to move in a week's time for a new job in a different state, or we just needed a short-term lease for about 6 months. It's infinitely more stressful when you know you may have to pay on 2 leases at once because you can't find someone to sublet quickly enough. I can only imagine how much less stressful it would have all been by using a service like DitchtheSpace.com.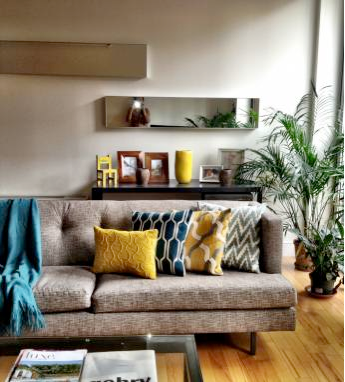 DitchtheSpace.com is a Premium Service for brokers and property managers managers and seekers currently aimed at New York City apartments, offices and retail stores and restaurants looking to sublet or rent short term. Signing up for the site to use is super easy, and you just have to provide the usual information when you're searching for rentals. I like that your phone number is only revealed to the one you're interested in renting from or to. Then to find a rental you can choose different areas of New York City, your price range, the type of property, number of rooms, etc. to find your perfect rental without going through a ton of listings. Plus, since listers do have to pay a small $5+ fee to list, you know that all the listings are going to be legit.
I checked out the site as if I were moving to NYC and was actually able to find a pretty decent studio that accepted pets in my price range. It's also nice because you also get information about the property such as if it has a doorman, elevator, if it's furnished, etc. If you ever see yourself needing to sublet or find a short-term place to stay in NYC, I'd say you'll definitely want to head over to DitchTheSpace.com and sign up! After all, Their Ditch Is Your Gain. Check out Ditch The Space's Blog for more information.
Do you have a rental moving or lease nightmare to share?