These candied bacon footballs are a great sweet and salty appetizer or treat for your next football party!
Football season is finally here!  Who are you rooting for to win it all? Honestly, I'm not a huge football fan and am one of those people who really just watch The Super Bowl. And then it's mainly for the commercials and to enjoy some good eats, of course. Regardless, I've already been trying to think of different things to cook for all the game day football parties!
Candied Bacon Footballs
We're big meat eaters around here and one of our favorites is bacon. Candied bacon is always a hit at parties, but I wanted to take it a step further. Thus, Candied Bacon Footballs were born. This candied bacon footballs recipe is super easy and just requires a minimal brown sugar or maple syrup, bacon, a baking sheet and an oven. You can also add in a bit of cayenne to the brown sugar for a bit of a kick. Talk about bringing a whole new meaning to pigskin. ;)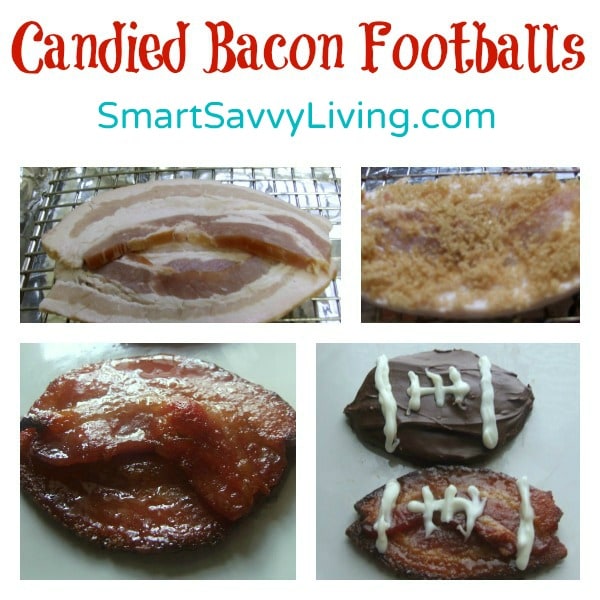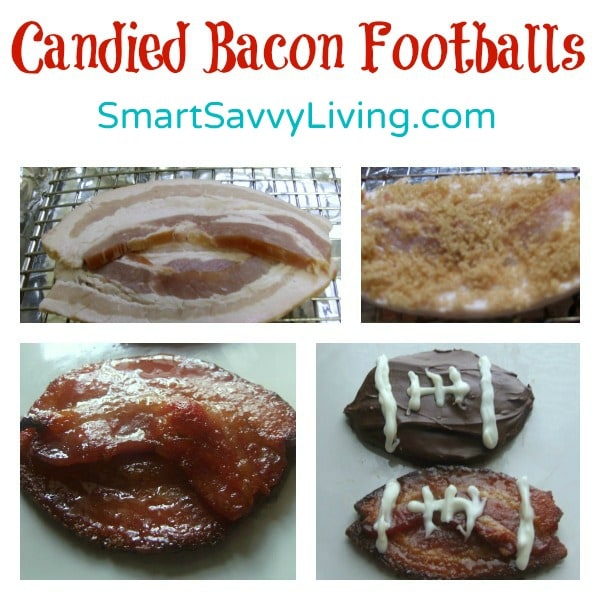 However…
If you're feeling a bit on the wild side like me and want to kick it up even a notch more, you can also dip the bacon (or drizzle) it with chocolate, which will also help them to look a bit more football-like. I know, I know, you might be thinking, "Michelle? Seriously?" Yes, seriously. And if you think bacon and chocolate couldn't possibly go together, they totally do. A perfect heavenly mix of sweet, salty and savory. Yum! It's obviously not something I'd eat daily, but they will certainly be a yummy treat for now and then. I used semi-sweet chocolate to dip the top in and white chocolate for the stitchings.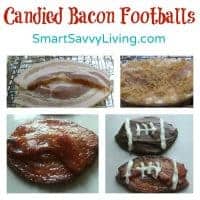 Candied Bacon Footballs
This candied bacon recipe makes the perfect sweet, salty and savory appetizer.
Ingredients
Thick sliced bacon - one strip per football
Brown sugar (about 1/2 - 1 Tablespoon per football, it may seem like a lot, but is needed to get a good candied coating) or maple syrup
White/Milk/Semi-Sweet or Dark chocolate (optional)
Cayenne (optional)
Instructions
Preheat oven to 375°F.
Slice bacon strips in half.
For easy clean up, line baking sheet in foil and place oven-safe rack on top. If you don't have a rack, the bacon will be just as good baked directly on the sheet, you just may want to drain it on paper towels after baking.
On rack/pan, shape two half-strips of bacon into a football shape with one strip being the top half and one strip being the bottom half. I find this is easiest when the bacon is cold and you want the middles of the two slices to be touching with one slice on top of the other at the ends.
Sprinkle bacon with brown sugar (about 1 tablespoon per - stir in cayenne too if using) or brush with maple syrup. I used brown sugar. Tip: Place a pinch of the sugar or syrup under the top layer of bacon on both end sides to act as a "glue" to help footballs keep their shape and not come apart.
Bake 15-30 minutes, depending on thickness, until bacon is crisp. We normally don't like our bacon super crisp, but for candied bacon, I really think crisp is best.
Once crisp, remove from oven and allow to cool, placing on paper towels if too greasy.
In the mean time, melt your chocolates if you want to also dip the footballs.
Dip one side of the bacon footballs into milk, semi-sweet or dark chocolate and allow to harden.
Place melted white chocolate into a piping bag with small tip or plastic baggie that you then cut off the very tip of one corner.
Slowly pipe white chocolate onto the footballs in the shape of stitchings.
Allow chocolate to cool and serve. If you actually show self-restraint and have leftovers, they may be stored at room temperature for up to 2 days or refrigerated, but is best eaten the day its made.
Notes
While I have not tried it, turkey bacon should also work well.
Check out our loaded chicken nachos recipe if you enjoyed this candied bacon footballs recipe!