Do you feel like you spend a third of your life cleaning? You may be interested in this BISSELL CleanView Vacuum review that just may save you time.
Disclosure: I participated in a campaign on behalf of Mom Central Consulting for BISSELL. I received a product sample to help facilitate my review.

BISSELL CleanView Vacuum Review
Do you feel like you have to spend hours of your day cleaning to keep everything spic and span between all the pets, kids and other stuff?
I know that if I want a truly clean house between all the dishes, fur, clutter and power of gravity (and curious paws), I'd have to spend at least 2 hours a day cleaning.
Yeah, that's not going to happen. When I heard about Bissell's new vacuum I was quite curious.
Can the BISSELL CleanView Vacuum with OnePass technology really help you save time cleaning?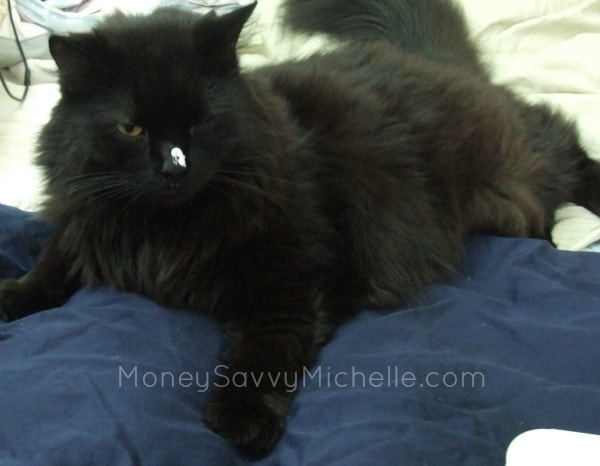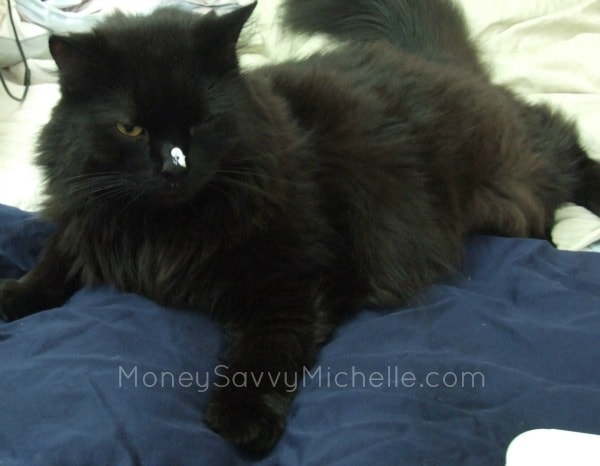 The long-haired fuzzy culprit of fur-line carpets, Chewie, helping me try out some yogurt.
Oh, by the way, did I mention that we have 4 cats (1 long-haired at that) and that all of our house is covered in wall to wall carpet aside from the kitchen and 2 bathrooms?
I love my long-haired cat, Chewie, very much and wouldn't give him up for anything, but I have to say I don't think I'll ever have a long-haired cat again.
Unless I somehow have flooring, furniture and linens that are all the same color as the cat.
Though I do have to now be honest and say I do my own fair share of shedding. It may be TMI, but sometimes I wonder how I have any hair left on my head, nevertheless how thick it remains.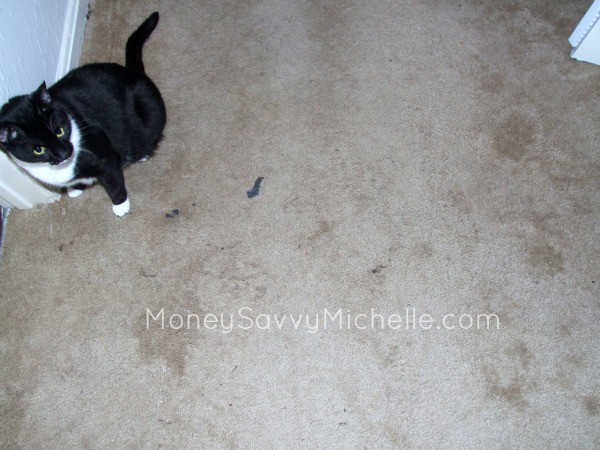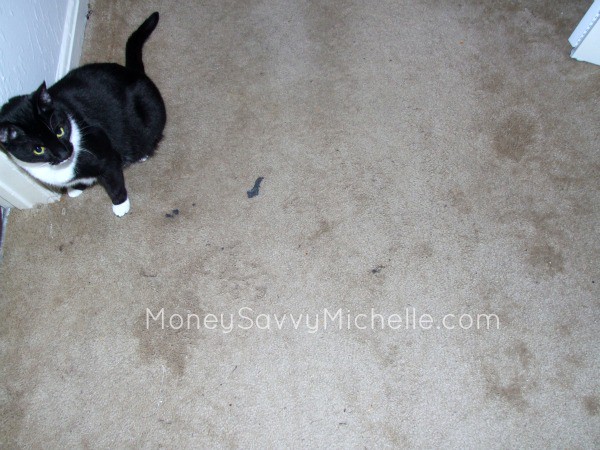 This is what a high-traffic area of our carpet looks like after 2 days of not being vacuumed. Yep, just 2 whole days - 48 hours. Some of that isn't even fur. I'm not sure if the cats were playing with dryer lint or what. Another fuzzy culprit, Charlie, looks oh so innocent either way, doesn't she? I know, you may be feeling pangs of jealousy right now. We can still be friends though, right? If it helps, you're welcome to come over and help clean.
I try to keep a mostly clean home. Yes, dishes may sit overnight now and then and sometimes I don't remember just how long the laundry has been sitting in the dryer, but otherwise, yeah, mostly clean.
One chore I tend to do the most often is vacuum as super dirty carpets are a bit of a pet peeve of mine (how literal that actually is certainly isn't lost on me ), especially since if I wait too long I might forget just what color the carpet is as you can see above.
I don't know if you have experience vacuuming up fur, especially tufts of fur, but if you don't it's really not quick, easy, nor fun. Even with an expensive vacuum, I'm used to having to go over areas 4+ times to get all the fur out.
So, I was quite intrigued to see if the BISSELL CleanView Vacuum could really live up to its name in my review. Did it work?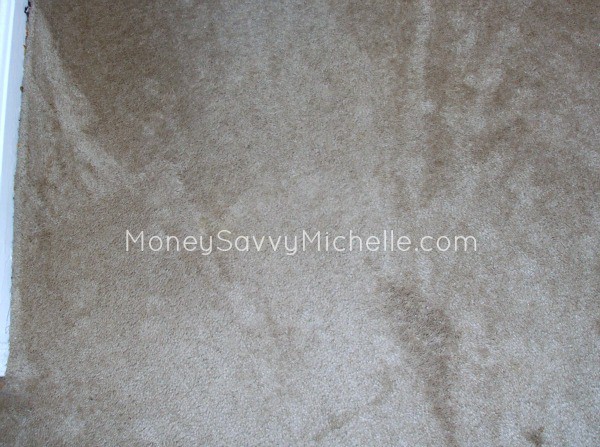 BISSELL CleanView Vacuum Review: I think this picture of the same area totally speaks for itself! Aside from one tiny tuft of fur that I had to go back over just once, this small area of carpet was cleaned in just one pass.
Pretty amazing, huh? So, while the vacuum passed the most important test of cleaning well the first pass, which means saving time, what about all the other stuff?
The BISSELL CleanView Vacuum took a bit more time to put together than some vacs I've used, but it was still super easy. You do need a screwdriver to use on 2 screws to attach the handle, otherwise, you just need to snap on and attach all the holders and attachments.
The attachments themselves are the usual crevice and brush tools with extension, and I love that there is also a turbo brush tool that is perfect for stairs and upholstery.
The vacuum itself is intended to be used on carpeted surfaces, but there is a height level adjustment and all the attachments to use on hard surfaces.
My main gripe about the vacuum is that the power switch is in a rather awkward place near the bottom of the vacuum. I definitely would have preferred having the power switch near or on the handle as with other vacuums.
I did like that the hose stretched clear, though, so you can easily see if you have a clog.
It would have been nice if it had a button to coil the power cord back up, as I hate having to do it myself with as often as I vacuum, minor quirk, I know.
The Bissell vacuum is also bagless.
Warning: icktacular photo ahead - proceed with caution!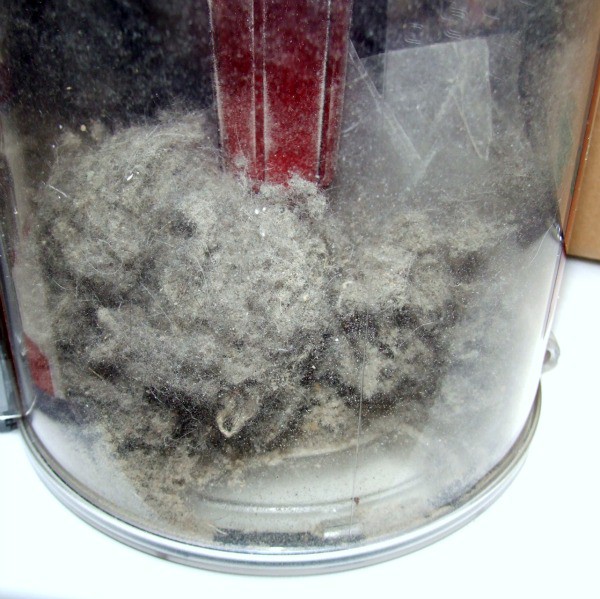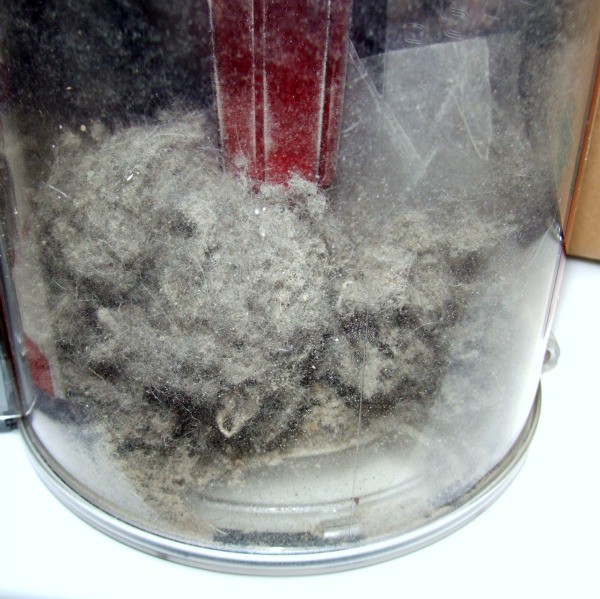 This is all the dust, fur, hair and other ick I got out of the carpet from just vacuuming that small area - yuck!
On the other hand, as disgusting as the picture is, it shows just how well this vacuum works! I did have some issues with dust collecting around the top of the dust cup that is a bit awkward and messy to clean as you have to unscrew the inner part of the cup to get to it to clean, but that may just be a side-effect of cleaning the floor the first time.
Final Takeaway: This vacuum sucks - in a good way! I really enjoyed being able to put together this BISSELL CleanView Vacuum review and can't wait to continue using it and have a few extra minutes in my day from not having to go over each spot multiple times.
What will I do with that extra time? Well, I guess I won't have an excuse to wait until tomorrow to clean the cat box. ;)
Buy It: The BISSELL CleanView Vacuum with OnePass Technology is available at Amazon.com.
If you're looking for a lightweight cord-free vacuum check out our Dyson DC59 review.