I'll begin this by saying this is a personal post and plea for any of our animal loving readers. Nothing makes my day more than when I open my inbox for Smart Savvy Living and see a comment or email from one of you saying how much your family loved one of our recipes or how one of our tips or other articles really helped you out. One of my biggest passions in life is to not only help people but also animals, and today I'm asking for your help to help out a cat that recently came into our lives a few weeks ago that we named Toby. He's one of the sweetest cats (we were calling him Rico Suave before settling on a name because he's so chill and loving with everyone) I've ever met even though he's been through so much, including now needing a major leg repairing surgery so that he's not constantly in pain when using his leg.
If you've been a follower of Smart Savvy Living and our social media accounts for a while, you've probably noticed that we are big animal lovers, especially when it comes to black cats. We believe that they're not only beautiful creatures, but they have a special place in our hearts as they are often the last to be adopted. It was especially important to us to adopt him as black cats are at a greater risk of abuse and even death the closer it gets to Halloween. All of our cats have been rescues with varying stories like being saved from being put down in North Carolina in an overfilled shelter or it taking 2 weeks to finally be rescued outside a hospital and always being kitten-size due to lack of early nutrition.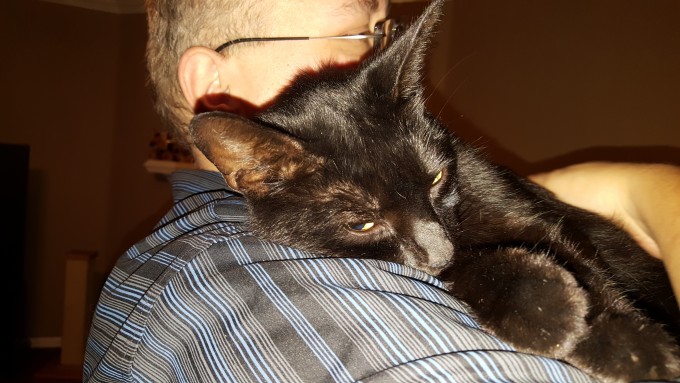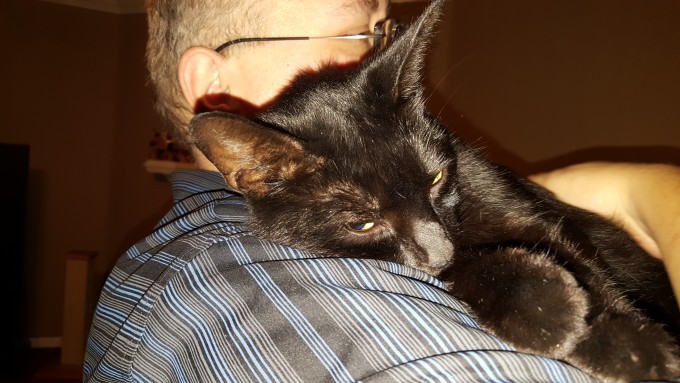 Toby looking pitifully cute as he slowly wakes up from anesthesia to get his x-rays taken.
However, Toby's story is one of the saddest I have heard, so, of course, we couldn't say no to adopting him when one of Mr. Savvy's coworkers was looking for a better home for him. He was apparently abandoned outside when one of Mr. Savvy's coworker's neighbors moved. The coworker's family fed him for several weeks and found him to be super loving, but he had to stay outside while they continuously used Benadryl because they are all very allergic to cats. As sad as it was for them, they wanted him to have a safer home indoors, which is where we came in.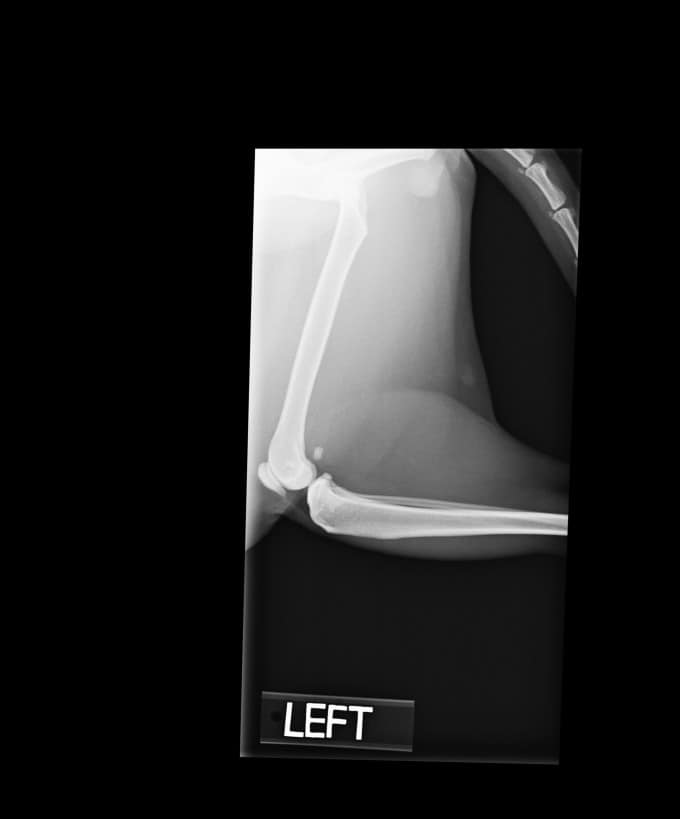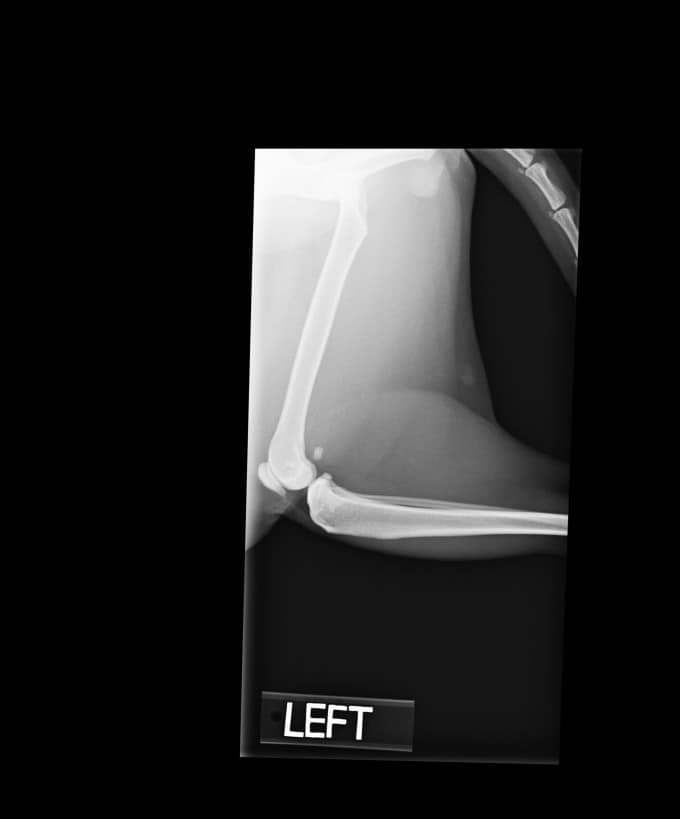 You can see from the x-ray how unaligned his left knee (pictured on the right since he was on his back) is compared to the right. He even has bone fragments floating around.
When we went to get Toby, he immediately went into the cat carrier as if he knew he belonged with us. When we got him home that night, we found him to be covered in fleas that had left lesions all over his body from the bites and scratching. He was also underweight and bony and had very little energy. He didn't even want to play with toys; all he wanted to do was be near us and sleep. The next day we took him to the vet to get tested and vaccinated. Luckily, everything came back okay and within a few days he started to really perk up and be more active. Unfortunately, we discovered he had a limp that didn't go away, so back to the vet we went. Our vet noticed that something was definitely wrong with his leg and we were given some pain pills to give him over the next few days to help him feel better and reduce inflammation to see if the problem would correct itself. Sadly, it did not correct itself, so back to the vet we went for x-rays.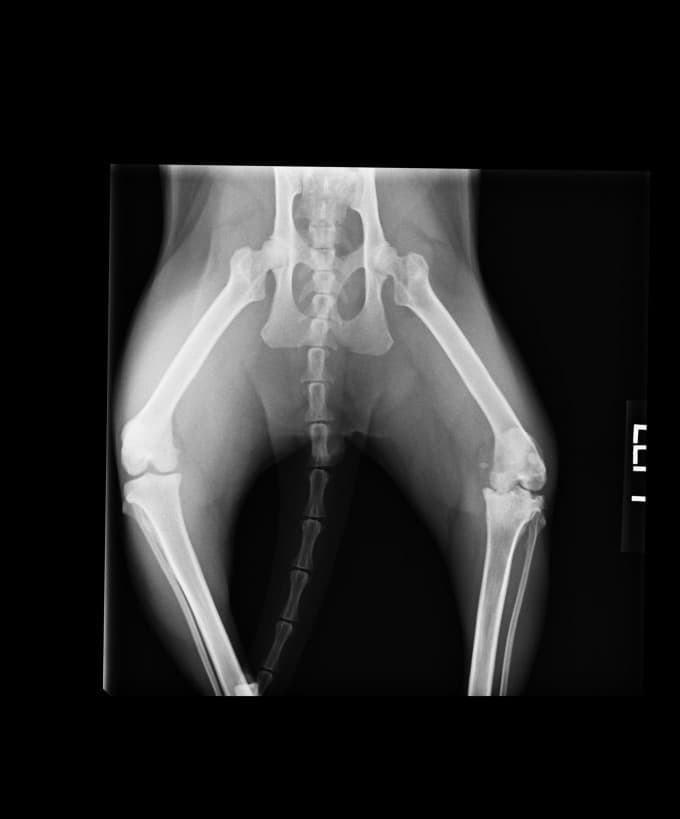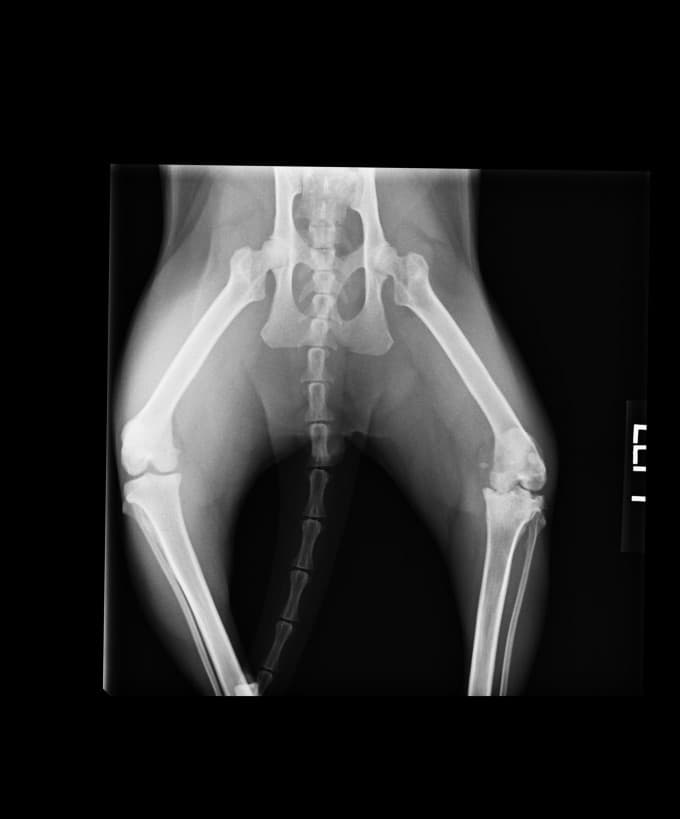 As you can see, his left leg is very unaligned (pictured on the right side of the image) compared to the right leg (pictured on the left side of the image). He even has some bone fragments floating around his leg and I can only imagine how painful that must be. Our vet figured he had a problem with his ACL or CCL and sent the x-rays to a colleague that is an orthopedic specialist veterinarian. A few days later we hear from the specialist that the injury is a lot worse than our normal vet suspected, and is likely an injury he's had for some time. It may even be why he was abandoned. He'll need a pretty major surgery that is estimated to cost around $3,500 plus an evaluation with the specialist 2 hours away that we're going to early next week, blood work, any medications after the surgery, along with any follow-ups and imaging to make sure the leg is healing well. Toby is thought to be 3 – 4 years old, so he should have a long life ahead of him and is healthy otherwise, and, again, one of the sweetest cats we've ever met so we really want to get this surgery for him so he can be a real cat without constantly being in pain and enjoy his forever home with us.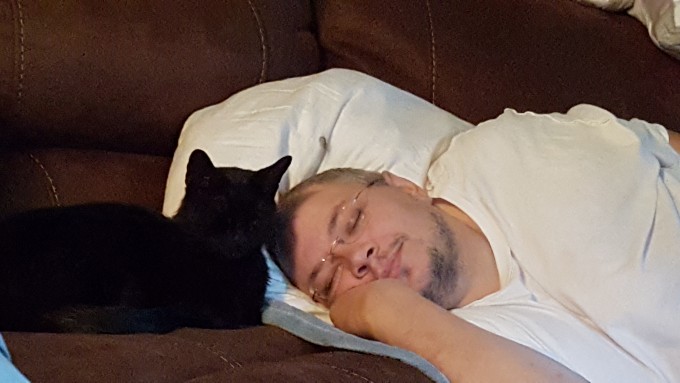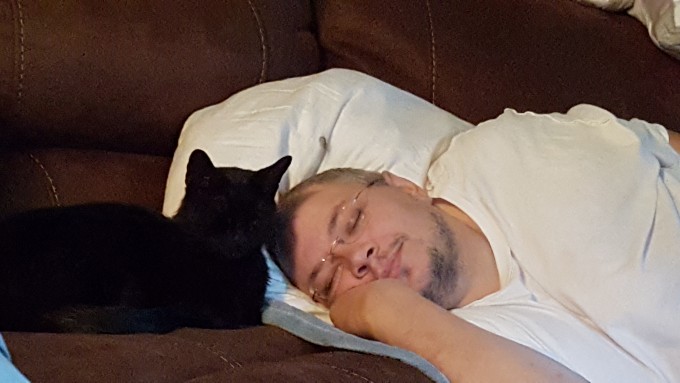 As you can see, he seems to like us a bit already. ;)
However, we've spent most of our Care Credit line with all the visits to get him healthy and get his leg injury diagnosed. So, we're asking for your help in raising the funds so that Toby can get his surgery sooner than later. A limp may not sound like much, but seeing him, you can tell he is in pain anytime he puts weight or pressure on his injured leg. He is very slow walking, takes the stairs very slowly (a healthy cat will normally run up and down very quickly), and can only play with toys and the other cats while laying down because otherwise he very easily loses his balance, sometimes even falling right over and meowing in pain. If you could donate even just $5, it would mean the world to us. We also greatly appreciate any social media shares to your friends and family to get word about Toby's story out. If you would like to help out, we have set up a GoFundMe page here. Thank you so much for reading Toby's story and any help you are able to provide. You really have no idea just how much it means to us!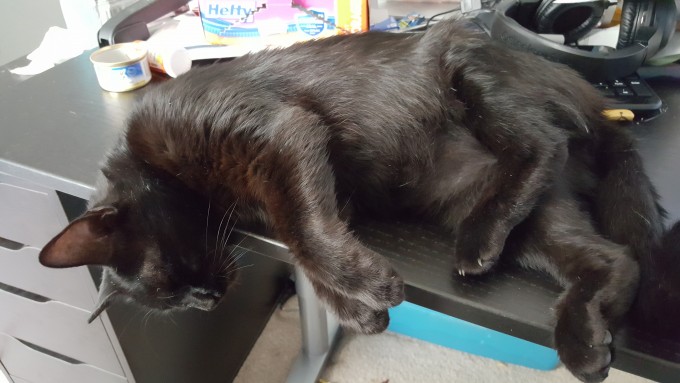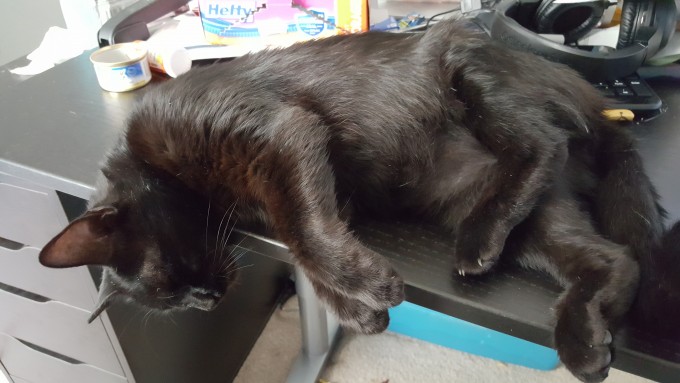 Toby loves being close to us, even if means sleeping on our desks.
Here's a video of Toby trying to do what every cat loves, playing. As you can see, he plays while lying down and when he gets really into it and tries to get up to pounce, he meows out in pain, loses his balance swaying to the side and then starts limping.