Cell phones are an expensive item that most of us need these days to stay in touch as family, friends, and for work. That means they're super important to keep safe with these 5 ways to protect your cell phone this summer.
This post about 5 ways to protect your cell phone this summer was sponsored by Best Buy, however all opinions are straight from this self-experienced klutz.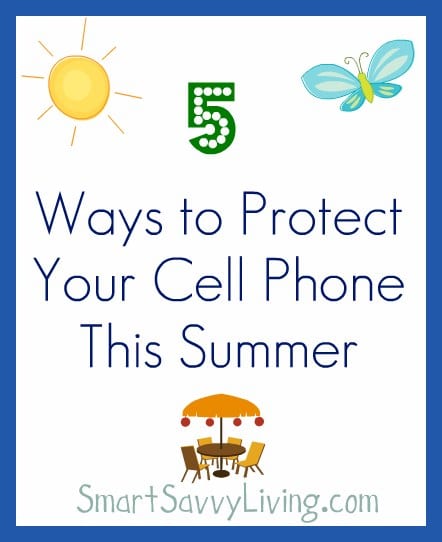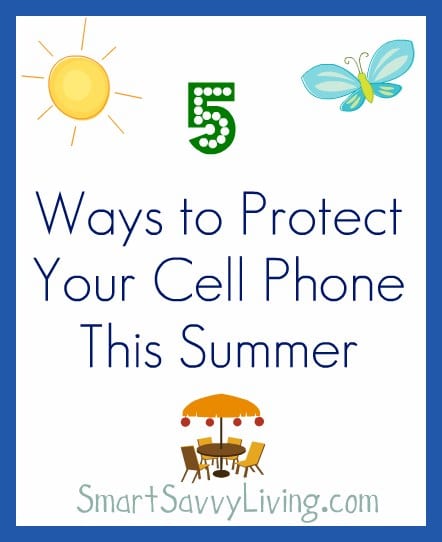 Summer is the prime time for many of us to be out and about and enjoying the warm weather and nature. If you're like me, you still enjoy having your cell phone at hand for checking in or emergencies.
However, keeping your cell phone safe during the summer can be tough between all the heat, sand, water and spontaneous storms. These days cell phones can cost hundreds of dollars, so it's not something many of us can easily replace.
That's why I came up with a few ways to protect your cell phone this summer!
5 Ways to Protect Your Cell Phone This Summer
1. Keep your phone out of the sun and heat. Most of us want to keep our phones near by, but if you're going for a dip in the pool or ocean you obviously don't want to take it with you.
Instead of leaving your phone out on a sunny table or in a hot trunk, try to keep it in the shade or a bag. If you notice your phone is really hot when you go to use it, wait until it cools down to protect both the phone and yourself.
2. Going to the beach or will be around water? Put your phone in a plastic baggie.
Pools and the ocean are great ways to stay cool for the summer, but all that splashing water can be deadly for your phone.
While there are water-proof cases, protecting your phone can be as cheap as putting it in a plastic baggie on the sidelines! Just don't forget to check your pockets before jumping in.
3. At the pool? Use a speaker system for your summer tunes. There's something so relaxing about floating in the pool listening to your favorite summer tunes.
To really enjoy music from a cell phone, you usually have to have it near by so you may ponder just sticking it in a float.
Instead of taking a chance of your phone taking an unwanted bath, invest in a speaker system that you can use with your phone so you can enjoy your music while being several feet away.
4. Insure your phone. Crap happens and cell phones are expensive, even when extending your contract.
If you made, and would have to make if you had to replace, a huge investment in your phone, you may want to think about insuring it.
Most cell phone providers have insurance options which cost just a few dollars a month and have around a $50 deductible. Just make sure it includes water damage!
5. Invest in a quality case. While they can be expensive, I find having a quality case can really help prolong the life of your phone - and help the resale value by preventing scratches and dents.
Some are even water-proof! Plus it's a great way to extend your style onto your phone. Some of my favorite brands include Otterbox and Mophie.